My first product from Sunday Riley was the ever famous Luna Oil. I finished up a bottle of that beautiful retinol oil and then got Good Genes, which I loved even more. Now on my third bottle, it's a product that I will always keep in my skincare cabinet.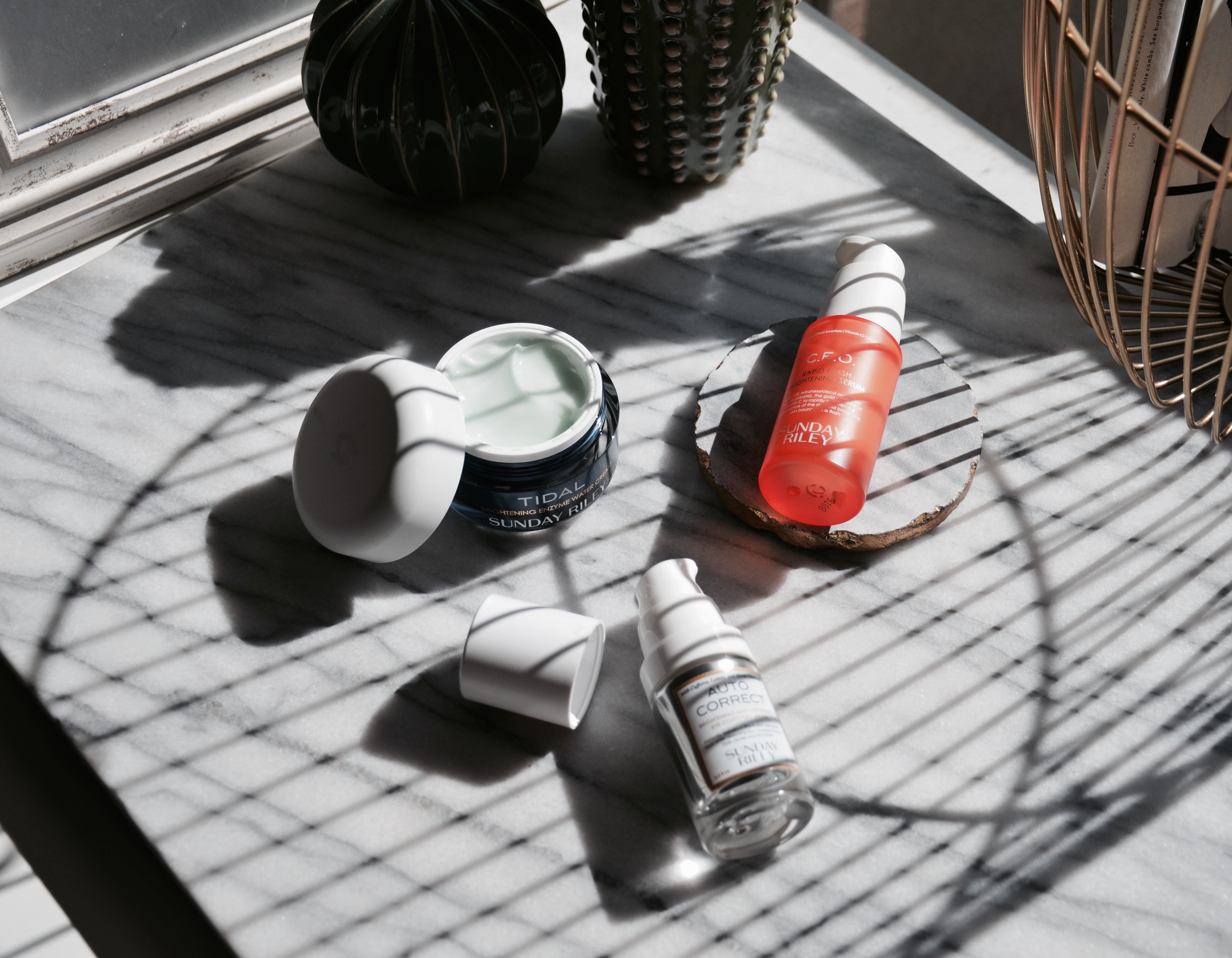 Recently I had a chance to try some new products from the brand. Some are new to me and one is their newest release. It seems like Sunday Riley products work really well for my skin because all three products are a great match.
First up, the Sunday Riley Tidal Brightening Enzyme Water Cream. A water based moisturizer with two forms of hyaluronic acid and tamarind extract which help with hydration and make your skin look plump and just healthy. There are papaya enzymes that provide gentle exfoliation while alpha-arbutin brightens dark spots and hyperpigmentation.
Tidal Cream is very hydrating but it doesn't feel heavy or greasy on the skin. It's the type of moisturizer that I can use both for the summer and winter since it's not heavy but provides enough moisture for my normal skin.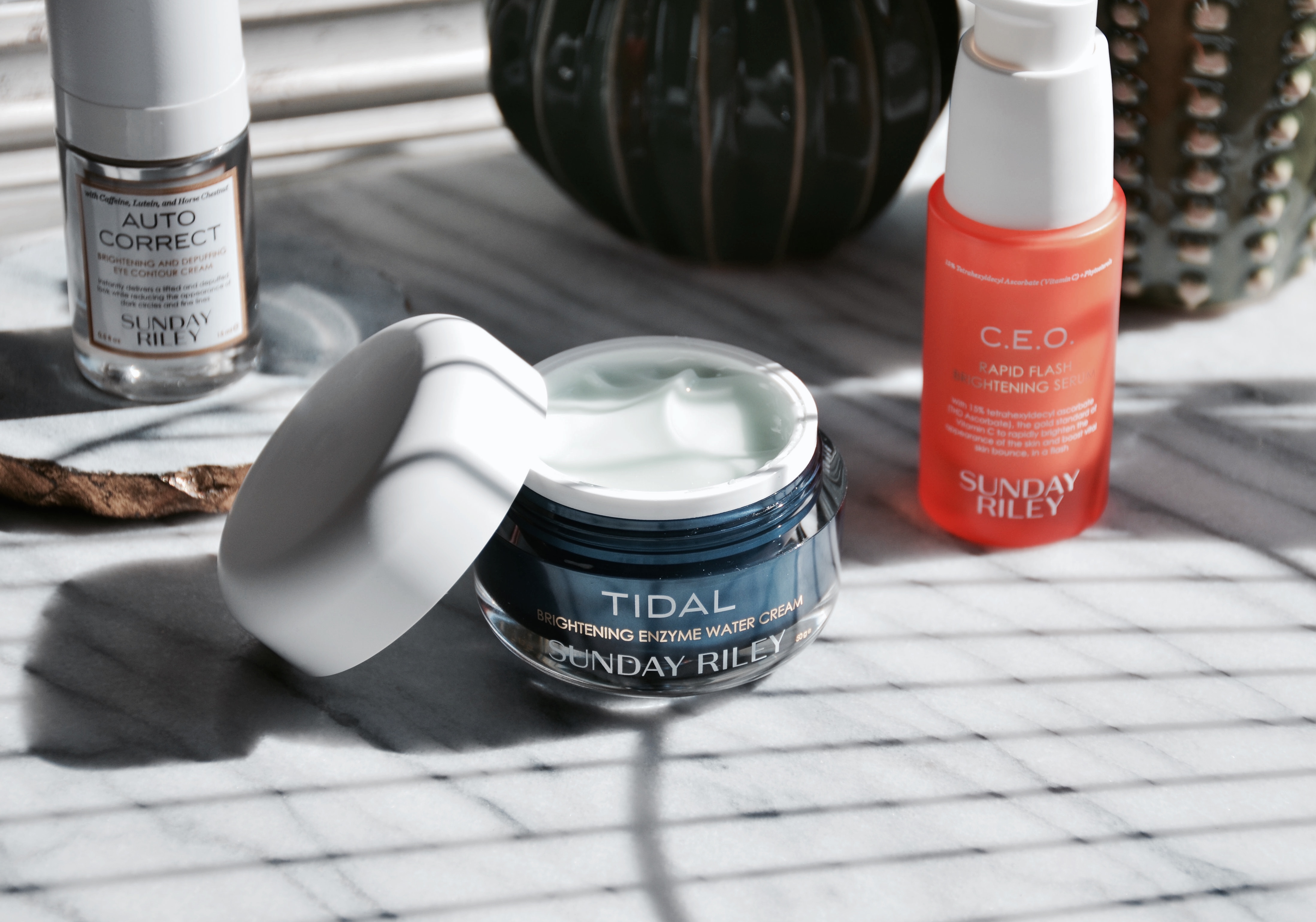 The Sunday Riley C.E.O Rapid Flash Brightening Serum is a Vitamin C serum that is infused with 15 percent THD ascorbate. It helps with dull skin, dark spots and discoloration and adds brightness and radiance to the skin.
THD ascorbate is highly stable and oil soluble which helps with rapid absorption. It is a light-weight serum that also provides hydration while brightens and reduces the look of pores.
I've been using the C.E.O Serum off and on for about a month now. I've noticed a brighter complexion and less dark spots (whenever I have a blemish it leaves a dark spot that takes ages to disappear).
If you are looking for a good Vitamin C serum, this is a good one to try. It definitely does what it claims.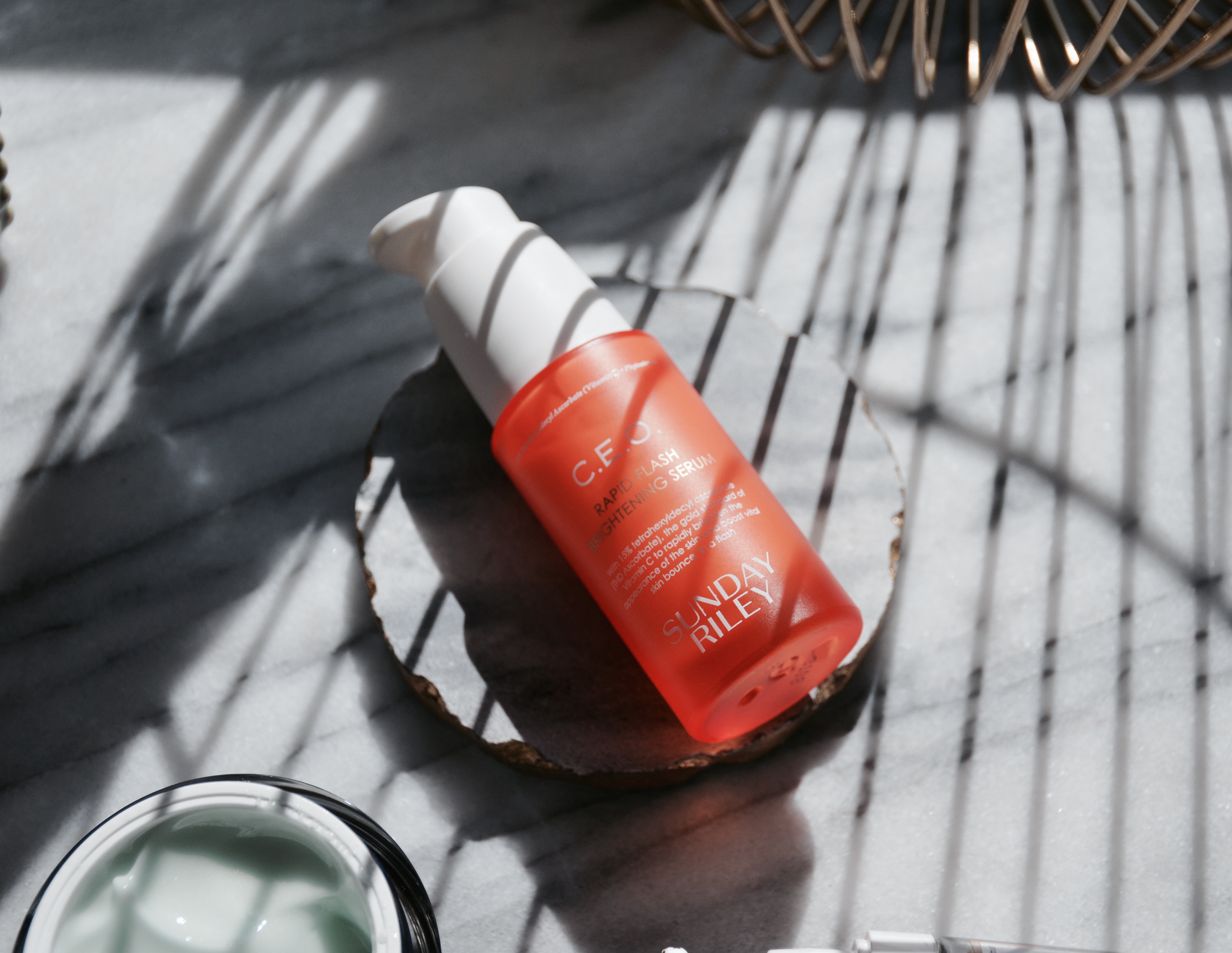 The newest release from the brand, the Auto Correct Brightening and Depuffing Eye Contour Cream is my favorite from the bunch. It is an eye cream that helps with dark circles, fine lines and also de-puffs. It also brightens and just makes your under eye area look well rested.
It is quite a rich eye cream which I prefer since my under eye area is always on the dry side. Less is more when it comes to this product. It is quite hydrating so you literally need two little dots to cover the whole under eye area.
The Auto Correct Eye Cream has Caffeine and Brazilian ginseng root extract which help with puffiness and dark circles. Concentrated horse chestnut and acamella oleracea extracts smooth the appearance of crow's feet and fine lines. Antioxidant-rich lutein provides a radiant glow while cocoa and shea butter plump the skin with moisture. It is an eye cream that provides both moisture and brightness while lifting and helping with the appearance of fine lines. It is an eye cream that does it all.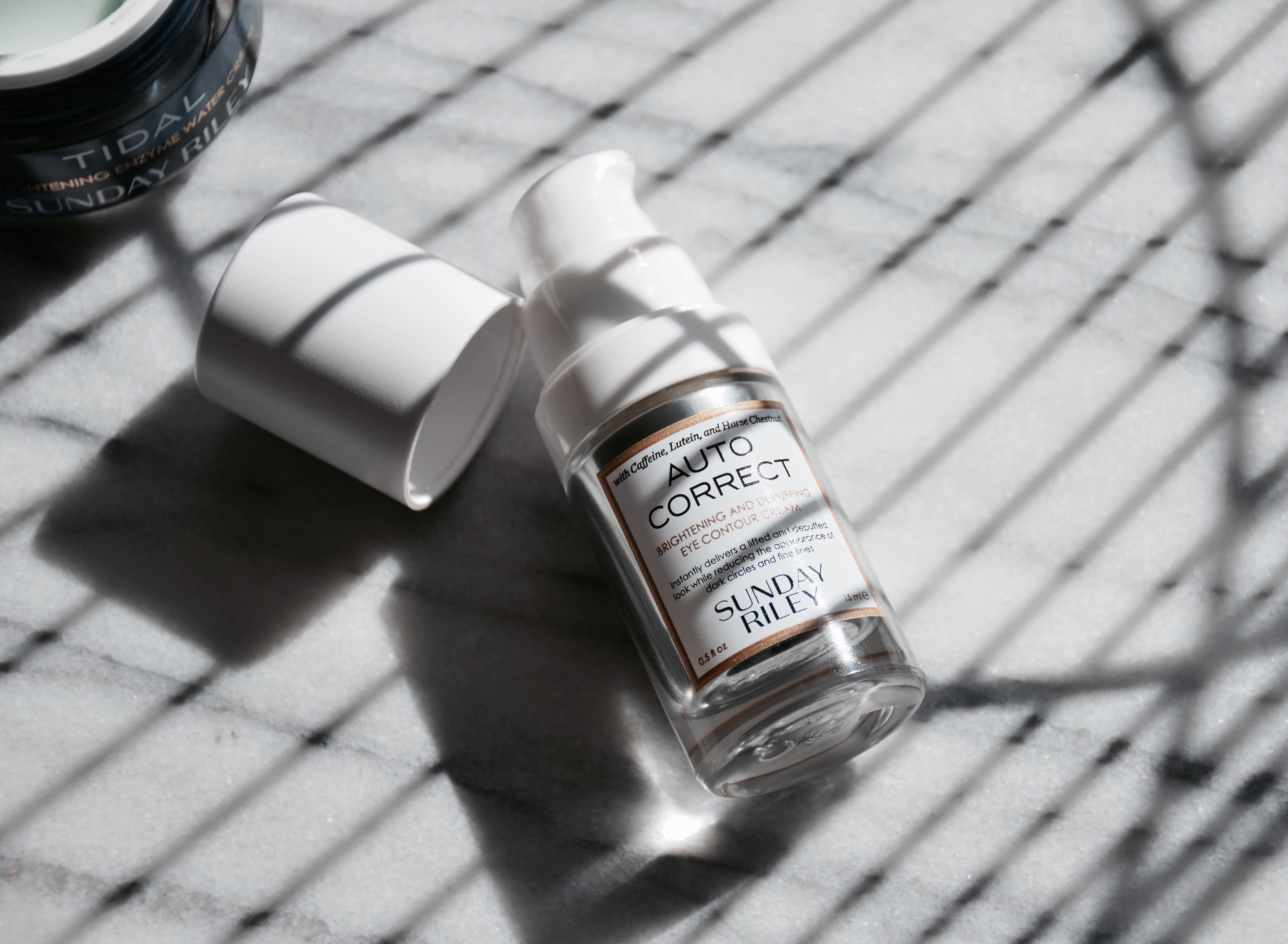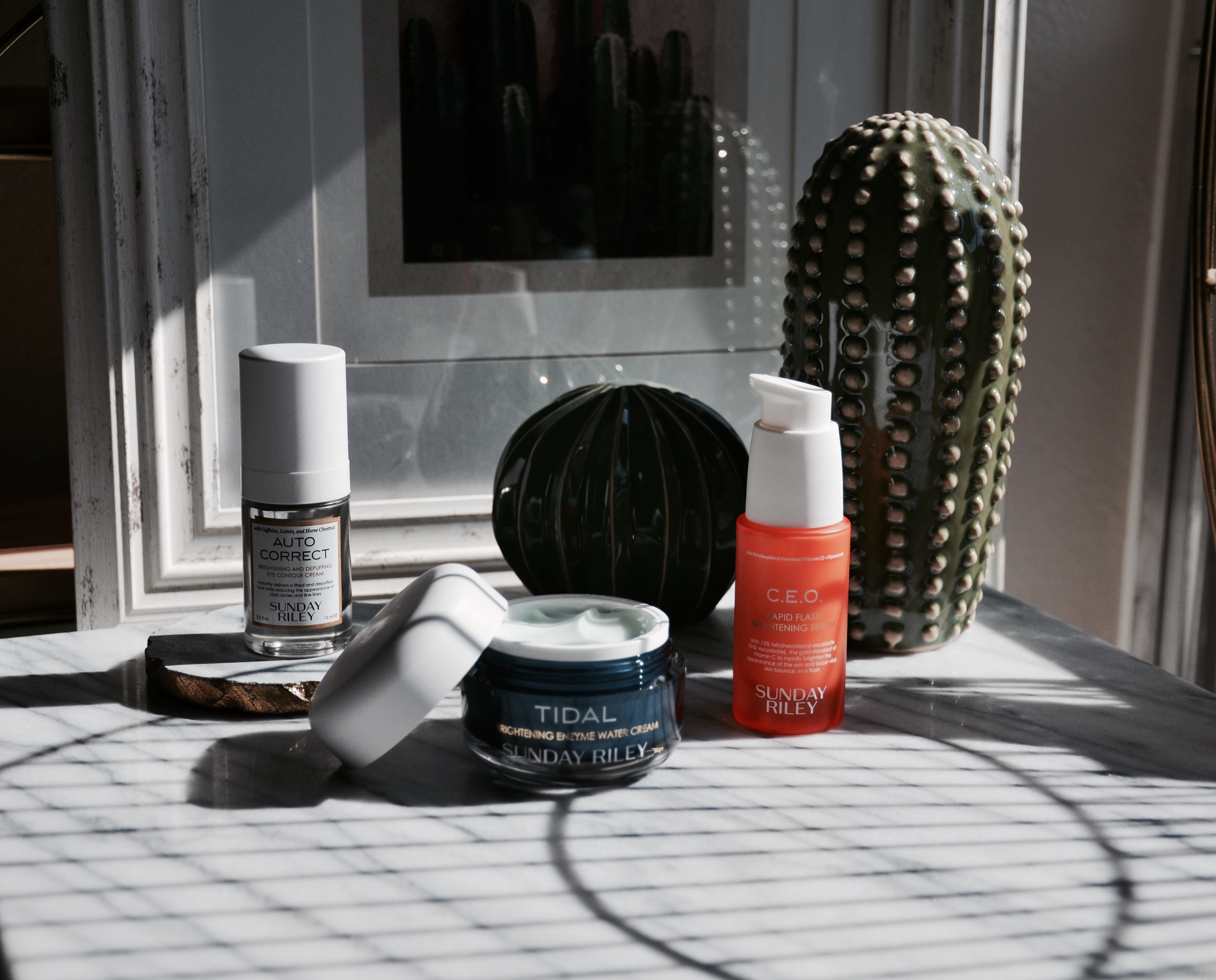 Have you tried Sunday Riley? Let me know what is your favorite product from the brand.
*PR Sample
SaveSave
SaveSave
SaveSave