Why is the time passing so fast? Well we only have a month left from summer so I'm kinda bummed but also excited for fall. July has been a pretty busy month for me, went to Miami for Swim Week, had to test a lot of new releases and the most exciting thing, my blog turned one.
I started this blog as a hobby, just as an outing for my makeup and beauty love but it has grown so much and I've met so many people through blogging, it's just an amazing and all positive experience. I'm planning on doing a giveaway here on the blog I just have to figure out what I want to do. Let me know if you would like any specific products to be in the giveaway.
Now on to my July beauty favorites. I tried to narrow them down so I don't have a mile long post and it was pretty hard because I tried so many good products this past month.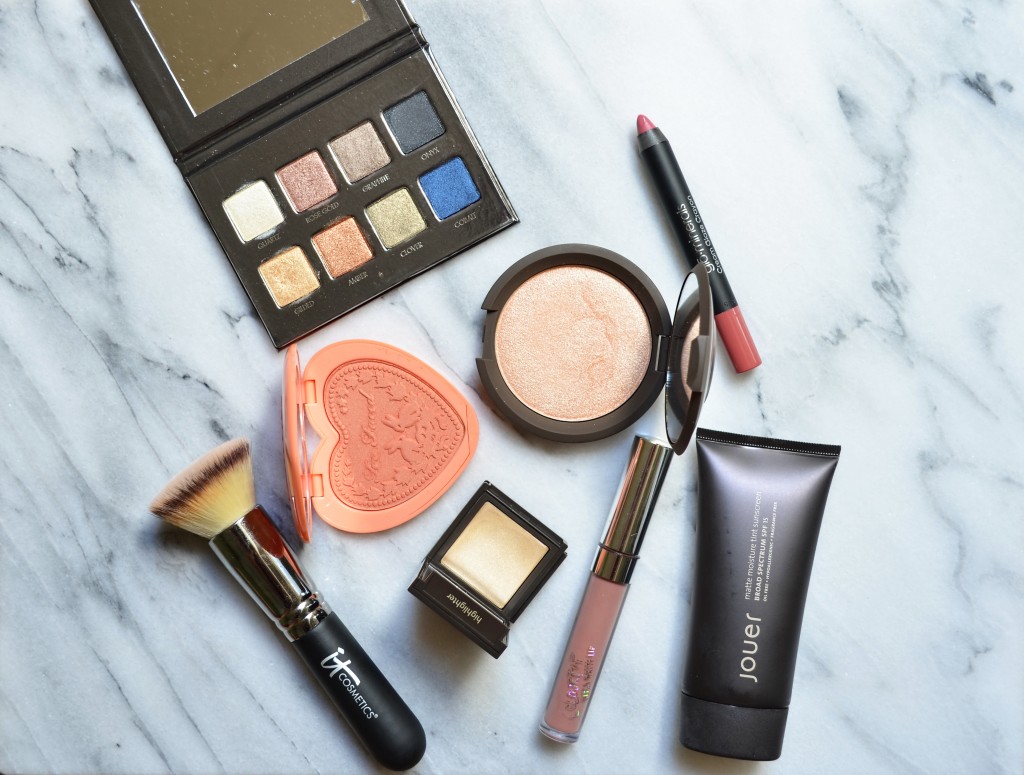 Lorac Pro Metal Palette – A huge hit for me. I've been using the Rose Gold shade from the palette a lot. I apply it all over the lid and as soon as I blend it up in the crease it changes color. I get the similar effect when I use Woodwinked from MAC, it appears that you're wearing more shades when you're actually wearing one. You can find swatches of this palette here.
Jouer Matte Moisture Tint*- The perfect base for summer. It's lightweight but also provides more coverage than a tinted moisturizer and it looks very natural on the face. The finish is matte but not flat. It has good lasting power in the heat plus SPF 15 to protect you from the sun.
Too Faced I Will Always Love You – I have two shades from this line and they're both beautiful. I will Always Love You screams summer to me, with the peachy orange hue and gold shimmer it looks beautiful on tanned skin. Review and swatches here.
Becca Champagne Pop – I haven't tried a Becca highlighter that I didn't like. Champagne Pop is a peachy golden goodness that gives a wet look to the skin. It doesn't emphasize my pores and you only need a touch for application. If you can still get this I highly recommend it, if not you can always go with their shade in Opal which is the closest one in color to Champagne Pop. Review and swatches here.
Jouer Tiare – A golden highlighter in a cream form. You also get the wet look with this but it looks more natural on the skin than powder, it looks like you're glowing within. You can layer it with a powder if you like an intense highlight but also wear it on it's own for a more natural look.
gloMinerals Cream Glaze Crayon in Heirloom – Heirloom is a my lips but better nude for me. It has a glossy finish, it almost looks like you're wearing a pigmented gloss but these are more comfortable to wear and last longer. My next post will be all about the gloMinerals Summer Collection so you'll be able to see these in action.
ColourPop Ultra Matte Lip in Trap – A nude beige shade with a hint of gray. I wasn't sure if the cool toned gray shades will suit me since I like my lipsticks on the warmer side but I was pleasantly surprised. I did a blog post about the shades that I have from the Ultra Matte Lip line that you can find here.
It Cosmetics Heavenly Luxe Flat Top Buffing Foundation Brush* – Seriously the softest brush I have tried. The size makes it so easy and quick to apply foundation. It's not too dense so it doesn't soak up product but dense enough that makes your foundation look like it's airbrushed.
Let me know what you have been loving for the past month and don't forget to let me know if you have any products in mind that you want me to include in my giveaway.