It's all about the glitter and shimmer with Urban Decay's 2017 Holiday Collection. They released a Heavy Metal Eyeshadow Palette that features all shimmery and metallic shades. There are also new shades from the Heavy Metal Glitter Liners and a new Vice Metal Meets Matte Lipstick Palette.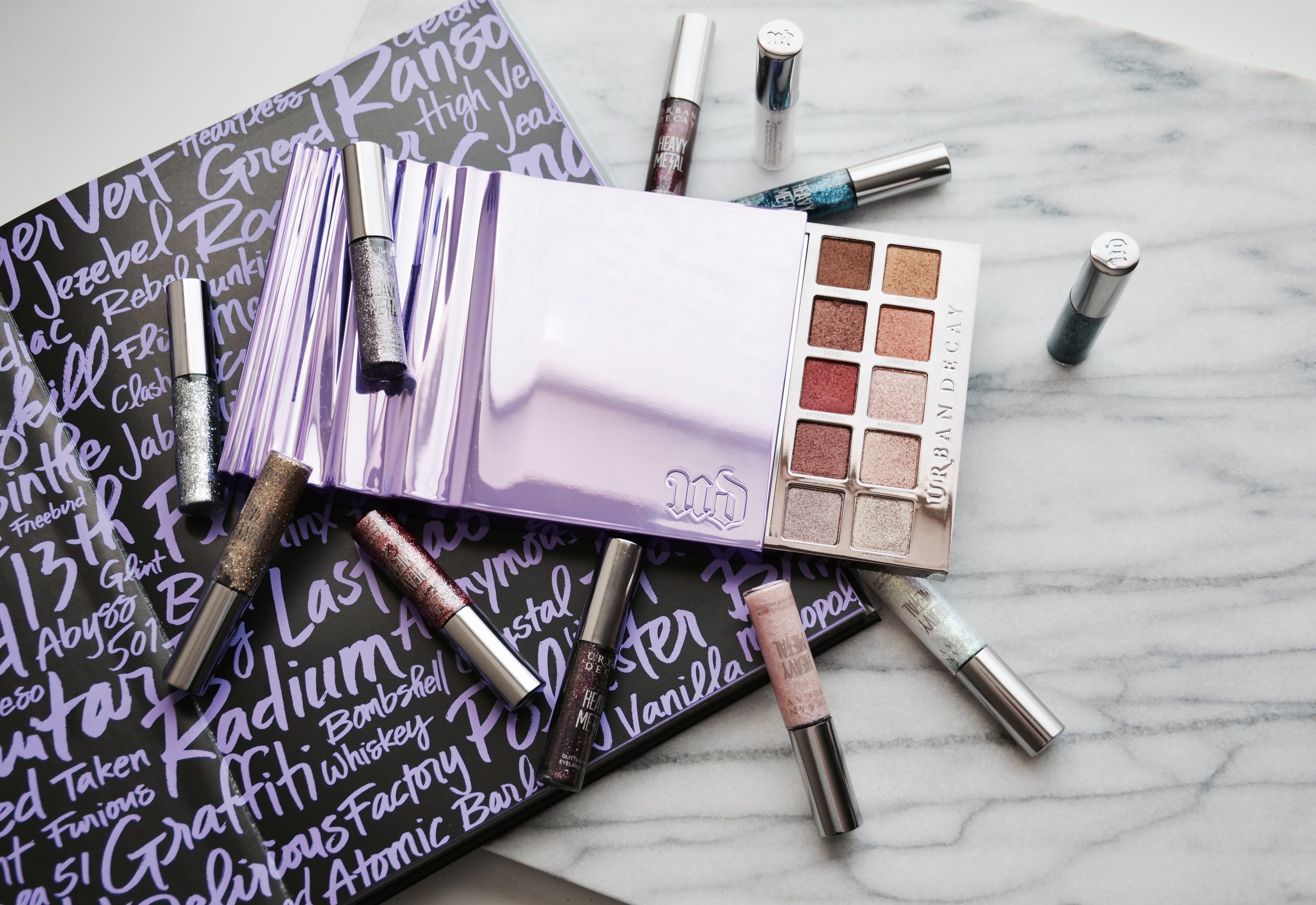 The Heavy Metals Metallic Eyeshadow Palette is a limited edition palette inspired by the modern art. It has 20 new and never before seen shades all in a metallic finish.
Urban Decay actually created a new formula for this palette, a more foiled metallic formula that feels creamy but also packs good pigment without any fallout.
They arranged the palette in a way that you get the neutral shades on one side, and brights and pops of color on the other. You get a good size mirror in the middle which is pretty unique in my opinion. I also love the chrome purple packaging, it's a little bulky but very pleasing to the eyes.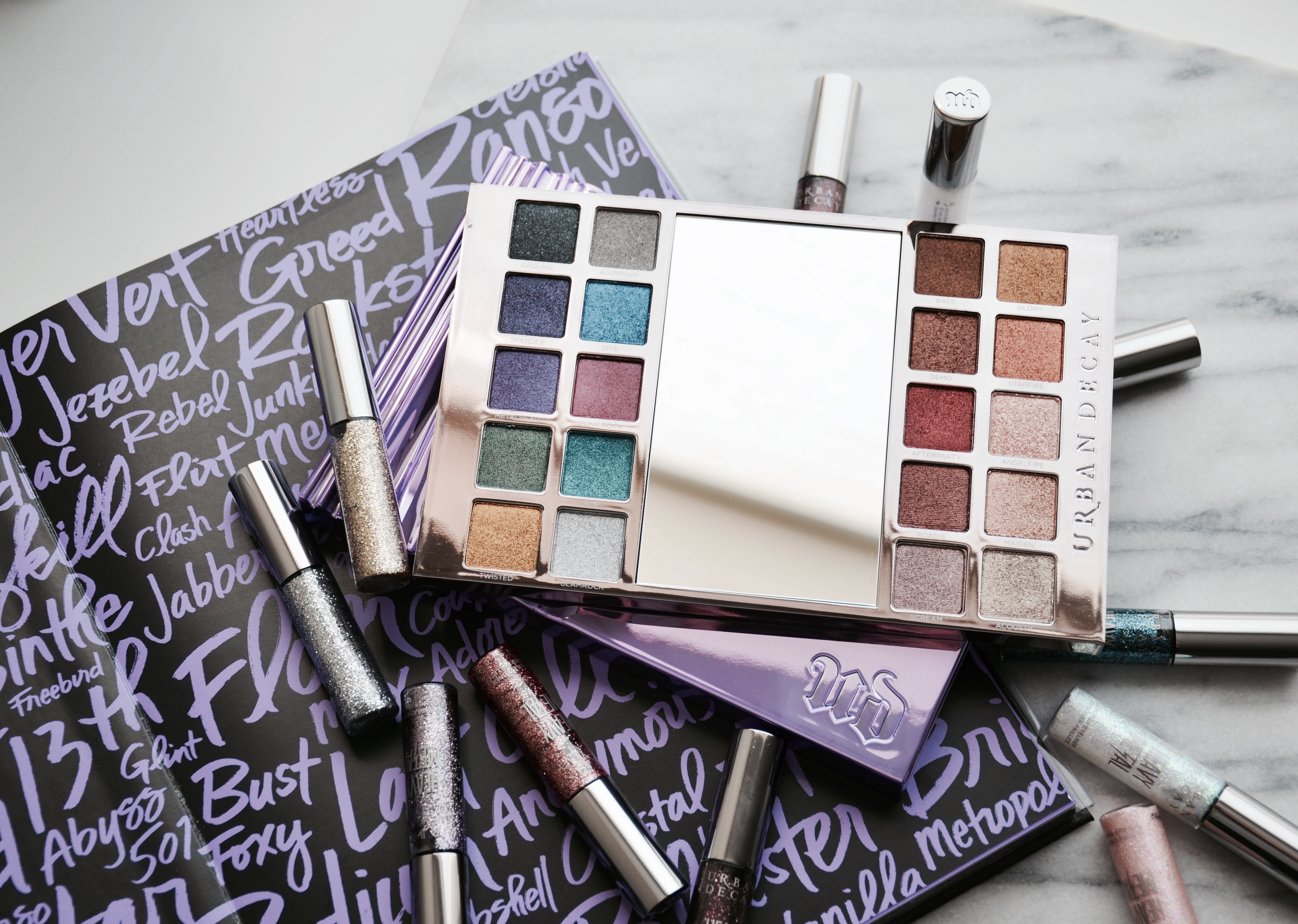 The Urban Decay Heavy Metal Metallic Eyeshadow Palettes comes with the following shades:
Twisted (gold)
Mullet (deep green)
Metalhead (deep purple)
Spandex (deep blue with purple shift and blue micro-sparkle)
Ground (black w/iridescent shimmer)

Swatches L to R: Twisted, Mullet, Metalhead, Spandex, Ground
Glamrock (silver)
Amp (bright teal)
Punk Rock (fuchsia)
Dive (medium blue)
Aluminum (warm gray-taupe with iridescent micro-sparkle)

Swatches L to R: Glamrock, Amp, Punk Rock, Dive, Aluminium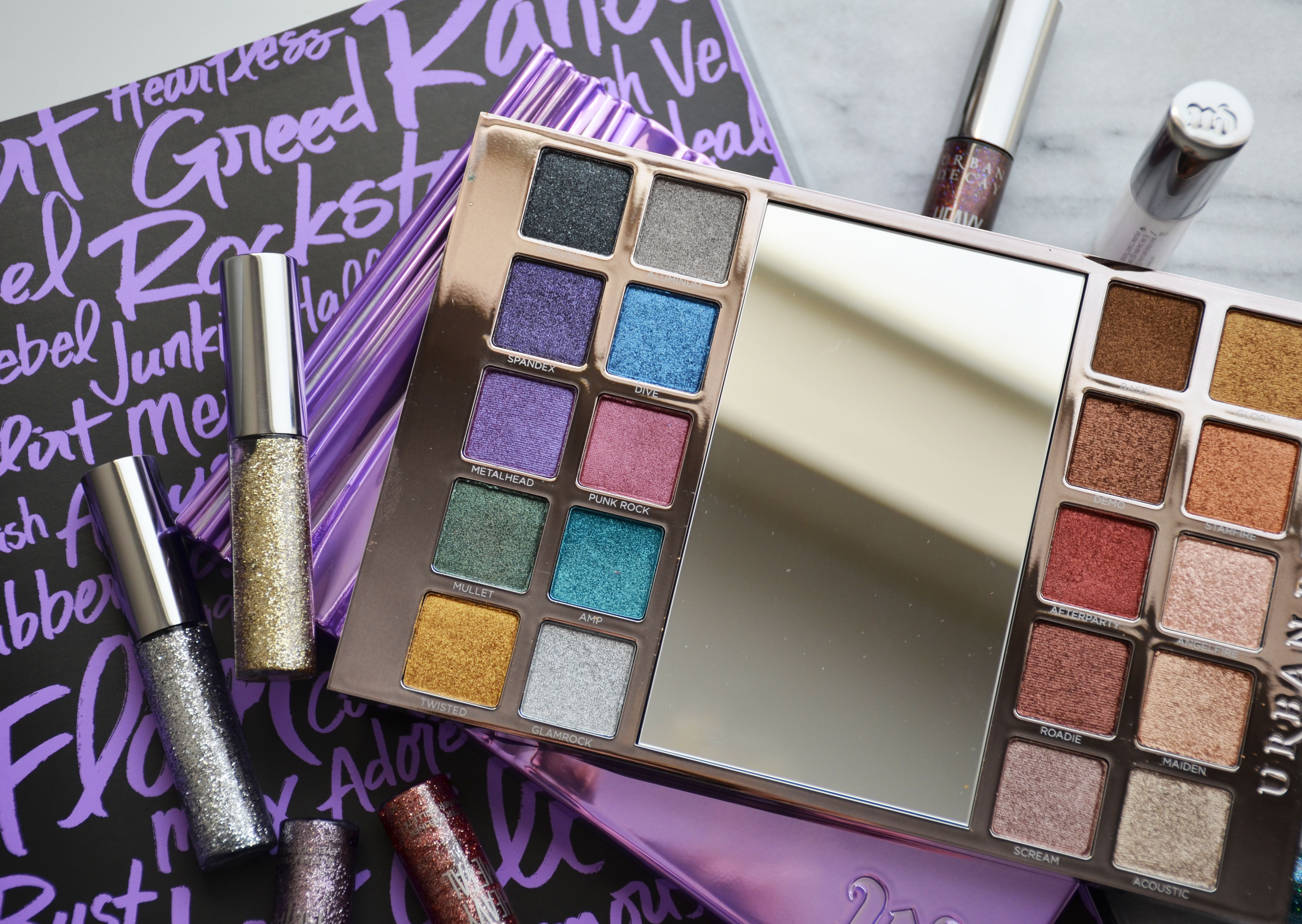 Scream (mauve)
Roadie (burgundy)
Afterparty (red)
Demo (bronze-rose)
Bass (bronze)

Swatches L to R: Scream, Roadie, Afterparty, Demo, Bass
Acoustic (nude)
Maiden (beige)
Angelfire (pale pink)
Starfire (bright copper)
Glory (golden bronze)

Swatches L to R: Acoustic, Maiden, Angelfire, Starfire, Glory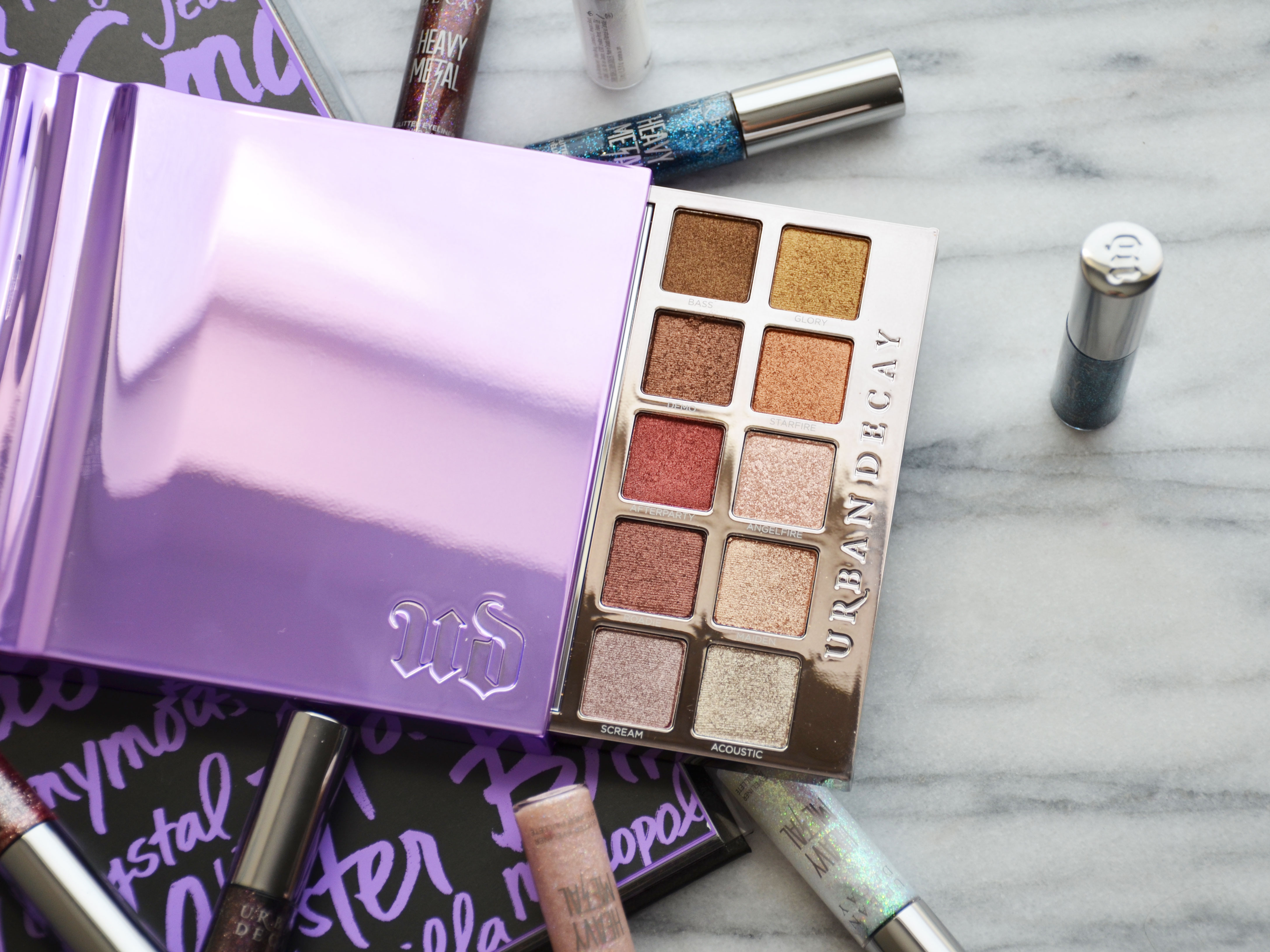 The above swatches were done with one swipe and no primer. The pigmentation of the eyeshadows is just amazing. You can easily pick up enough product either with your finger or with a flat brush. All the colors blends so easy and most importantly, you don't get any fallout.
I also like the color selection. I like that they included one side with more wearable and neutral shades but also added some pops of color. Warm and bronze shades always get me, so I'm all about the right side of the palette.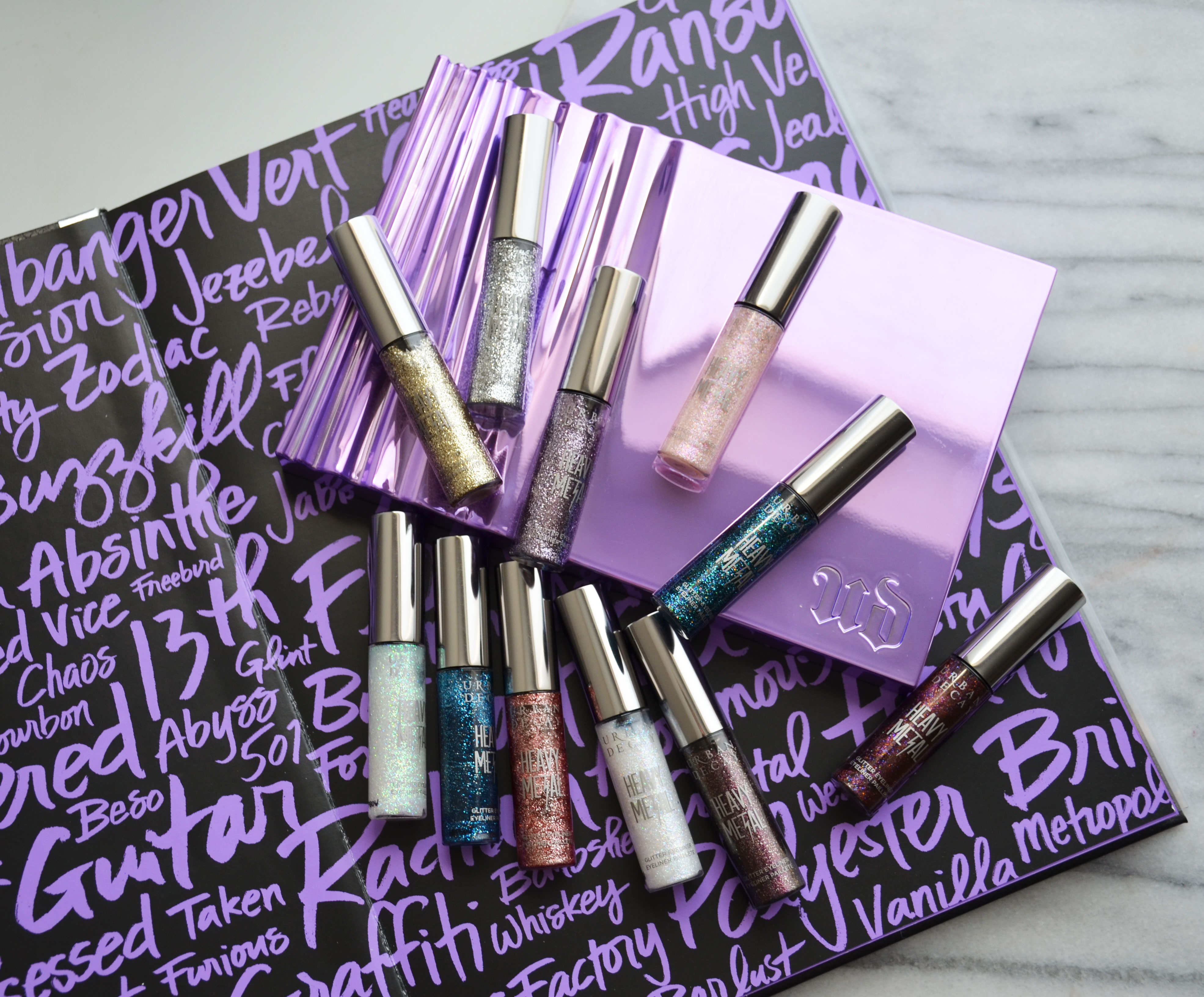 I'm a big fan of the Urban Decay Heavy Metal Glitter Liners. They have one of the best formulas I've tried that doesn't flake or budge through the day.
Urban Decay added six new shades to the line and they are all as amazing as the older shades.
The new shades include:
Pyro (iridescent and silver glitter)
Gamma Ray (bright blue with silver glitter)
Punk Rock (iridescent brown glitter)
Grind (light pink iridescent glitter)
Catcall (pink glitter)
Stix And Bones (iridescent maroon glitter)

Swatches L to R: Pyro, Distortion, Grind, Glam Rock, Midnight Cowboy, Catcall, ACDC, Gamma Ray, Spandex, Punk Rock, Stix And Bones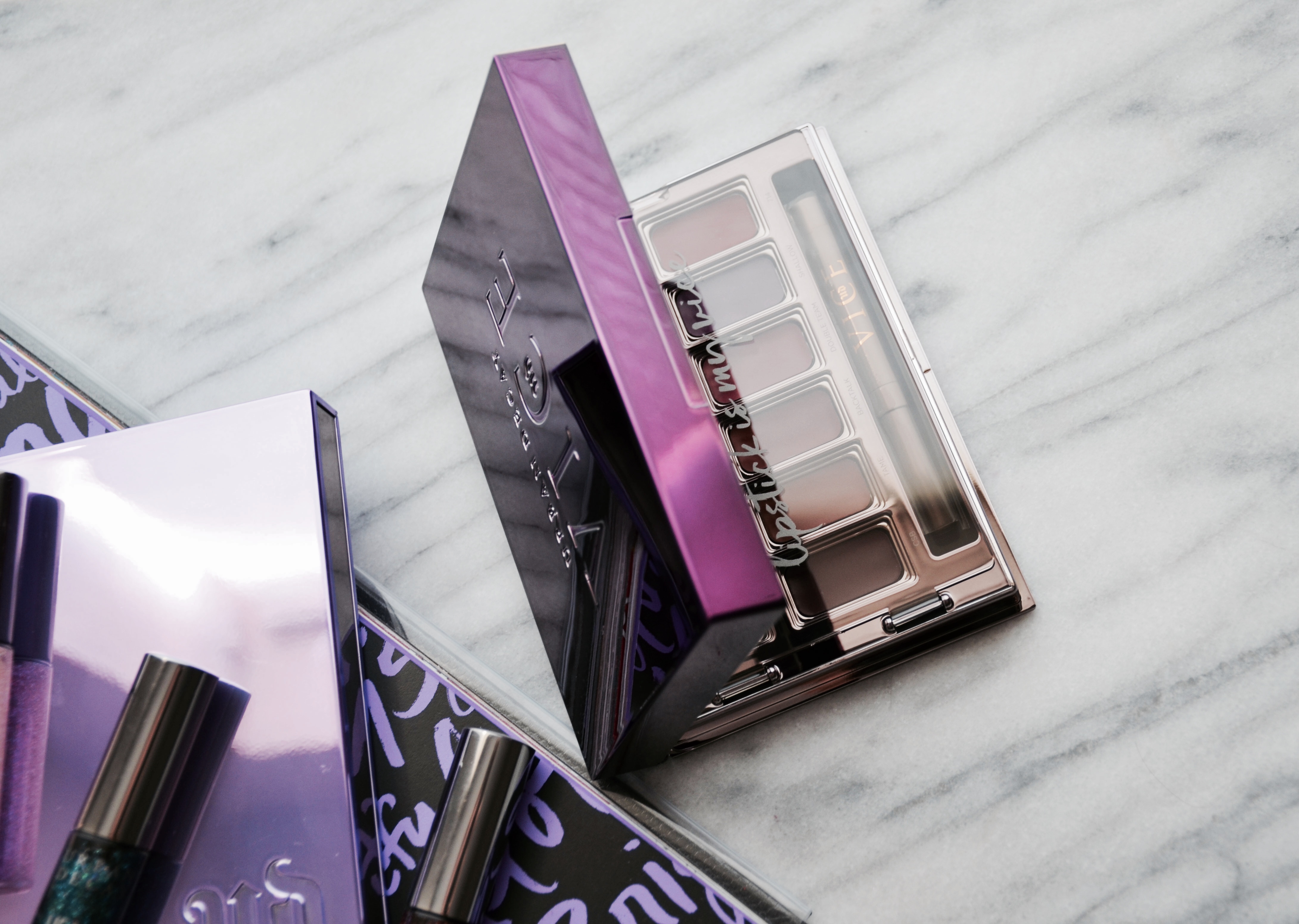 The Urban Decay Vice Metal Meets Matte Lipstick Palette features 12 must have shades in the Vice Lipstick formula, both in matte and metallic finish.
From the website:
The six metallized shades and six matte shades—from dark, sultry hues to failsafe neutrals to bold brights—are all organized by finish and color family. Metallized shades are up top, with coordinating matte shades underneath. The palette even includes a retractable lip brush. UD designed the wells with a special stair-step effect that's perfect for wiping any excess lipstick off the brush and keeping the lipstick in its compartment, not all over the palette. When you're done applying, flip the attached cover to keep the shades protected and the compact free of mess.
The shades that come in the palette are:
6 Metallized Lipsticks:
Banger (deep oxblood)
Amulet (brick rose)
Fast Talk (mauve-nude pink)
Big Bang (bright pink sparkle)
Mad (bright purple shimmer)
Spark (bright red with tonal shimmer)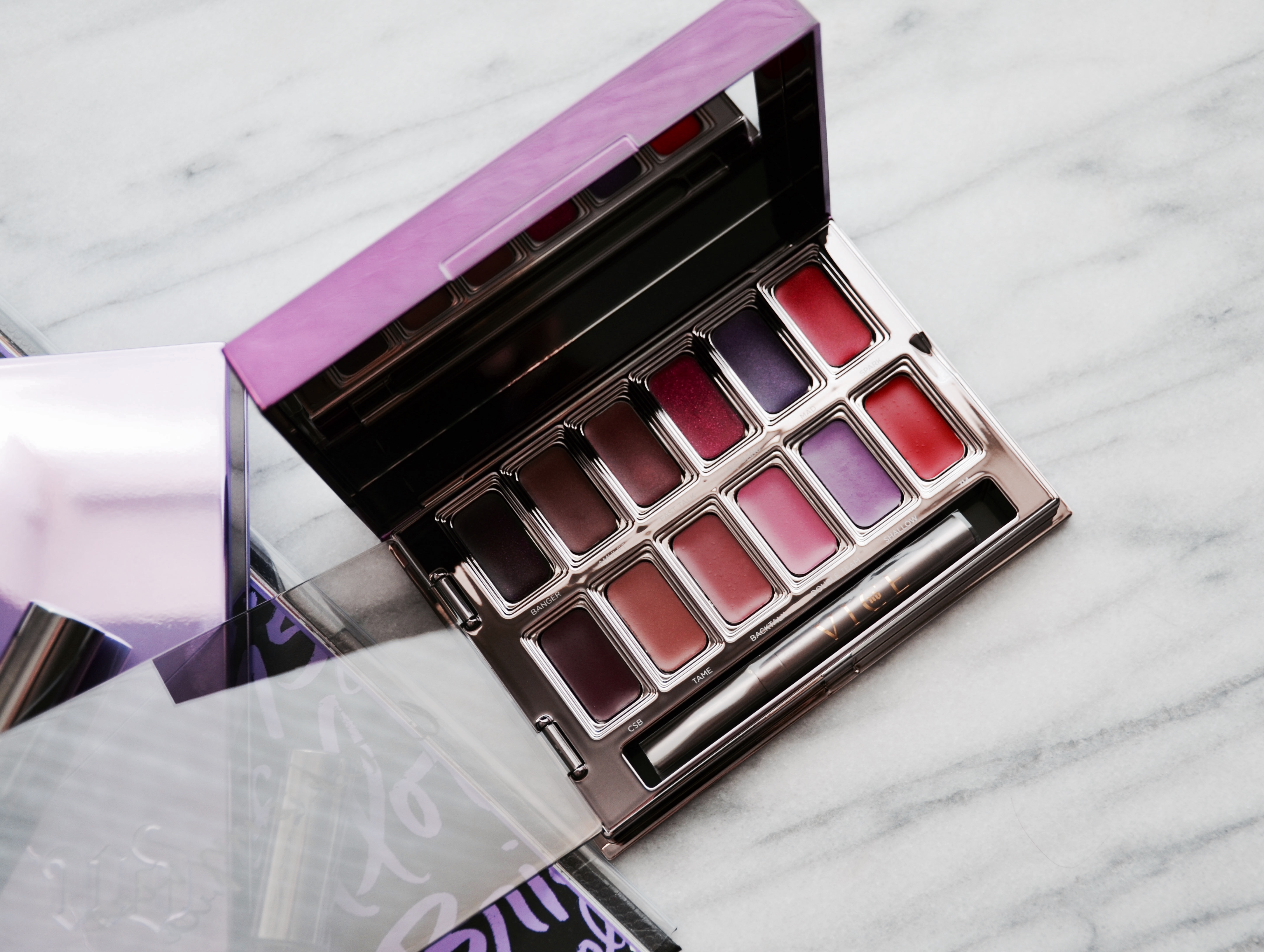 6 Comfort Matte Lipsticks:
CSB (dark berry)
Tame (medium nude-pink)
Backtalk (mauve-nude pink)
Double Team (pale pink with blue undertone)
Shallow (lavender)
714 (mega matte bright red)

Swatches L to R: Banger, Amulet, Fast Talk, Big Bang, Mad, Spark, CSB, Tame, Backtalk, Double Team, Shallow, 714
As with previous Urban Decay Vice Lipstick palettes, the quality is super nice. The pigmentation that the lipsticks pack is the same as with the single shades. I think that in this palette they included a good variety of shades and even the metallics are quite wearable.
Bottom line, another great release from Urban Decay. If you love punk rock glam and foiled eyeshadows, definitely look in to the Heavy Metal Metallic Eyeshadow Palette. The quality is there and I think the palette is quite different from other palettes that are on the market.
*PR Sample
SaveSaveSaveSaveSaveSave
SaveSave