Leave it to Urban Decay to make the perfect eyeshadow palette. The Urban Decay Born To Run Eyeshadow Palette is perfection in a palette. It comes with all the colors you will need to create both neutral and more rich and smoky eye looks. They recently launched the Born To Run Collection which features the palette, three Vice lipsticks, three eyeliners and a travel size of the All Nighter Setting Spray (with le packaging).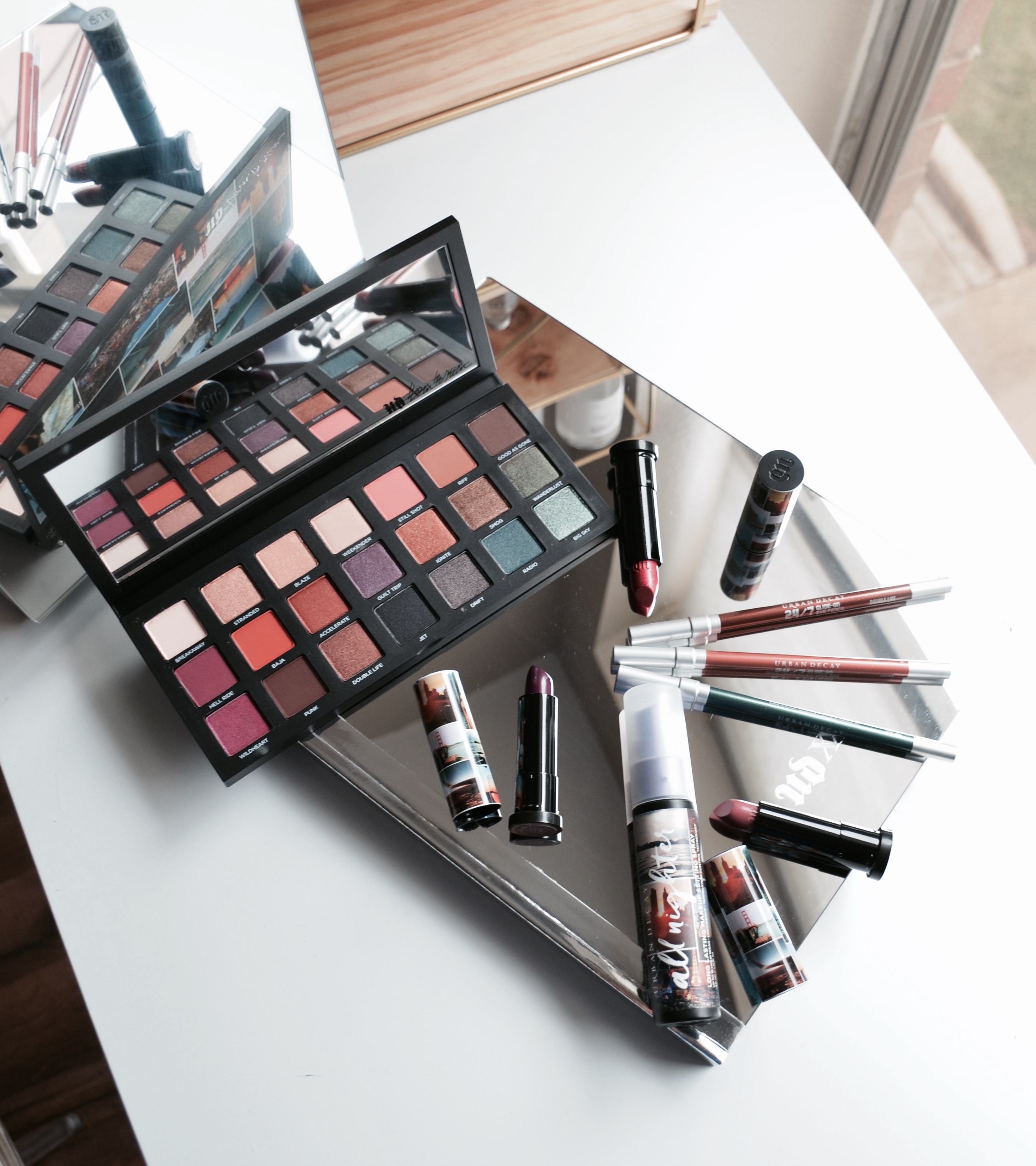 The Urban Decay Born To Run Eyeshadow Palette comes in beautiful travel themed packaging. It has 21 shades in shimmery and matte finish. The idea behind the palette is to create a perfect eyeshadow palette that you will take when you travel. A palette that will give you every look that you need. From neutral to warm jeweled tones and more colorful shades, this really is my perfect eyeshadow palette. You also get a big mirror which comes in handy when you travel.
The shades that come in the Urban Decay Born to Run Eyeshadow Palette are:
Breakaway (warm ivory shimmer)
Stranded (pale rose gold with tonal micro-shimmer)
Blaze (light metallic peach with pink shift)
Weekender (light neutral beige matte)
Still Shot (bright peach)
Riff (brown-nude matte with floating micro-sparkle)
Good As Gone (deep brown with iridescent micro-shimmer)
Hell Ride (deep fuchsia matte)
Baja (burnt orange matte)
Accelerate (reddish copper metallic)
Guilt Trip (smoky purple shimmer)
Ignite (rose gold metallic)
Smog (deep coppery bronze shimmer)
Wanderlust (forest green with gold micro-shimmer)
Wildheart (bright fuchsia)
Punk (red-brown matte)
Double Life (metallic rust)
Jet (black with deep shimmering purple shift)
Drift (charcoal satin with tonal micro-sparkle)
Radio (deep emerald satin)
Big Sky (frosted green shimmer with iridescent micro-sparkle)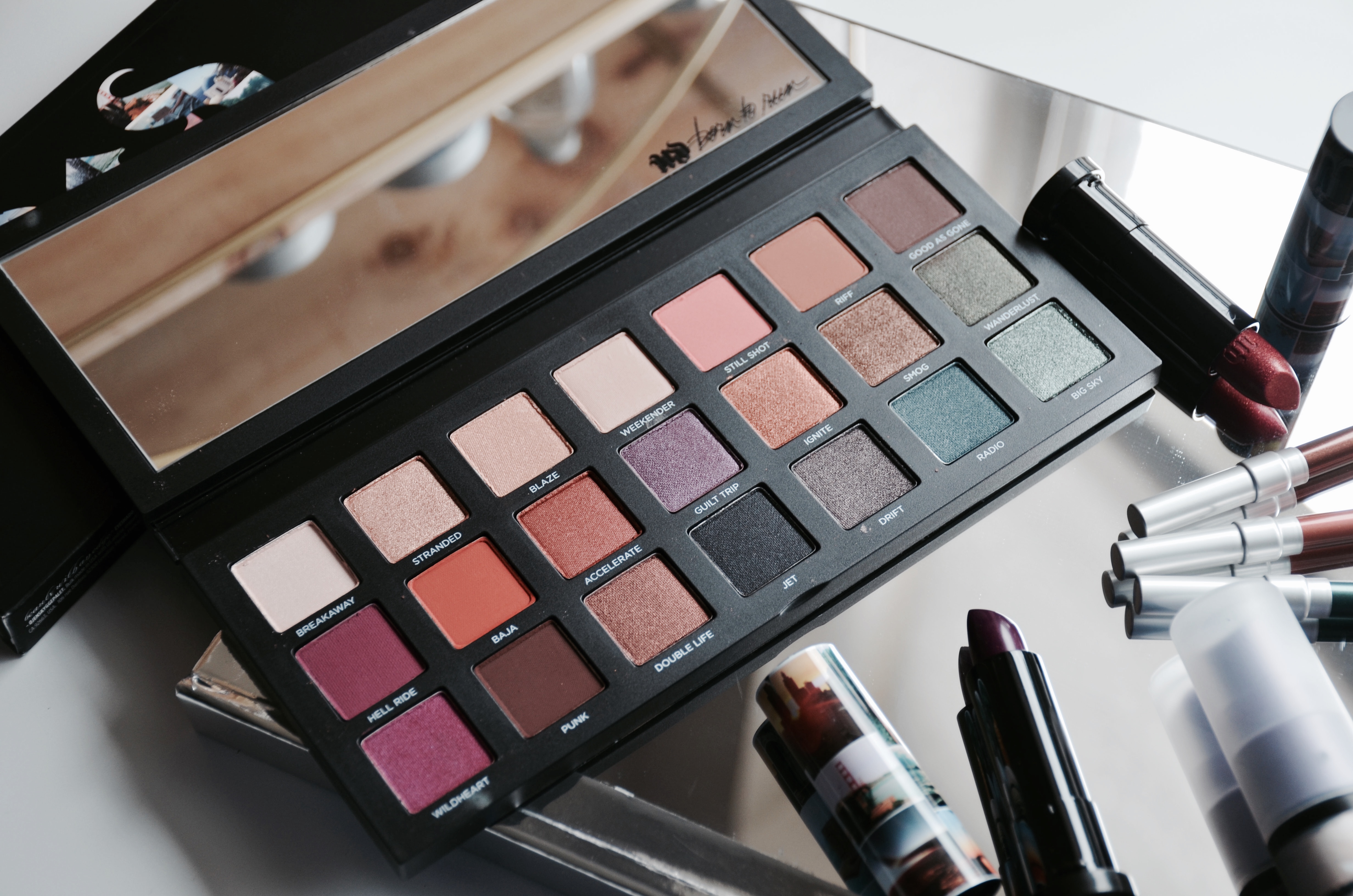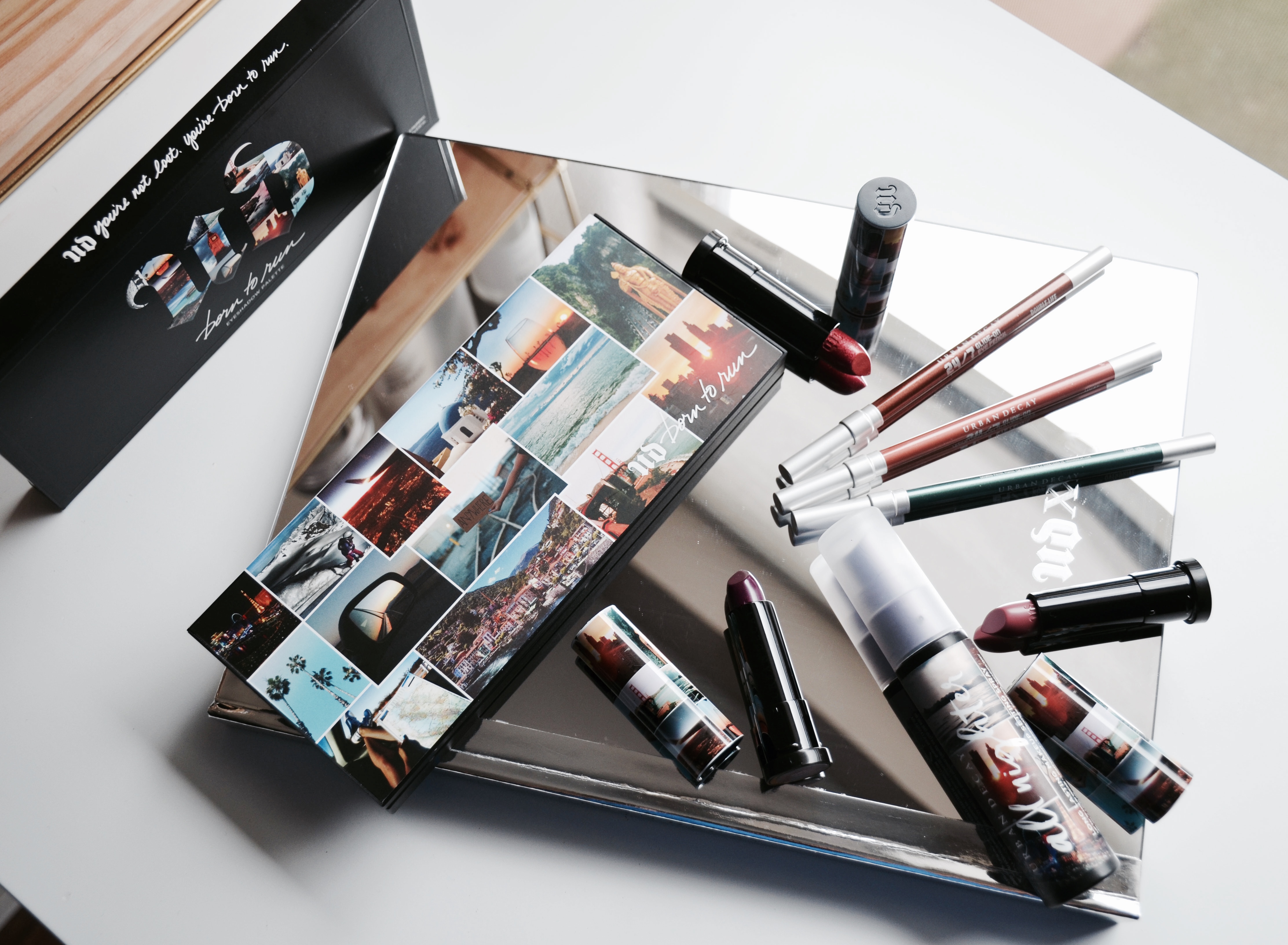 Both the shimmers and the matte shades in the palette perform really well on the eyes. They pack good pigment and I hardly get any fallout. The matte shades in particular, feel silkier in texture (at least to me) than other Urban Decay palettes that I've tried.
As for the shade selection, I love them all. There really is not a shade in the palette that I don't like and wouldn't wear. I think even the pops of color are quite wearable for people who don't use a lot of color on the eyes.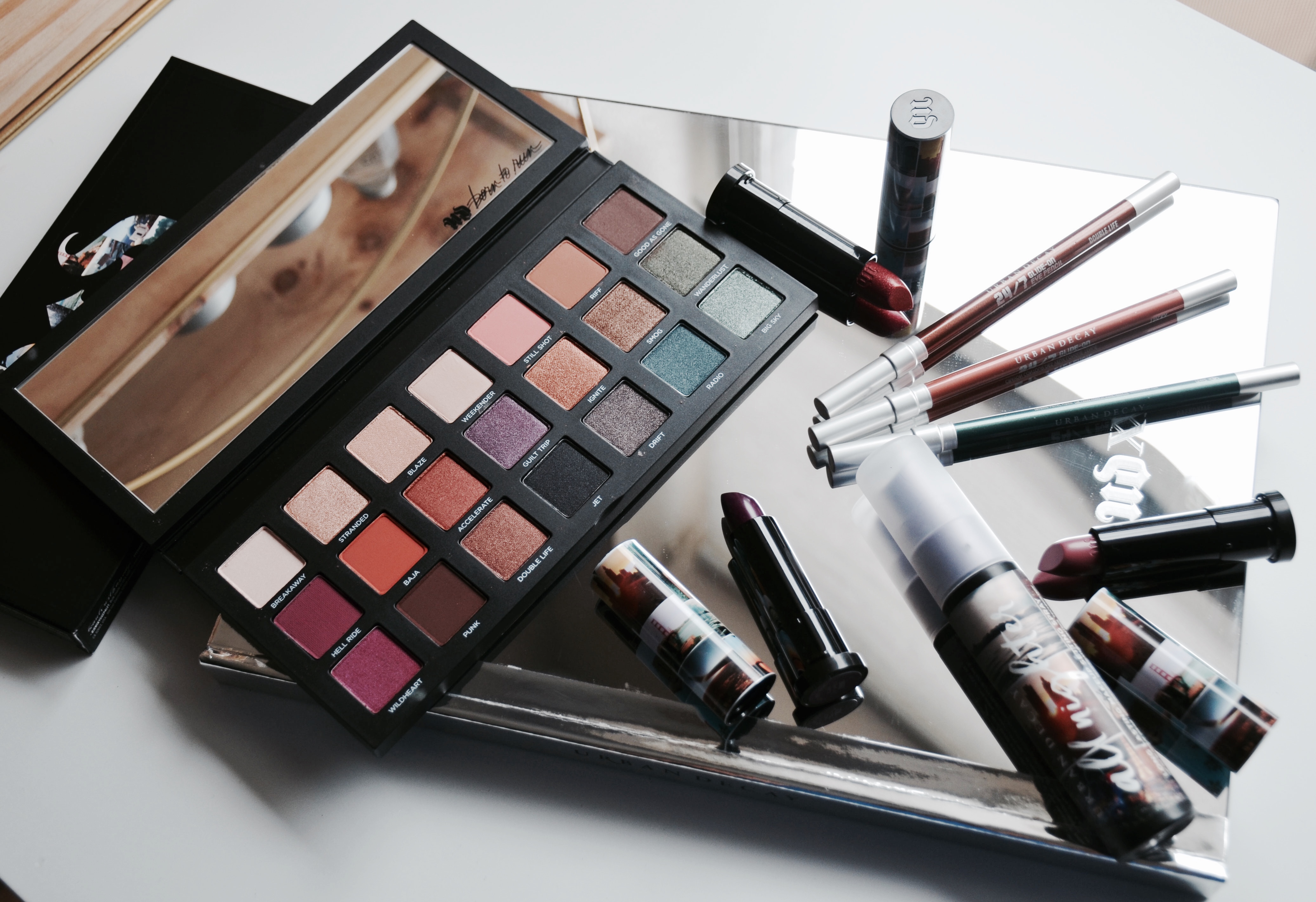 For size comparison, the Urban Decay Born to Run Eyeshadow Palette is bigger than any of the Naked palettes but it is thinner. It feels sturdy and well made so I bet it will travel well.

Swatches L to R: Breakaway, Stranded, Blaze, Weekender, Still Shot, Riff, Good As Gone

Swatches L to R: Hell Ride, Baja, Accelerate, Guilt Trip, Ignite, Smog, Wanderlust

Swatches L to R: Wildheart, Punk, Double Life, Jet, Drift, Radio, Big Sky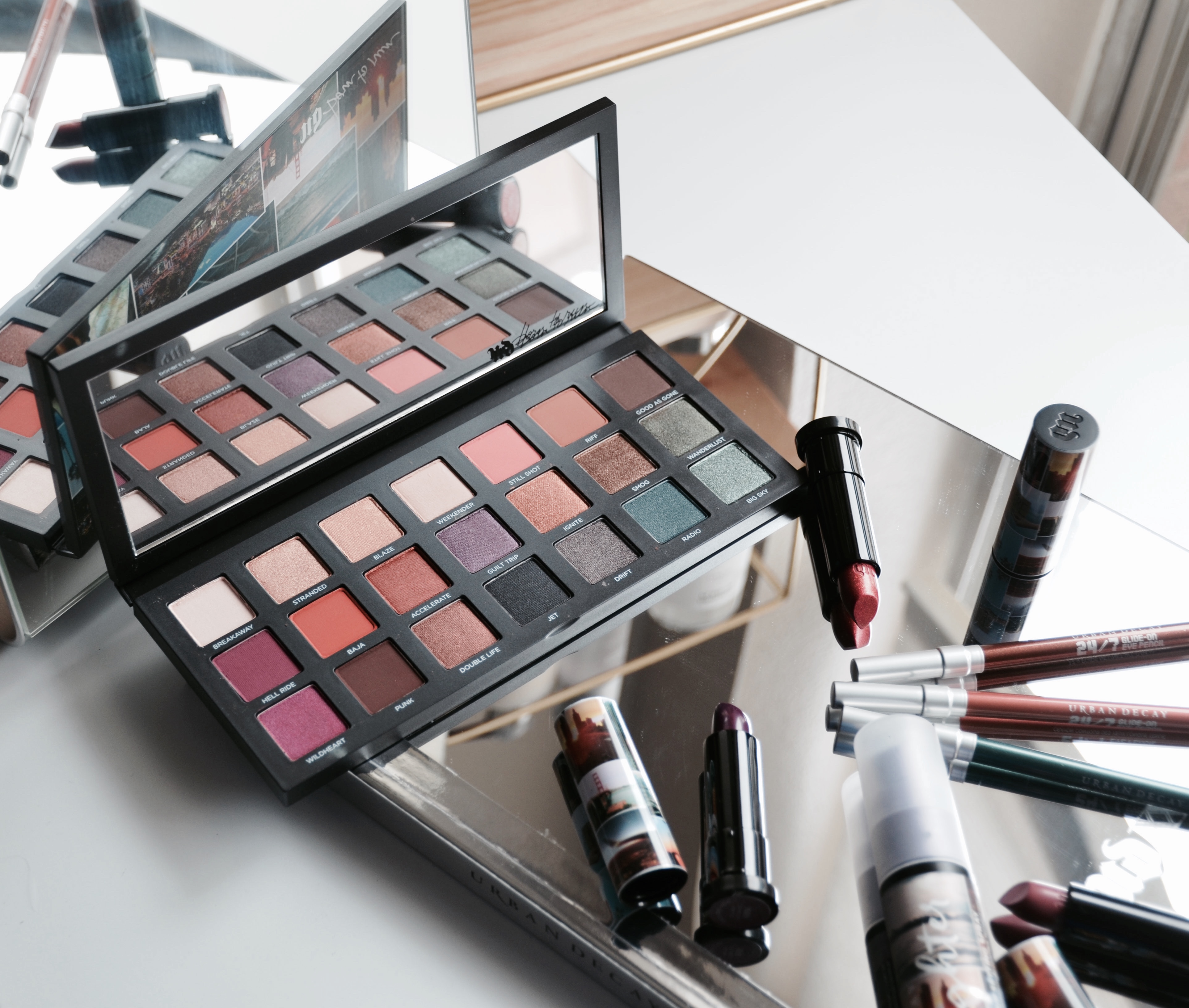 The three lipsticks that come with the Urban Decay Born To Run Collection are: 66 (rich mauve nude in matte finish), Ready? (bright rose sparkle in metallic finish) and Marfa (dark berry with pink micro shimmer).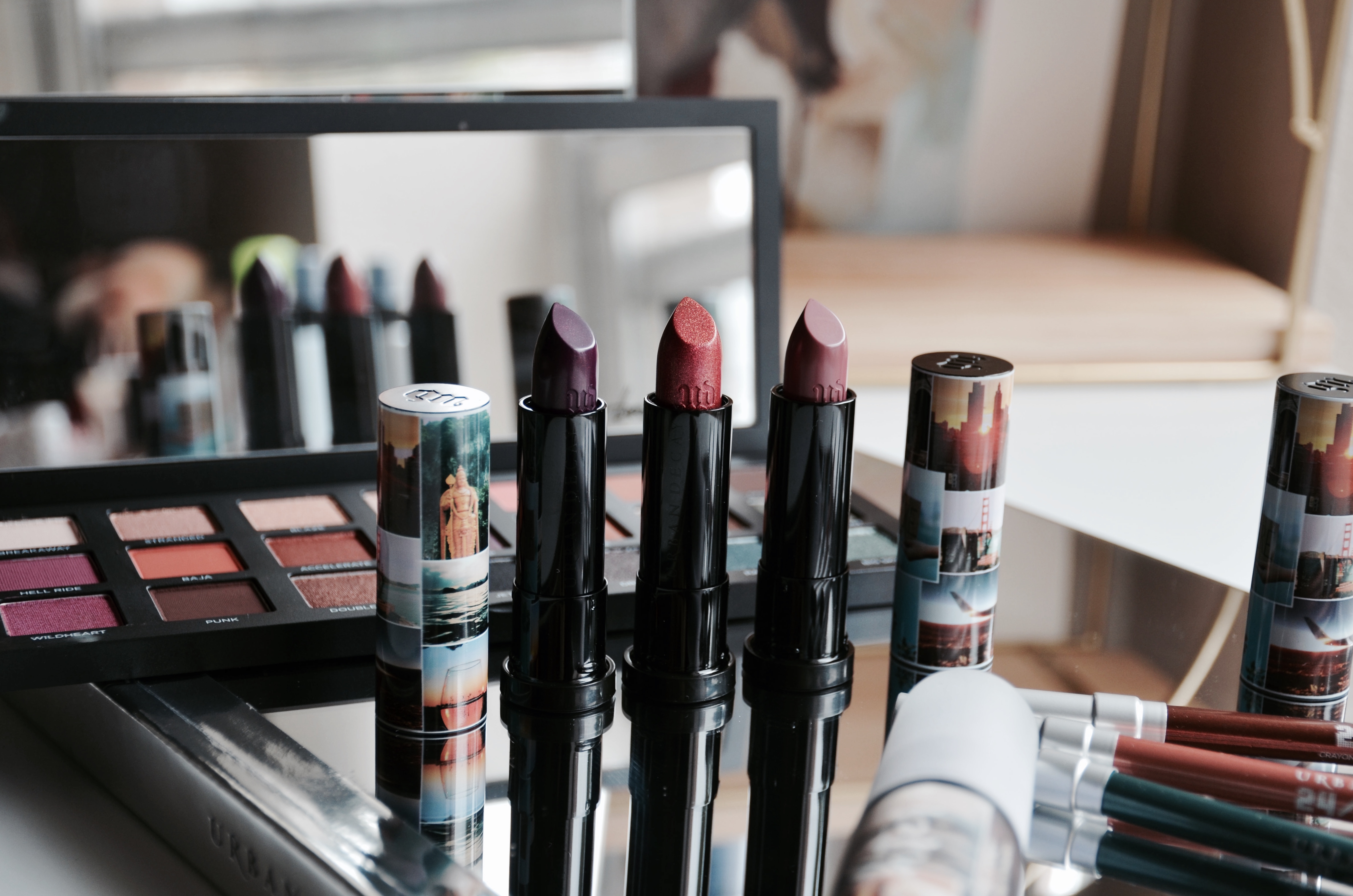 I really like the Vice lipsticks formula and this LE packaging is stunning. They are a nice addition to the collection but I wish they added a lighter nude which would go so well with the eyeshadow palette. Of the three, of course I love 66 since is the neutral from the line. It reminds me of Backtalk which is one of my favorite shade. Both 66 and Marfa would be beautiful for fall.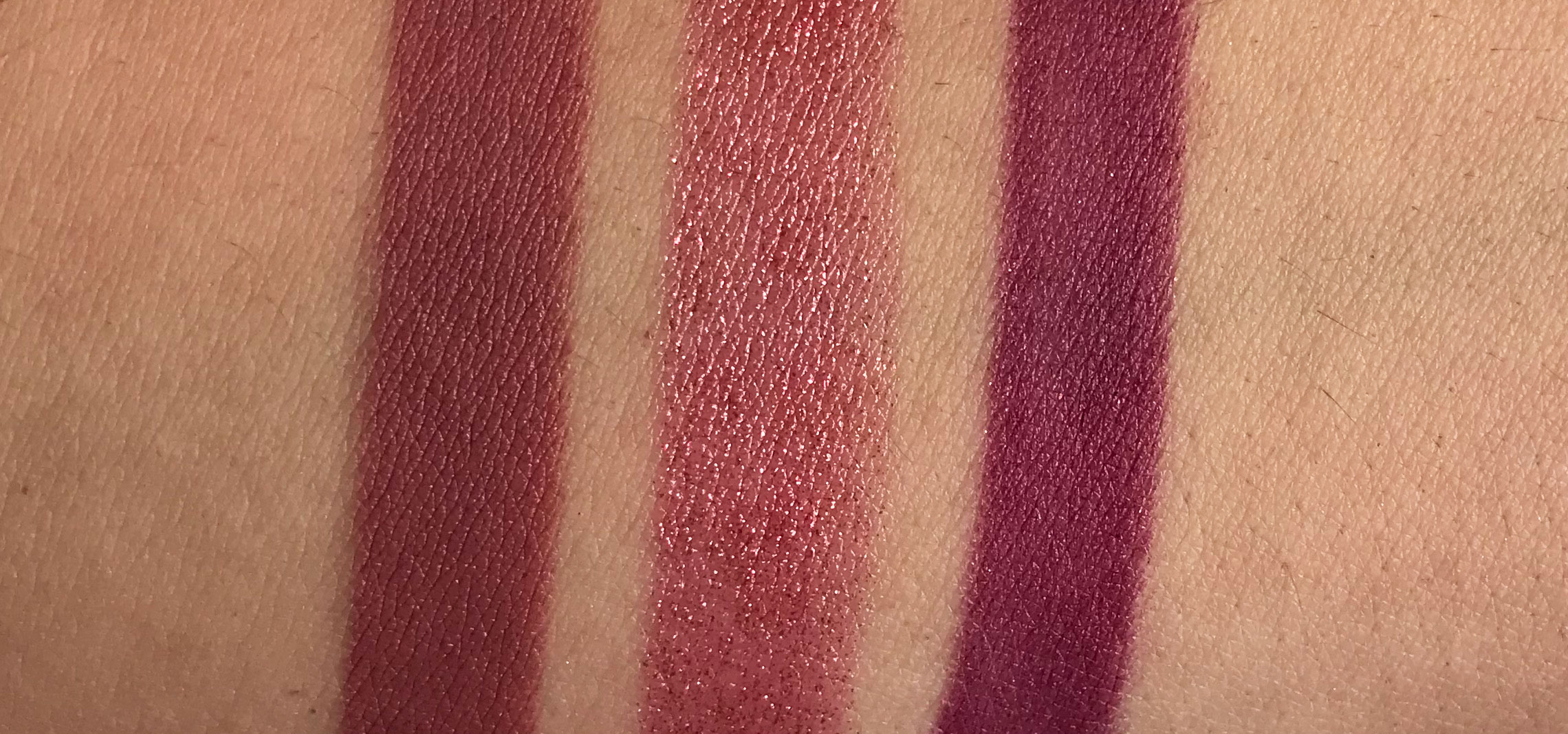 Swatches L to R: 66, Ready?, Marfa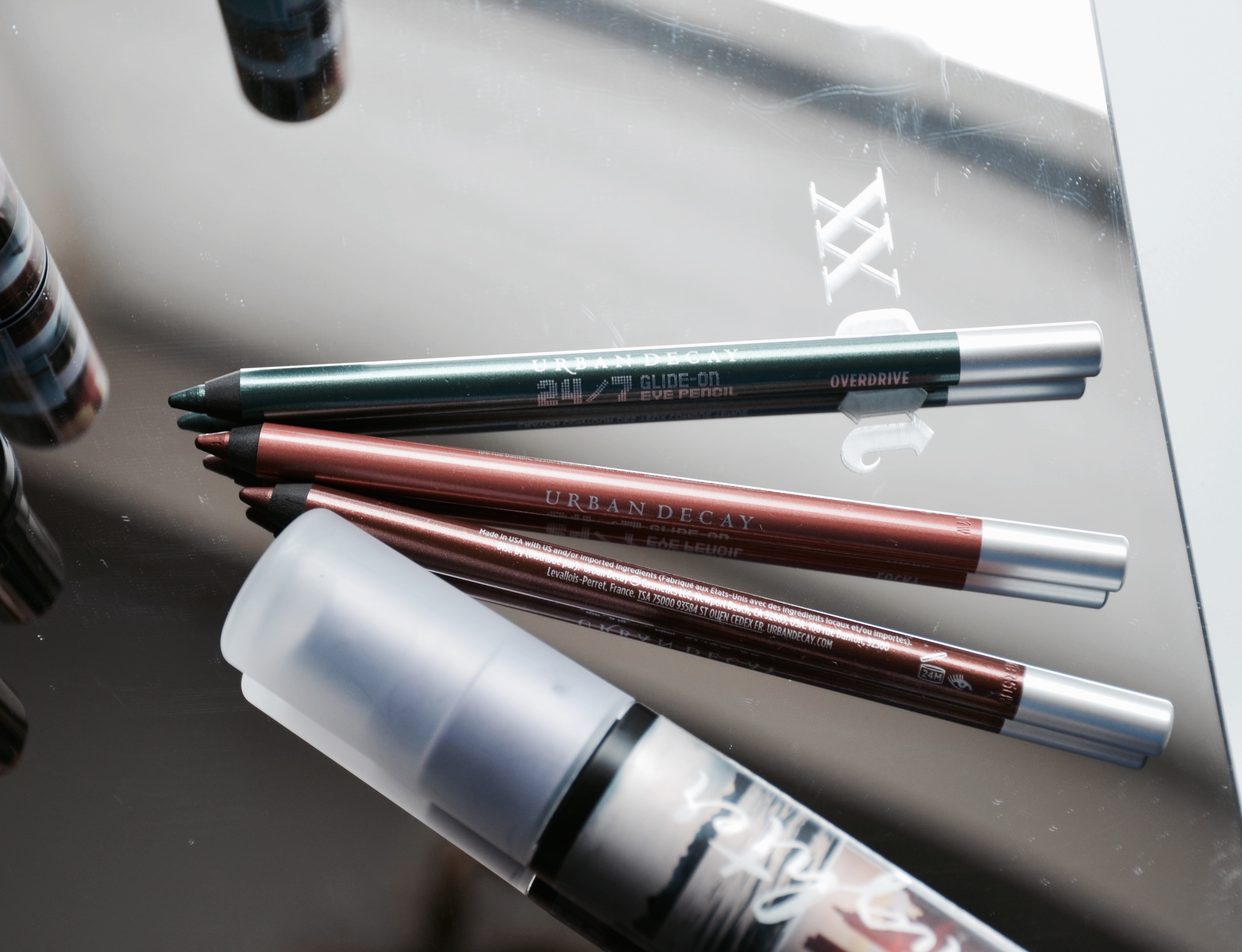 The Urban Decay Born To Run Collection comes with three 24/7 Glide On Eye Pencils in: Lucky (dark metallic copper), Double Life (reddish brown metallic) and Overdrive (deep green metallic).
If you haven't tried the 24/7 Glide On Eye Pencils, you are missing out. They have one of my favorite creamy but budge proof formula and they are available in so many shades. They are also good for smudging so sometimes I even use them as eyeshadow.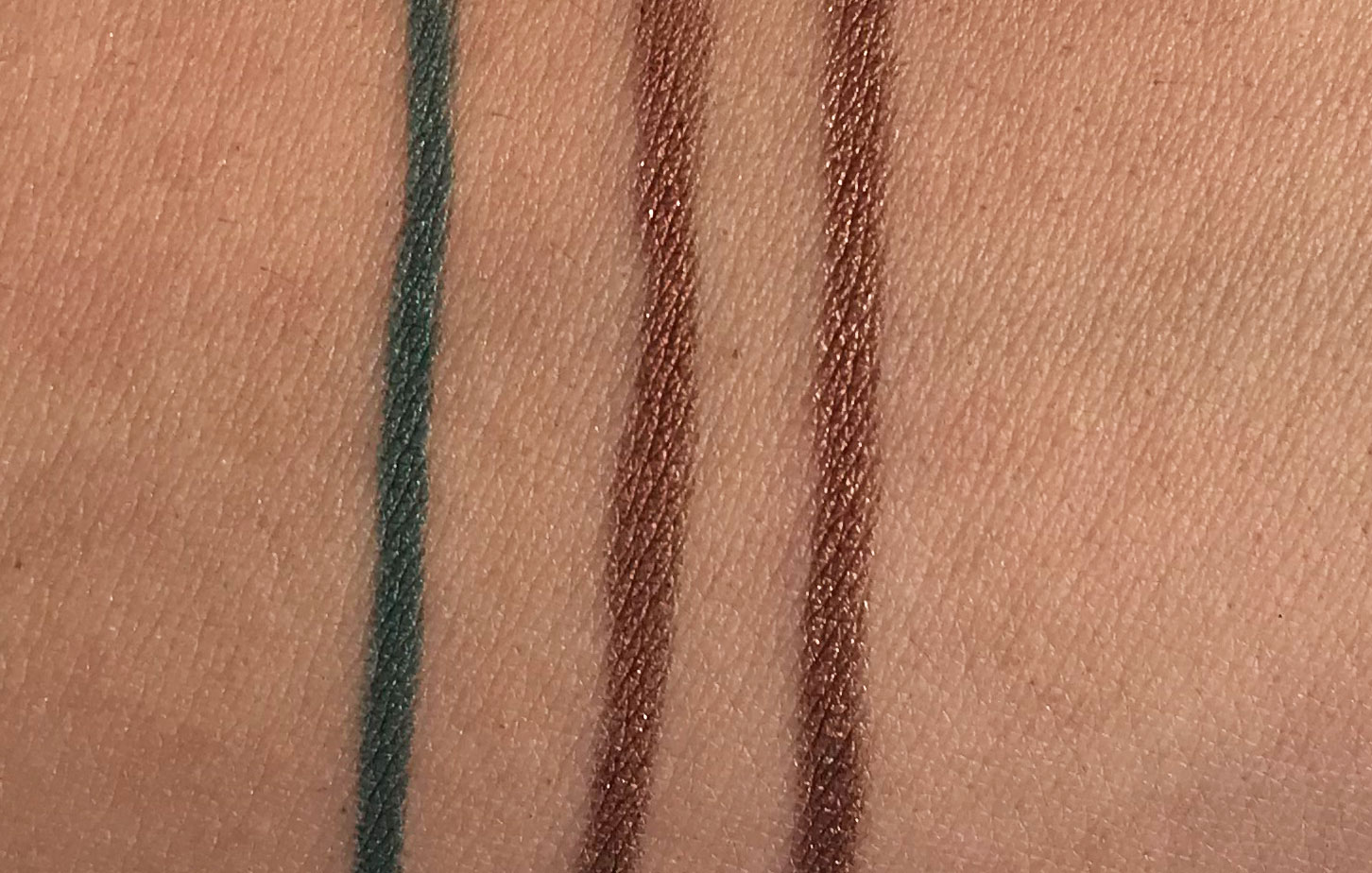 Swatches L to R: Overdrive, Double Life, Lucky
The Born To Run Travel Size All Nighter Setting Spray has the same LE packaging as the lipsticks and eyeshadow palette.
Last week I was in Miami so I had a chance to test the spray in super hot and humid weather. My makeup literally didn't budge in the heat! I was happy that I could test the spray in different conditions since CO is dry so I don't get that melting feeling that we get in humid weather. Definitely a must for me. Especially if you travel somewhere tropical.
Bottom line, the Urban Decay Born To Run Collection is a big hit for me. Especially the Eyeshadow Palette, I think it's one of the best from the brand when it comes both to formula and shade selection and variety. The eyeliners are beautiful and I will get a lot of use of all three (I use bronze eyeliner all summer long). The lipsticks are nice but I think the shades are more fall appropriate and the travel spray, like I mentioned before is a must for me for summer.
*PR Sample