Beauty with a purpose, that is Thrive Causemetics. For every product you purchase, one is donated to help a woman thrive. They are also vegan, 100% cruelty free and made in LA. I'm very new to the brand but everything I've tried so far, I love. I wanted to share two products that were the first products I tried from Thrive.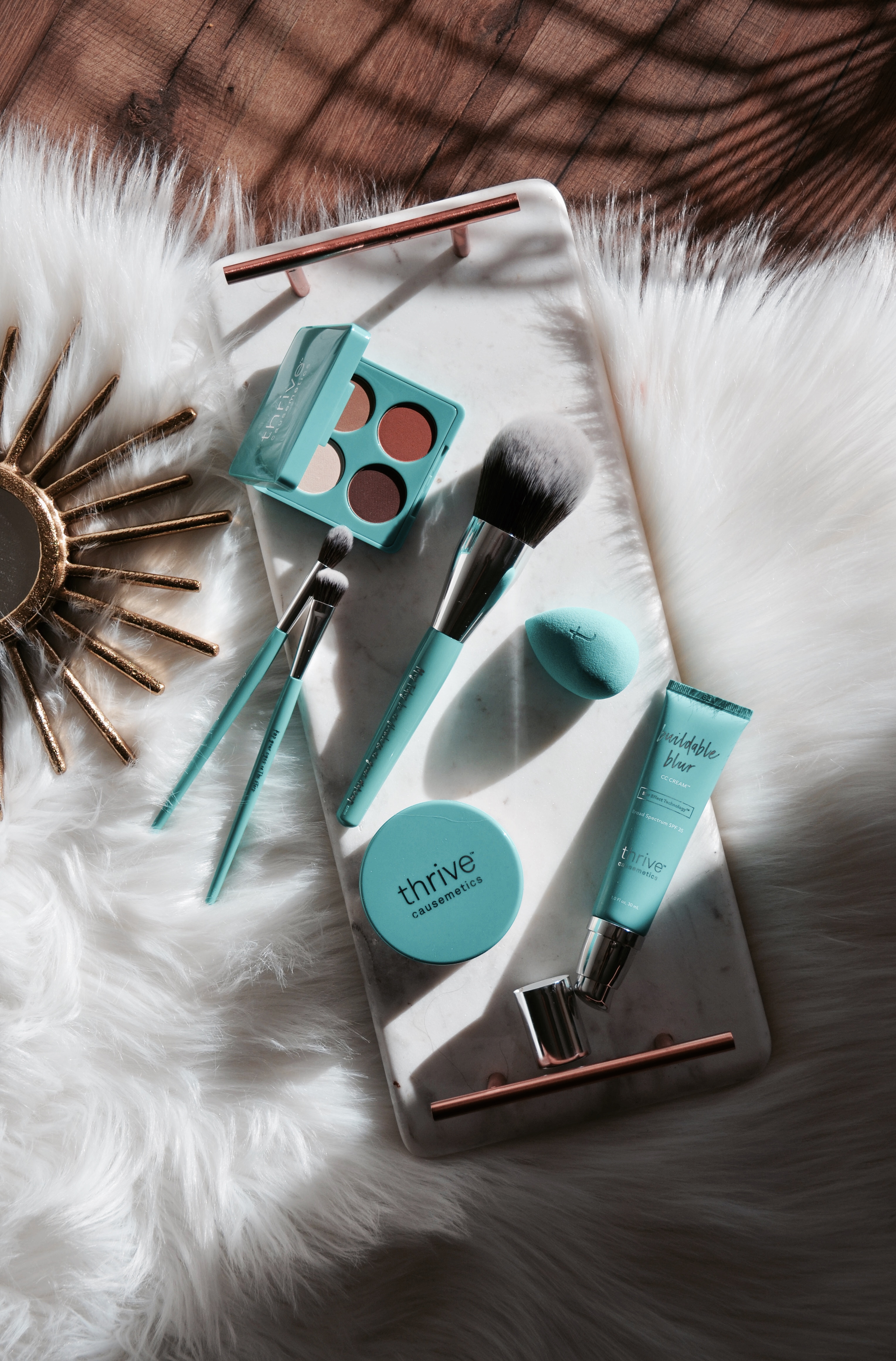 First up, the Thrive Causemetics Buildable Blur CC Cream SPF 35. It is a sheer but buildable up to full coverage CC cream that blurs imperfections and color corrects at the same time.
Key Ingredients:
BLUR EFFECT TECHNOLOGY™
Diffuses and blurs the look of skin imperfections, pores + fine lines like a photo filter for your face.
SMART PIGMENT TECHNOLOGY™
Adjusts formula to give you a better match while concealing the look of skin imperfections such as redness, rosacea, discoloration and dark spots.
VITAMIN C
Evens skin tone, brightens and provides anti-aging + antioxidant benefits.
FLAXSEED EXTRACT
Helps control + absorbs oil to reduce shine.
BROAD SPECTRUM SPF 35
Provides protection against harmful UVA/UVB rays + blue light damage from computer screens and phones.
The finish of the CC Cream is natural, almost leaning to glowy. I did use a hydrating primer before applying the CC cream so that might add even more dewiness but I also used their Blend + Blur Sponge (very comparable to the Beauty Blender if not softer and bouncier) for application.
With two pumps I got good light to medium coverage and a natural finish. I'm sure by using the Blend+Blur Sponge for application, the sponge takes off some of the coverage but also makes the finish more natural and glowy. You can also use your fingers for blending or a buffing brush which will get you more coverage.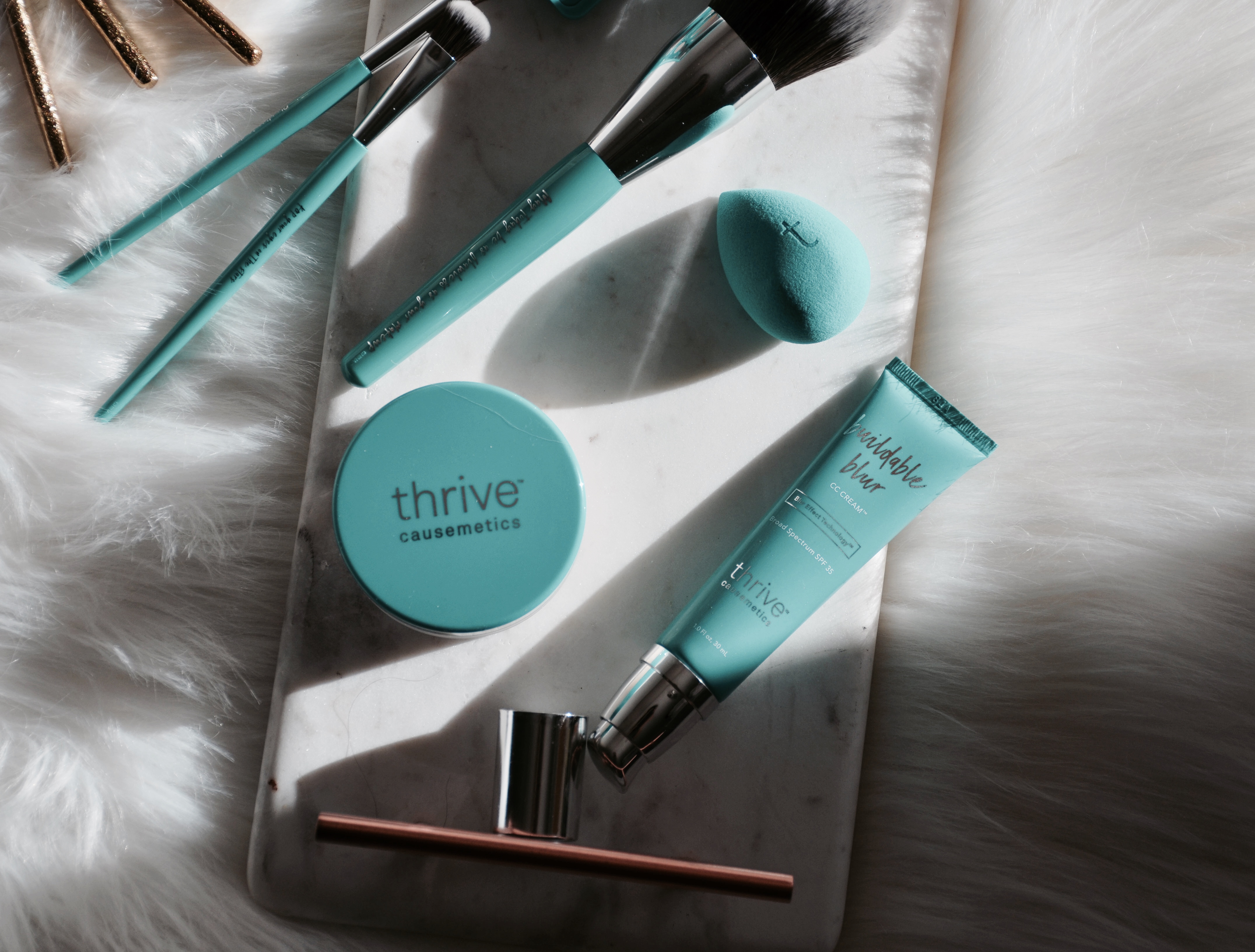 The Thrive Buildable Blur CC Cream does have blurring properties but doesn't blur out my pores completely. It doesn't settle in to fine lines or pores and just look like skin (very natural and glowy).
The line has 18 shades which is amazing for a new launch and a CC cream type of product. For shade reference, the shade in Light Medium is my perfect match for my light/medium skin tone.
A lot of people asked me to compare the Thrive Buildable Blur CC Cream to the It Cosmetics CC cream and I would say that the Thrive Buildable Blur CC Cream is lighter in coverage, feels weightless on the skin but the finish is very similar. The It CC Cream has more coverage but also feels thicker and heavier on the skin. Both work really well for dry, normal and combination skin. It just depends what you are looking for when it comes to coverage.

Swatches L to R: Fair, Fair Light, Light, Light Medium, Medium, Medium Beige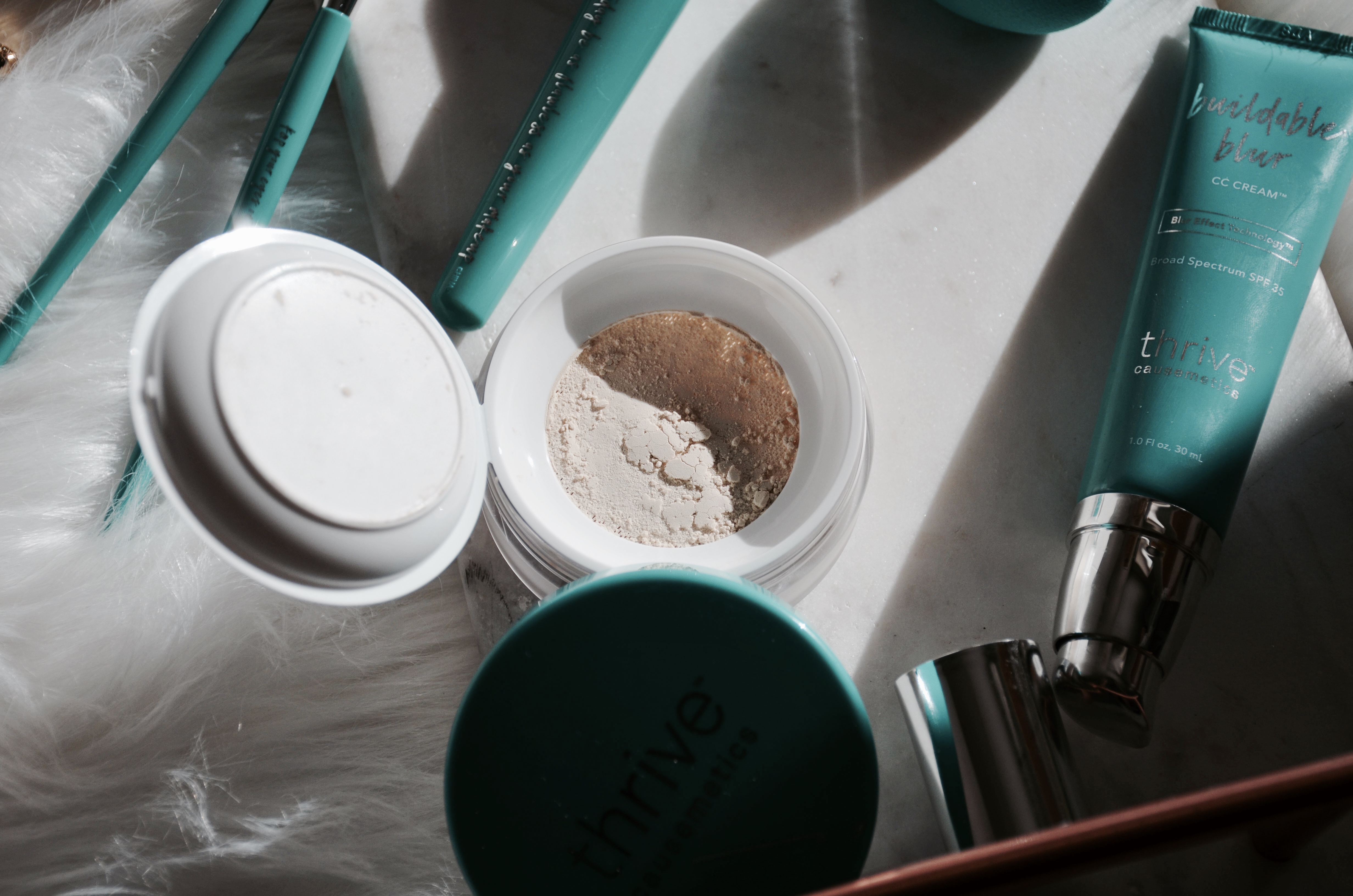 For flawless looking skin, I combine the Thrive Buildable Blur CC Cream with their Filtered Effect Soft Focus HD Setting Powder. It is a translucent loose setting powder that sets the makeup while also blurring any imperfections that you have on the skin. This combined with the CC cream gives me an airbrushed skin effect that still looks natural and skin like.
Key Ingredients:
KEY INGREDIENTS
BLUR EFFECT TECHNOLOGY™
Softens the look of pores + fine lines, like a photo filter for your face.
VITAMIN C + GREEN TEA
Impart antioxidant protection from pollution and free radicals.
CUCUMBER, CHAMOMILE + COCONUT
Soothe and hydrate your skin.
SODIUM HYALURONATE
Holds 1,000 times its weight in water to hydrate, plump and help minimize the appearance of fine lines.
I like the Filtered Effect Soft Focus HD Setting Powder because it makes my skin look flawless but it is lightweight and doesn't add extra coverage. It also doesn't feel drying on my skin which is important for my normal skin.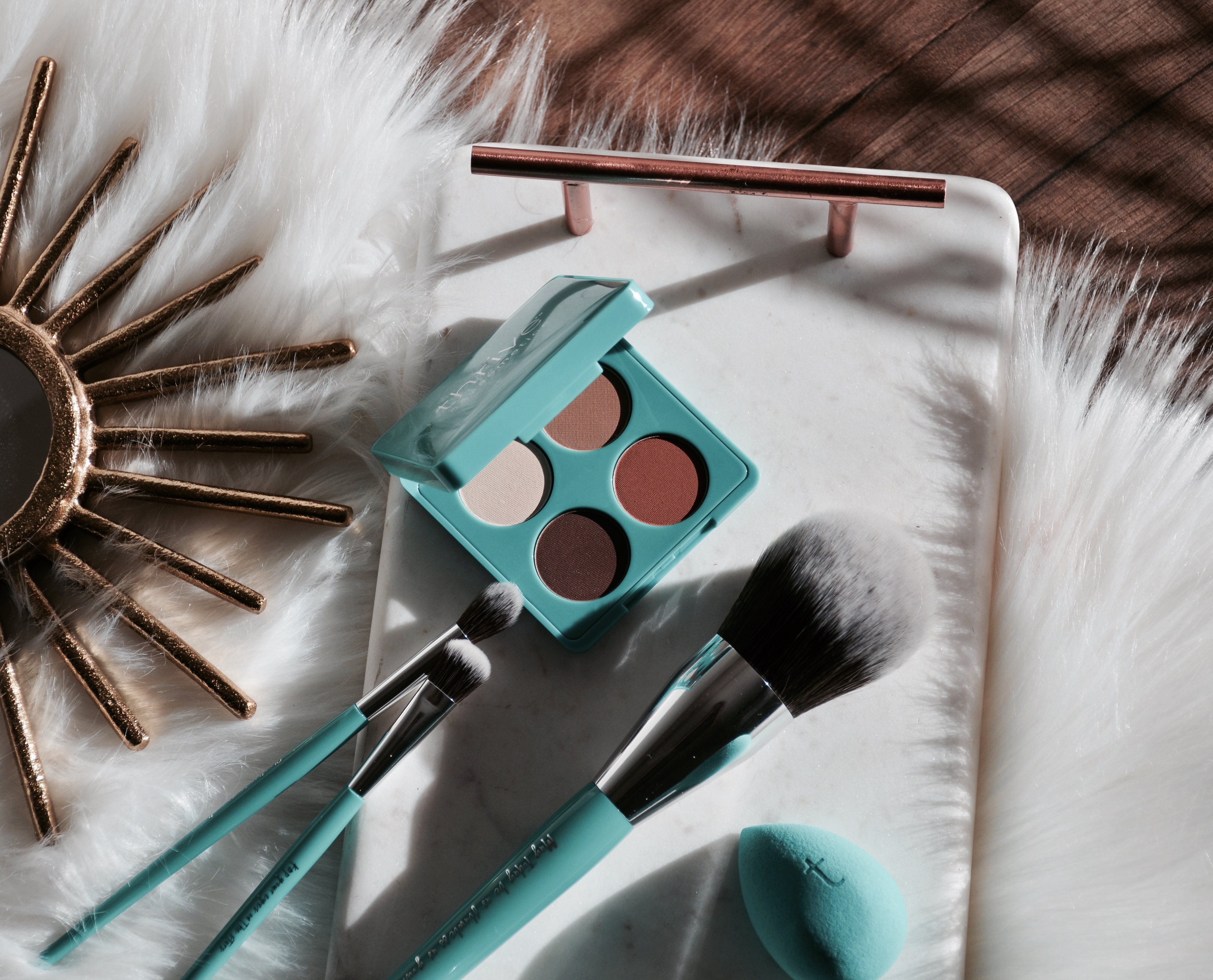 The Thrive Causemetics Focus Eyeshadow Palette 3 is an all matte quad that is great for creating day to day looks. The formula is user friendly and is easy to work with even if you are a beginner. The shadows are soft but not powdery and have buildable pigmentation. They are very easy to blend and are true to color (what you see in the pan is what you get on the eyes).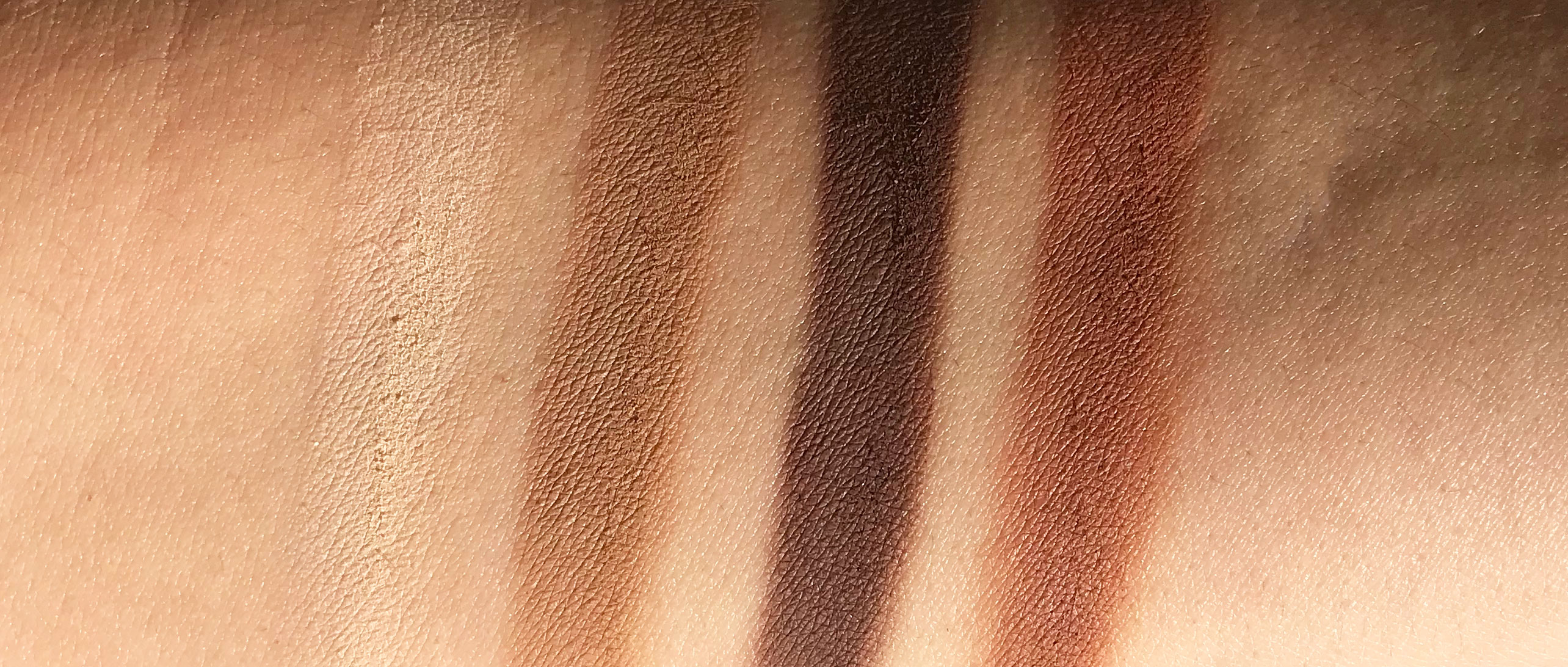 Swatches of the Thrive Causemetics Focus Eyeshadow Palette 3
Bottom line, I am very impressed by all of the products that I've tried from the brand. I love that they are a clean brand and don't use any bad ingredients in their products and I also like that their products are very user friendly.
If you are looking for a light to medium coverage base to use for every day, I highly recommend the Buildable Blur CC Cream. The setting powder is also amazing and it works even if you have skin that is on the dry side. The eyeshadow palette is not a must but it is a great beginners palette and for anyone that doesn't have a lot of matte neutral shades.
*PR Sample