I'm a big fan of the AMOREPACIFIC skincare line. Their Moisture Bound Rejuvenating Eye Treatment Gel has been my favorite for awhile, I'm actually on my third tub now and I hardly ever repurchase products since I get to test a lot and also try to use different products. So yes that's how much I love that eye cream.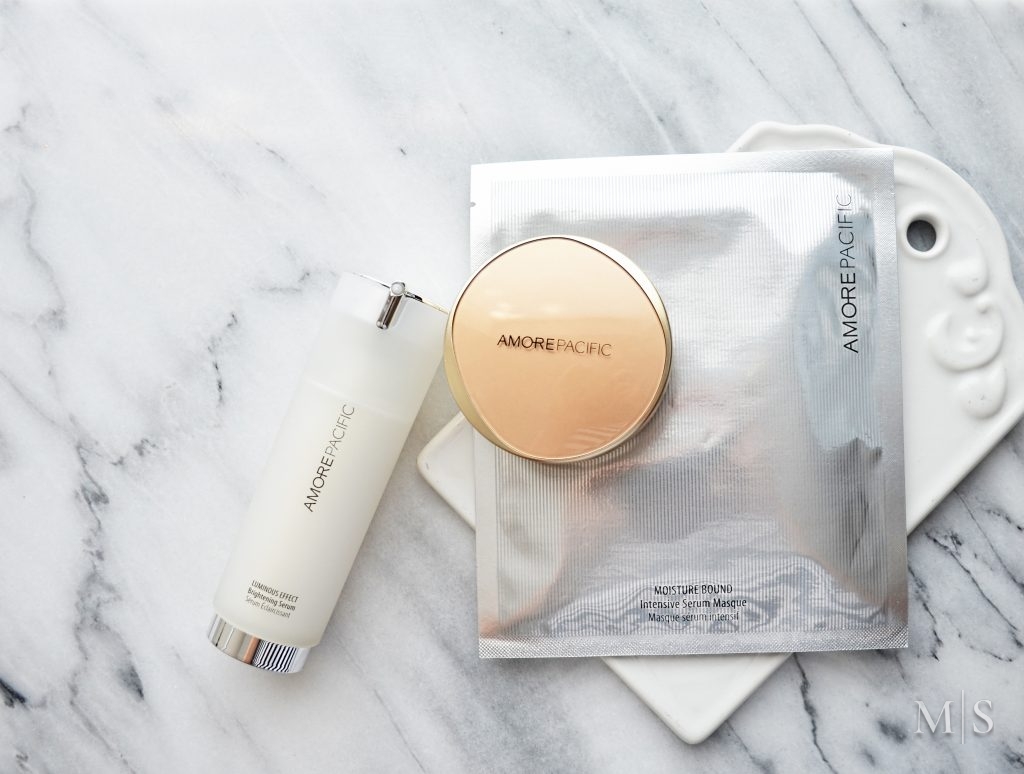 I had the pleasure of testing out three newer products from the line, two skincare items and one makeup item which also has skincare benefits.
The AMOREPACIFIC Age Correcting Foundation Cushion Broad Spectrum SPF 25 is a cushion type foundation that combines potent anti-aging ingredients for a tightened appearance and a lightweight finish. With continuous use the claims are:
Even-Layer Protective Technology ™ conceals pores and visibly evens out skin tone to prime skin.
Long-Lasting™ Complex maintains coverage even through hot and humid conditions.
Green Miracle T™ , AMOREPACIFIC's patented ingredient, helps to restore skin and boosts natural suppleness and density for a youthful appearance.
Green Tea Polysaccharides, a powerful antioxidant, protects skin's surface from environmental aggressors.
Broad Spectrum SPF 25 protects skin from harmful UVA and UVB rays that cause skin aging.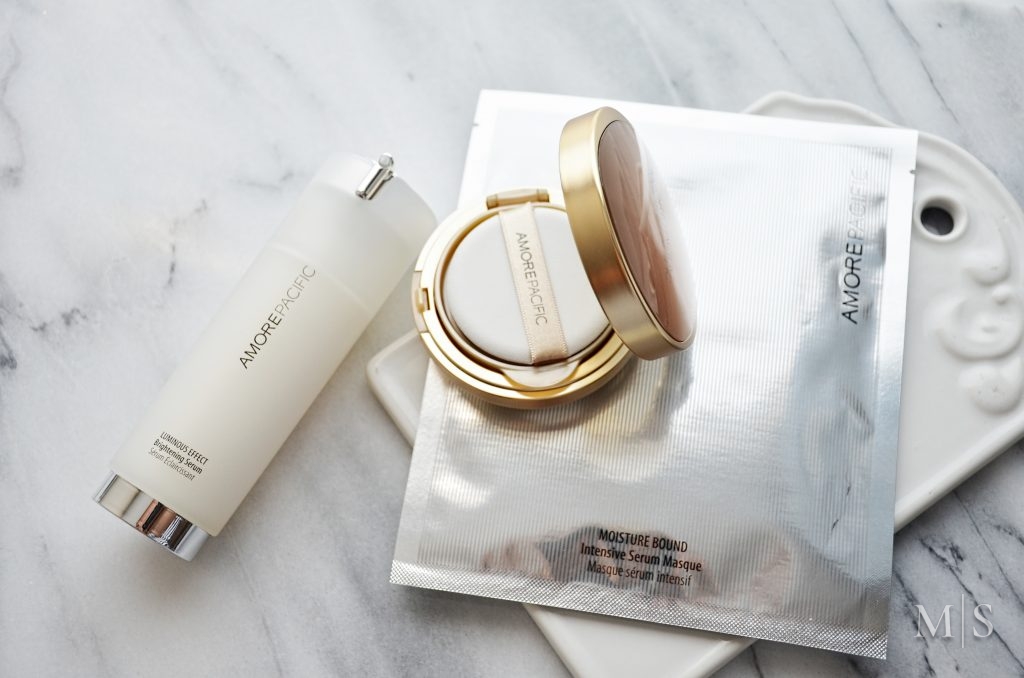 I'm a fan of cushion foundation because they're pretty light on the skin and the application is super quick and easy, plus they make for great travel bases. The fact that this cushion foundation also provides skincare benefits is a big plus and the SPF 25 makes it a great base for summer.
The line has five available shades, three for pink undertones and two for yellow. My shade match is 204 Light/Medium (Yellow) which is the lighter shade from the two shades with yellow undertone that they offer.
The formula of the AMOREPACIFIC Age Correcting Foundation Cushion Broad Spectrum SPF 25 feels light on the skin and actually looks like skin when applied. It does provide some tightening that I noticed around my eye area and also around my smile lines. The finish is very natural and hydrating so I would recommend this base for normal to dry skin.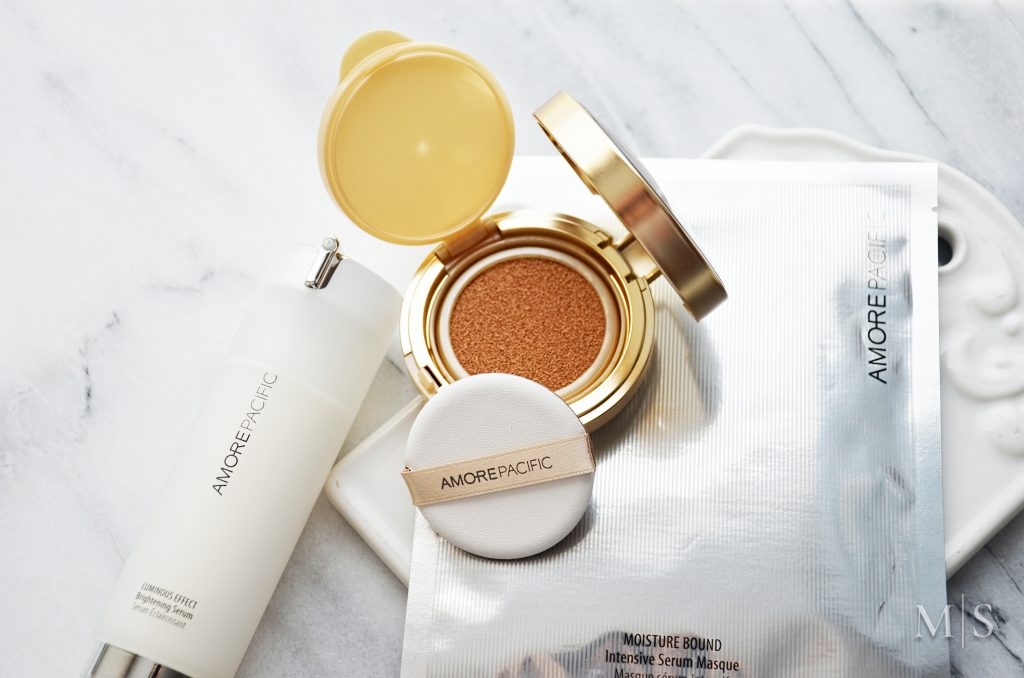 The AMOREPACIFIC Moisture Bound Intensive Serum Masque is a unique two in one ampule and masque that provides hydration, firmness and radiance to the skin.
What it is formulated to do:
Infused with 100 percent pure bamboo sap and AMOREPACIFIC's hydrating 5‐Hydra Complex™—a proprietary fusion of potent Asian botanicals—this mask effectively revitalizes parched, lackluster skin to restore essential moisture and luminosity. It boosts skin's moisture retention power, leaving skin nourished, vibrant, and youthful-looking. 
The mask is available in a package with two treatments which is $32 and a package of 6 treatments for $90.
This is a great mask to use before a special event because it provides instant hydration and makes your skin literally glow. It is a two step product but well worth the two steps since you can instantly see results.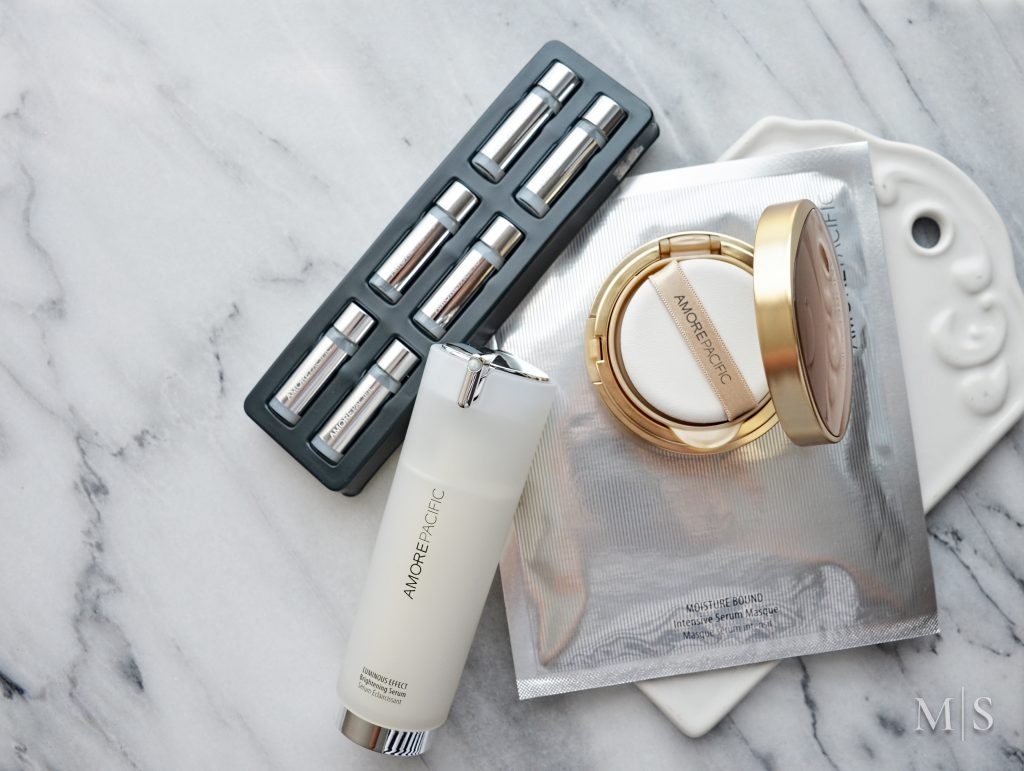 The AMOREPACIFIC Luminous Effect Brightening Serum is a serum that helps with the skin's natural brightness and radiance, dark spots and discoloration and also with preventing discoloration before it begins.
Bright – T Ferment™, derived from fermented green tea, helps deliver antioxidant-powered brightening to illuminate skin, diminishing signs of age spots and hyperpigmentation.
Meladefying™ Technology promotes an even skin tone for improved clarity overtime.
Green Tea Theanine helps improve the appearance of resilience, enhancing how light reflects off of skin for youthful luminosity.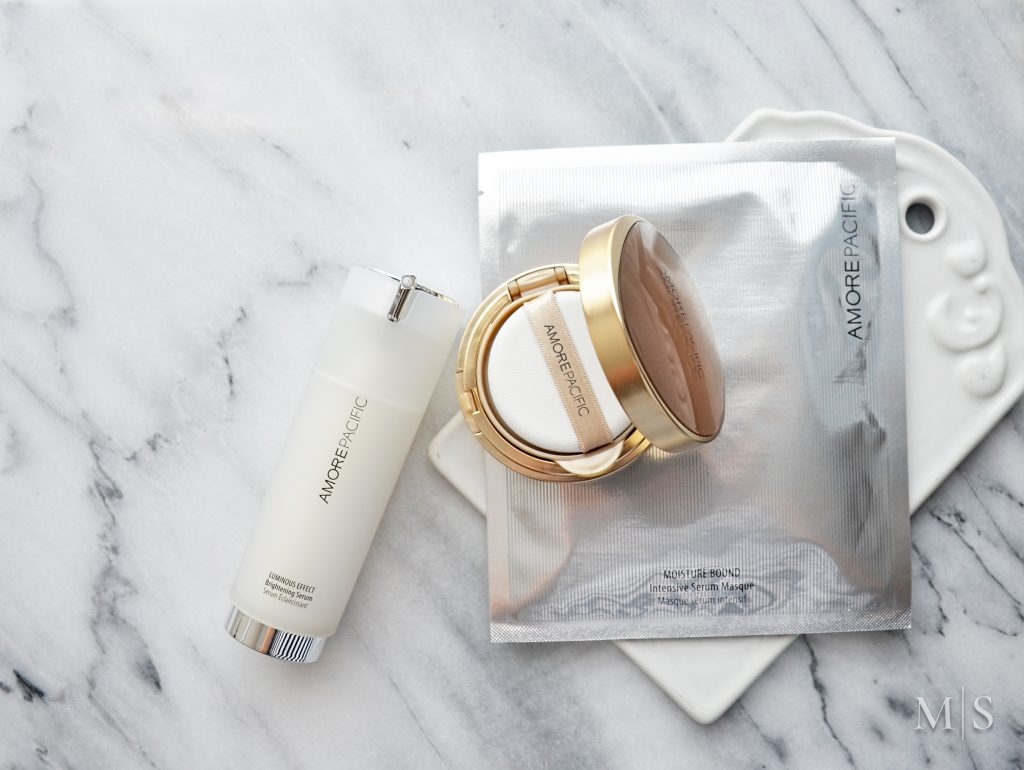 What draw me to this product is the name, everything that says brightening and luminous I'm in for trying.
The serum provides a slight luminous and dewy finish but dries pretty quickly and doesn't leave you with a greasy feeling. What I love about the product is the brightening effect, I can really tell a difference with my dark spots after using the product for around four weeks. Whenever I get a breakout as soon as it heals it leaves me with a dark spot and the serum has made a huge difference in their appearance.
Do you have any AMOREPACIFIC skincare favorites that I should check out? Let me know in the comments below.
*PR Samples