July is a special month for me. Not only it is the month of my blog turning two but it's the month of my now newborn daughter's birthday. She was born on July 10th and I couldn't be happier, I've been walking on cloud 9 since that day. I had to have an emergency c-section because she was breached but to my surprise the recovery time was not that bad, I was able to function normally after a week.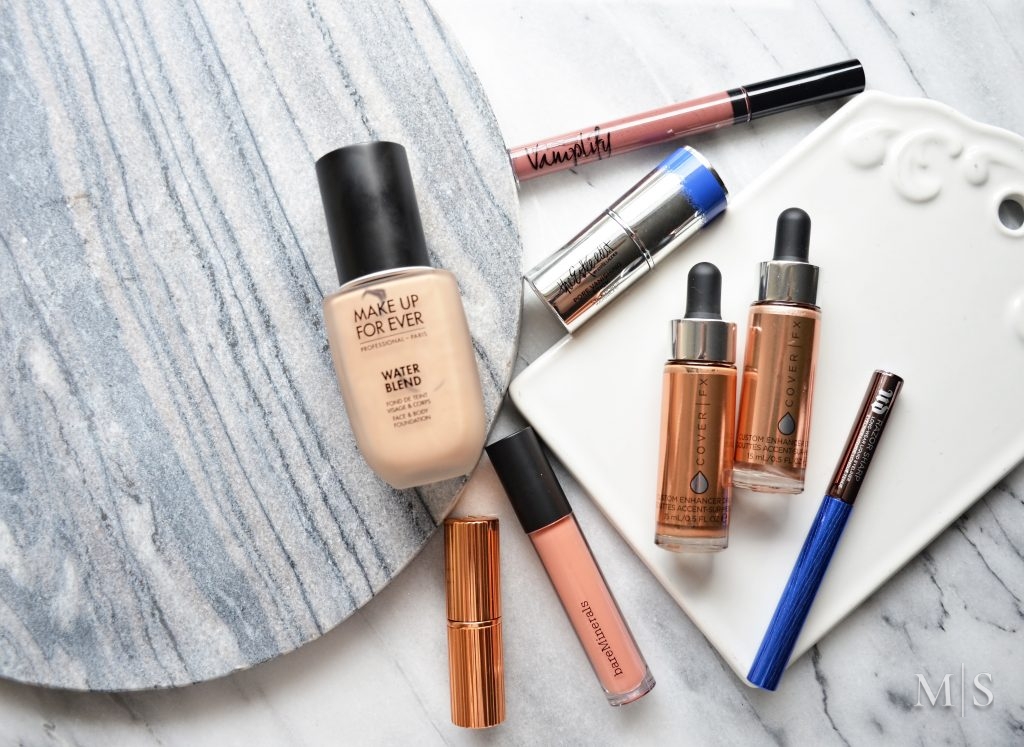 And that's the reason I'm not posting as often as before but I'm finally feeling like myself and ready to blog full time again. Now on to some beauty related stuff.
July was a great month for beauty. There were some exciting new releases and a peek in to fall releases which I'm pretty excited about. Here are some of the beauty products that made in to my monthly favorites:
MAKE UP FOR EVER Water Blend Foundation – A new release for the month of July and one of my favorite foundations for summer. MUFE actually reformulated their Face & Body foundation and improved the formula with more pigment and waterproof and transfer proof formula. It's a sheer coverage foundation that you can use for your face and body but it's also buildable to a full coverage base with a natural finish.
Cover FX Custom Enhancer Drops – I was lucky enough to test all the shades and OMG! I'm loving all the shades from the line but my most used ones are Moonlight (a light champagne) and Sunkissed (the lighter bronze shade). These are the most beautiful liquid highlighters on the market which have a foiled look when you swatch them but still appear natural when applied lightly and blended out.
The Estee Edit Pore Vanishing Stick – This stick is such an easy product to use and it works beautifully in blurring out your pores. What I love about it is that you can use it either before you apply foundation or over your foundation so it's great for touch ups. It's also a great compact size that's perfect for my purse.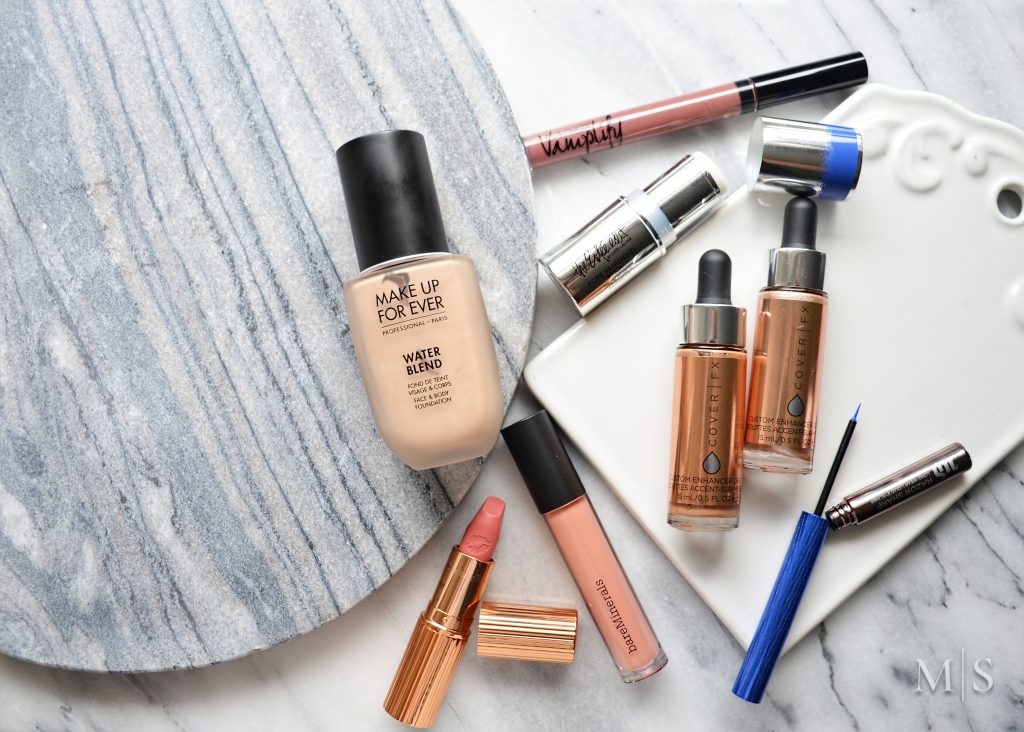 Urban Decay Razor Sharp Water-Resistant Longwear Liquid Eyeliner in Chaos – A beautiful vibrant cobalt blue that I use when I want to add a pop of color to my eye look. It's a super fun color for summer plus it's waterproof so you can even wear it by the pool. I will have a full review and swatches of all shades on my blog next week.
MAC Vamplify Lipgloss in Fab Tested – A dirty rose lipgloss that's great for every day wear. I've been in to glossy lips this summer because of how comfortable they are to wear plus I think a glossy lip goes so well with some tan and bronzed skin.
bareMinerals Gen Nude Buttercream Lipgloss in Popular – A soft peach lipgloss that's pigmented and very comfortable to wear. The formula of these lipglosses are not sticky at all and appear very shiny on the lips.
Charlotte Tilbury Hot Lips lipstick in Kidman's Kiss – I get very excited when Charlotte Tilbury has a new launch. She released a new lipstick collection called Hot Lips which were inspired by different women in her life. Kidman's Kiss is a beautiful rose pink lipstick with a matte finish that was inspired by Nicole Kidman. Swatches of the four shades I got will be up next week.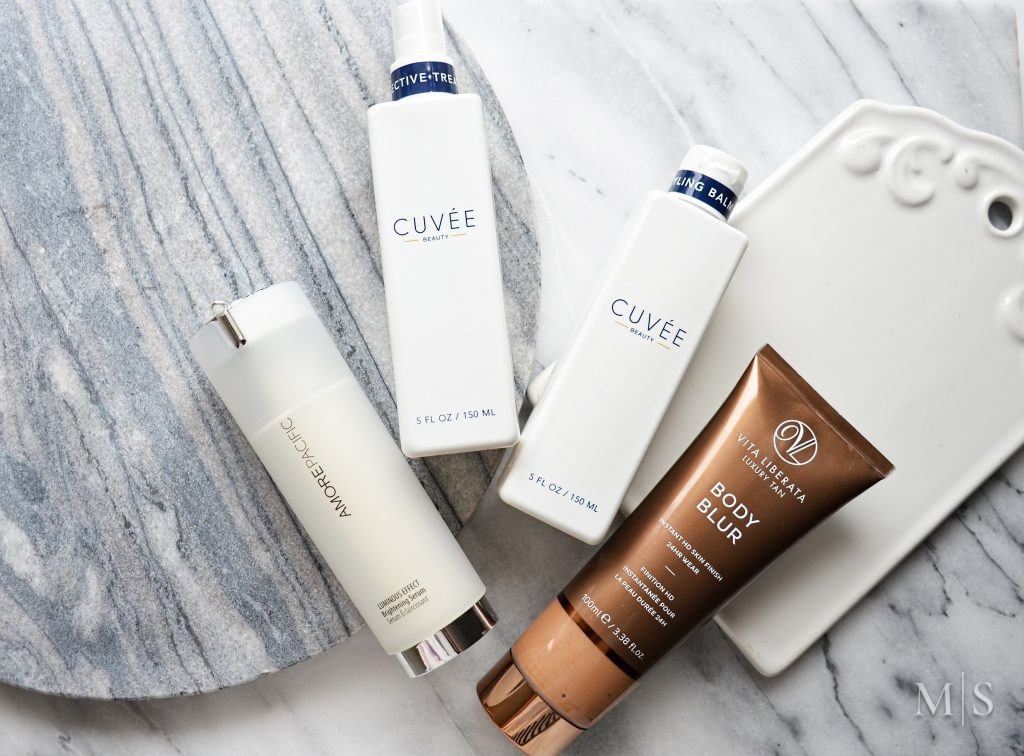 AMOREPACIFIC Luminous Effect Brightening Serum – I did a blog post about the new products I've been using from AMOREPACIFIC, they're all favorites but the brightening serum has a special place in my skin care routine. If you struggle with dark spots and discolorations I definitely recommend this serum because it has made a huge difference in my skin.
Cuvee Beauty Styling Balm & Protective Treatment – A new line of haircare that I've been loving. The Styling Balm is lightweight but provides protection from humidity and keeps my curly hair frizz free. It leaves my hair soft and not crunchy which I prefer plus the scent is amazing, both products smell like fig & champagne. The Protective Treatment provides UV protection while also taming frizz, helps with detangling and adds shine to the hair. Both products are cruelty, sulfate and paraben free.
Vita Liberata Body Blur – Is the perfect body bronzing product for the summer. It not only provides a slight bronze to the skin it also blurs out any imperfections that you have while also adding a subtle glow. It's been my go to product for this summer.
What products have you been loving for the past month?