Well better late then never right? A month ago I was tagged by the lovely Faith from That's Just Fabulous to participate in "The Blush Tag". I recently moved and I got to organize my makeup and buy new makeup storage so before I did that I didn't realize that I own so many blushes. Seriously next time when I want to buy a new blush I have to remind myself that I have a stash that will last me a lifetime. Of course as a blush lover I was pretty excited to do this tag.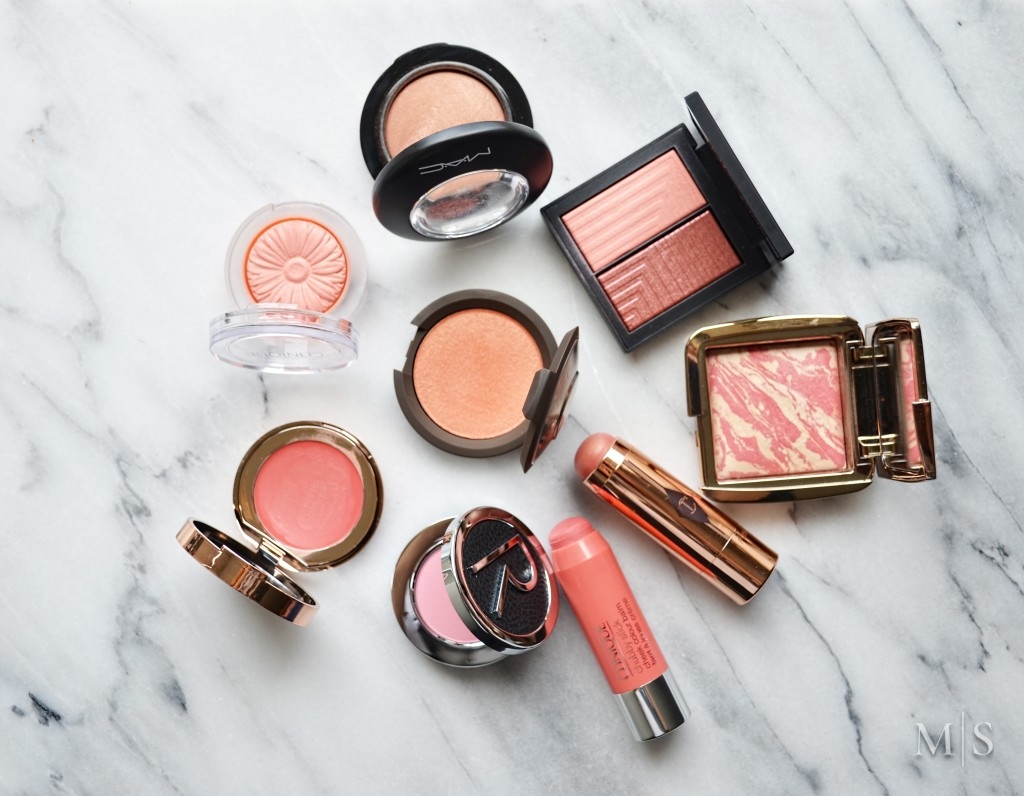 1. What blush color suits you the most?
I think peaches and corals look good on me since my skin is on the warmer side and I think they also look really well on people with blonde hair. I also think neutral shades suit almost every skin tone and they look good on everyone.
2. Pressed, cream, or loose blush?
Pressed is my usual choice but I do like to use cream blushes for spring/summer. I don't think I own any loose powder blushes and think that would be quite messy to use.
3. Favorite shimmery blush?
Oh man I have so many! I love MAC Warm Soul all year round, I think that it's such a classic shimmery peachy brown neutral shade that every person should have. I also love the Hourglass blushes and the new Becca Luminous Blushes, both are classified as shimmery but they give out a beautiful glow to the cheeks.
4. Favorite matte blush?
When I looked through my collection I realized that I don't actually have a lot of matte blushes. I would think Tarte Exposed is an all time favorite and Clinique Melon Pop but that blush has a tiny bit of sheen so it's not completely matte.
5. Favorite cream blush?
Hands down  Tom Ford Cream Blush in Pink Sand and Charlotte Tilbury Colour of Youth cream blush which unfortunately was limited edition. Pink Sand is a beautiful pink blush with gold sheen and Colour of Youth is a bright coral shade that's perfect for the summer months.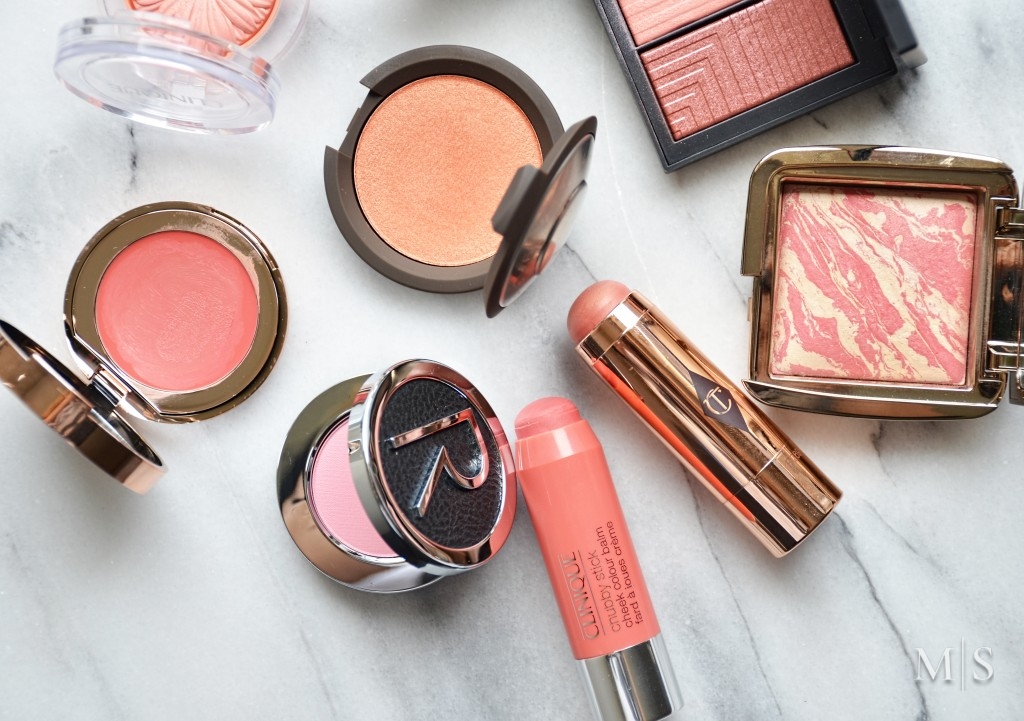 6. Favorite drugstore blush?
The Milani Baked Blushes and also their Rose Powder Blushes. Both formulas are amazing and such a good quality for a drugstore brand. If you're looking for a good shimmery blush for spring/summer the shade in Luminoso is a beautiful shimmery peach shade.
7. Favorite high-end blush?
Well this is a hard one! I think Hourglass makes one of the most beautiful blushes on the market but I also love Nars, Becca and Charlotte Tilbury. From Hourglass I would go with Diffused Heat, a good Nars shade would be Madly, for Becca I would choose Tigerlily and for Charlotte Tilbury I would go with Sex on Fire.
8. Favorite bright blush?
As you can see by the photos I love bright blushes, especially if they're coral and orange, I'm all about. I have two new Becca blushes that are very bright and beautiful, the Luminous Blushes in Tigerelily and Snapdragon. I also love the Rodial blush in South Beach, a beautiful bright matte pink.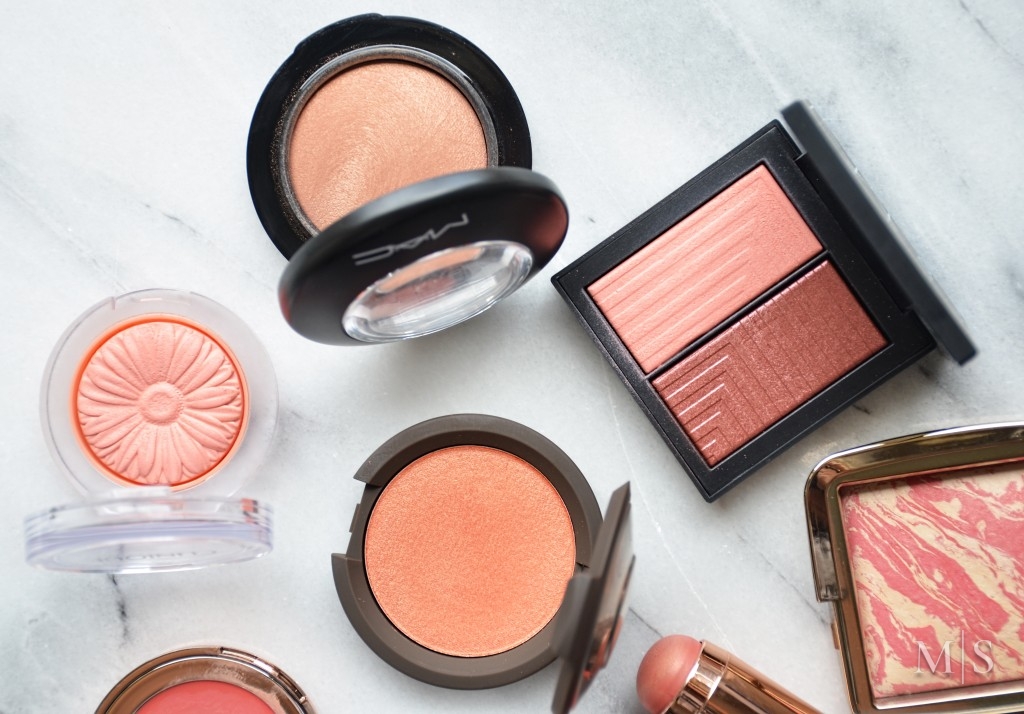 9. Biggest blush disappointment/regret?
Hmm I don't think I've tried a blush that I didn't like. It's not that I have low standards when it comes to blushes, I just do my research before I buy a product so I hardly end up not liking a product that I buy.
10. Number 1 Holy Grail Blush?
I would say Mac Warm Soul. It's such a neutral shade that goes with every makeup look and it's one of those shades that I reach for when I don't know what to wear. Plus it gives a beautiful glow to the cheeks without any noticeable shimmer and it's perfect for all year round use.
Now I tag each and everyone of you to do The Blush Tag. Please tag me on social media if you do this tag so I can read your answers. Thanks to Faith for tagging me, I had so much fun doing this tag.