I love me some Bite Beauty lipsticks! They recently released a whole new line of lipsticks which replaced their Luminous Creme line called the Amuse Bouche. The line is described as a collection of high impact lipsticks in dimensional shades that deliver moisture, soft texture and creamy wear.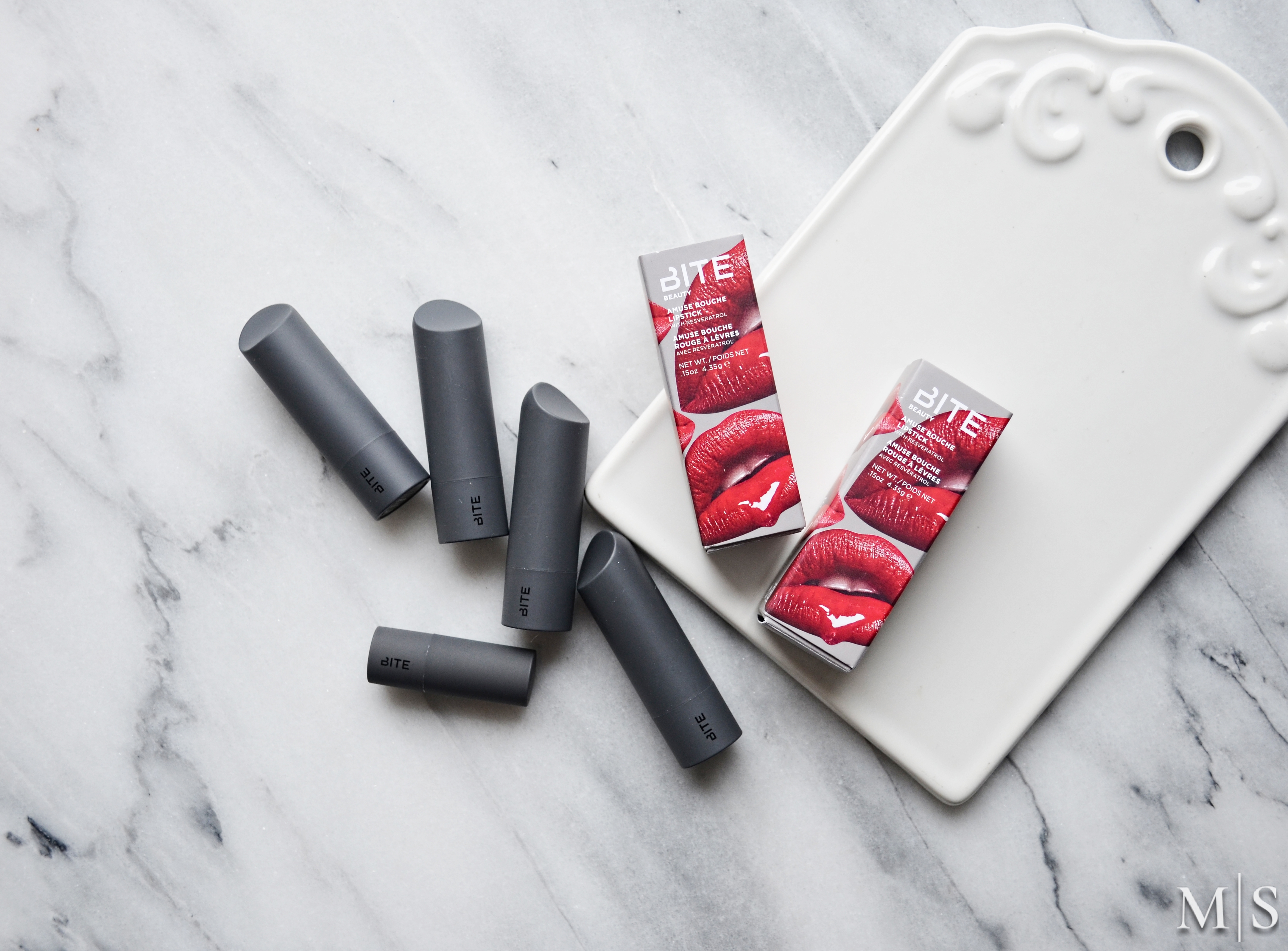 The Amuse Bouche lipstick line has 34 available shades ranging from pretty neutral nudes to some dark berries. I think they did a great job with the shade selection as you can find some pretty wearable shades but also some bright colors for spring and dark shades suitable for the winter months.
I got four shades from the line and one deluxe sample that I got as a Sephora point perk. I tend to stick with neutral shades when it comes to regular lipsticks and save the bright and dark shades for liquid lipsticks since they're easier to wear.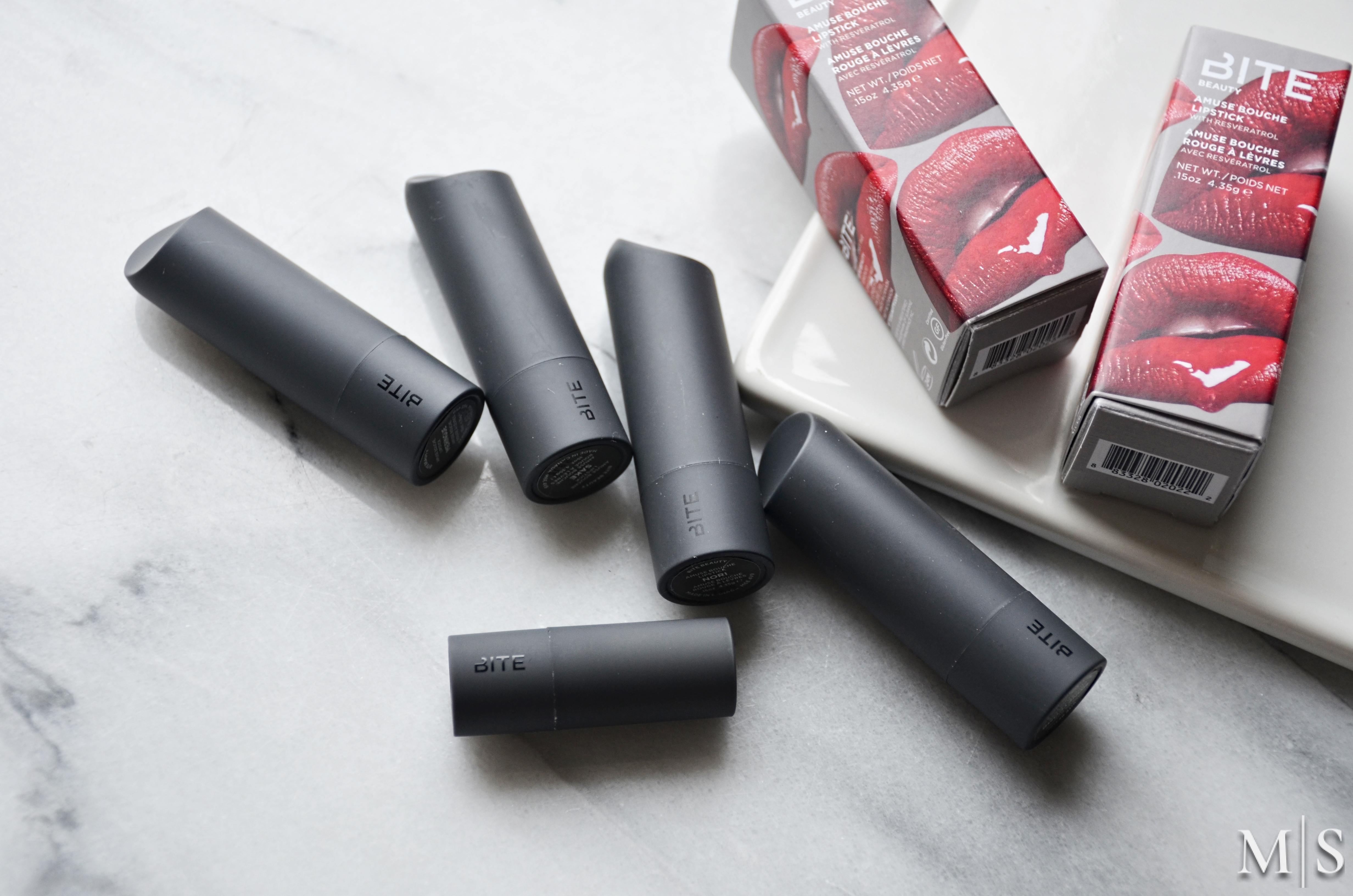 The packaging of the Amuse Bouche lipsticks is the same as their discontinued Luminous Creme line. The Amuse Bouche lipsticks have a citrus scent which is new to Bite. They're made with 12 edible oils and triple milled pigments which give a very saturated color with weightless coverage.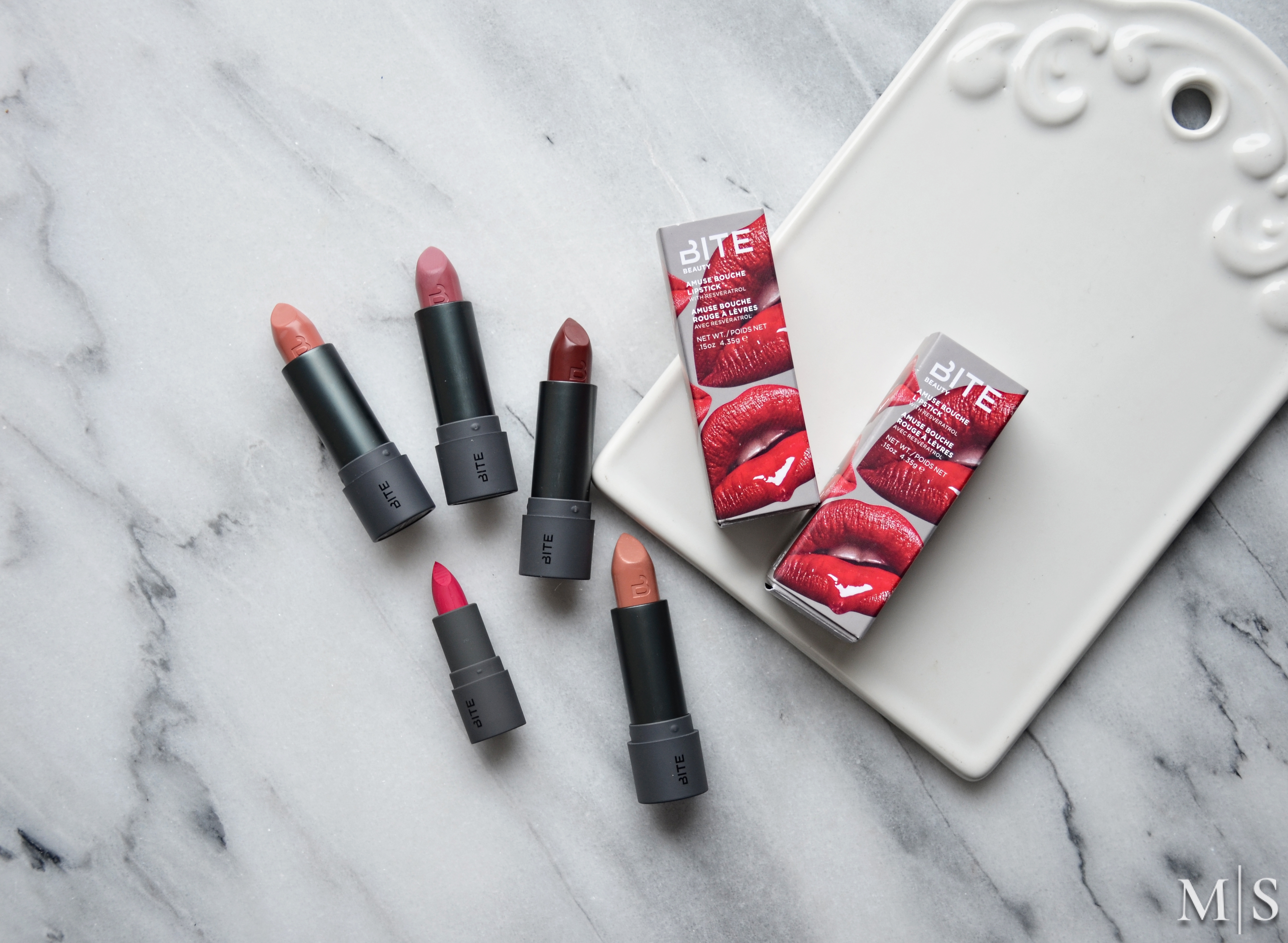 The shades that I got are in: Meringue (peachy nude), Honeycomb (beige nude), Sake (dusty mauve), Nori (deep brown red) and Sangria (rich fuchsia).
As a comparison if you have some shades from the old Luminous Creme formula the Amuse Bouche lipsticks are less creamy and slippery than the old formula, they still have a creme finish but don't appear as shiny on the lips. The pigmentation of the lipsticks is intense, you can get full coverage and intense payoff with just one swipe. They're super comfortable to wear and feel pretty hydrating on the lips but they stay put and don't bleed which is very important especially with the darker shades.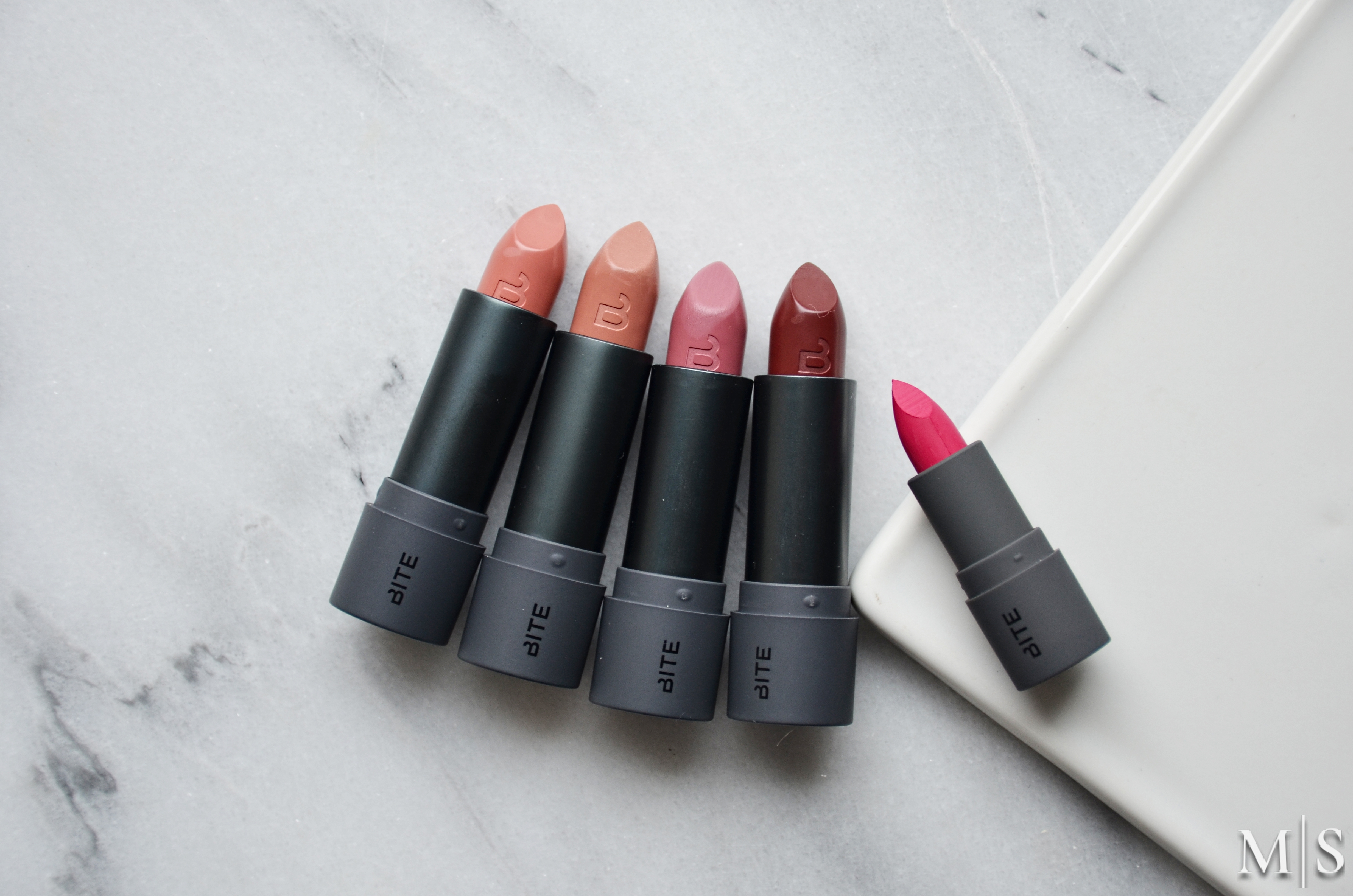 All the shades that I have seem to have the same consistency and perform the same. They all pack a good pigment but also glide on the lips and don't accentuate any dryness. I love all the shades that I got and I think Meringue, Honeycomb and Sake make great every day neutral and wearable shades. Nori is of course reserved for fall and it's such a stunning color if you're in to dark vampy lips.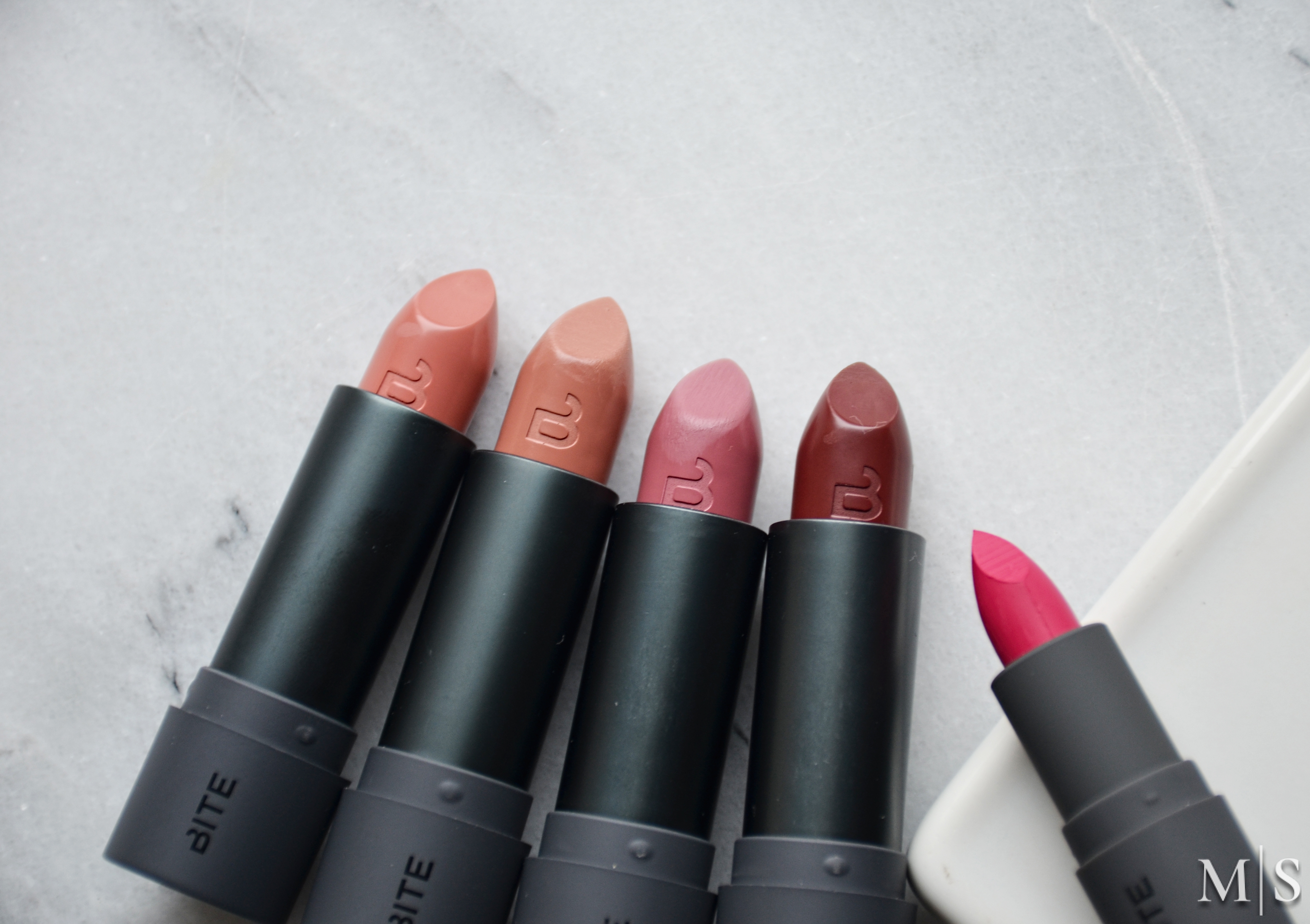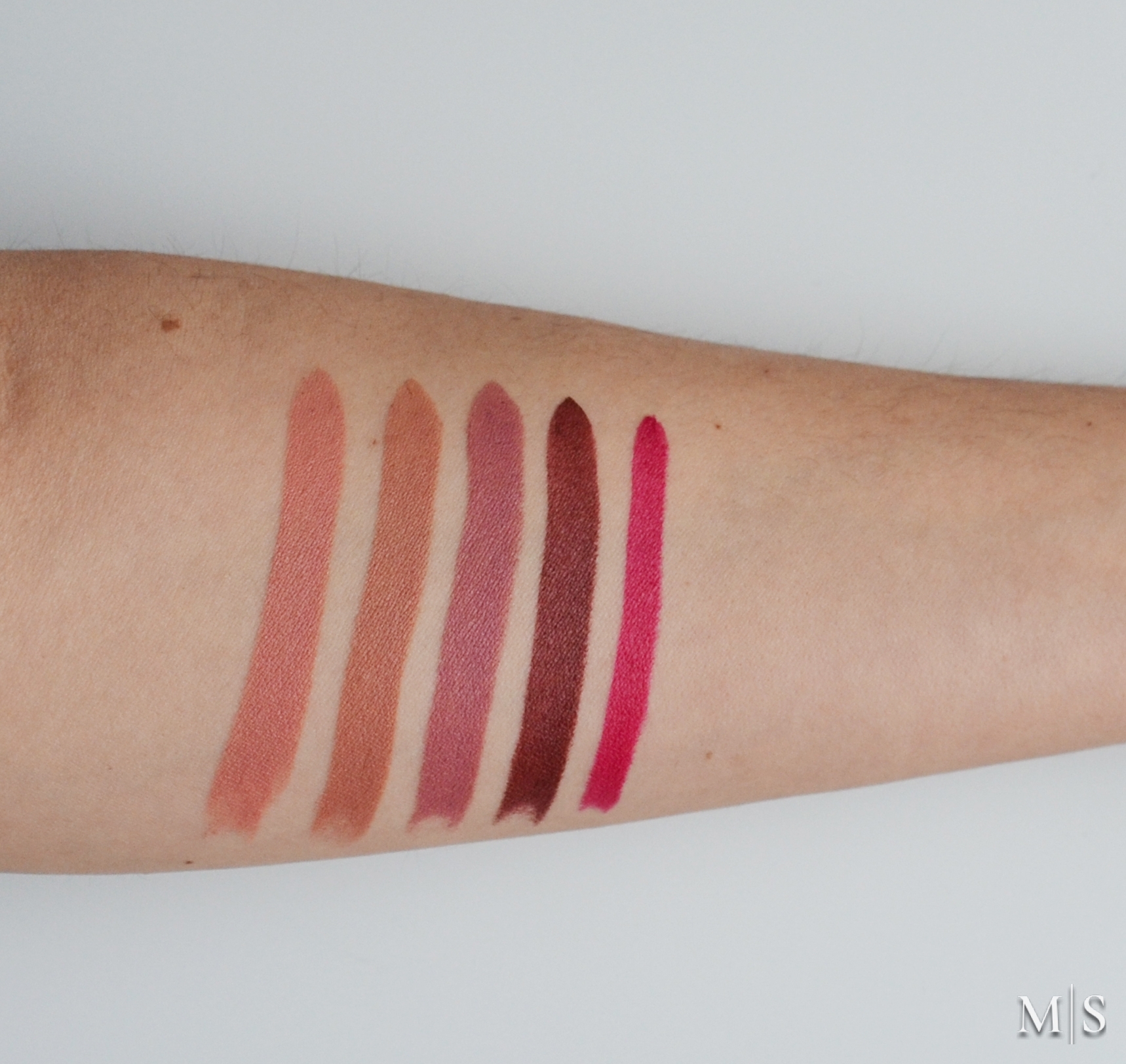 Swatches L to R: Bite Amuse Bouche lipstick in Meringue, Bite Amuse Bouche lipstick in Honeycomb, Bite Amuse Bouche lipstick in Sake, Bite Amuse Bouche lipstick in Nori, Bite Amuse Bouche lipstick in Sangria 
All in all I'm very impressed by the Bite Beauty Amuse Bouche lipsticks and I highly recommend you check them out if you're on the market for new lipsticks. The line has some amazing shades and the quality is there. I especially recommend the shade in Honeycomb if you're in to beige nudes, it has become one of my favorite beige nudes in my lipstick collection.
Have you checked out the new Bite Beauty Amuse Bouche lipstick line? What are your shade choices?
*The shades in Honeycomb and Nori were PR Samples, the other two shades were purchased by me.