I stopped doing monthly favorites because honestly, I got bored with those types of posts and also, it became really hard to figure out what are my absolute favorites when it comes to makeup. I'm not planning on doing the skincare favorites monthly, but since I have a lot of new favorites that are also pretty new releases, I figured I will do a post about them and let you know why I like them.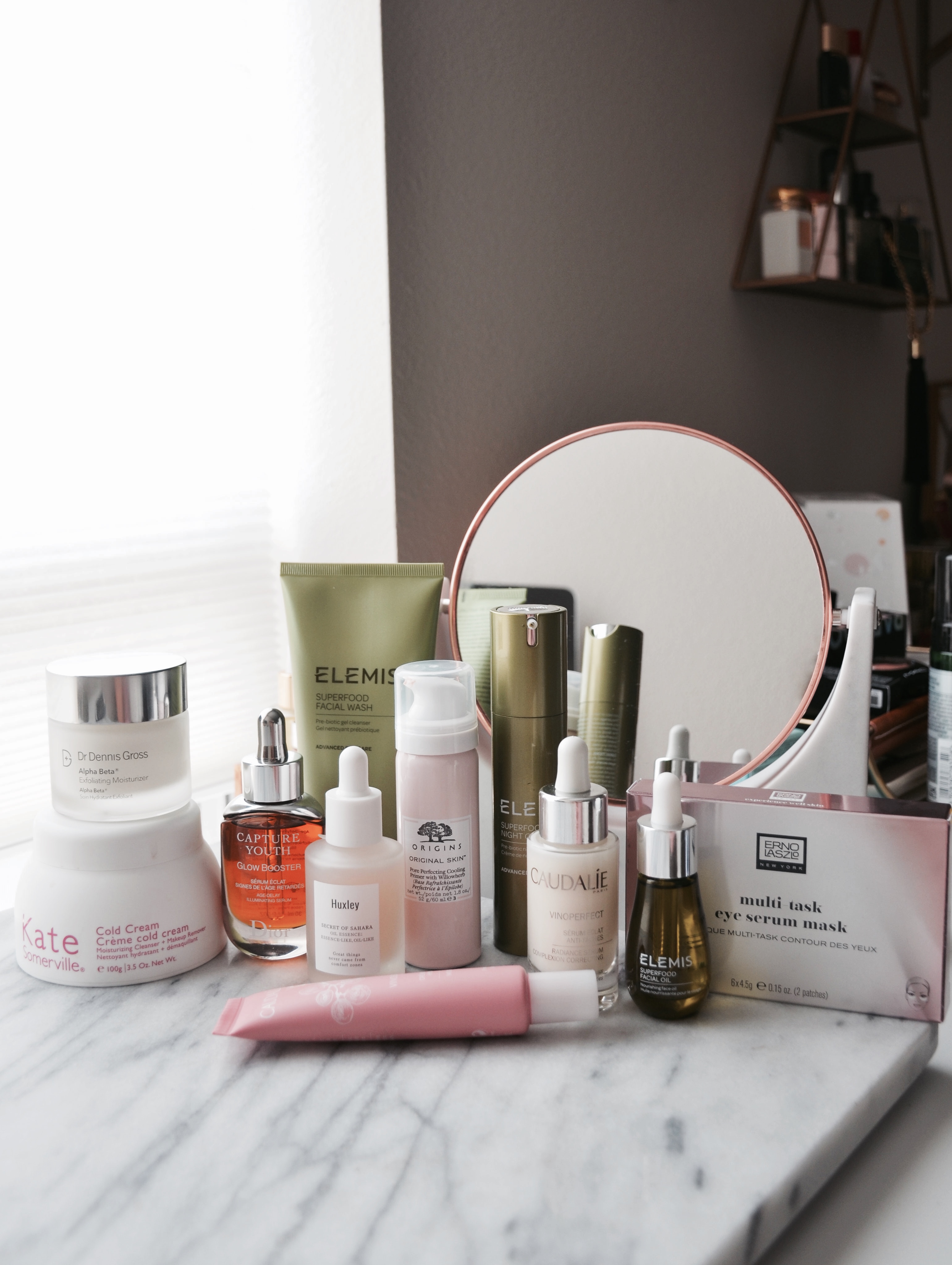 Kate Somerville Cold Cream Moisturizing Cleanser + Makeup Remover – This cold cream just launched but I got a preview a month ago so I had time to test it. It's a whipped cleansing cream that removes any impurities that you have on your skin but keeps the skin hydrated. You can use it either as a morning cleanser or also to remove your makeup (it promises to remove even waterproof makeup which I haven't tried). If you have dry skin, I highly recommend this cleanser as it doesn't strip the skin. It's suited for all skin types, even sensitive.
How to use:
Massage on to dry or damp skin and gently wipe off with a wet washcloth.
Ingredients:
-White Honey: A rare white honey from the isolated Kiawe Forest on the island of Hawaii; moisturizes and soothes the skin.
-Floral Complex of Jasmie, Rose, and Daisy: Softens skin.
What I love about the Cold Cream is how luxurious and creamy it feels on the skin. It removes all my makeup but it is gentle on the skin. My skin feels soft and well nourished after each use.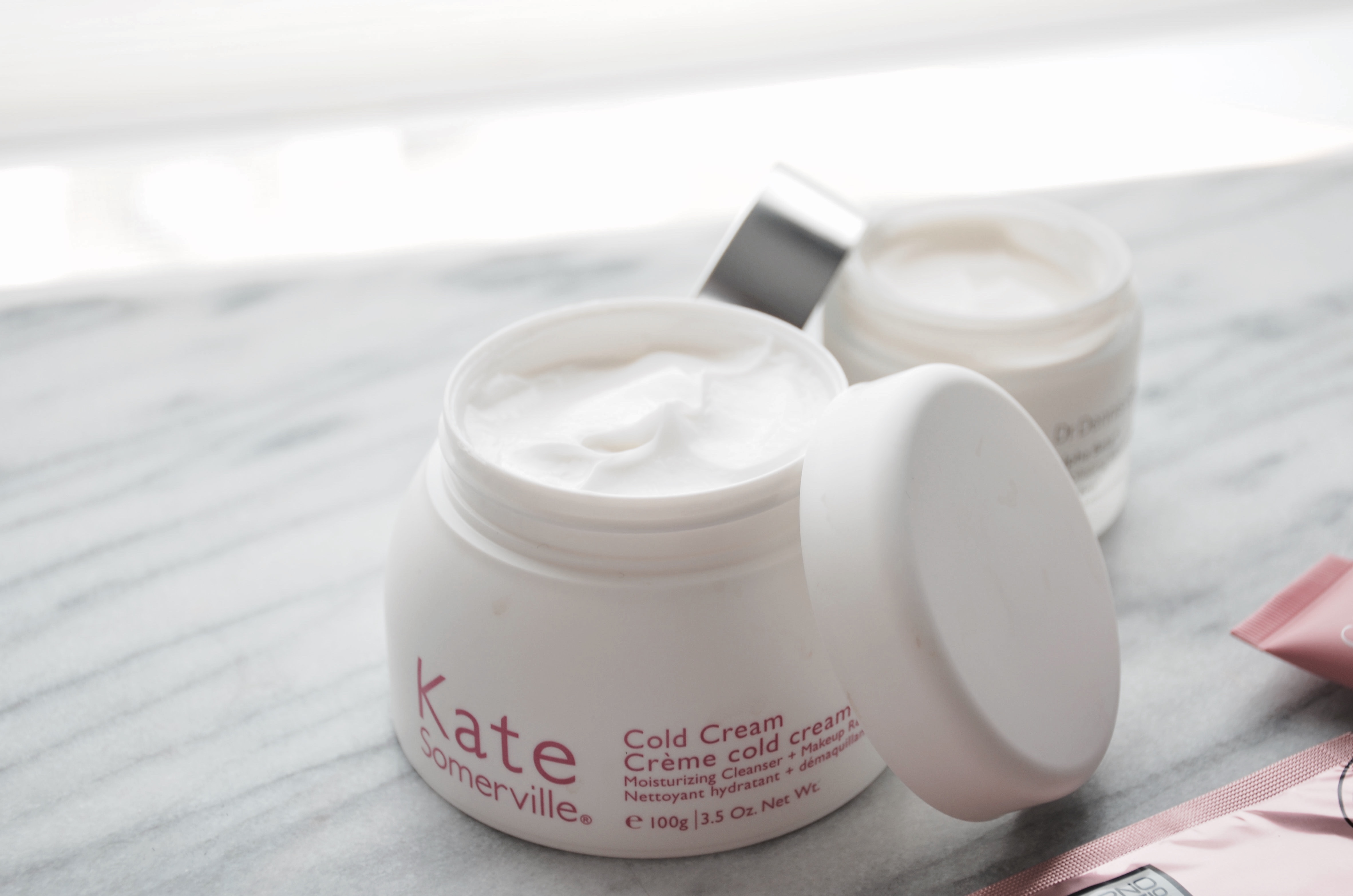 Dr Dennis Gross Alpha Beta Exfoliating Moisturizer – This moisturizer is formulated with seven Alpha Beta acids that all help with smooth and radiant complexion. It almost has a watered down gel texture and feels very moisturizing upon application.
Ingredients:
-7 Alpha and Beta Hydroxy Acids.
-Saccharine Isomerate.
-Hyaluronic Acid
-Ceramides
Over time, the moisturizer helps with the appearance of fine lines and wrinkles, texture and dull skin. It provides additional peeling properties but it's also good for people who don't already use any peeling acids. It's good for all skin types, even sensitive and it is vegan.
After using this moisturizer, I've noticed that my skin is smoother than usual and even my pores look more refined. I like it because it provides extra exfoliation but it's also hydrating which is important to me since I have normal skin.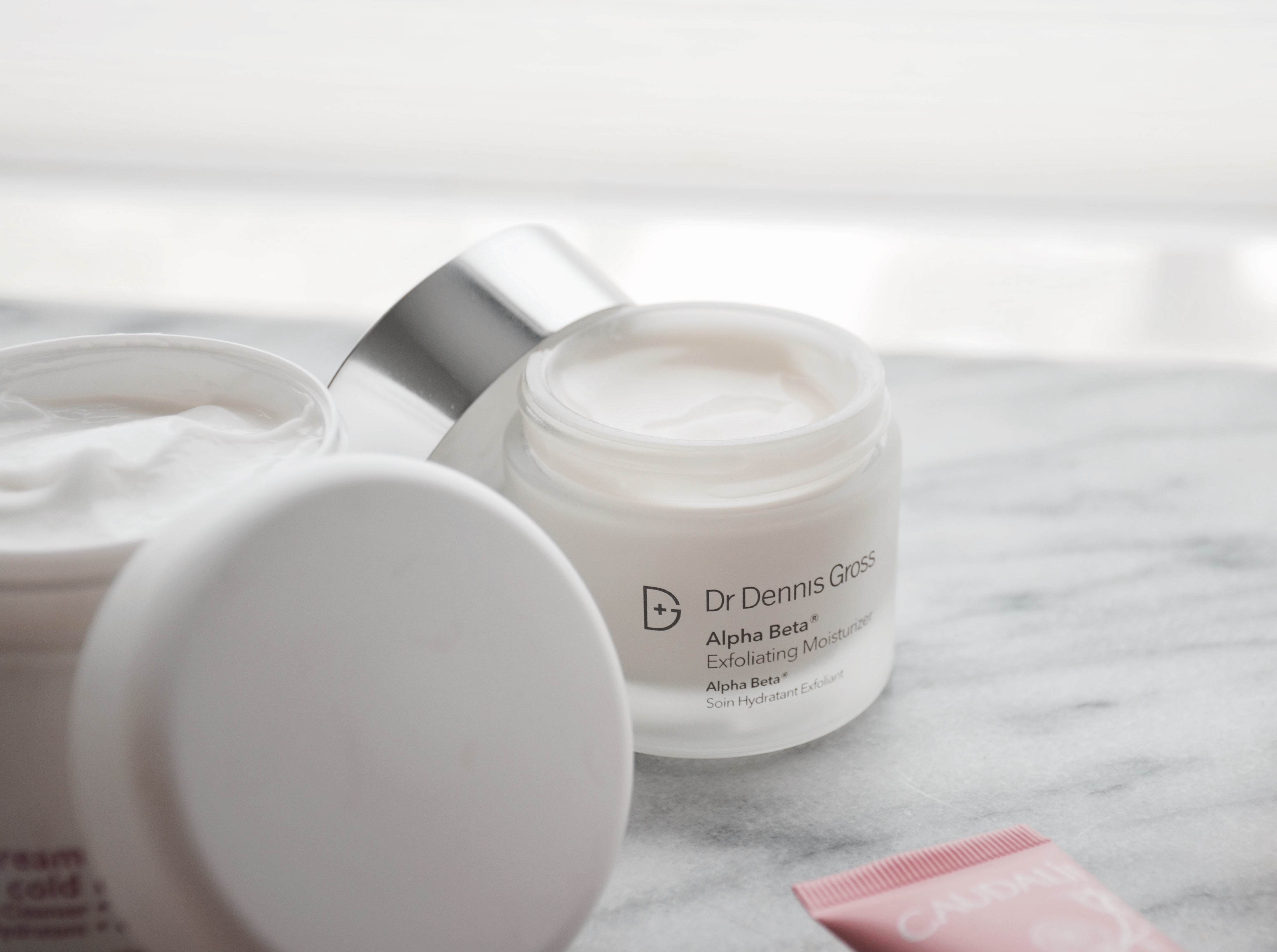 Dior Capture Youth Glow Booster Age Delay Illuminating Serum – Vitamin C and AHA serum that help with brightness, even complexion and also has anti-aging properties. It is very light and sinks in very quickly in to the skin so it is good to be used even as a makeup primer. I sometimes even mix a drop with my foundation to add some skincare in to my makeup.
The serum has a pleasant scent that is not overpowering so I think even if you are sensitive to scents this will be ok to use. I find that it is not heavily scented like other products I've tried from Dior.
Huxley Secret Of Sahara Oil Essence – It's an oil essence blend that has prickly pear seed oil, Vitamin E, yerba mate leaf, acai berry, camu camu and quinoa. The interesting thing about this essence is that it provides hydration like your usual face oil but also the rich nourishment and light absorption of an essence.
The recommended use it to use it after your toner and before your serum and moisturizer using pressing motions. It feels light on the skin and very nourishing.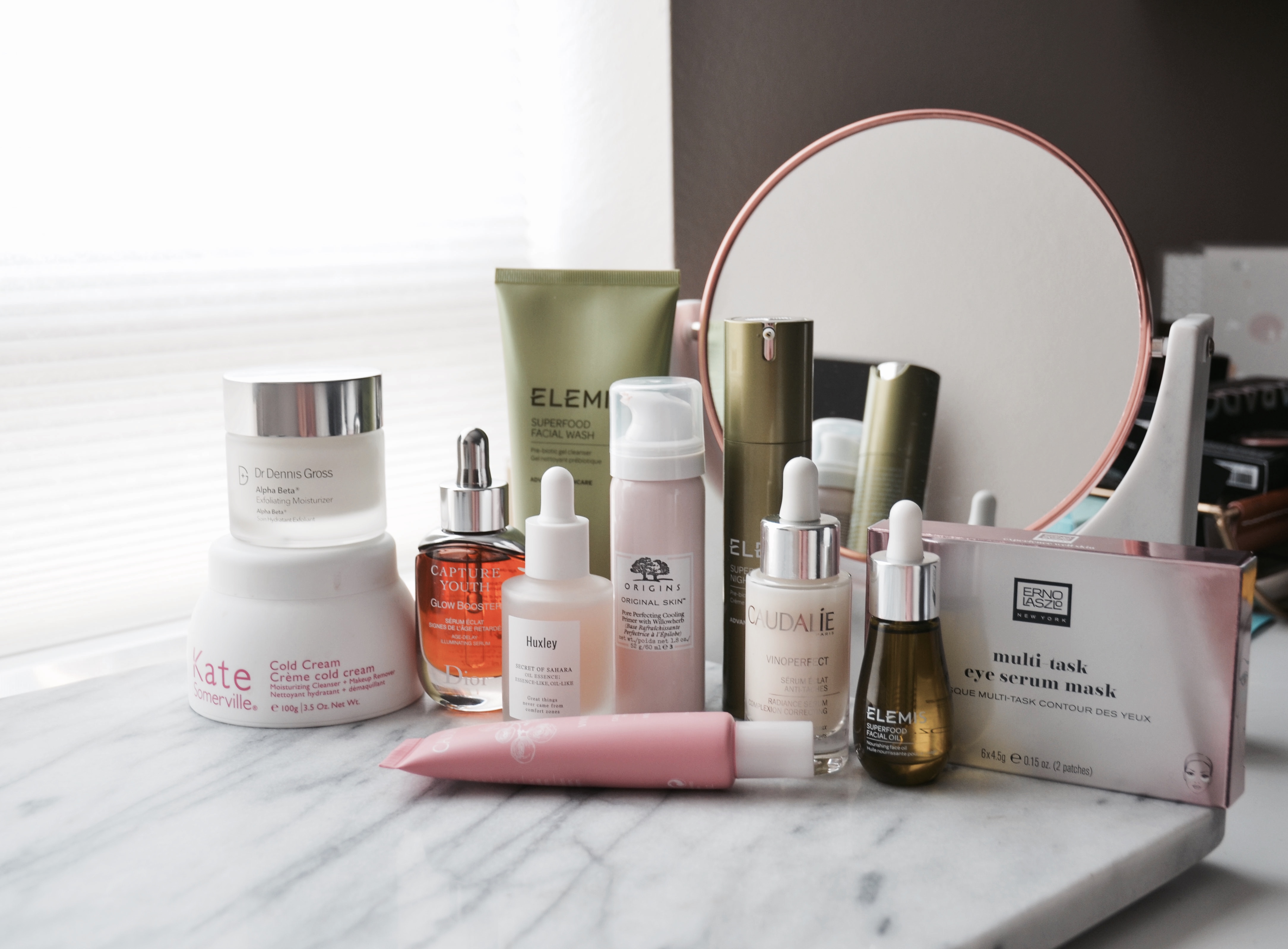 Elemis Superfood Facial Wash, Facial Oil and Night Cream – The new Superfood line from Elemis is amazing! It is plant based and provides anti-oxidants and omegas for nourishment and a healthy radiant glow. It has a very earthy scent which I don't mind but I know some people are sensitive to scents like that so I figured it's worth a mention.
The Facial Wash has a blend of:
Supergreen Complex of Wheatgrass, Kale, Nettle and minerals are combined to leave the complexion looking luminous
Superfood lipids, Broccoli Seed, Avocado and Pumpkin Seed oils, are combined with an active, sugar-derived Pre-Biotic helps to maintain a healthy balance in the skin's microflora
It's a gentle cleanser that is effective but also doesn't strip the skin.
The Superfood Facial Oil is formulated with anti-oxidant and omega rich Broccoli, Flax Seed and Daikon Radish that help plump and smooth the skin. It is a lightweight oil that is not overly greasy. I like to layer the oil over my moisturizer, as a last step in my skincare routine just to add some extra moisture.
The Superfood Night Cream is an omega rich night cream with Supergrain Complex and an active Pre-Biotic. It is good for dry and dehydrated skin. Contains a concentrated Supergrain Complex that replenishes the skin barrier and Superfood lipids, Chia, Black seed, Rice Bran and Flax seed oils. Combined with Pre-Biotic, they hydrate, restore and give a beautiful glow to the skin.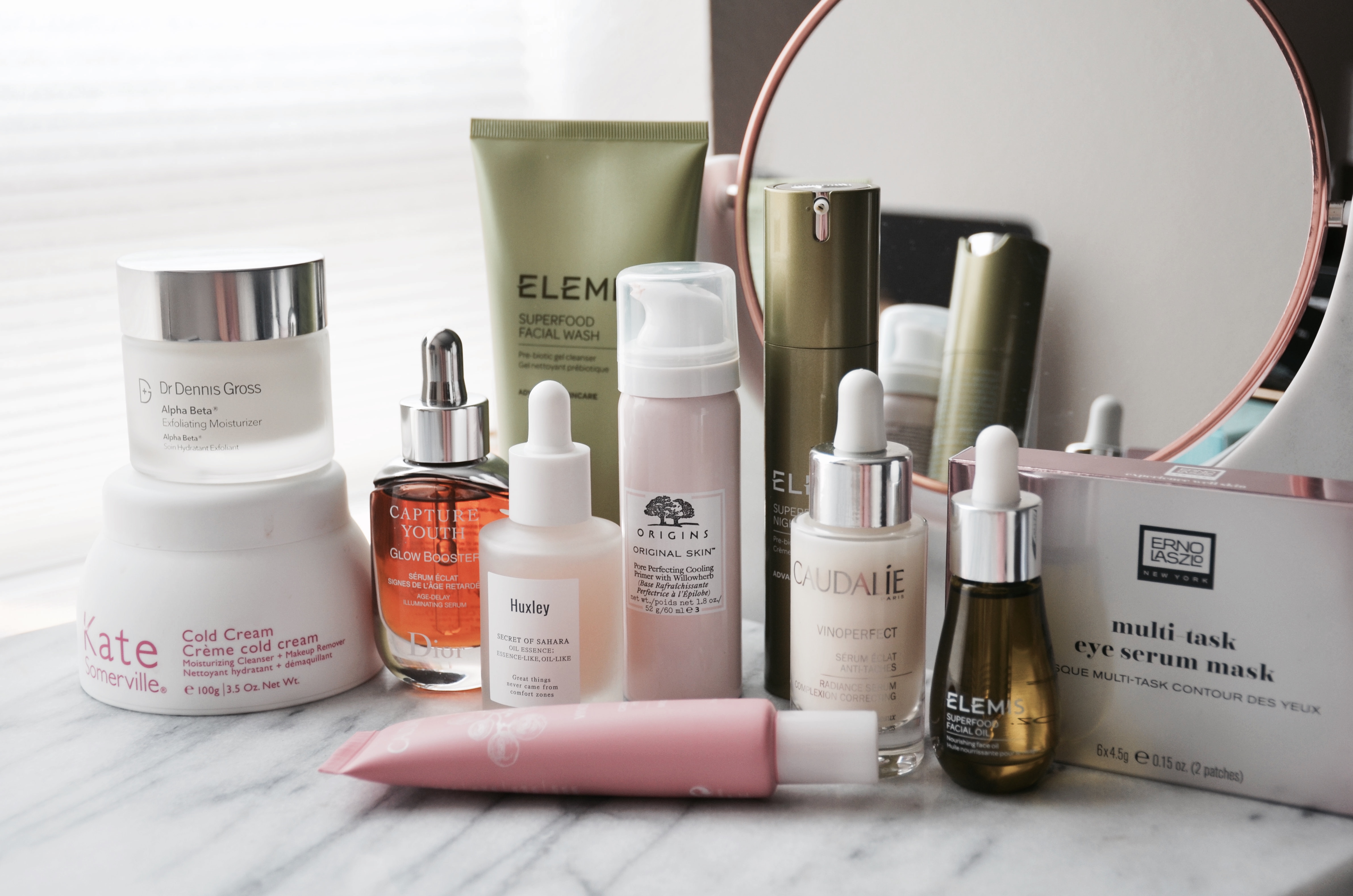 Origins Original Skin Pore Perfecting Cooling Primer With Willowherb – This is more of a makeup product but you can definitely use it on it's own. It's a mousse primer that has blurring properties but it's also hydrating. It has a cooling effect on the skin and feels almost wet when you apply it. It's one of the coolest, most unique primers I've tried.
Blurring primers usually are drying so it's hard to find a good one that works for dry and normal skin. Well, this primer not only blurs my pores like other good blurring primers, it also doesn't dry the skin so I can even use it all over the face. It leaves you with a smooth canvas and also prolongs the wear of my makeup.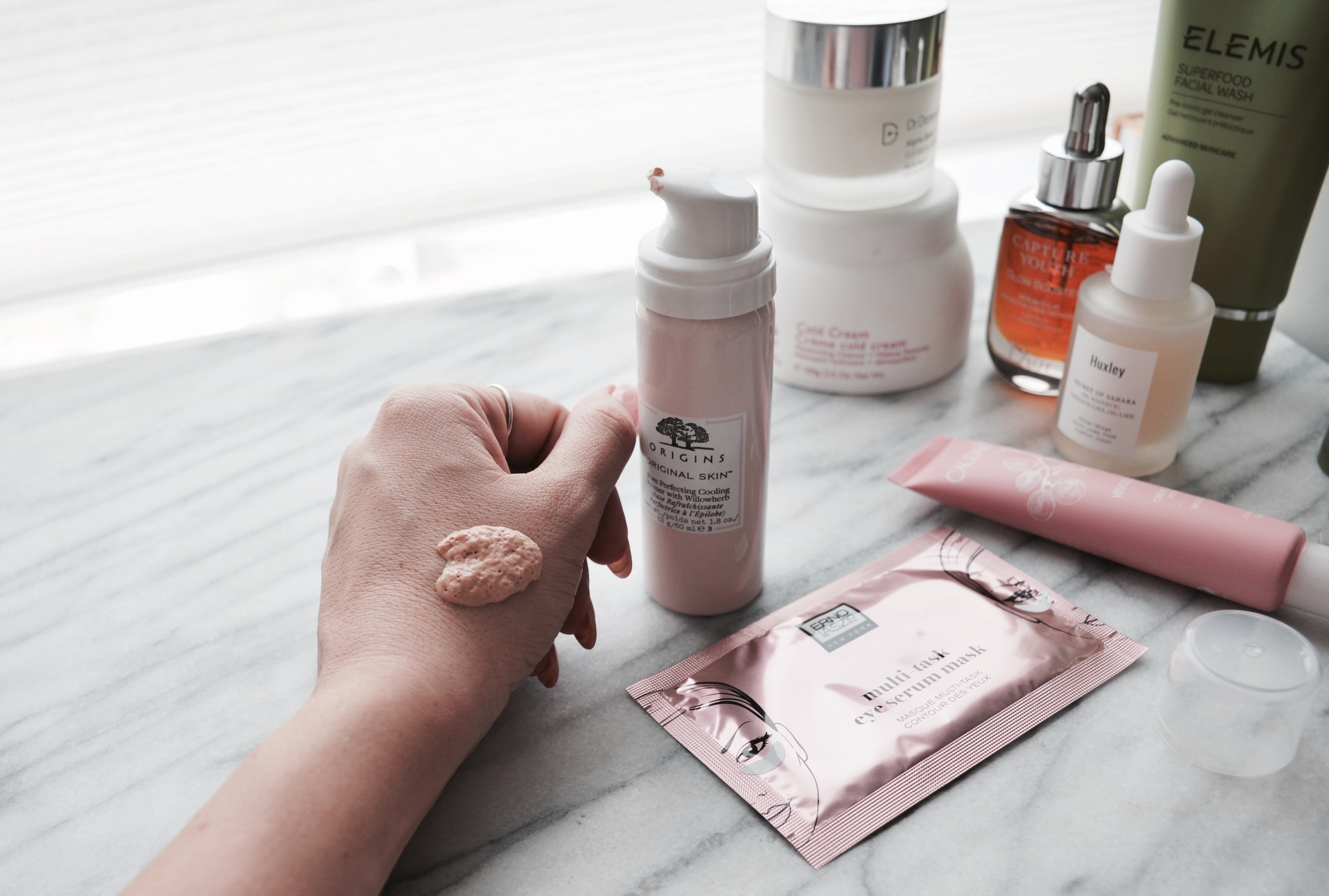 Caudalie Vinoperfect Radiance Serum – An oil free serum that improves the appearance of dark spots, promotes even skin tone, and boosts radiance.
Ingredients:
Patented Viniferine: Improves the look of dark spots for a radiant complexion.
Olive Squalane: Moisturizes.
Mint, Caraway, and Galbamum: Delivers an aromatic scent.
I love this serum! It not only hydrates the skin, but it just gives the most beautiful radiance. I use it every morning and I think it will have a permanent spot in my skincare routine. It has helped with the appearance of my acne scars and dark spots within a month of constant use. I highly recommend it if you have problems with dark spots, sun spots or want to get rid off any acne scars.
Caudalie Vinosource Moisturizing Sorbet – a gel cream that hydrates and helps dehydrated skin. Powered by Caudalie's organic grape water and patented grape-seed polyphenols, this cream not only provides hydration, but it also protects the skin from free-radicals, which causes wrinkles.
It has a lightweight texture and doesn't feel greasy or heavy on the skin so even if you have oily skin you can still use it. It's also good if you have sensitive skin and a lot of redness.
Ingredients:
Organic Grape Water: Moisturizes.
Grape-seed Polyphenols: Rich in antioxidants.
Vinolevure: Strengthens and moisturizes.
Chamomile: Calms and soothes.
This is also my daytime moisturizer as for night time, I reach for something heavier. I like the light and airy texture but I also like that it's hydrating enough for my normal to dry skin. It also comes in a tube so it is great for travel.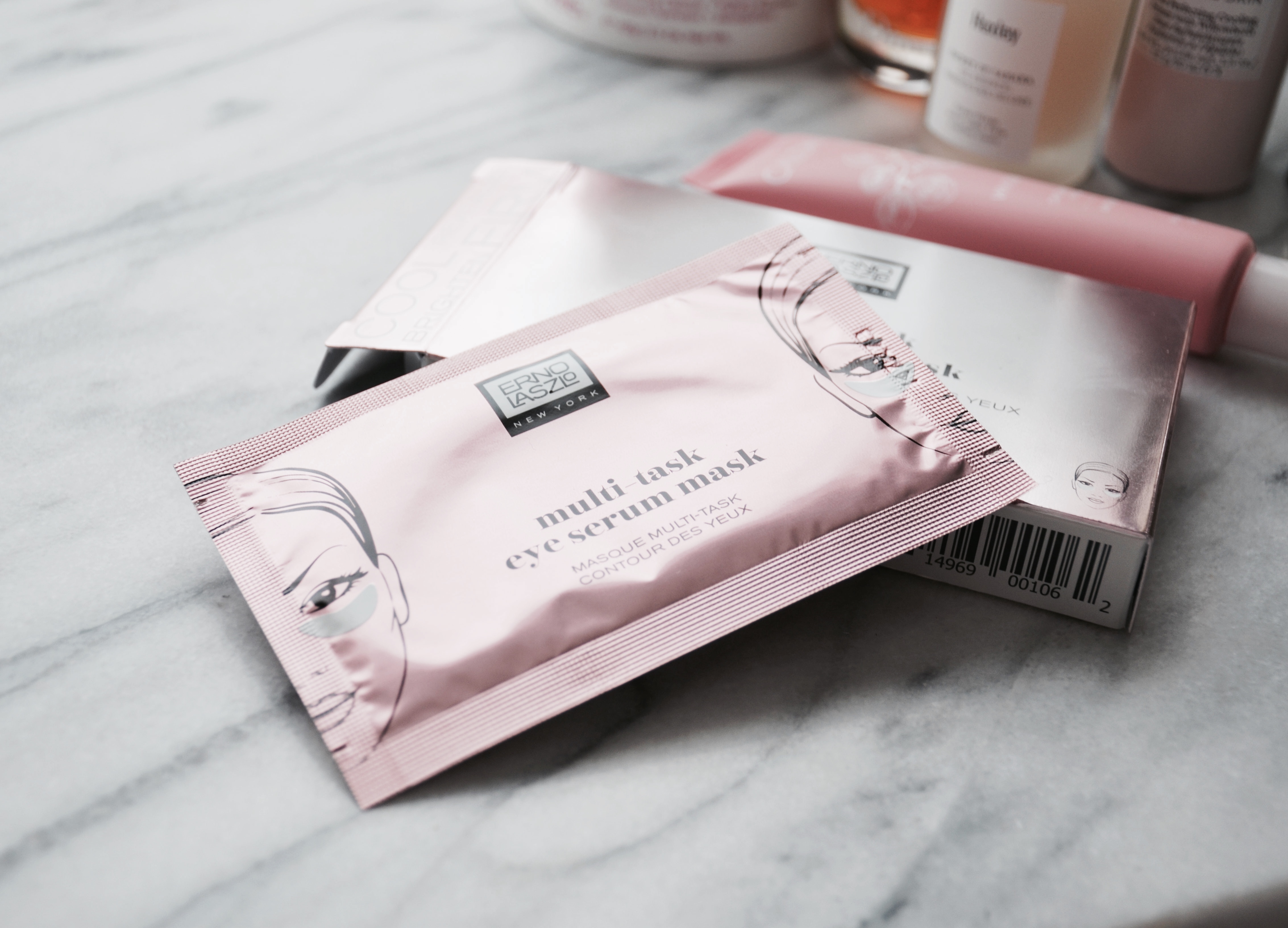 Erno Laszlo Multi-Task Eye Serum Mask – A hydrogel mask that helps with dark circles, puffiness and the appearance of fine lines and wrinkles.
Ingredients:
Algae Extracts: Help maintain and boost skin's firmness by protecting collagen and elastin from degrading.
Vitamin B3: Improves the look of dark spots and discoloration.
Allantoin: Calms sensitive, irritated skin, restoring a youthful look and feel.
I like using eye masks before makeup application to add hydration to the area. These are very nourishing and hydrating but also instantly help with puffy eyes. They are soaked in serum so they are more effective than any eye cream that I use so I like to use them at least once a week just to help with my dry under eye area.
*PR Samples Included
SaveSaveSaveSaveSaveSaveSaveSaveSaveSaveSaveSaveSaveSaveSaveSaveSaveSaveSaveSave