I got a beautiful box full of Guerlain's new releases, so I figured I'll share with you guys what's new from the brand. I had time to test everything, and the brand has some amazing and pretty unique new products.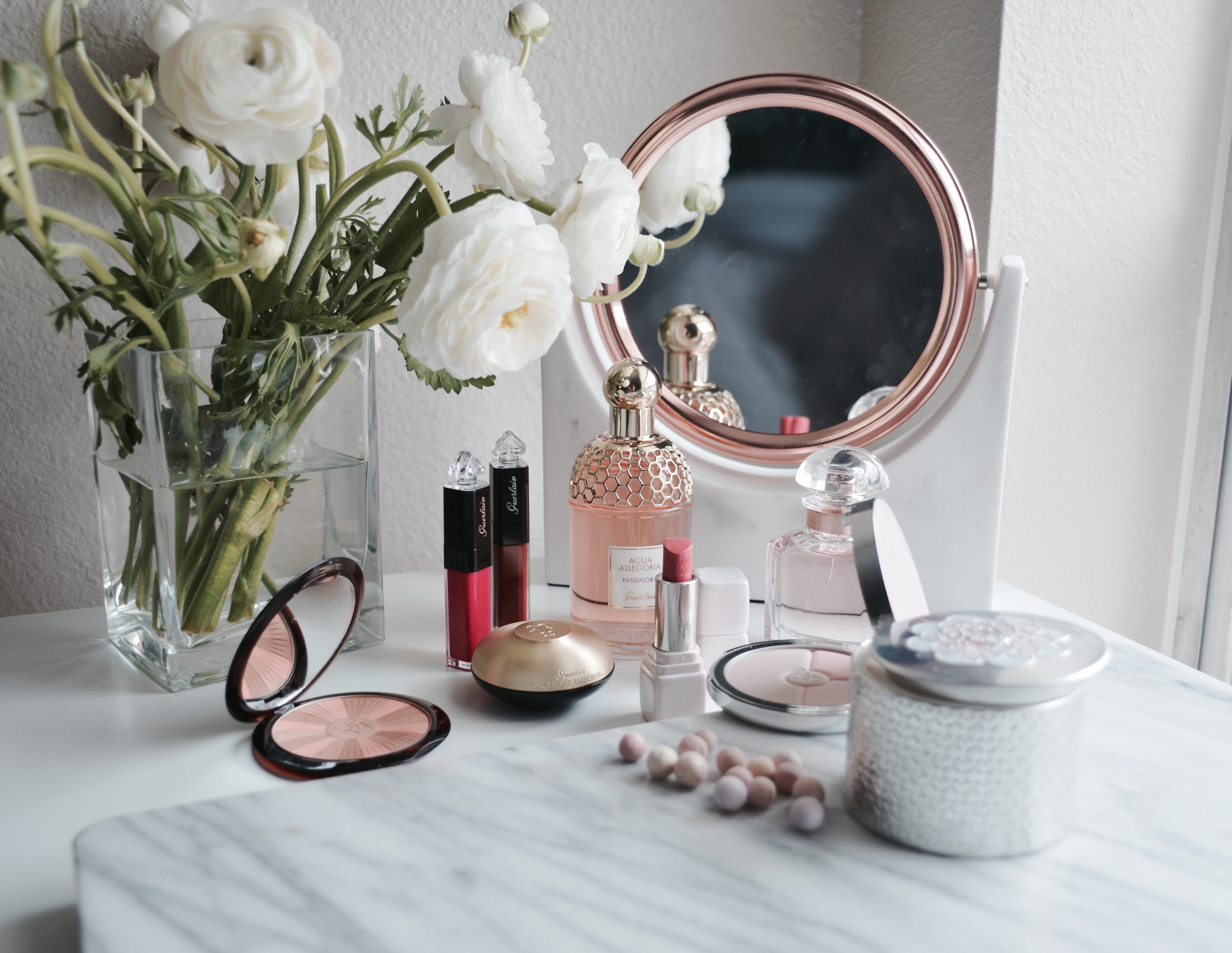 In the fragrance department, there are new additions to the Aqua Allegoria line that originally launched in 1999 and a new spin on the Mon Guerlain Eau De Parfum, Mon Guerlain Eau De Parfum Florale.
From the Aqua Allegoria line, I received Aqua Allegoria Passiflora. The Eau De Toilette blends the flavour of a sun-soaked passion fruit with the smoothness of ylang-ylang flowers, in an aquatic freshness reminiscent of the crystalline waters of a lagoon. It is fresh, fruity with a hint of flower notes that are not overpowering. This is one of the few Eau De Toilette scents that lasts all day on my skin.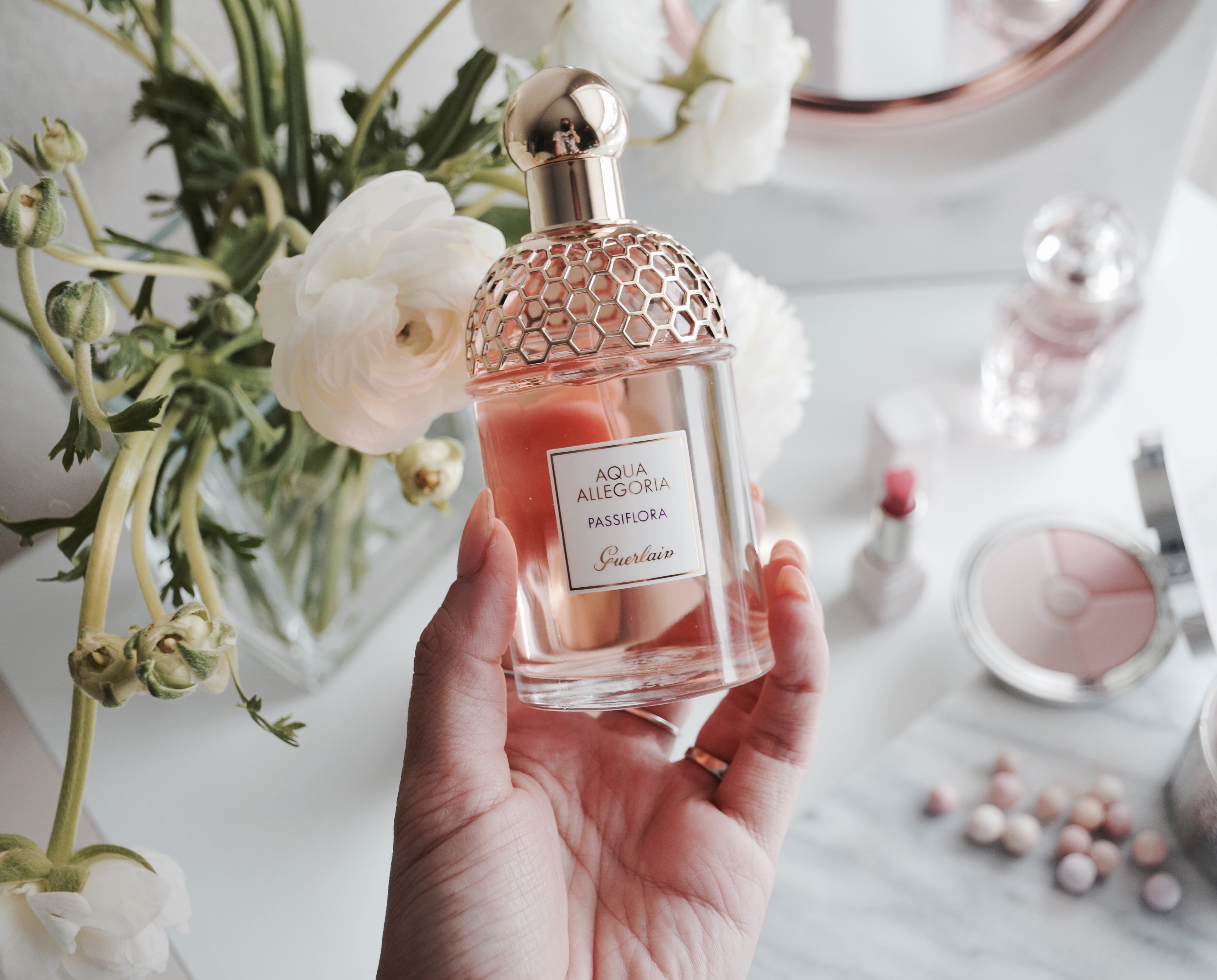 The elegant golden details on the bottle are a tribute to the famous Bee bottle. If you like fresh and fruity scents, I highly recommend this scent. It is the perfect daily summer and spring scent.
The Mon Guerlain Eau De Parfum Florale is a warm floral scent. It has notes of Sambac Jasmine, Peony Note, Carla Lavender. It's also enhanced with vanilla notes which adds warmth to the whole scent. The bottle was designed in 1908 and it is one of Guerlain's signature bottles. It has rose gold details but also sharp lines which expresses femininity.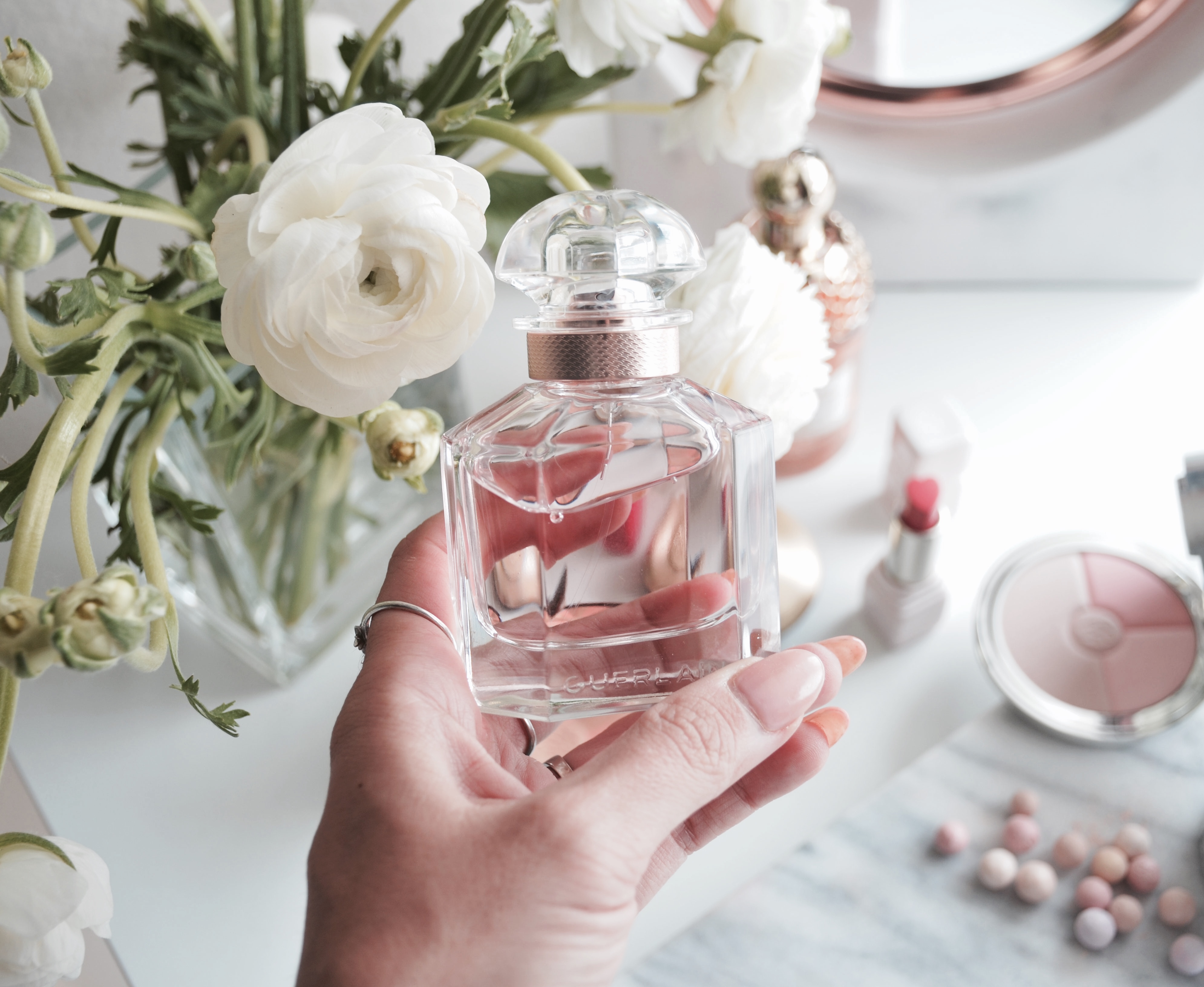 Mon Guerlain Eau de Parfum Florale is also a favorite. I don't like overly flowery scents but since the fragrance has notes of vanilla, it makes it more youthful and more wearable for me. Definitely give it a sniff if you're near a counter.
Guerlain launched a new line of powders called the Terracotta Light. It's a bronzing powder that features three different shades that all give a beautiful glow and radiance on the skin. The powder is light and gives a sun-kissed look that never looks over the top. The fragrance of the Terracotta powder has ylang-ylang and orange blossom notes blended into tonka bean and vanilla notes.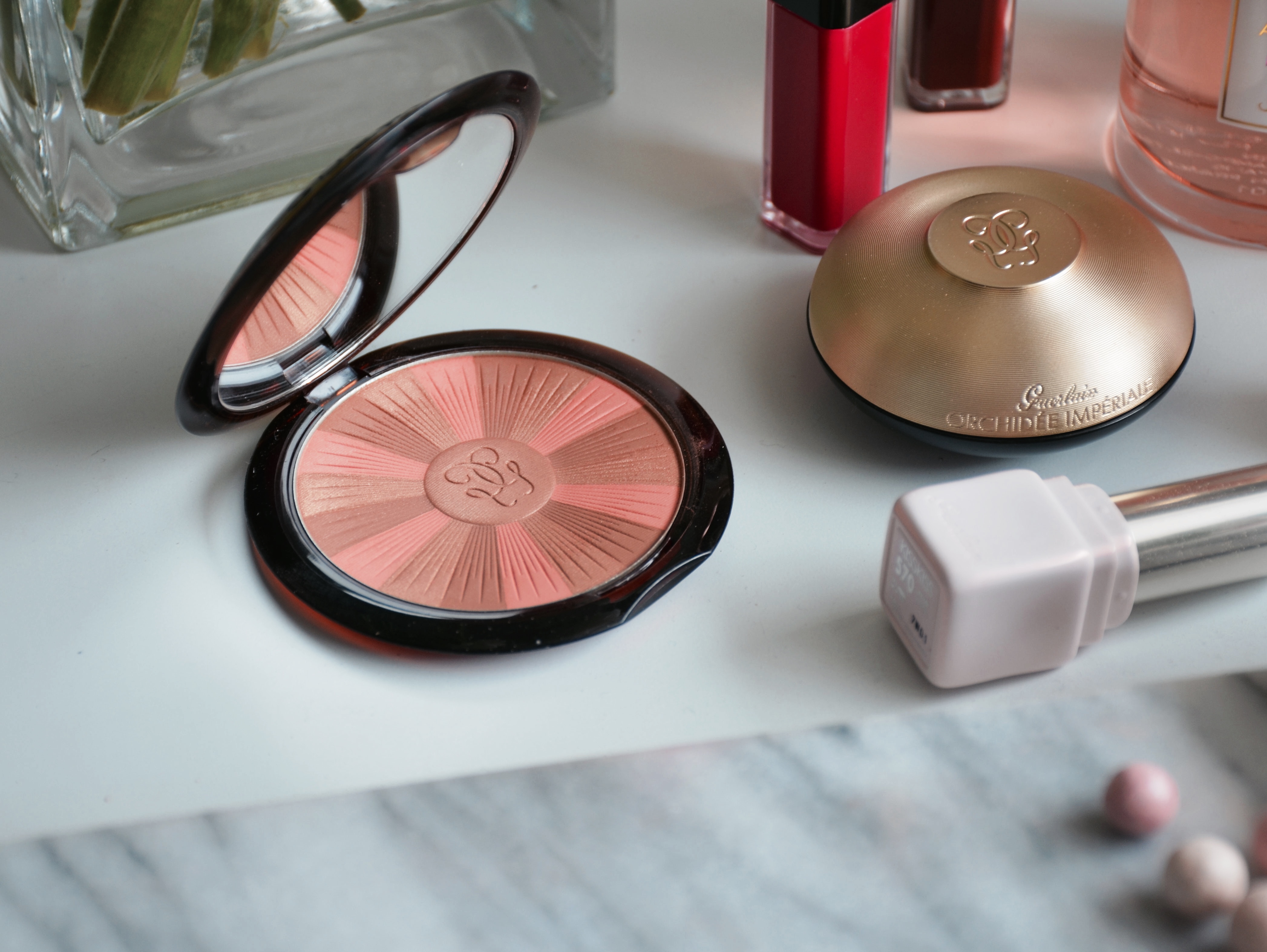 Terracotta Light has six available shades for every skin tone. I received the shade in 04 Fonce Dore/ Deep Golden. The powder has a medium warm bronze shade, a peachy coral and a deeper gold shimmer shade. When swirled together, they give a beautiful medium golden bronze shade that I think it is good for medium and tan skin tones.
Guerlain released a Météorites Heart Shape Powder Blush around Valentine's Day. It's a strobing palette with a blush and two luminous shades. The top has two different shades of blushes and the bottom is a luminous pinky highlighter that is actually very subtle.
This is a very light powder. The blush shades unfortunately are too light for my light to medium skin. But since I can't use this as a blush, I've been using it as a sheer veil all over my face, just to add some natural glow to the skin. The finish that I get is very similar to the classic Météorites. The powder gives a natural radiance to the skin with no noticeable shimmer.
The Guerlain Météorites Highlighting Powder Pearls I think are the most famous product from the brand. It is an illuminating powder made up of light-diffusing pearls that minimize flaws and add brightness to the skin.
I have the shade in 03 Medium which works really well for my skin tone. It adds a lot of brightness to my complexion and a glowy luminous finish that looks very natural.
If you are looking to try a classic product from the brand, the Météorites Highlighting Powder Pearls is the way to go.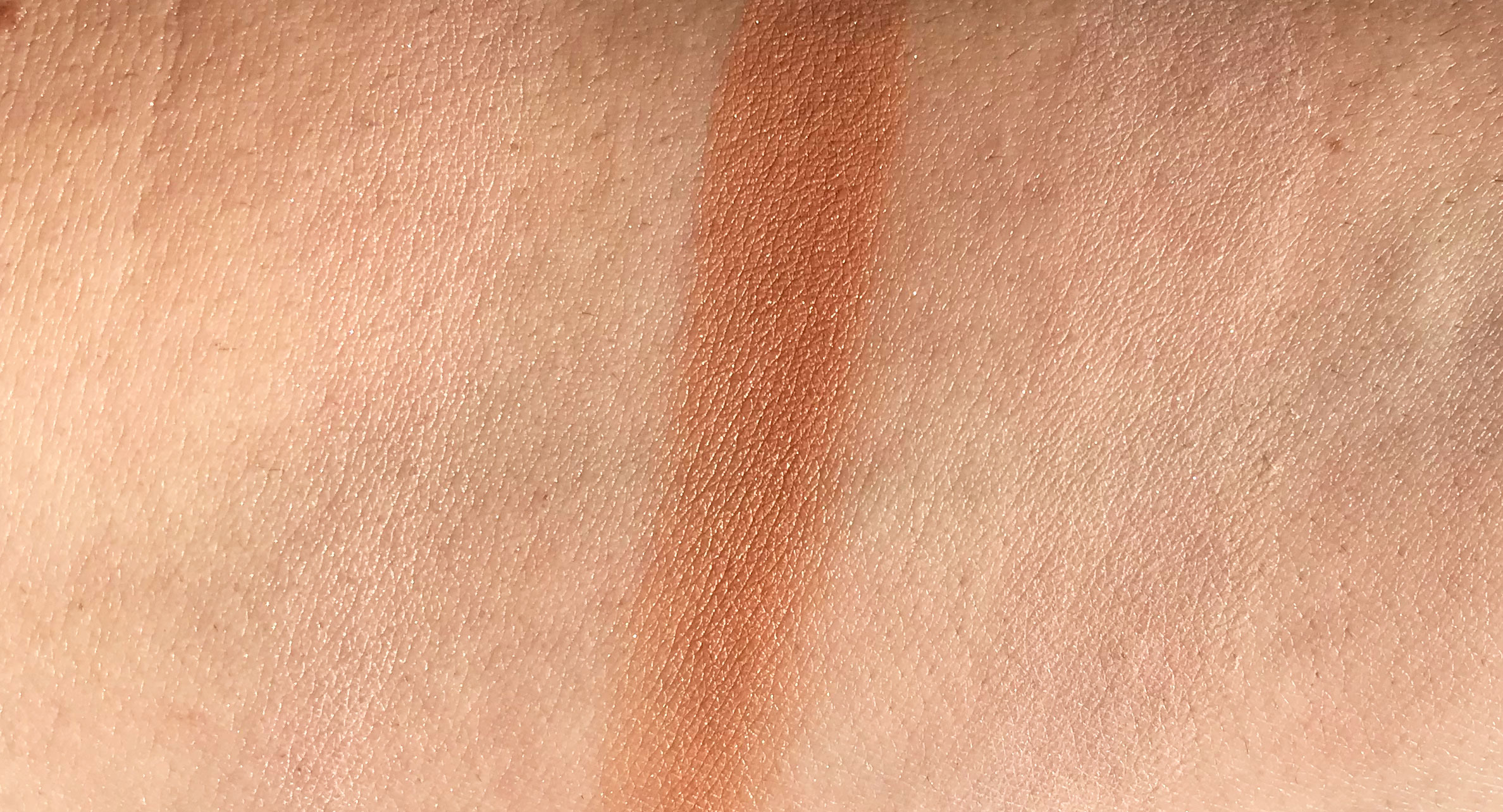 Swatches L to R: Meteorites Heart Shaped Blush, Terracotta Light in 04 Fonce Dore, Meteorites Highlighting Powder Pearls in 03 Medium 
As you can see by the swatches, both the Meteorites Heart Shaped Blush and Highlighting Powder Pearl work as finishing powder on my skin. I couldn't catch the glow with my camera unfortunately, but the finish on the skin is etherial.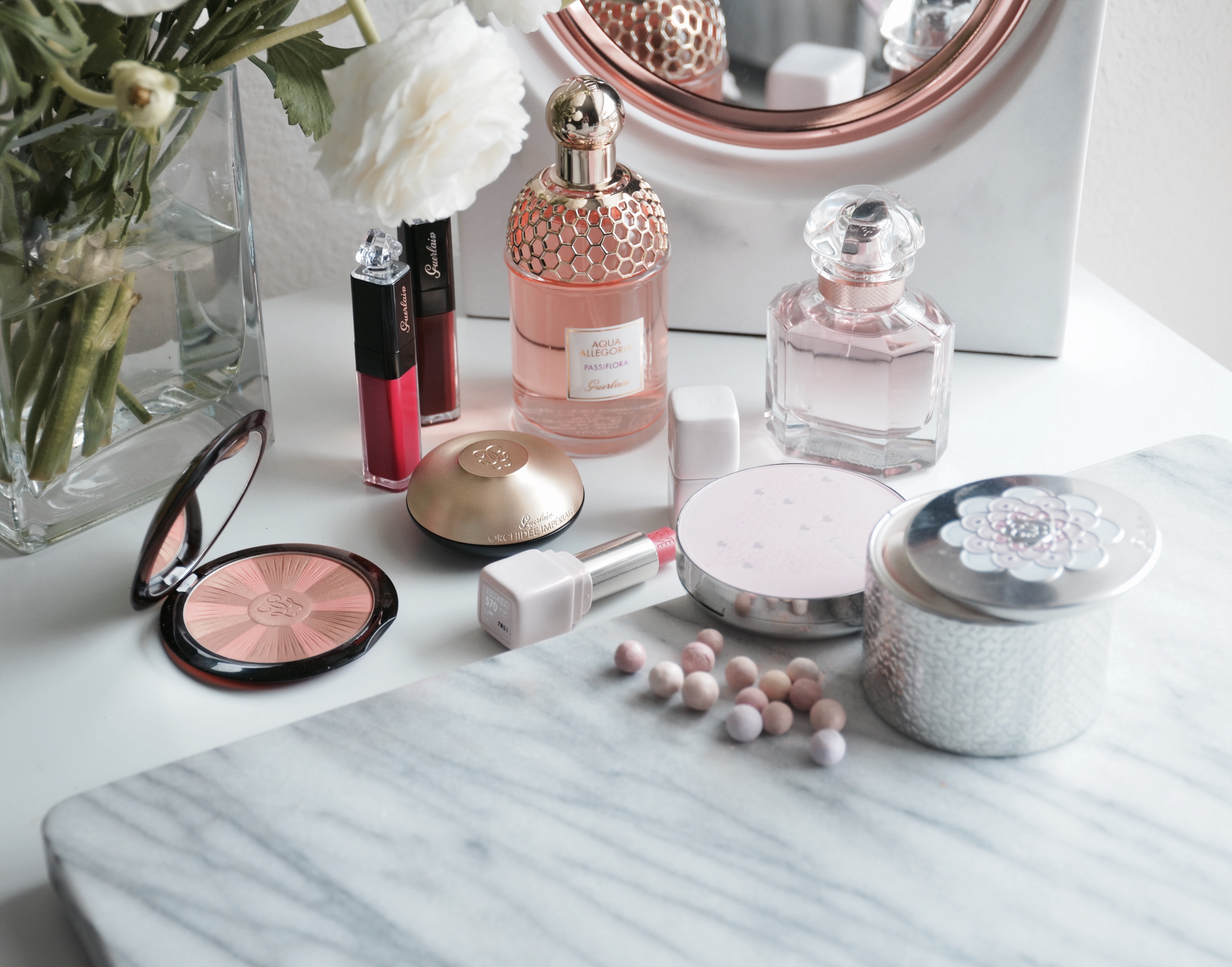 Guerlain Le Petite Robe Noire Lip Color Ink is a long lasting, transfer proof lipstick that has the most unique formula I've tried. The formula feels almost like a gel. With one layer you get the effect of blotted lips which I love. With two and three layers, you get the full intensity of a liquid lipstick. The texture is weightless, non drying and transfer proof.
There are 15 shades in the line and I got to try the shades in L160 Creative (pink raspberry) and L122 Dark Sided (dark red).

L160 Creative

L122 Dark Sided
Both shades applied evenly and wore well through the day. The swatches are done with one layer so you can see that they give almost like a stained blotted look on the lips.
If you like the look of "natural lips" but also you are looking for a long-lasting formula that is non-drying, these are a great option. I really like the formula so I'm planning on trying some of the more neutral and nude shades from the line.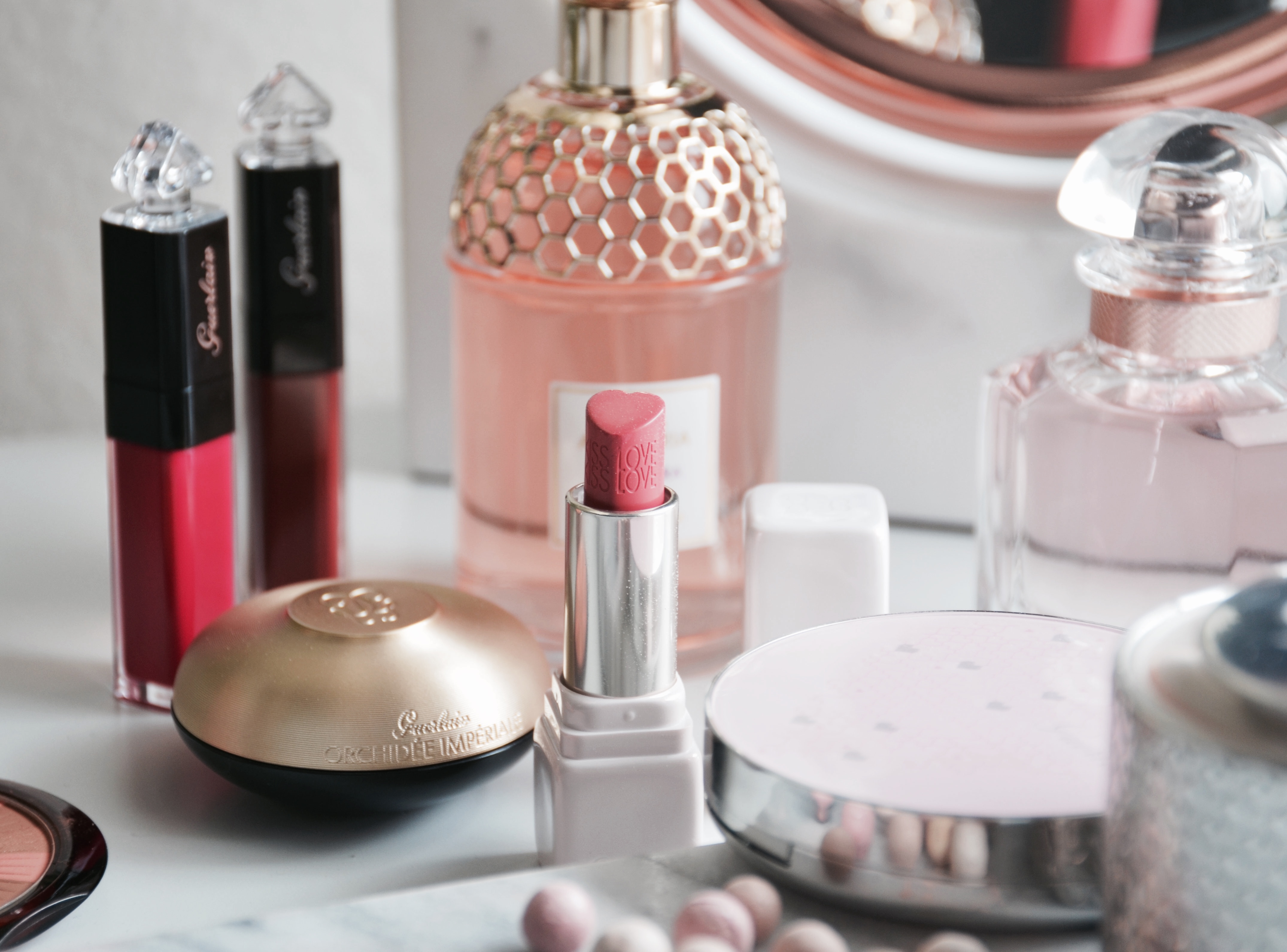 I also received one of the KissKiss LoveLove Lipsticks (pictured above) in the shade 570 Coral. The heart shaped bullet was designed to perfectly hug the cupids bow and make application very easy.
The finish of the lipsticks is luminous satin with a sheer to medium coverage. It feels hydrating on the skin and has almost like a balmy feel on the lips. It's a great lipstick for everyday use and for someone who like a more hydrating formula.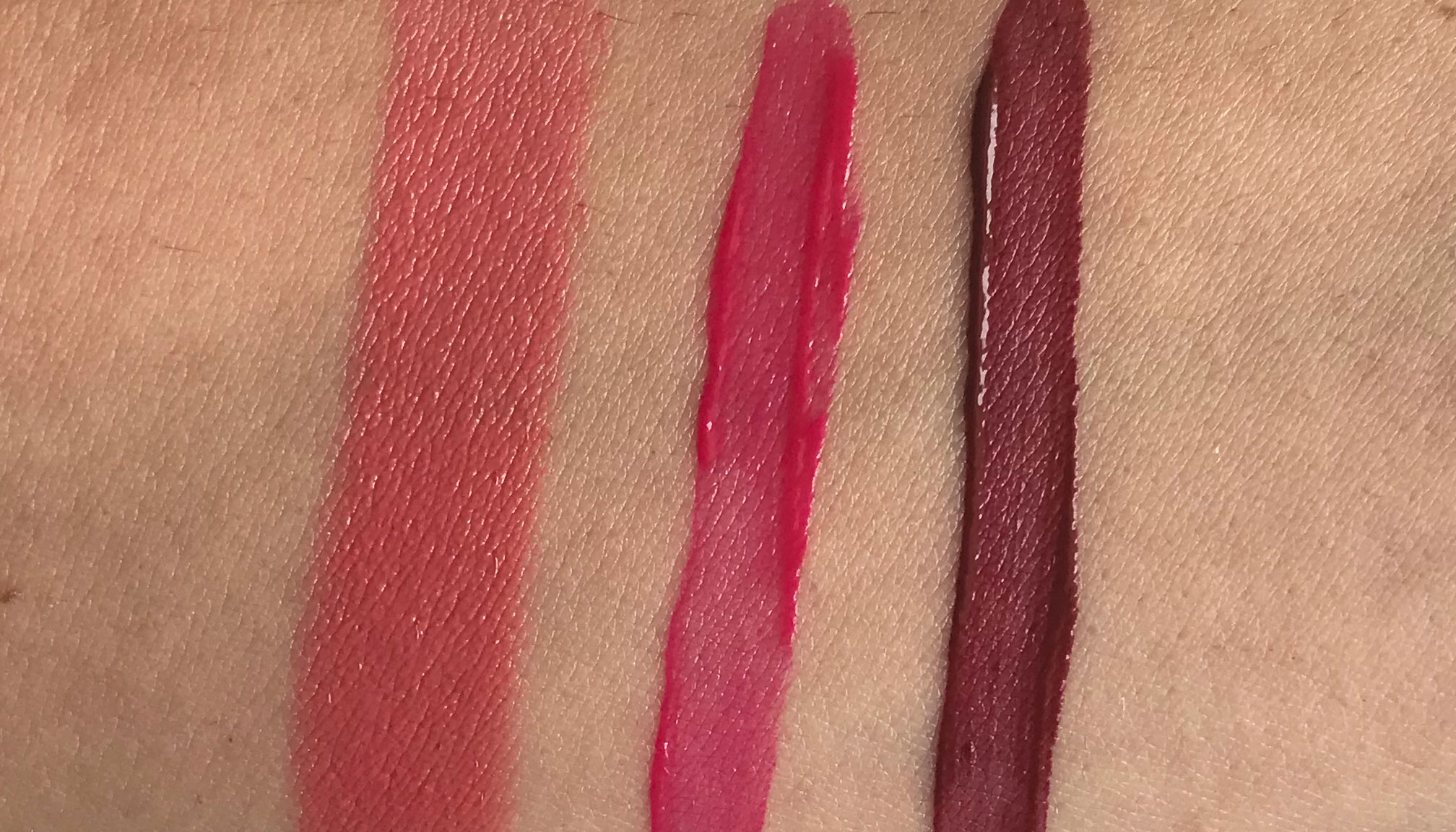 Swatches L to R: KissKiss LoveLove Lipstick in 570 Coral, Le Petite Robe Noire Lip Color Ink in L160 and L122

KissKiss LoveLove Lipstick in 570 Coral
And lastly, a skincare item, the Guerlain Orchidee Imperiale Eye & Lip Contour Cream, a luxurious cream powered by the Orchid. The new Eye Contour & Lip Cream contains Chrono-Response™ Complex to adapt to the skin's natural rhythms. During the day, it hydrates, smooths and enhances the eye area. At night the cream detoxifies, soothes and targets milk spots: small white spots around the eyes.
How to use:
IN THE MORNING
Using fingertips, pat gently and very delicately sweep outwards across the eye area and back again towards the centre. This micro-drainage targets under-eye puffiness and brings a sense of well-being.
IN THE EVENING
Apply the Cream in a thick layer like a mask. Leave on all night to allow the skin to draw the resources it needs to regenerate.
This is a multi-tasking cream that you can use both around the eyes and around your mouth. It helps with the appearance of fine lines and wrinkles, dark circles and overall radiance of the under eye area. It's one of the few anti-aging eye creams that I've noticed a difference on the second day of use. I don't have fine lines yet but I do have noticeable smile lines. Especially when I use the cream at night, when I wake up I notice that my lip area looks more plump. It is luxury in a cream and well worth the investment if you're looking for something effective.
Bottom line, I really like everything that they recently released. If you are a fragrance lover, definitely check out both scents. I've been using them a lot since both are great spring/summer scents (it was snowing today but I'm pretending that it's already summer).
As a favorite, I would pick the new Terracotta Light Powder. It is a unique powder that gives me the most beautiful natural bronze glow to the skin. It will definitely be a staple this summer.
*PR Sample
SaveSaveSaveSave
SaveSave