It's officially fall and that means it's time for cute boots, cozy sweaters and dark and vampy lipsticks. The transition between summer and fall is my favorite part of the year because you get the best of both seasons. September is also the month when all the Holiday collections are starting to come out which is pretty exciting for a beauty lover like me.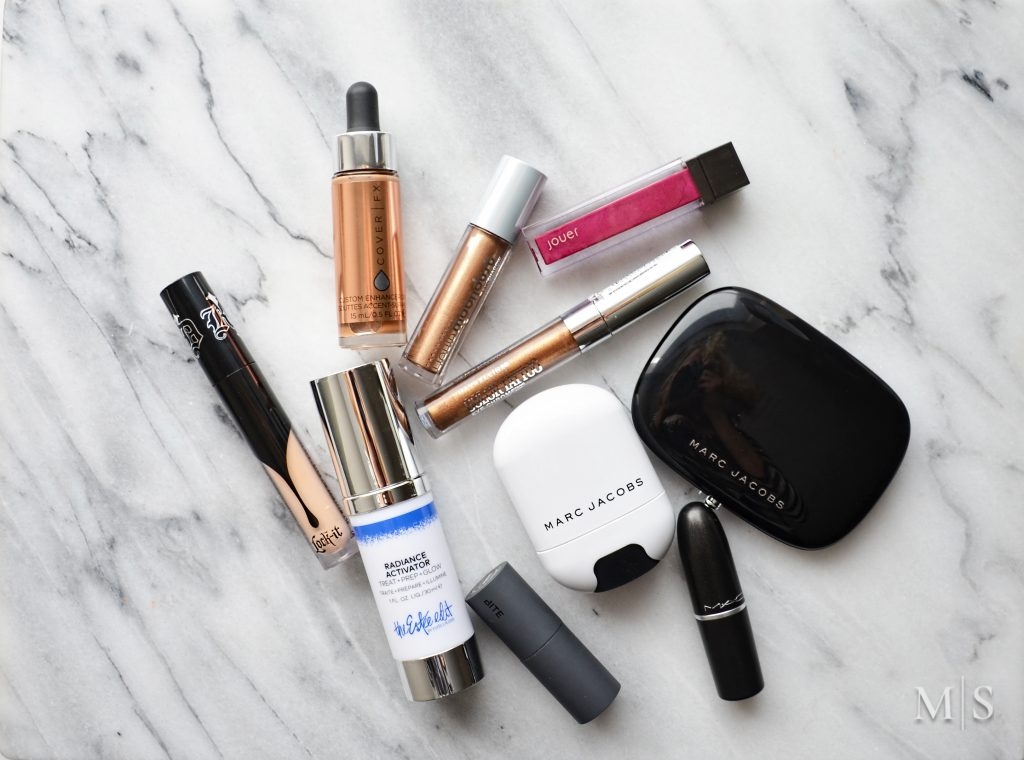 I have a lot of products to share with you guys, in fact I had so many products that I decided to separate my skincare and makeup favorites in to two posts. Today I'll share my makeup favorites for the month of September:
Base
The Estee Edit Radiance Activator Treat + Prep + Glow, a three in one serum that provides instant glow and hydration to the skin. I mostly use this as a glowy and hydrating primer before my foundation and it works really well for my normal skin. It provides you with a glowy base that doesn't have any noticeable shimmer, it just looks like your skin is healthy and has a beautiful glow in within.
Kat Von D Lock It Concealer Creme is a new favorite of mine. This concealer is full coverage but it's still very creamy and doesn't look heavy when applied on the skin. I have a blog post on the shades that I got and use that you can check out here.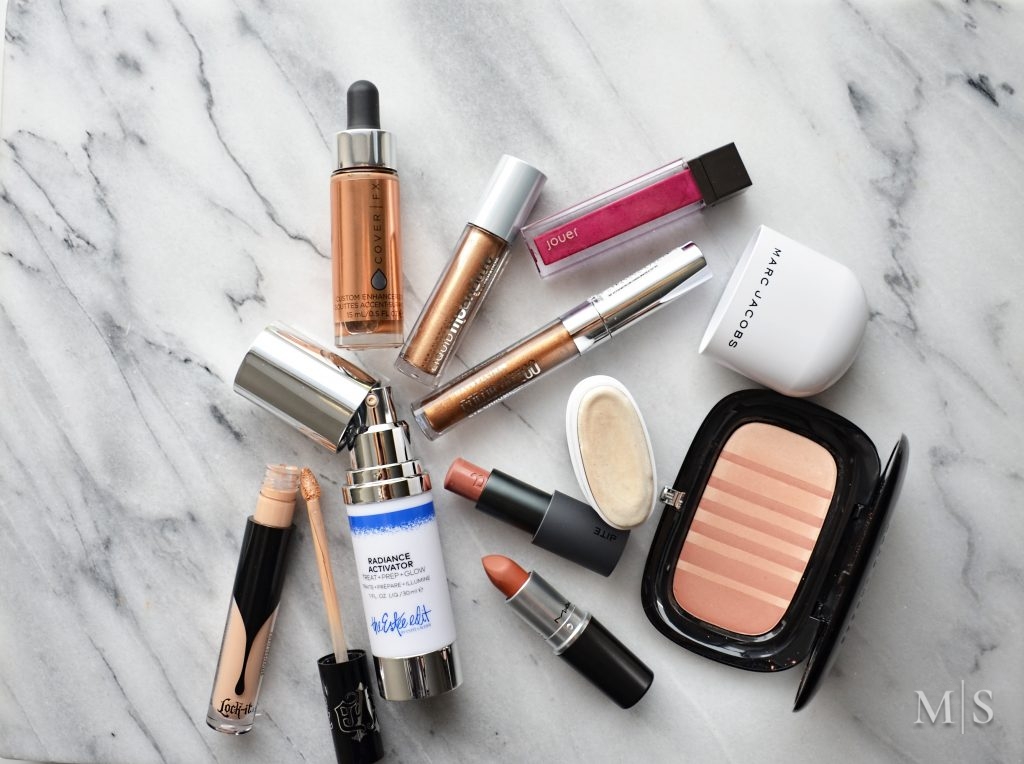 Cheeks
Cover FX Custom Enhancer Drops in Sunkissed have been my go to when it comes to bronzer for the past month. The shade is perfect if you have light to medium skin tone and it gives a beautiful bronzed look to the skin that looks very natural. Cover FX did such a great job with the Custom Enhancer Drops, I just love every shade in the collection and highly recommend them if you haven't tried them.
I'm pretty sure that the Marc Jacobs Glow Stick Glistening Illuminator in Spotlight was in my previous favorites but I had to mention it again since I've been using it non stop for the past month. It's a very unique shade of a highlighter that gives a natural glow to the skin without looking over the top.
Another Marc Jacobs product that I can't get enough is the Air Blush in Flesh & Fantasy, a neutral bronze shade that literally goes with every makeup look. These blushes give the most beautiful glowy look to your cheeks without emphasizing any imperfections on the skin. Love!
Eyes
I'm very low maintenance when it comes to my eye looks. For day to day basis I prefer to use cream eyeshadows because they're so easy to use and super quick to apply. I have two cream eyeshadows to share with you, one is a more pricy option and the other is very affordable and a close dupe. The Urban Decay Liquid Moondust Cream Eyeshadow in Zap is a beautiful bronze gold with tonal sparkle that I've been wearing a lot for the past month. The more affordable option is the Maybelline Color Tattoo Eye Chrome in Bronze Sheen which performs and looks very similar to the UD Moondust Cream Eyeshadow that I mention. Both are gorgeous on the eyes and last all day without budging.
Lips
Jouer came out with new fall shades of their Long Wear Lip Creme Liquid Lipsticks and the shade in Dahlia is perfection. It's described as a metallic cool electric plum but on the lips it appears as a nice berry shade with a tiny bit of shimmer which is perfect for the fall months.
The other two lip products that I have are both neutral nude shades, MAC Strip Me Down is part of the Taraji P. Henson Collaboration and a beautiful darker brown nude with a matte finish. The Bite Beauty Multistick in Cashew is my perfect every day "my lips but better" nude. I use it to create a monochrome look that is so in right now and it works really well on the eyes, lips and cheeks.
The next post will be all about my skincare favorites which I have a lot since I've been testing more skincare for the past month.
Let me know of any beauty product that you have been loving for the past month that I need to try.