Yes Burberry is now available at Sephora! I was pretty excited when I saw that Sephora started carrying the Burberry beauty line but also realized how dangerous it can be, I have two day shipping and all those Burberry goodies.
Sephora does excellent when it comes to mini sets and the Burberry Beauty Box is no exception. It's an exclusive makeup starter kit featuring Burberry's runway makeup icons. It's runway inspired and consists of makeup products that were used to create the signature "Burberry glow" look. It has travel sized fluid base, contouring powder, lip color and a mini kabuki brush.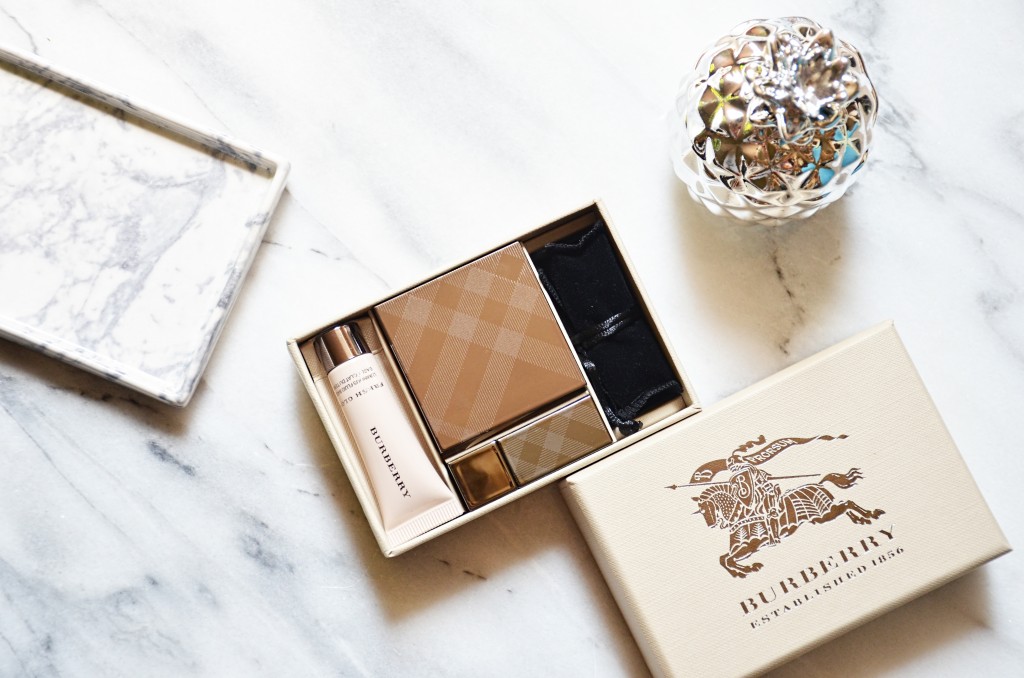 Sometimes when you get mini sets the packaging and the quality is not the same as the full size products but that's not the case with these Burberry minis, everything feels the same quality as the full size items.
The set contains:
– 0.17 oz Fresh Glow Fluid Base in Nude Radiance No. 01
– 0.035 oz Burberry Kisses in Military Red No. 109
– 0.08 oz Light Glow Contouring Powder Face & Eyes in Earthy Blush No.07
– Mini Kabuki Brush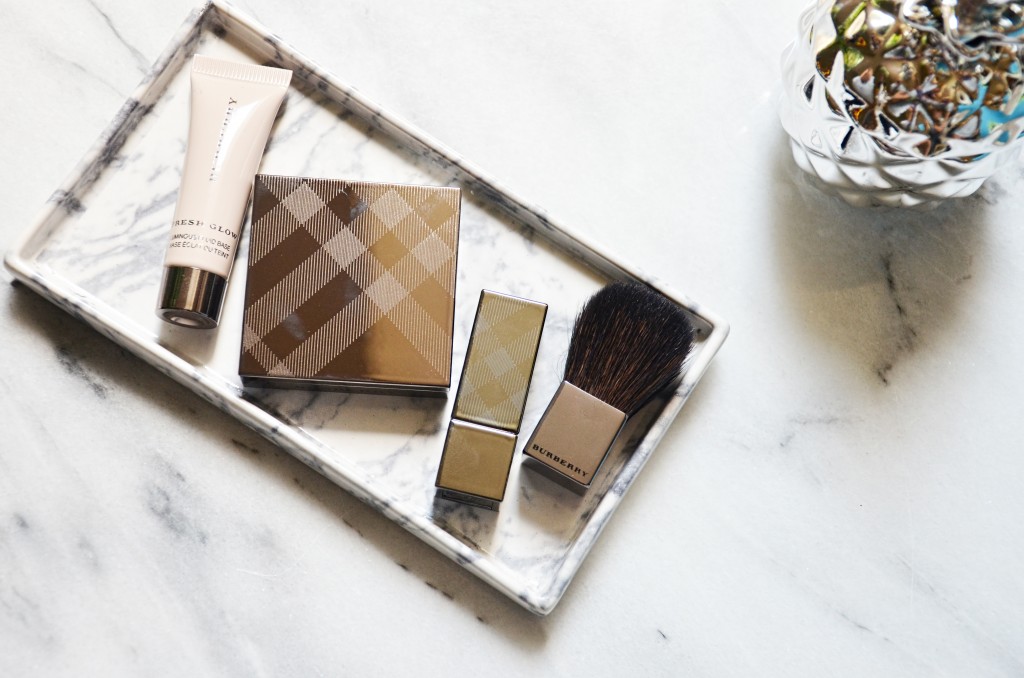 The Fresh Glow Fluid Base in Nude Radiance is pretty small so I can see going through this mini tube very quickly. It gives a nice subtle glow to the face and looks great under or over foundation so I'll definitely get a full size when I run out.
You get a good size of the Earthy Blush which is a contouring powder. The size is equivalent of a single Burberry eyeshadow so this will last you awhile. The contouring powder is a great in the middle shade, not to cool and not too warm and can be used as a blush too. I also tried it as an eyeshadow and it worked out really nicely.
The mini Kisses lipstick in Military Red is a beautiful true red shade that applies sheer but it's also buildable. You can get full on pigment with the Kisses lipsticks but you can also wear them sheer. It's a nice size to try before you buy the full size.
The mini kabuki brush is small but well made and feels very soft. It comes with a little pouch which makes it a great addition to my makeup bag.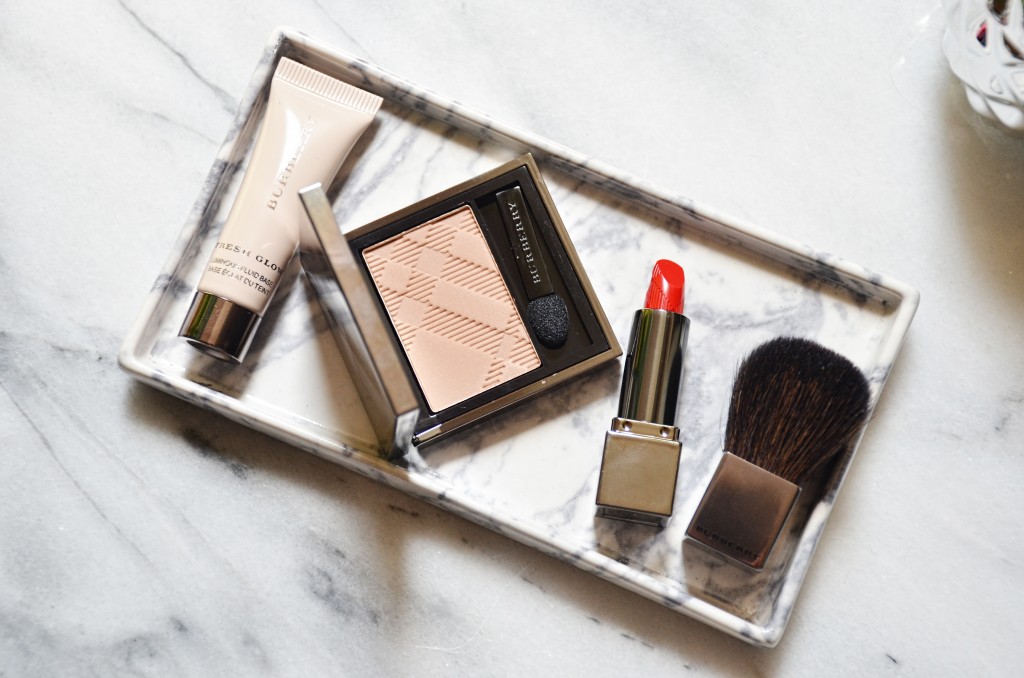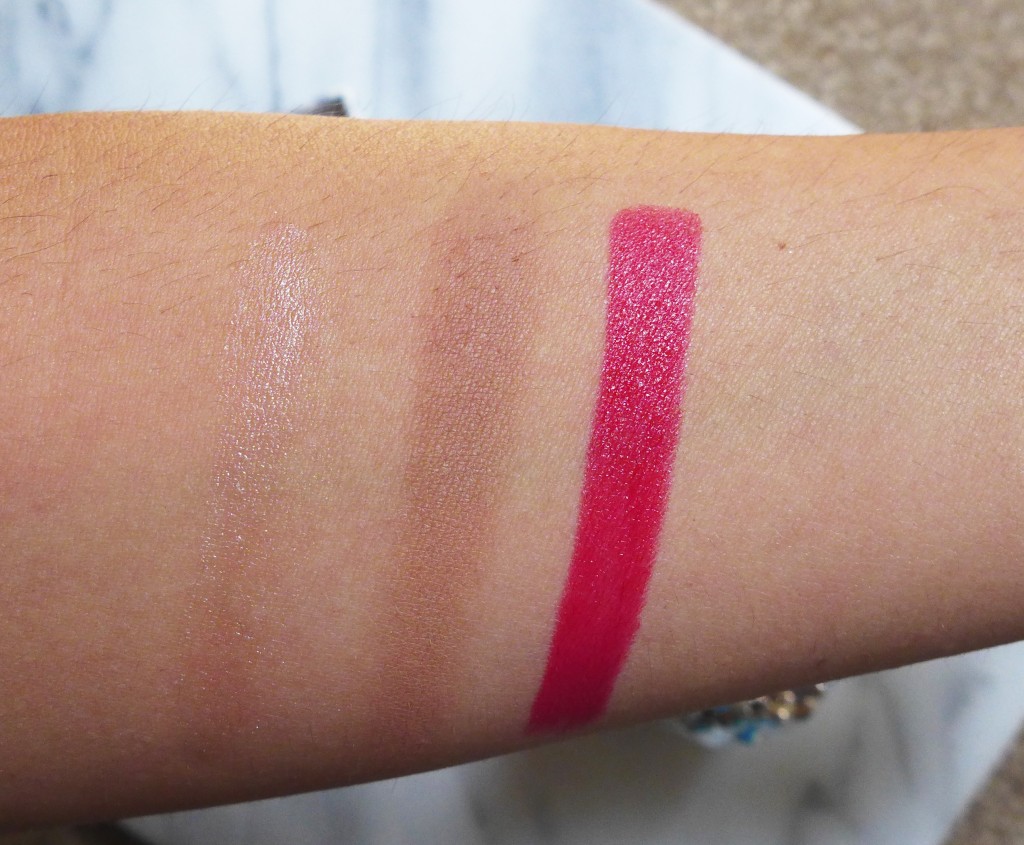 Swatches L to R: Fresh Glow Fluid Base in Nude Radiance, Light Glow Contouring Powder Face & Eyes in Earthy Blush, Burberry Kisses in Military Red (heavy swatch)
The Burberry Beauty Box is a nice way to try some of their products. Especially if you're new to the line it's a great way to test some products out before you buy a full size item.