As much as I love a good eyeshadow palette, cream eyeshadows have my heart when it comes to everyday makeup. Most of the time I don't have a lot of time to spend on my makeup, so cream eyeshadows come to the rescue. They are very easy to use and if you find the right formula, they will last all day on your eyes.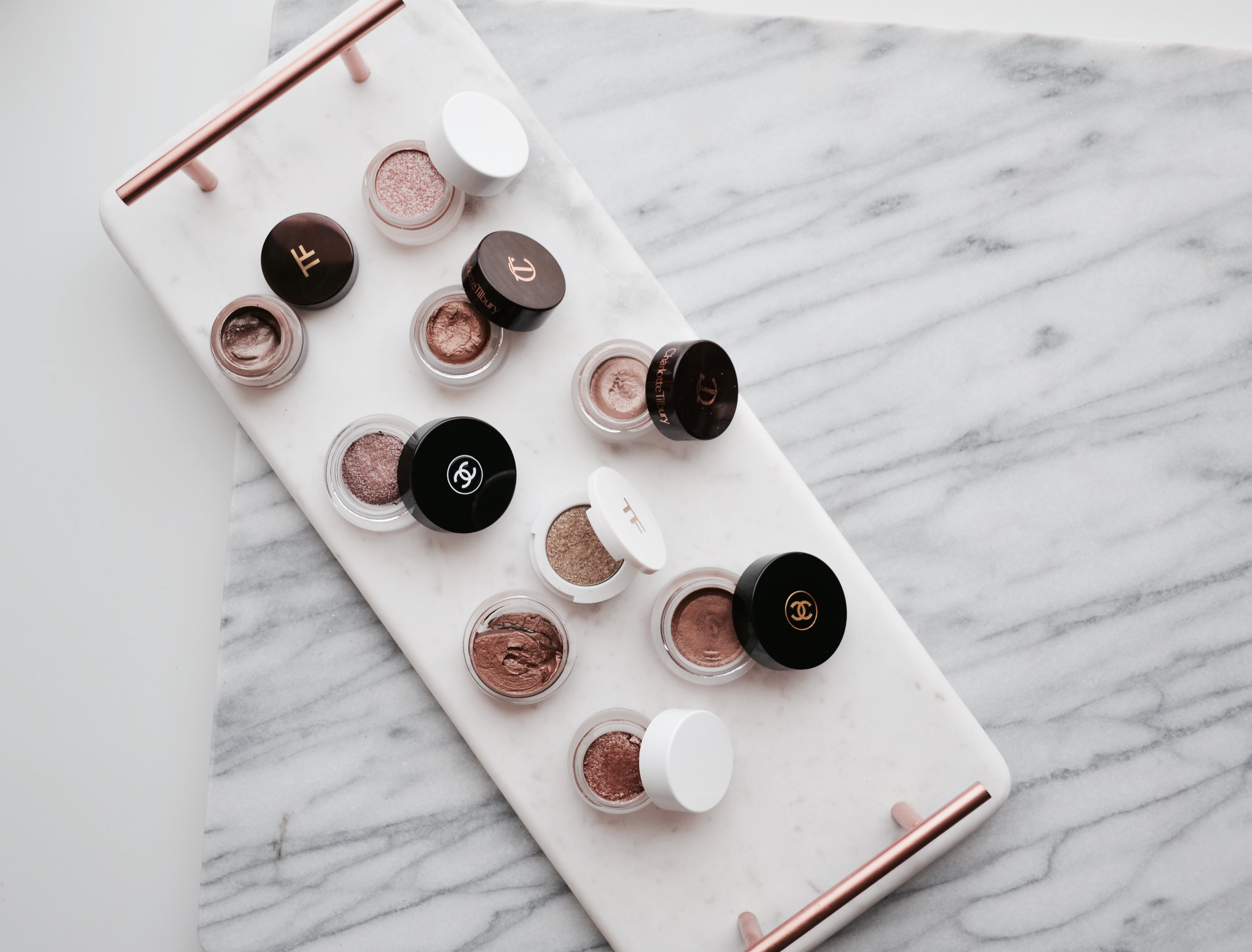 My go-to cream eyeshadows are usually bronze shades. They are one swipe eyeshadows that I use to create a wash of color but also for quick smoky eyes.
I find cream eyeshadows a good investment so I am willing to spend a little more for the right formula. They also usually go a long way, so a pot will last you for awhile.
Here are some of my favorites and go-to's for every day:
Chanel Ombre Premier Longwear Eyeshadow in Memory (a warm toned bronze shade). This is a cream eyeshadow with a more subtle shimmer. I like this new formula even better than the Illusion D'ombre since it is more day time appropriate. The formula is also not as creamy but it lasts all day on the lids without creasing.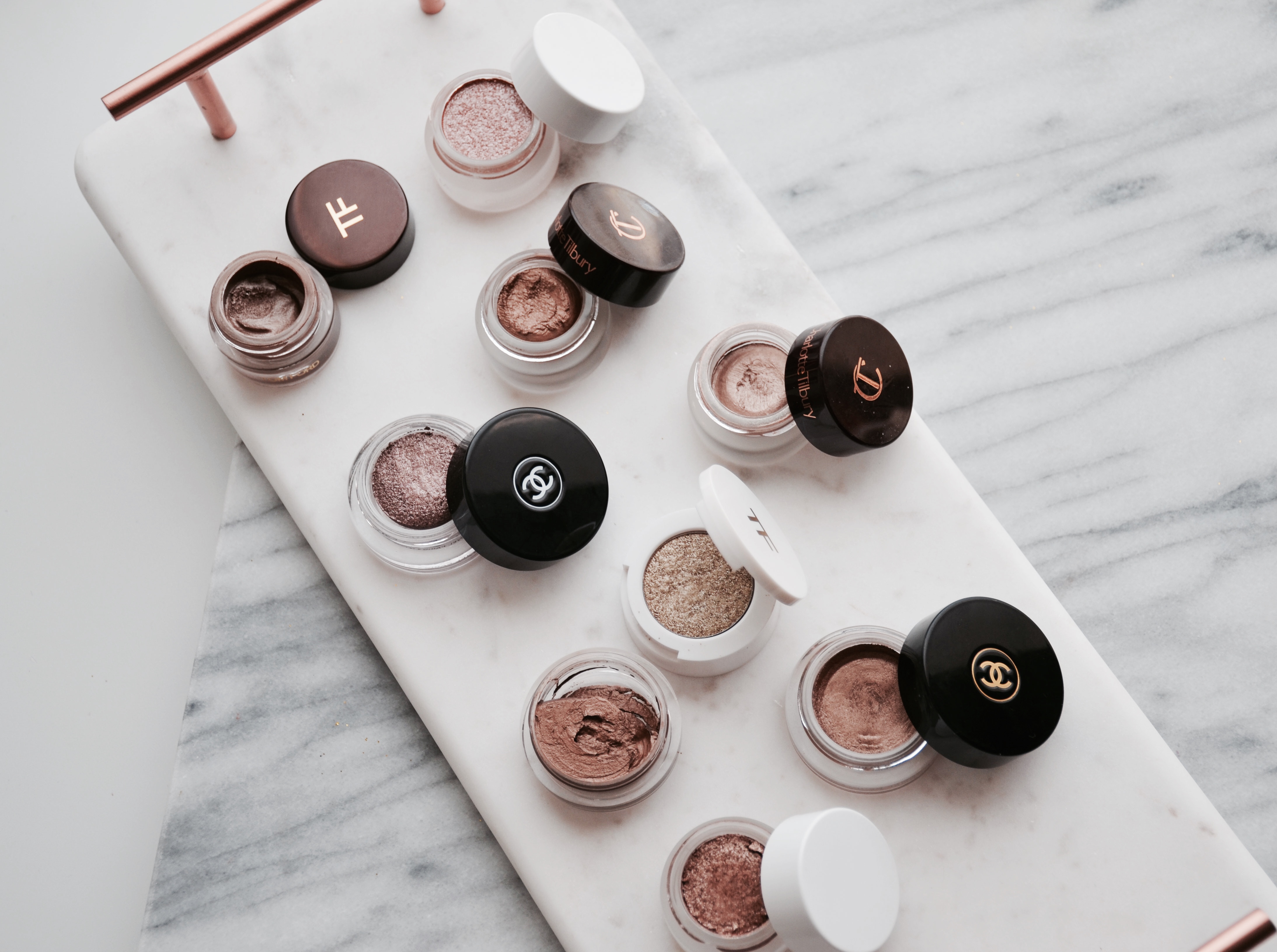 Tom Ford Cream And Powder Eye Color Duo in Naked Bronze (a deeper warm toned bronze). I use this shade for bronze smoky eyes. The formula is super pigmented and almost whipped. They also last all day on my eyes with no creasing.
Charlotte Tilbury Eyes to Mesmerise in Marie Antoinette (oyster gold). These cream eyeshadows are closest to the formula of the Tom Ford cream eyeshadows. They have the same whipped feeling and are also super pigmented. The shade in Marie Antoinette is a good cool toned bronze if you are not a fan of warm shades.
Charlotte Tilbury Eyes to Mesmerise in Bette (a warm toned coppery bronze). This is one of my favorite shade from this line. It is the perfect wash of color, but you can also easily do a smoky eye if you add a little more.
Tom Ford Cream Color for Eyes in Platinum (cool toned taupe bronze). This gives such a stunning wash of color to the eyes. The shade is a tiny bit darker than Charlotte Tilbury Marie Antoinette but as beautiful.
Chanel Illusion D'Ombre in New Moon (a bronze with purple). New Moon is such a unique shade. It's in the bronze family but leans more mauve on the eyes. It's shimmery but the shimmer is fine so it gives a beautiful sparkly finish to the eyes. The only complain I have about the formula, is that they dry out pretty quickly so you don't get to use the whole pot.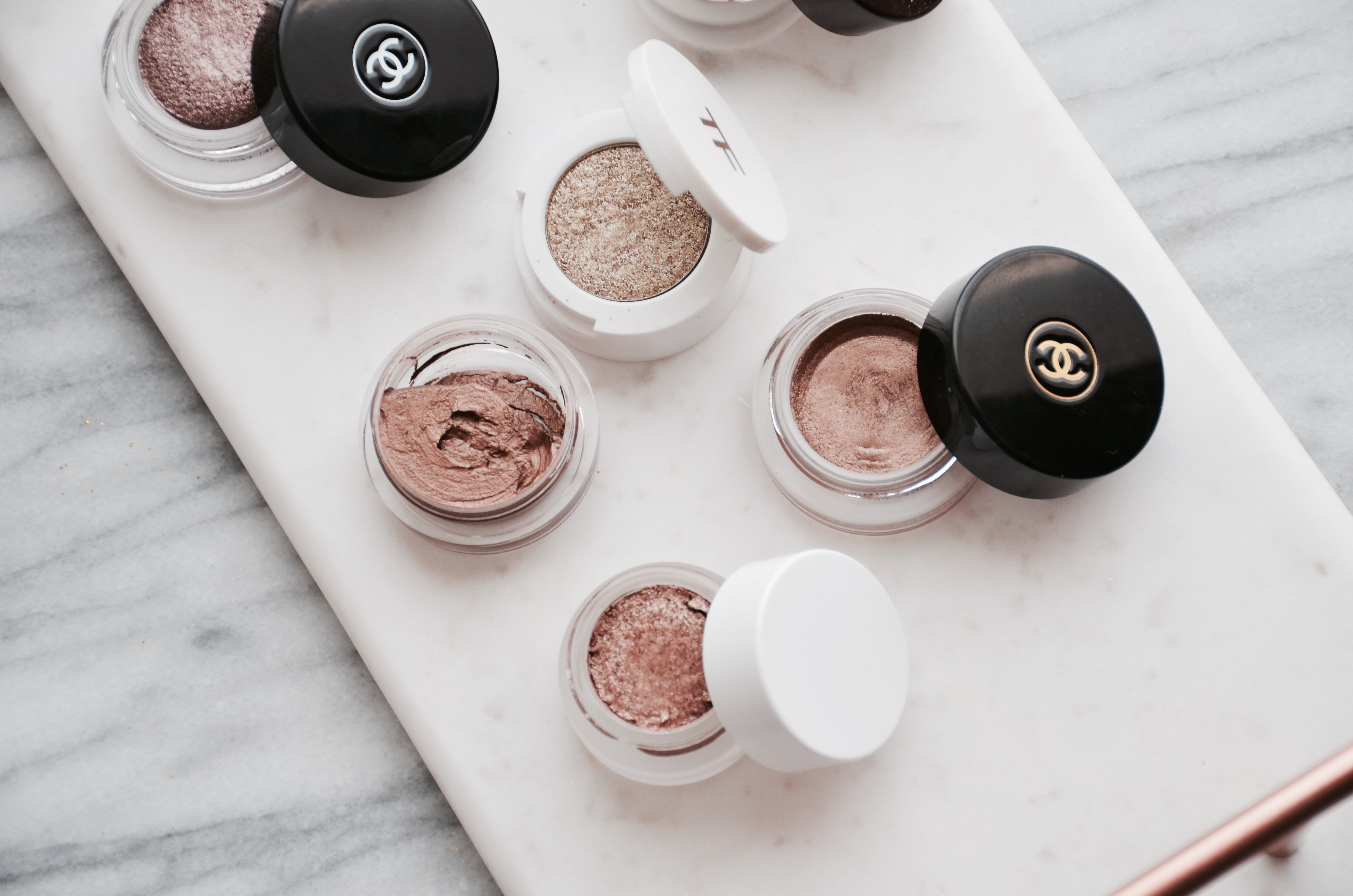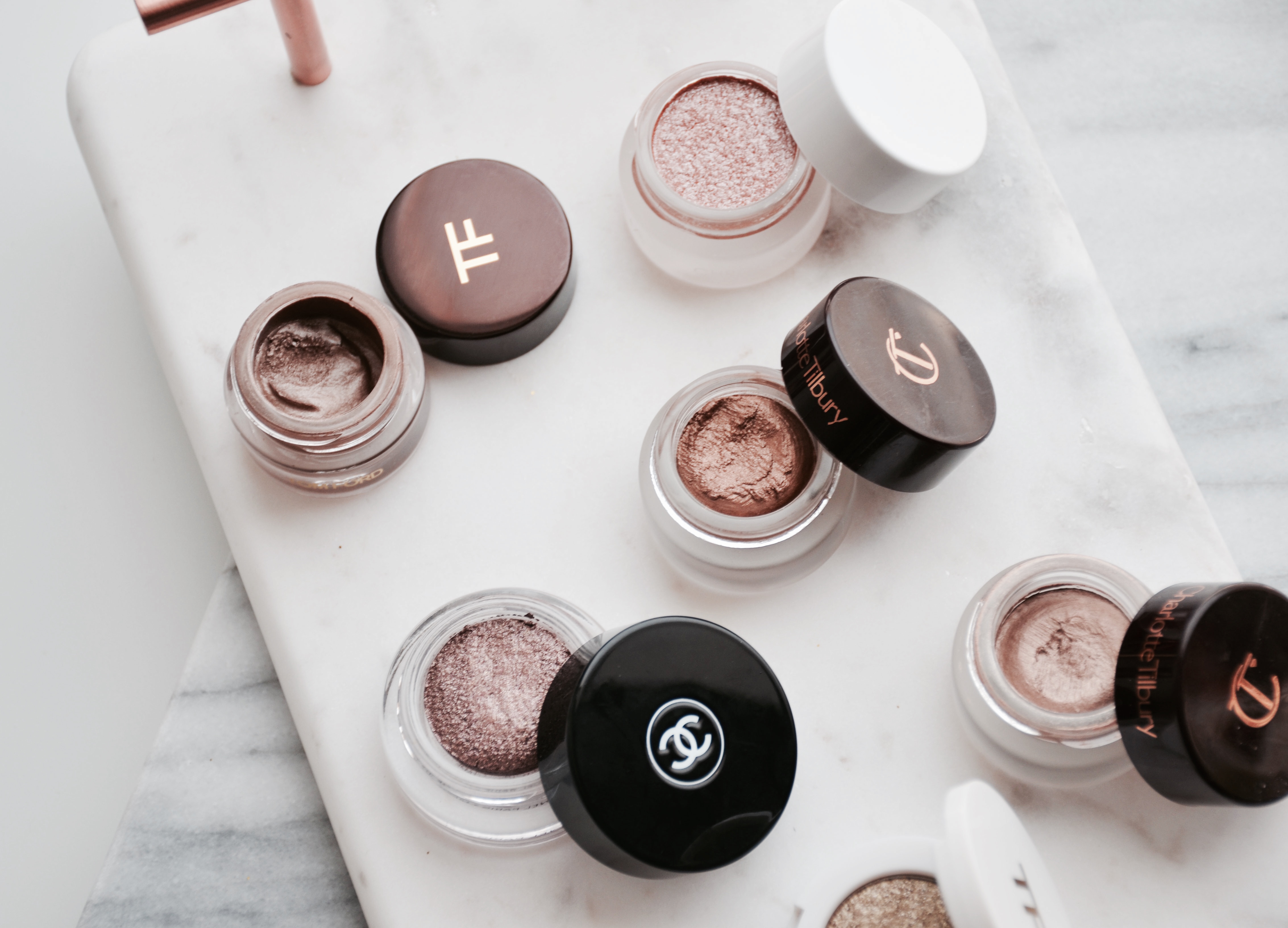 The two last mentions are more of shimmery eyeshadow toppers but I like to use them on their own to achieve a "wet look" glossy eye. The Natasha Denona Chroma Crystal Top Coats are a multi-use formula that you can use on your eyes, lips and even on your cheeks.
I have the shades in Bronze and Peach which are self explanatory when it comes to the shade description. I recommend using your fingers to apply these. You get almost no fallout and you can achieve more pigment that way. Formula wise, they remind me of the Tom Ford powder shimmer that comes in the duos or in the quads. It has the same creamy texture to the touch and the sparkle is so nice and sophisticated.

Swatches L to R: Chanel Memory, Tom Ford Naked Bronze, Charlotte Tilbury Marie Antoinette, Charlotte Tilbury Bette, Tom Ford Platinum, Chanel New Moon, Natasha Denona Bronze and Peach
I think that sums up my every day shades. As you can see by the swatches they are all different enough (at least in my eyes). When it comes to the formula I really like all of them. Some of them are more pigmented and some are less creamy, but at the end, they all give a beautiful wash of color on the eyes.
What's your favorite cream eyeshadow formula?
SaveSaveSaveSaveSaveSave