Urban Decay is about to do their biggest launch ever, they're launching 100 shades of their new Vice Lipsticks which will replace their old Revolution lipstick line and then some. The Vice Lipstick line will have 100 available shades and 120 shades at Sephora and they will be available in six finishes. Most of the shades from their Revolution lipstick line are making a return and they're also adding new shades to the line. The official launch date is June 5th and all shades will be part of the permanent line.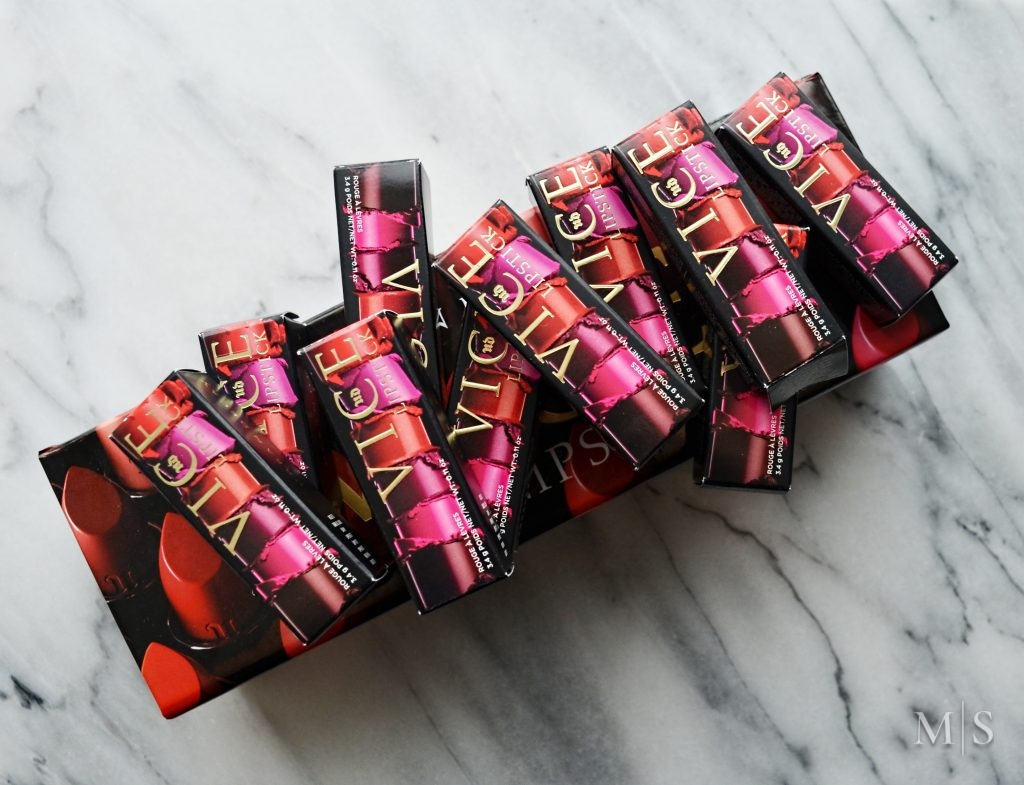 I was lucky enough to receive a preview of 10 Vice Lipstick shades that are actually Wende's picks from the line. I received the shades in:
Backtalk (Mauve Nude Pink in Comfort Matte)
Naked (Nude Pink in Cream)
Pandemonium (Bright Purple in Mega Matte)
Rock Steady (Deep Wine Red in Cream)
714 (Bright Red in Mega Matte)
Big Bang (Bright Pink Sparkle in Metallized)
Firebird (Deep Fuchsia in Cream)
Menace (Medium Fuchsia Pink in Comfort Matte)
Conspiracy (Plum Bronze Shimmer in Metallized)
Disturbed (Deep Brick Red in Comfort Matte)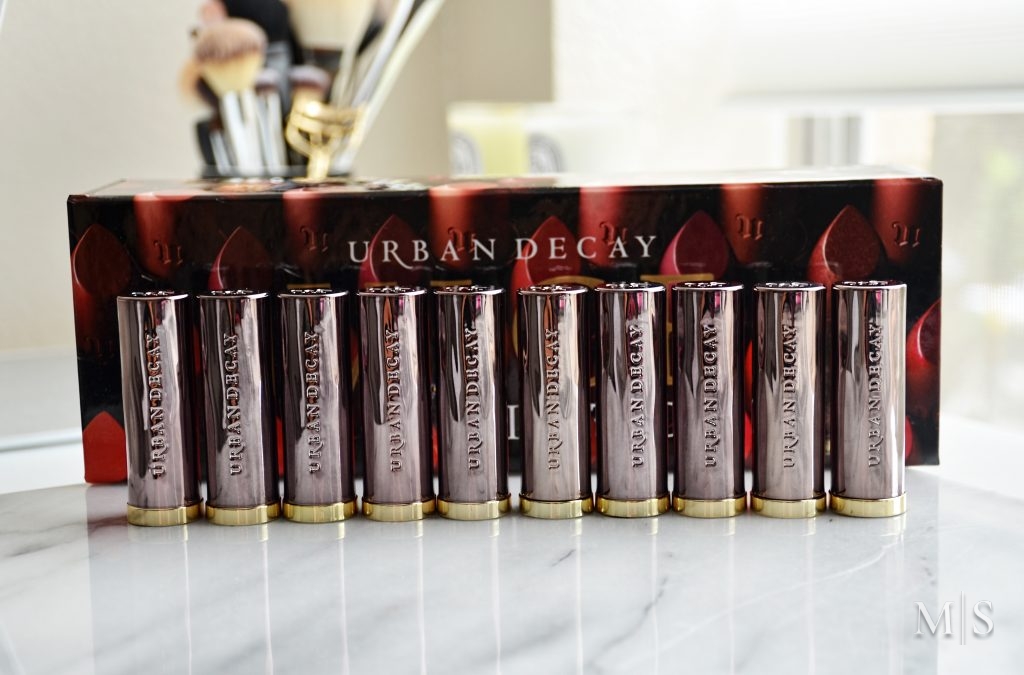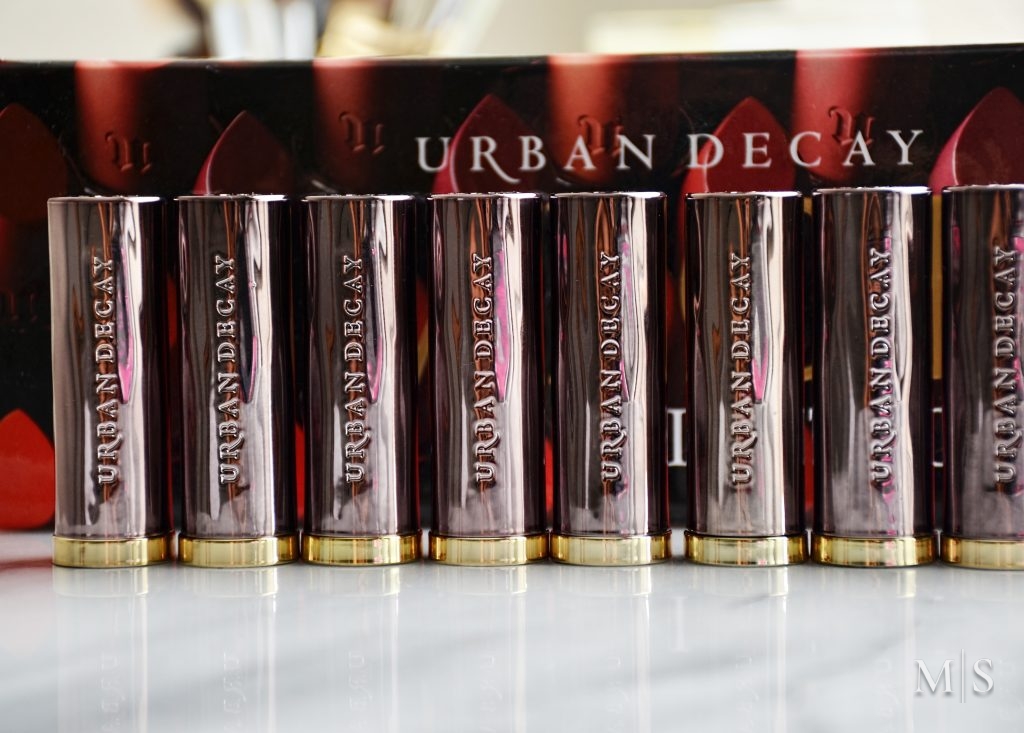 Urban Decay promises a one swipe pigment load for all the shades that come in the Vice line. The formula of the lipsticks contains aloe vera, jojoba, avocado and babassu oils that help nourish and soften the lips. They also have Vitamin C & E which provide antioxidants and Illipe butter that helps with long-lasting moisture.
The six finishes are: MM (Mega Matte), CM (Comfort Matte), C (Cream), M (Metallized), S (Sheer) and SS (Sheer Shimmer).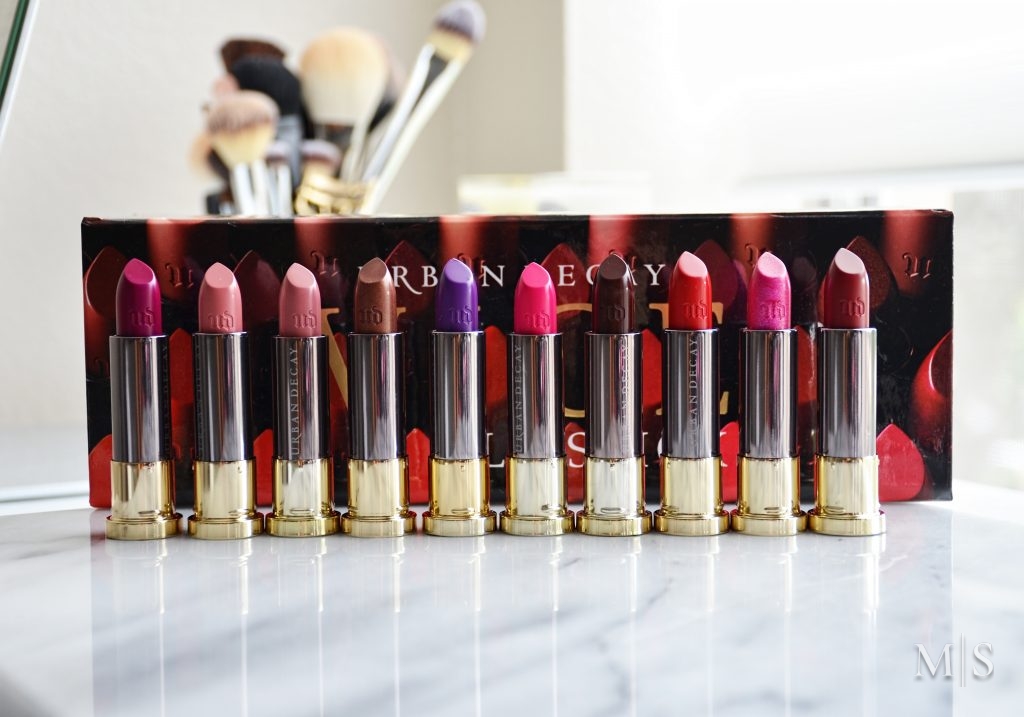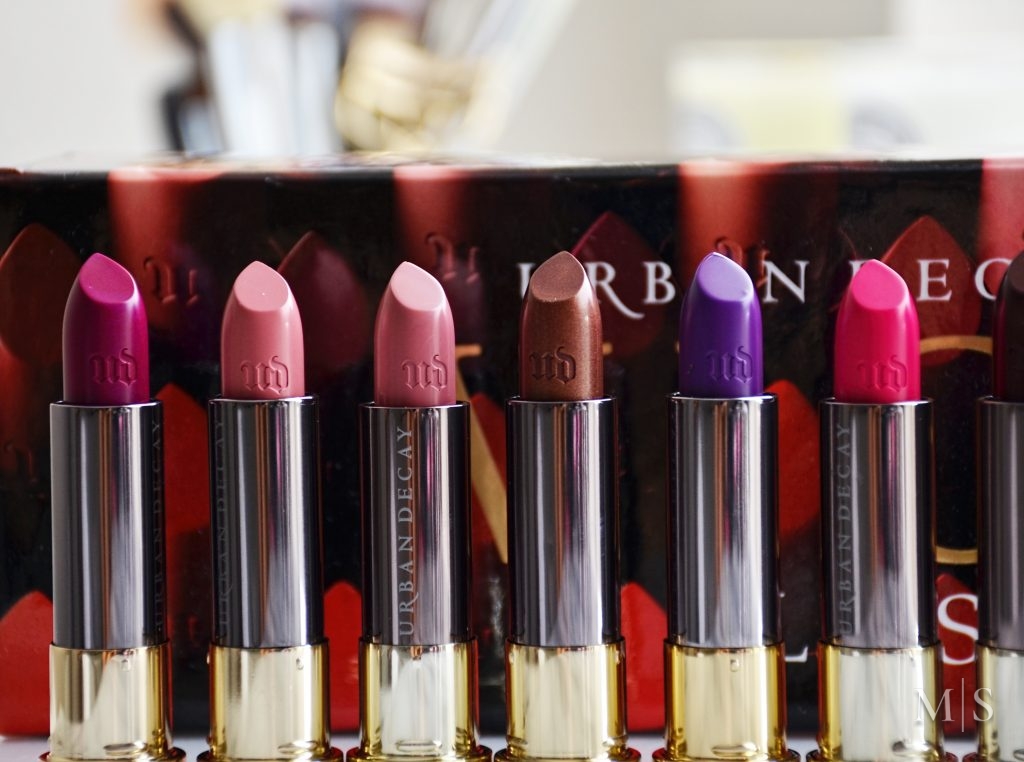 L to R: Firebird, Naked, Backtalk, Conspiracy, Pandemonium, Menace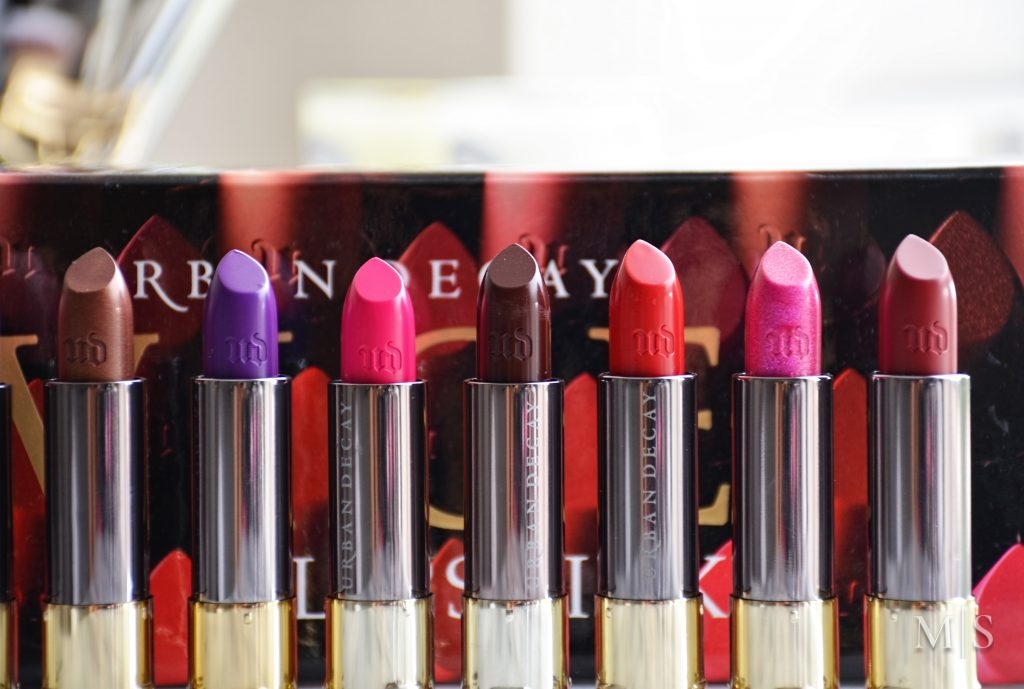 L to R: Conspiracy, Pandemonium, Menace, Disturbed, 714, Big Bang, Rock Steady
I had the chance to test all 10 shades on my lips and see how they wear and apply and I'm happy to report that every shade performs exceptional. They don't tug on the lips while you apply them and that goes for every lipstick finish, even the Mega Matte which is the most matte of them all. The pigmentation is also top notch and you get full on pigment with one swipe.
I think my favorite formula of the ones I've tried is the Comfort Matte because you get a matte finish that's still very comfortable to wear, but I also like the Mega Matte and Cream. I'm also not really in to metallic lipsticks but I think the shades that I got are very wearable and actually make your lips look plump and bigger because of the shimmer.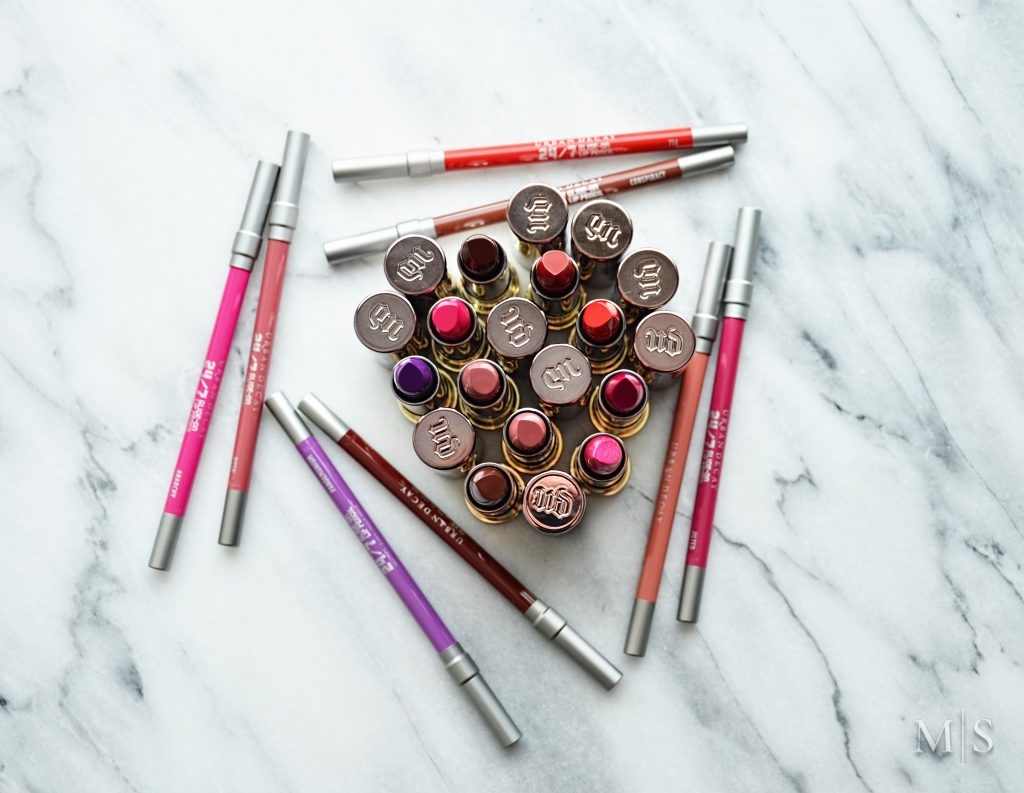 Urban Decay is also adding new shades to their 24/7 Glide On Lip Pencils and will have total of 50 available shades to match their Vice Lipstick line.
I received 8 shades from the 24/7 Glide On Lip Pencils which can be combined with the lipsticks for a longer-lasting lip look. I already know that I love the lip liners since I've been using the shade in Naked for a long time.
The shades I received are in: Naked (nude pink), Rush (pink mauve with soft pearl), Pandemonium (bright purple), Conspiracy (plum brown), Gash (deep wine red), Anarchy (bright fuchsia), Jilted (deep fuchsia pink), 714 (bright red). 
If you're not familiar with the formula of the Urban Decay 24/7 Glide On Lip Pencils, they're creamy and apply very nicely on the lips and the lasting power is excellent. They're comfortable to wear so sometimes I even wear them instead of lipstick.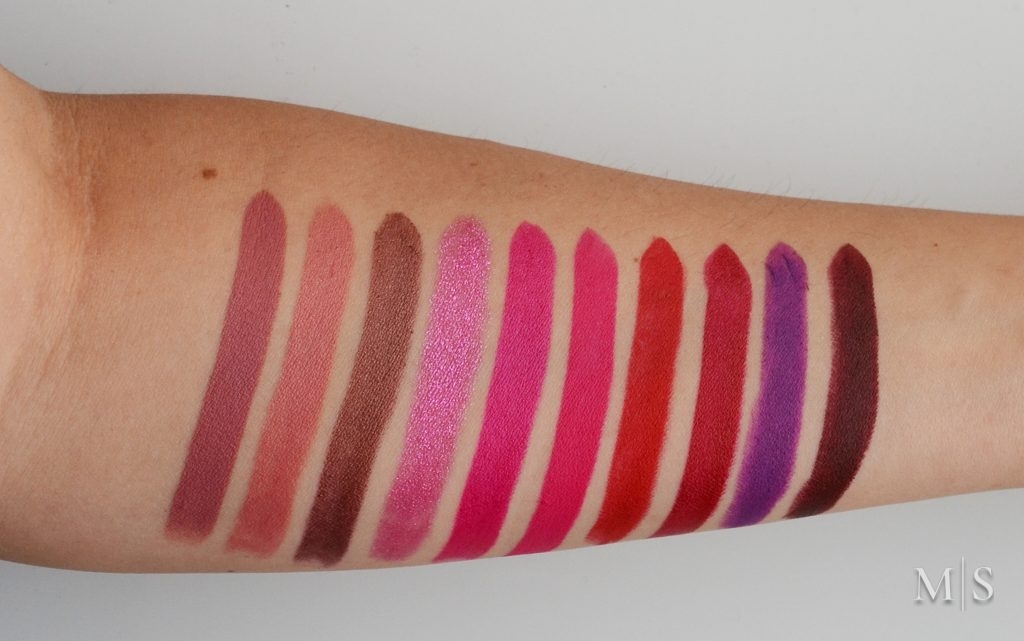 Swatches of the Urban Decay Vice Lipsticks L to R: Backtalk, Naked, Conspiracy, Big Bang, Firebird, Menace, 714, Rocksteady, Pandemonium. Disturbed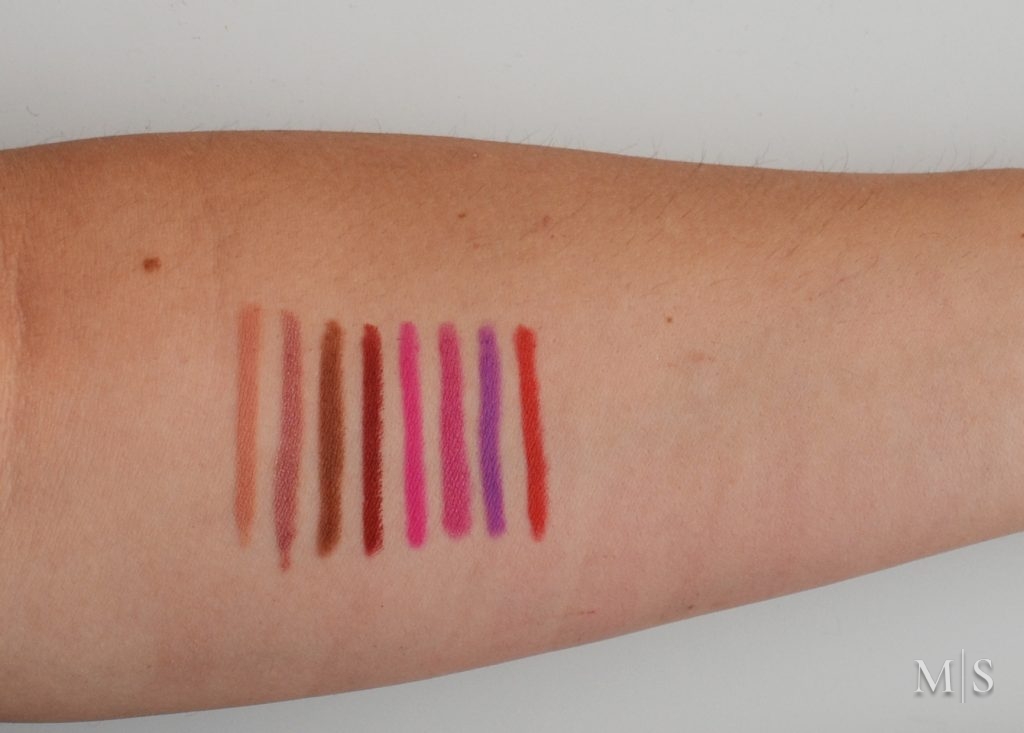 Swatches of the Urban Decay 24/7 Glide on Lip Pencils L to R: Naked, Rush, Conspiracy, Gash, Anarchy, Jilted, Pandemonium, 714
From the packaging to the formula the Urban Decay Vice Lipsticks get a huge thumbs up from me. I love all ten shades that I have and I can't wait to get my hands on more as soon as they launch. The Vice Lipstick line will be available at Sephora, Ulta and urbandecay.com and they will be priced at $17 each.
*PR Samples