MAKE UP FOR EVER released a new and reformulated version of their Face & Body Liquid Foundation and they renamed it in to the Water Blend Foundation. It's a pro makeup artists favorite foundation which delivers the same results as their old formula with an improved and upgraded formula.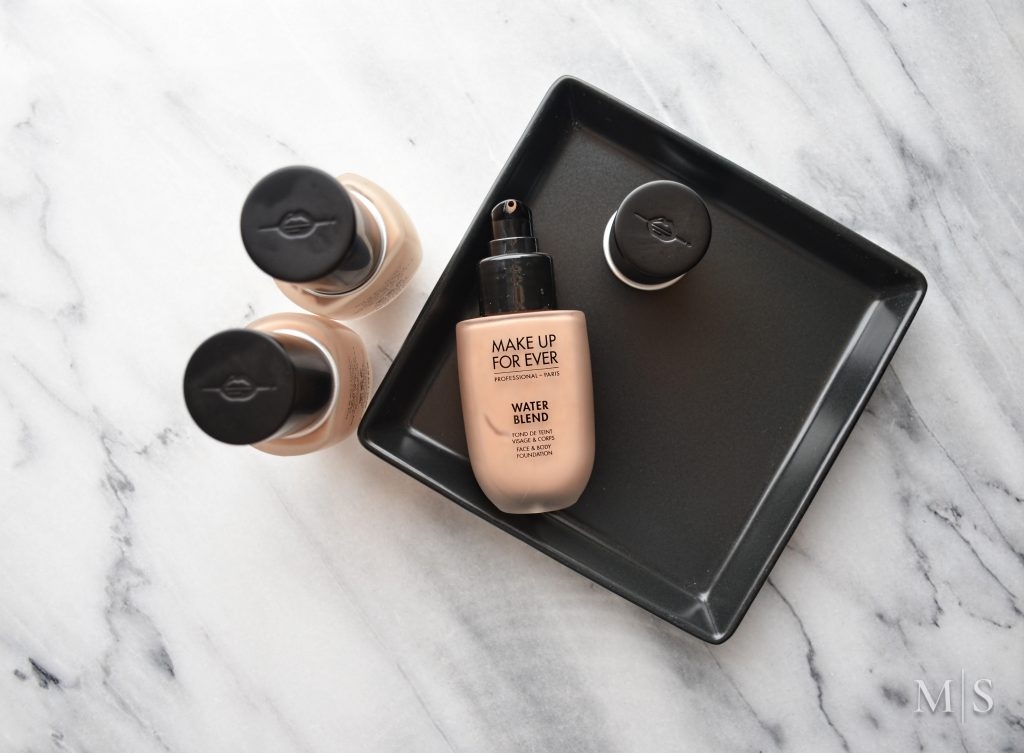 The MAKE UP FOR EVER Water Blend foundation is described as having a hydrating formula, 80% of the formula is purified water infused with Vitamin B5 which provides hydration and improves skin elasticity. The formula is also waterproof and transfer-proof and easy to apply because of the water-gel texture. The finish is light and smooth and promises all day wear.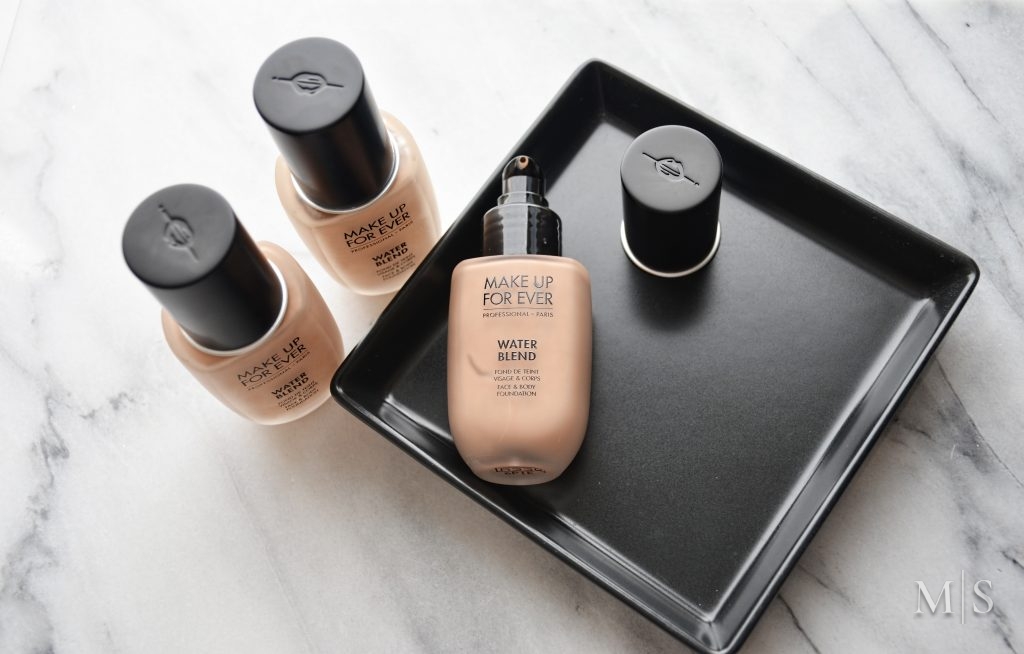 The Water Blend foundation is available in 20 shades and can be used both on the face and the body. It's super lightweight and has a dewy finish but it's also buildable so it goes from sheer to full coverage.
I haven't tried the old formula so I can't compare and say what the difference is but I really like this new formula. The foundation is very watery and thin so one layer will give you sheer coverage similar to a BB cream but you can build it up to full coverage and it will still look like you're not wearing a lot of makeup.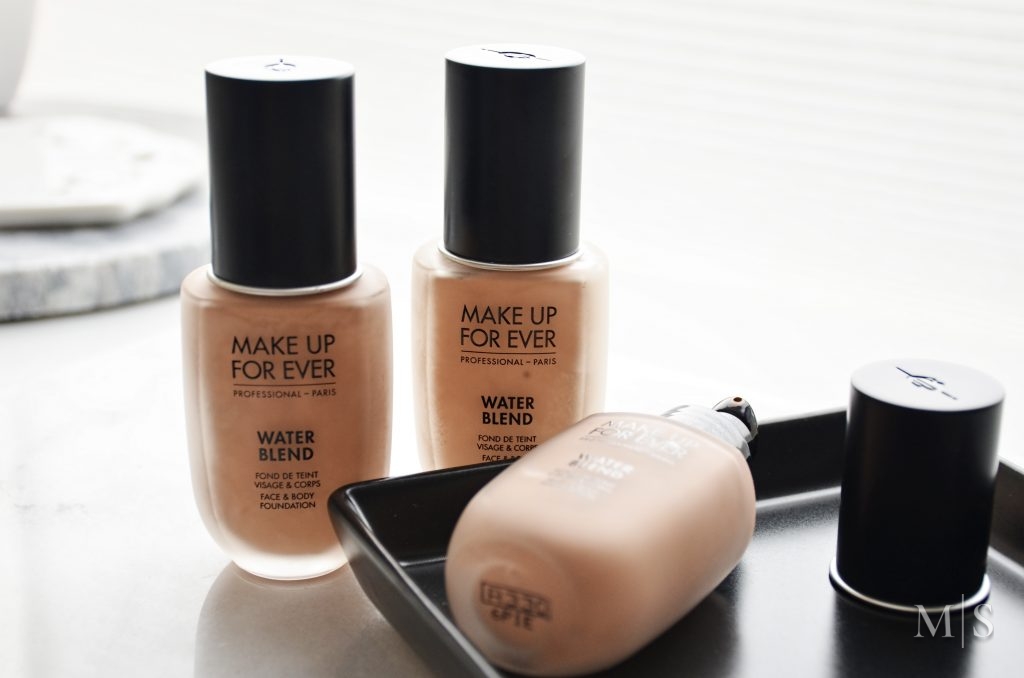 The finish of the foundation is dewy but doesn't feel greasy on the skin. Since this is a very hydrating formula this foundation will work for dry to normal skin, those with oily skin would probably have to powder and touch up through the day if they still want to try it.
For application the Pro MUFE team recommends using a damp sponge with two sprays of Mist & Fix or a small amount of Step 1 Equalizer Hydrating Primer. Start from the center of the face and work outwards using gentle press and roll motions with the sponge.
For me the best way to apply the Water Blend foundation is a buffing brush. I feel that since the foundation is so watery my Beauty Blender soaks up a lot of the product. I also used my Artis 8 Oval Brush and it worked perfectly and gave me more coverage with less product.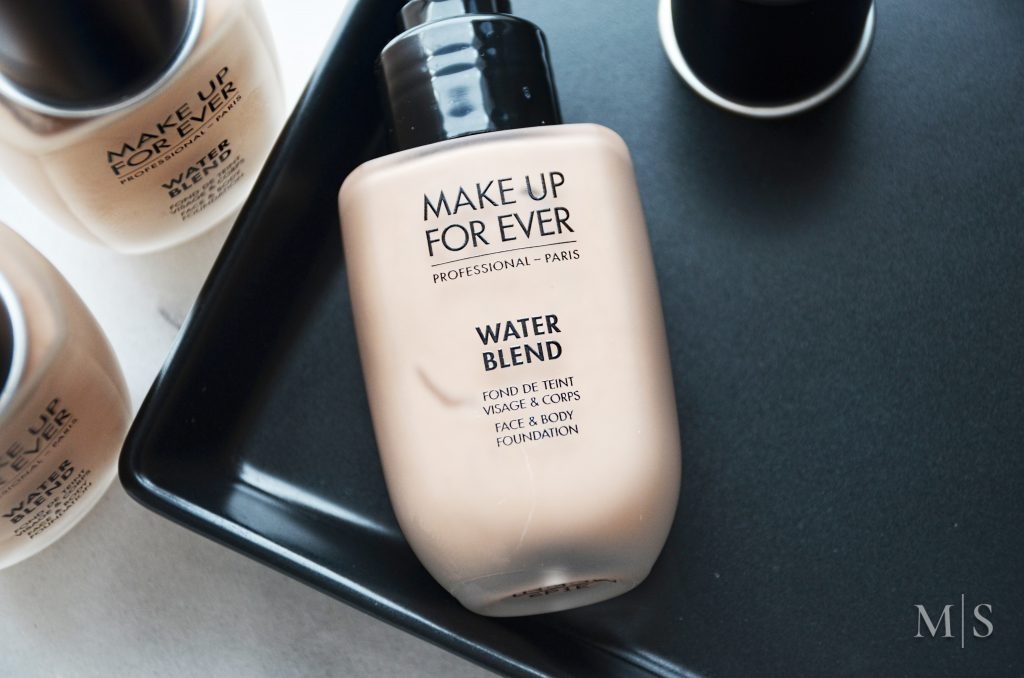 The foundation lasted me good 6 hours before I saw some fading around my nose and mouth area. It doesn't emphasize any pores or imperfections on the skin and it looks very smooth. I felt the need to powder my t zone since it's summer but for the colder months I can probably wear it with no powder at all.
I got sent three shades to test out, Y315 Sand, Y325 Flesh and R330 Warm Ivory. The shade in Y325 Flesh is my perfect match but I can get away with using the two other shades if I apply just a sheer layer. For shade reference I'm around MAC NC30 at the moment and Y305 in the MUFE Ultra HD Foundation.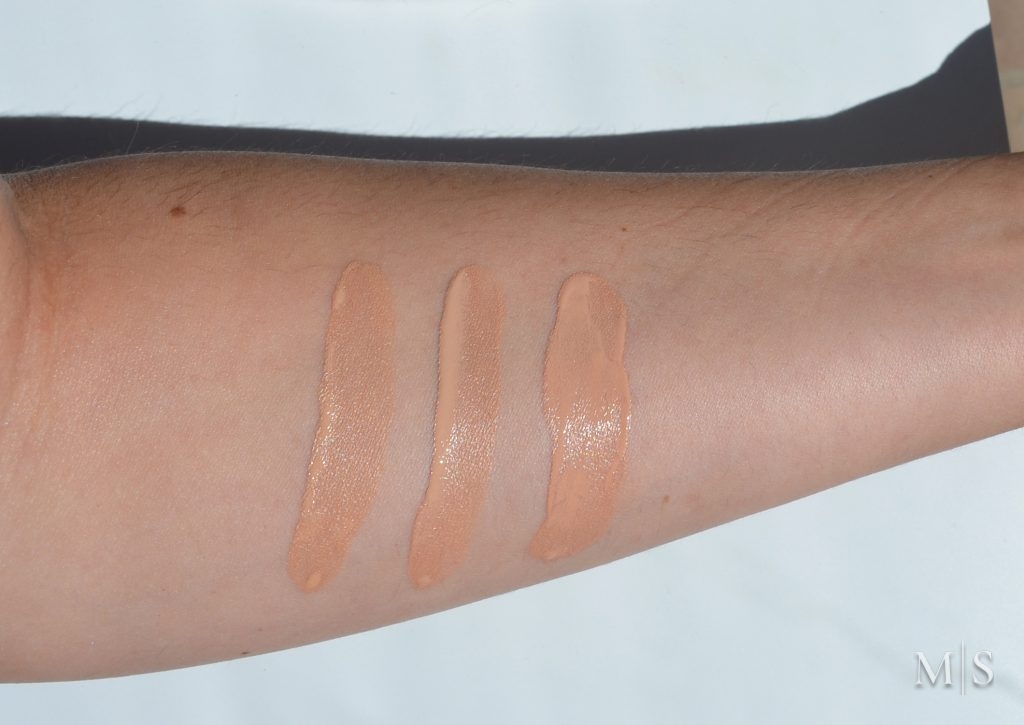 Swatches of the MAKE UP FOR EVER Water Blend Foundation L to R: Y315 Sand, Y325 Flesh, R330 Warm Ivory
As you can see by the swatches the shade variation is barely noticeable so they are very forgiving if you use them as a sheer or light coverage foundation. You can notice a difference in the shades if you start to build them up to a medium coverage.
All in all the MUFE Water Blend Foundation gets a big thumbs up from me. I love that it's lightweight and feels like nothing on the skin and the finish is just very natural which I prefer. Since the foundation is transfer proof and waterproof it's a perfect summer foundation that you can also use on your body to cover any imperfection and it will stay put.
The MAKE UP FOR EVER Water Blend Foundation is already available on makeupforever.com and will be available at Sephora on July 22nd.
*PR Sample