Make Up For Ever is about to release 20 new shades of their Aqua XL Eye Pencils in collaboration with British singer Charli XCX. The 20 new shades are already available in Europe but are launching on May 2nd worldwide so I'm guessing that's when they'll be available at your local Sephora.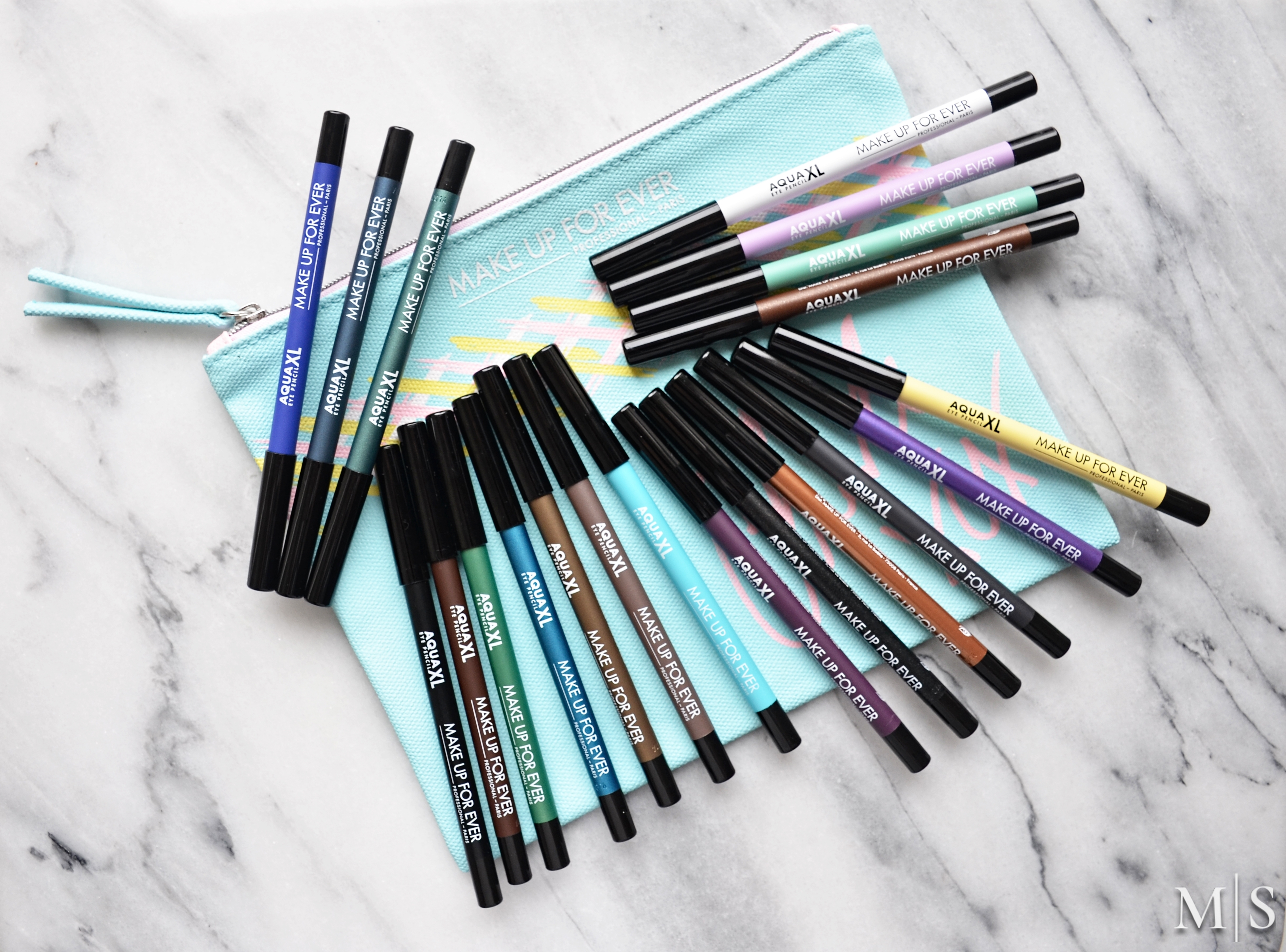 The Make Up For Ever Aqua XL liners are waterproof and when they say waterproof they really mean it. I've been testing out the new shades and I have to say that you can't remove them with only water at the end of the day. I used an oil based eye makeup removed and it worked really well but if you try to use only water or some kind of foaming cleanser the shades will probably not budge. That being said they wear extremely well through the day both on the waterline or as an eyeliner. Seriously I haven't tried an eyeliner that doesn't smudge at the end of the day at least a little bit but these stay put.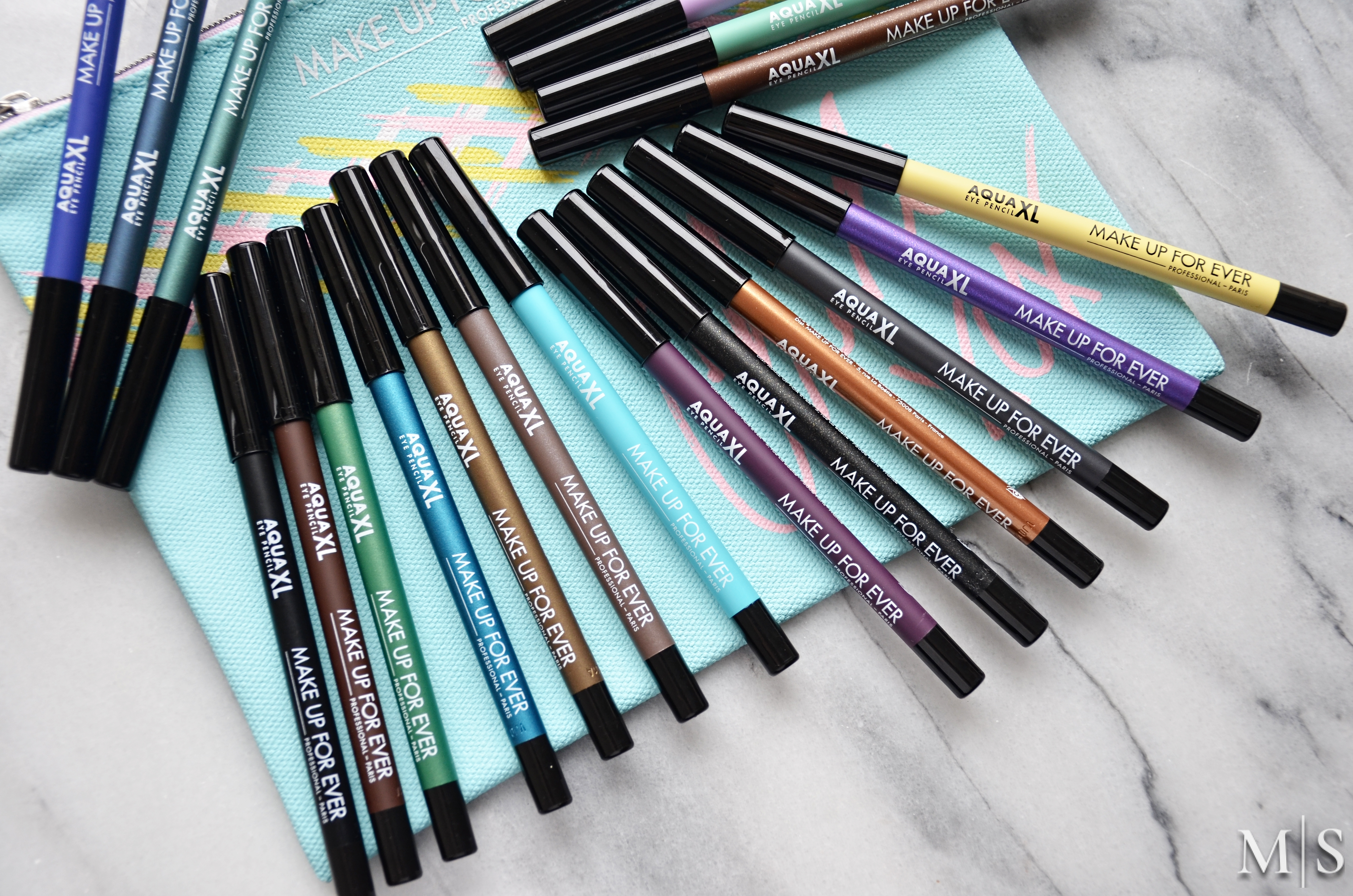 Description:
"Available in 20 shades to match any style, from polished to punk, the AQUA XL Eye Pencil is an artistic collection of eye-popping, ultra-long-lasting eye pencils. Featuring eyeliners in five different finishes – Matte, Diamond, Satin, Iridescent, and Metallic – AQUA XL Eye Pencil was tested by professional makeup artists in extreme conditions: under water, on stage, and on camera. Showcasing a full range of electrifying eye candy looks, from iridescent pastel pink and yellow, to vibrant purple, green and blue, these highly pigmented, high-performance pencils glide on rich and smooth with a special formula to rock any look, day or night.
The AQUA XL Eye Pencil features an exclusive, extra-long (XL) lasting formula, providing:
XL Performance: A unique blend of ingredients – flexible resin for long-lasting results, vegetable wax for consistent color payoff, and a revolutionary dry oil that locks in the color and creates water resistance –guarantees waterproof, smudge-proof, transfer-proof and sweat-proof results 
XL Color: Unique, translucent, crystal copolymer gels helps amplify color intensity and brightness
XL Comfort: Emollient oil and microspherical silica provides an easy, creamy and smooth application. Mango butter helps prevent skin dryness on application and throughout the day"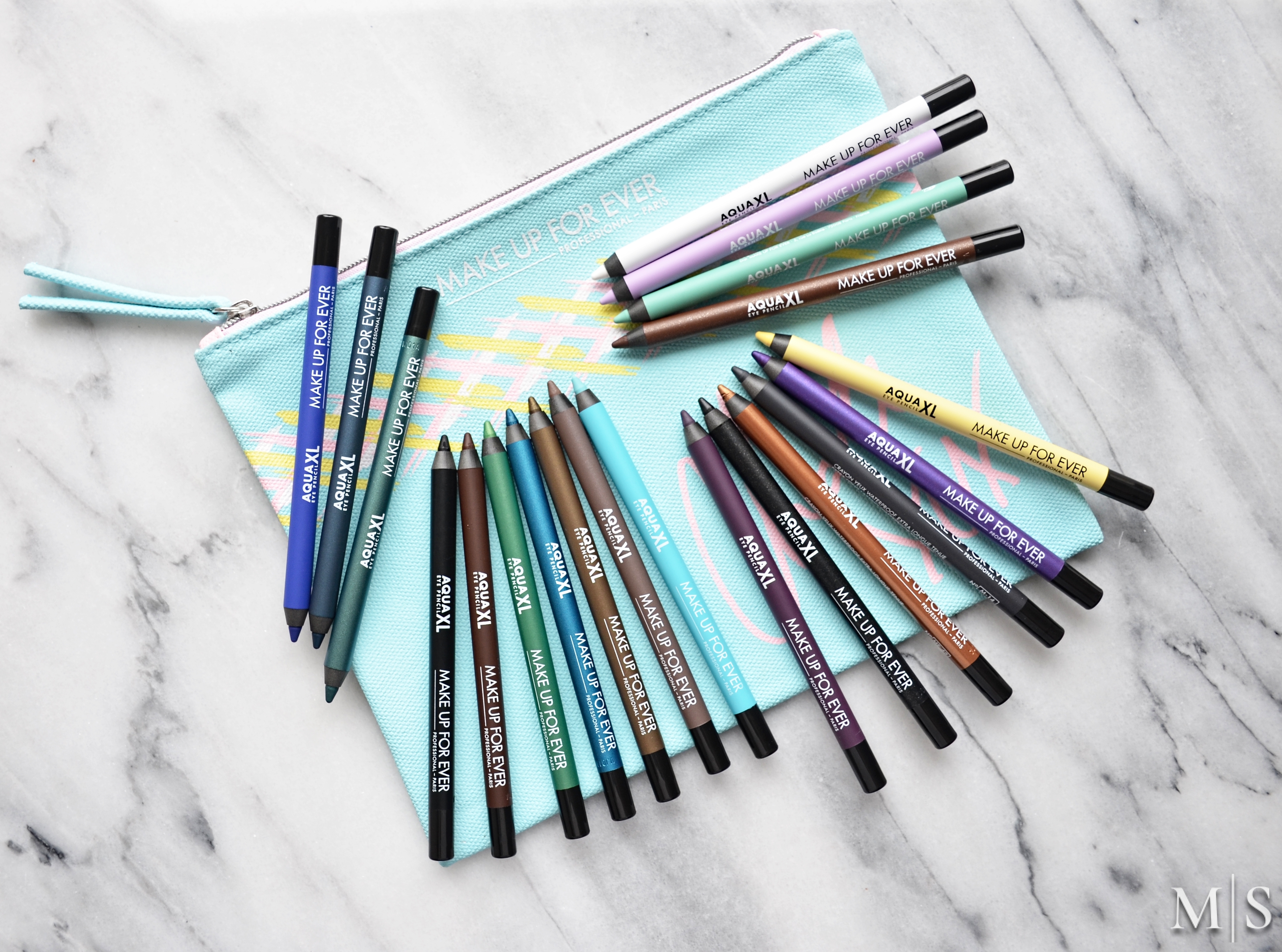 The 20 new shades come in 5 different finishes: M (matte), S (satin), ME (metallic), D (diamond) and I (iridescent).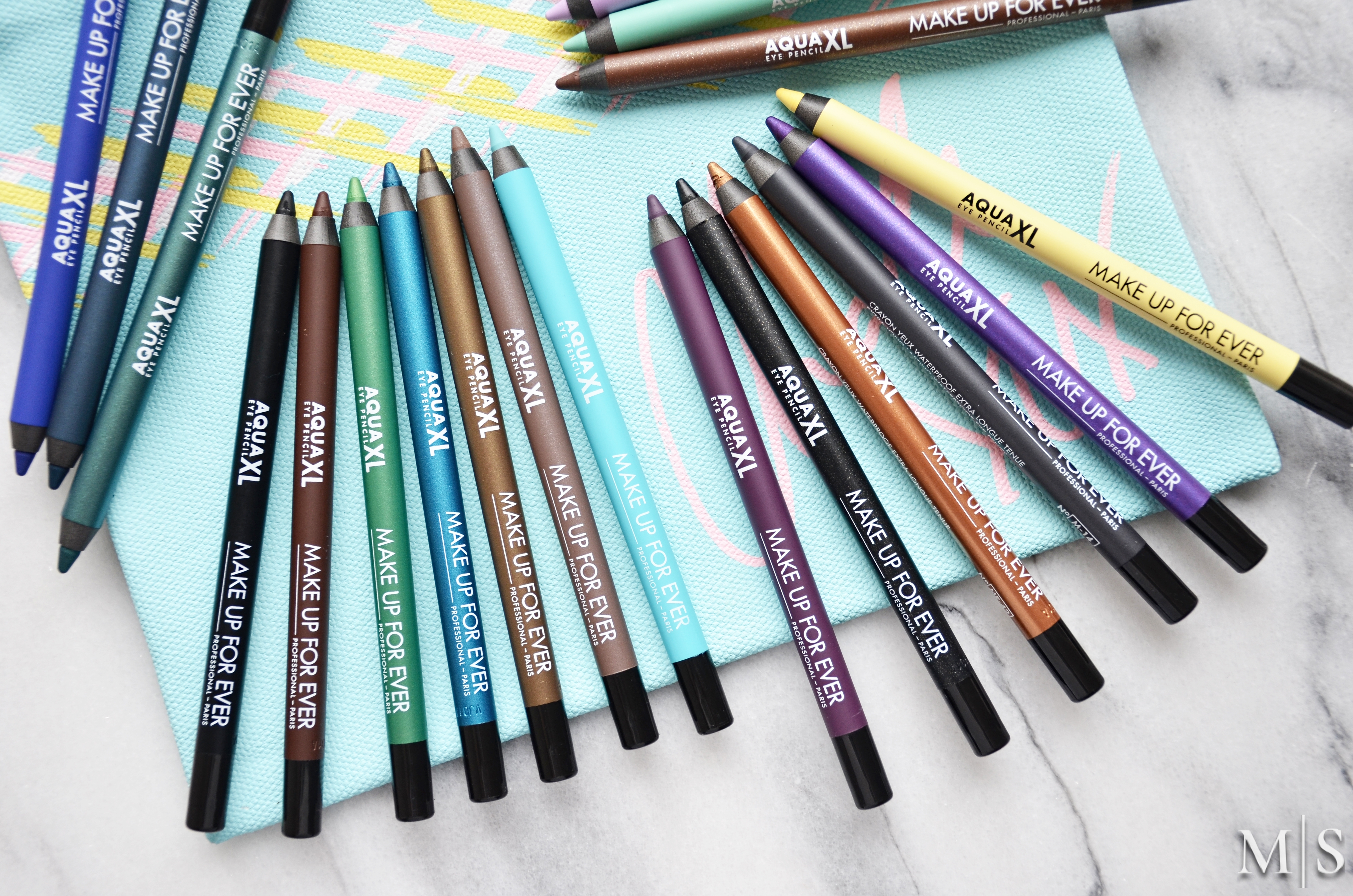 From day to day basis I like to use an eye pencil as an eyeliner and also to tightline. I've been using the bronze D62 shade a lot because I prefer a brown eyeliner over black for daily use and I'm happy to report that it both worked in the waterline and as an eyeliner. The color doesn't bleed or smudge through the day which is very important to me as I'm a contact lens wearer. When I did my swatches on my hand for this blog post I tried to rub them off with my hand and each and every shade would not move. After that as I mentioned above I tasted them under water and they would still not move which is impressive. I read somewhere that they tested these on swimmers and they would last them for hours.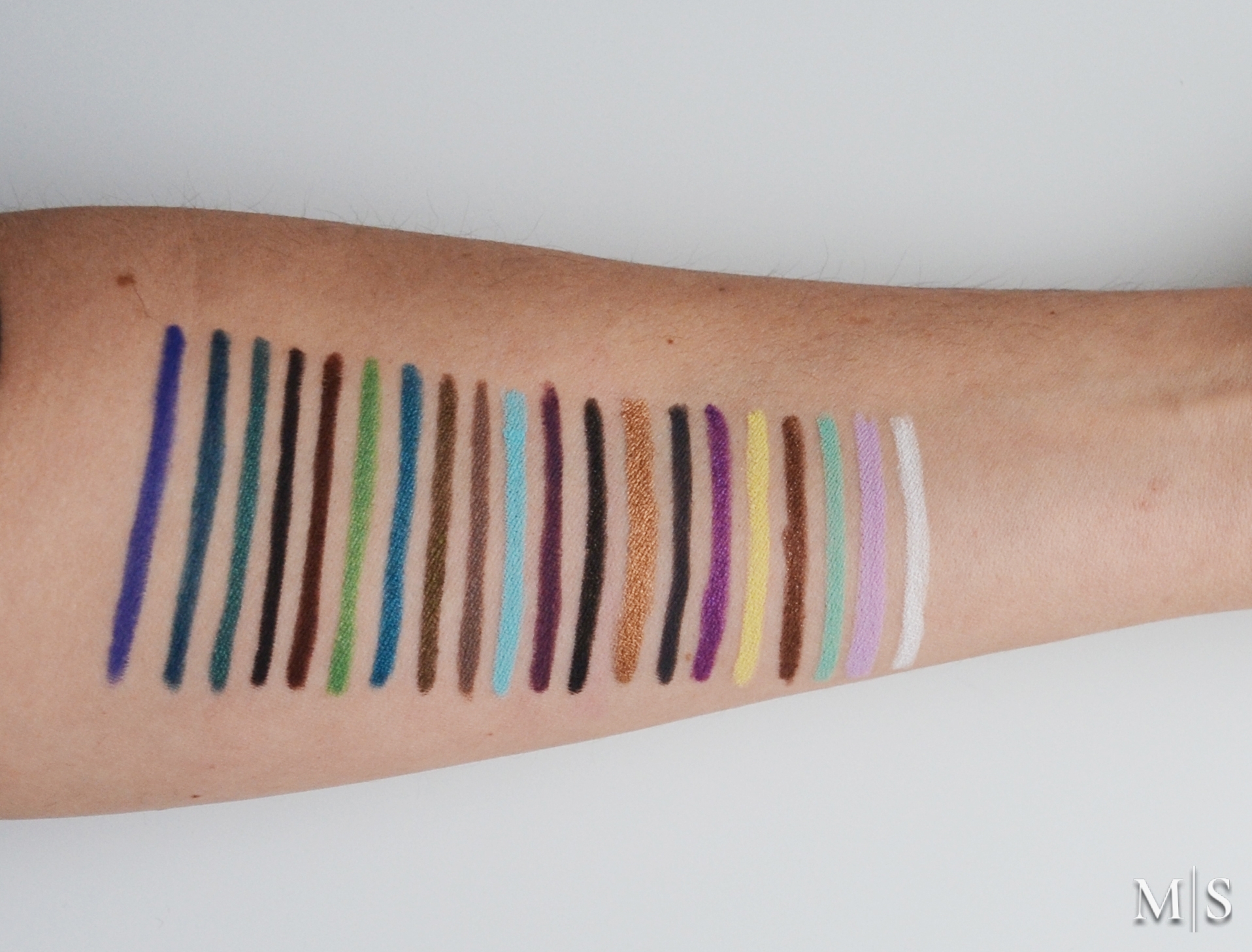 Swatches L to R: M-22, S-20, I-32, M-10, M-60, I-34, I-24, I-36, S-50, M-26, M-80, D-12, ME-42, M-14, I-90, M-40, D-62, M-30, M-92, M-16
I think that the newly released shade selection is really nice. There are some fun pops of color that are perfect for summer but they also have some neutral and black shades with different finishes. I wouldn't say that I would use every shade in this collection but the way I find to incorporate color in my eye looks is through eye pencils so these would come in handy especially for the warmer months.
The formula of every eye pencil is creamy but not as creamy that it's hard to apply. They don't tug on your eyes when you apply them and glide really nicely. I found that the metallic shades were a tiny bit softer than the matte shades which made the tips break when I did the swatches above but after sharpening them they worked great on the eyes.
What's your go to color when it comes to eye pencils? Do you incorporate any fun shades during the summer months?
*PR Samples