I have two new blush products to share with you guys. These are two products that come from the drugstore. Well both Pixi and Flower Beauty are not sold in any drugstores but they are more affordable. You can find Pixi Beauty at Target and Flower Beauty is sold both in Walmart and Ulta.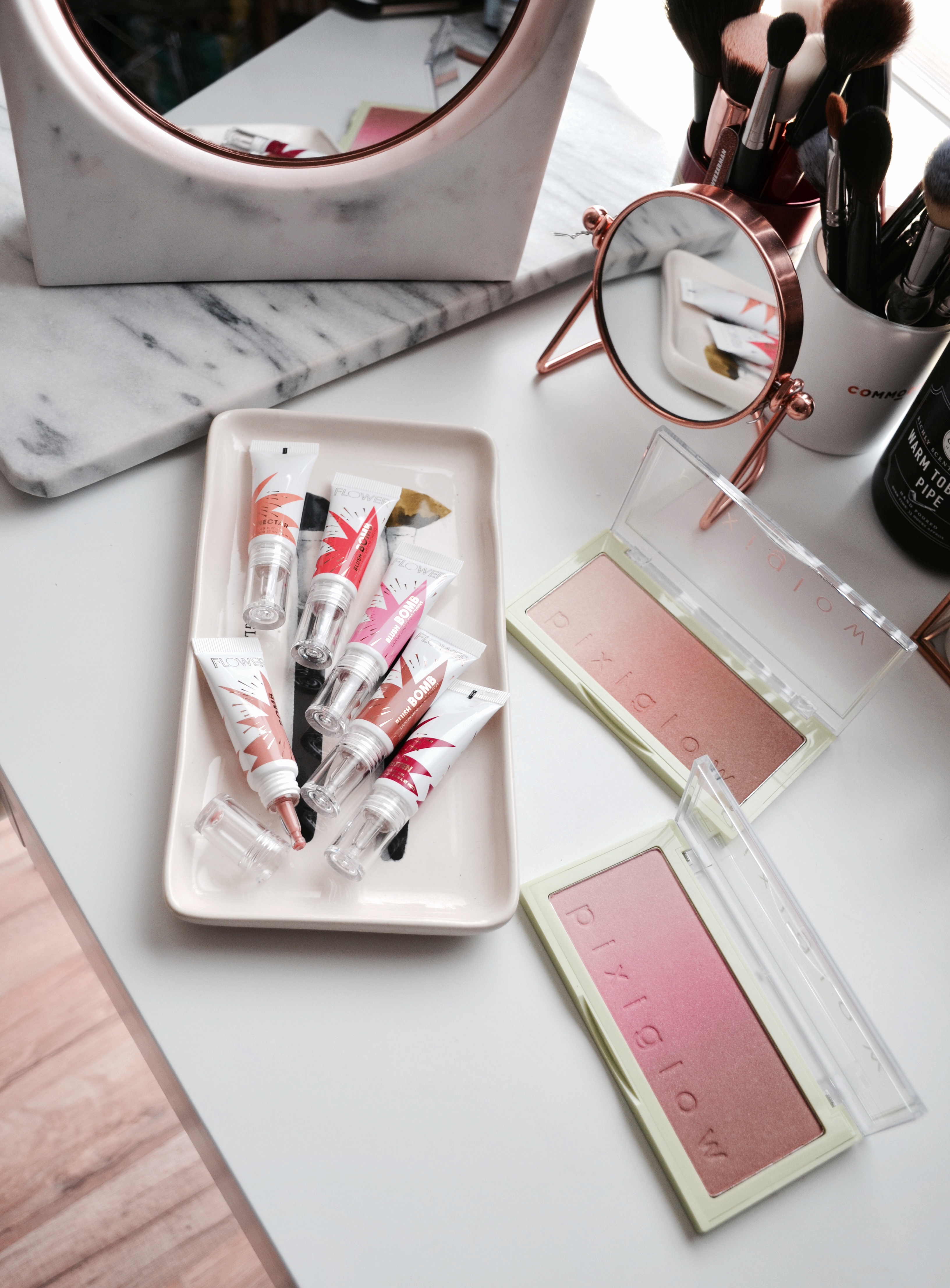 First up, the Pixi Beauty PixiGlow Cakes. They are a gradient cheek palette that comes in three shades that are good for highlighting, blush and bronzer. These remind me a lot of the Kevyn Aucoin The Neo Bronzer (same look of the pan and also the finish that you get on the skin is quite similar).
Pixi released two shades in Gilded Bare Glow (comes with more neutral peachy tones) and Pink Champagne Glow (the more pinky toned one).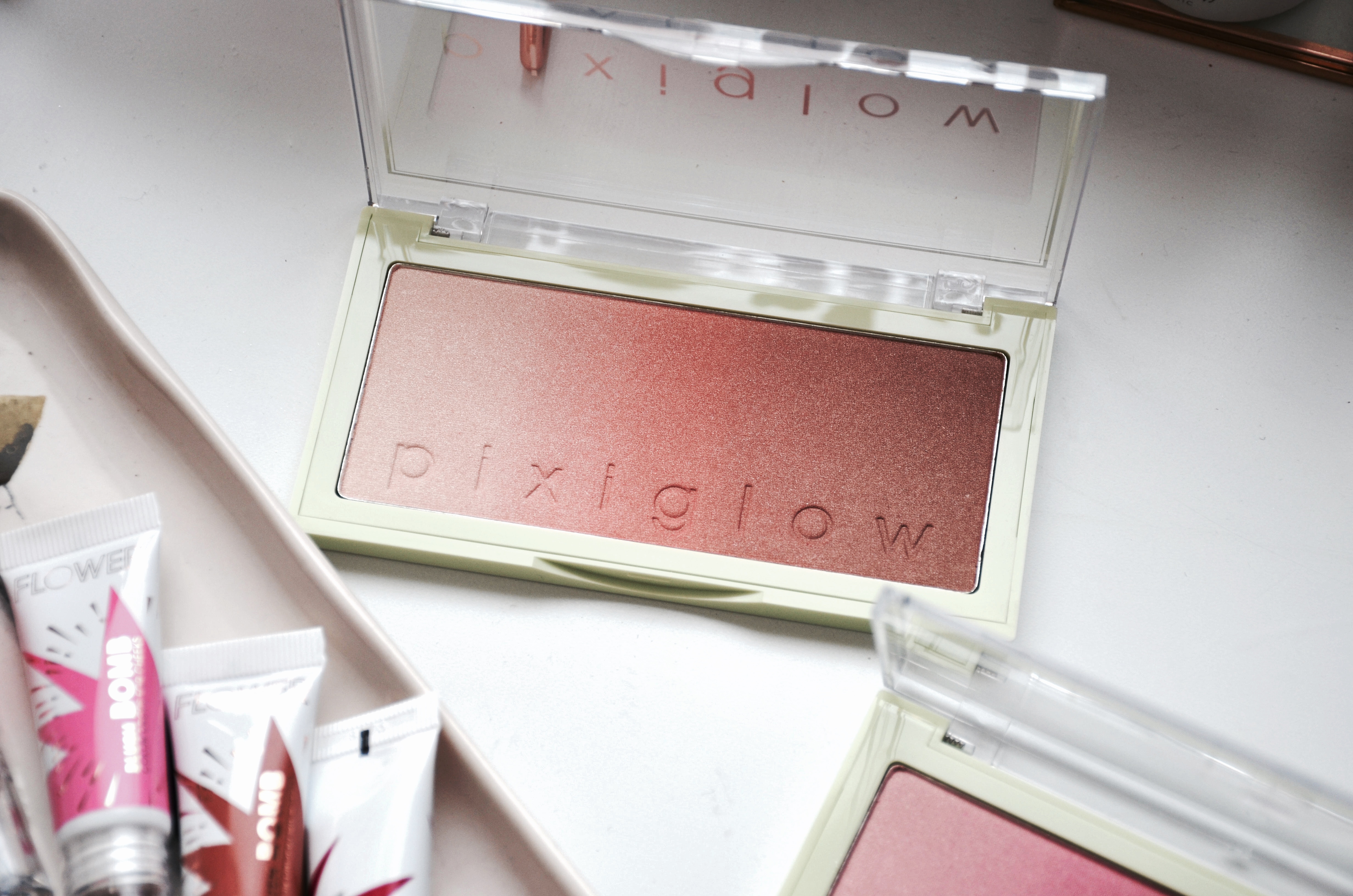 Pixi PixiGlow Cake in Gilded Bare Glow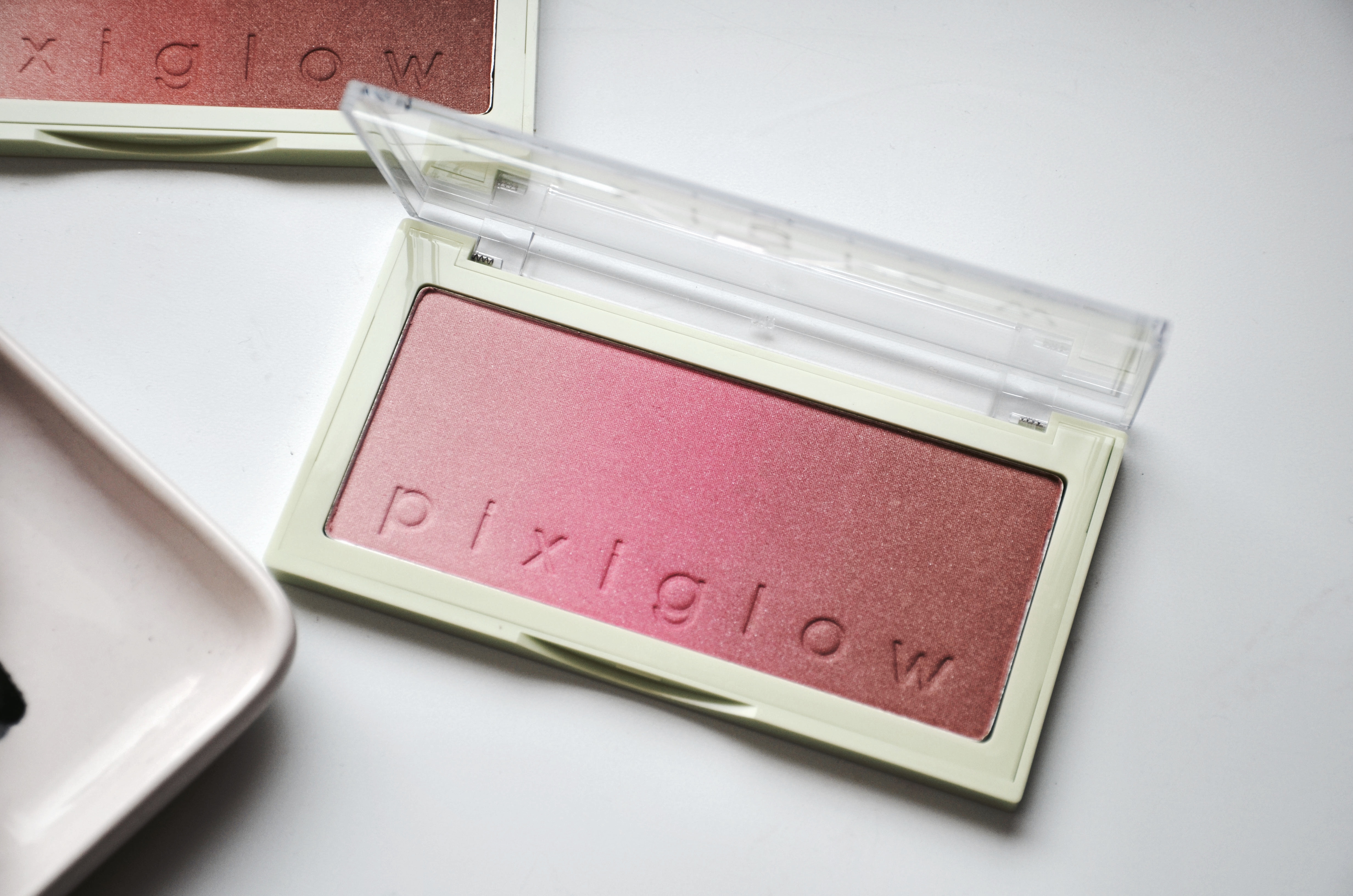 Pixi Beauty PixiGlow Cake in Pink Champagne Glow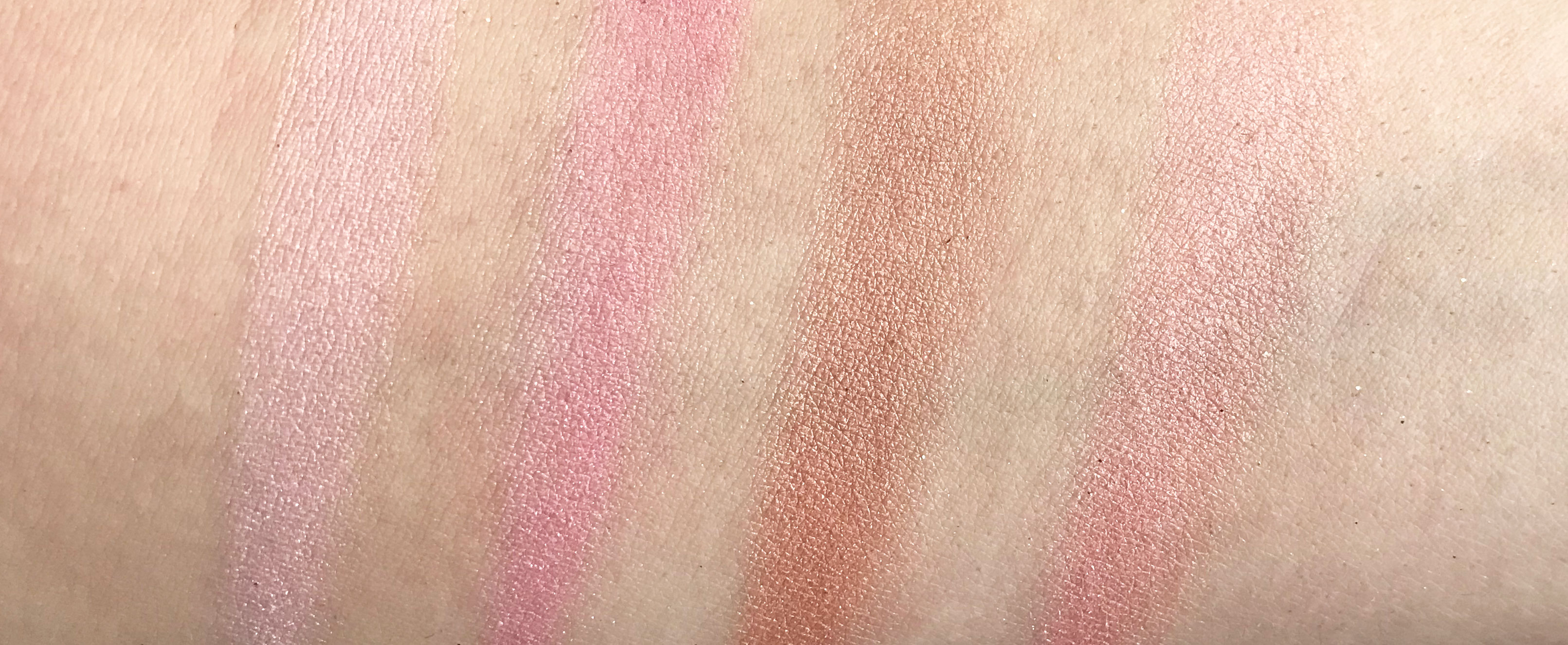 The Pixi PixiGlow Cake in Gilded Bare Glow has more neutral shades but also shades that will suit lighter skin tones. Pink Champagne Glow has deeper shades that will suit most skin tones (you have to use a light hand if you are fair).
The formula of the Pixi Cakes is shimmery but doesn't appear chunky. It gives a beautiful glow on the skin that is never over the top. I like to use both shades swirled together whenever I use them as a blush (the last swatch is the shades swirled together). The pans are also big enough to be used separate. They are great all in one face palettes if you like your glow.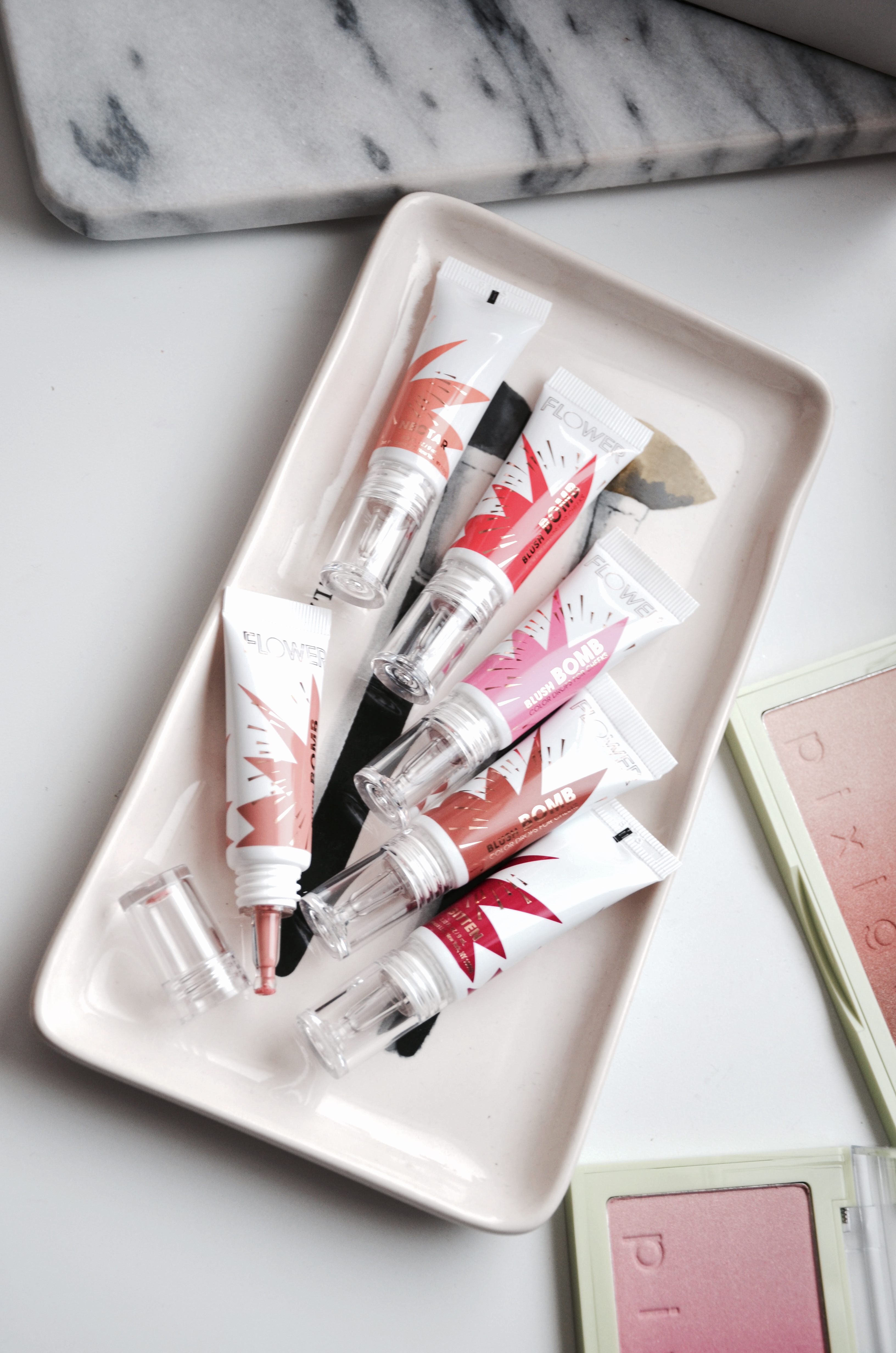 Flower Beauty released new liquid blushes and they are amazing. The Flower Beauty Blush Bomb Color Drops are a gel cream formula blushes that give a healthy glow on the cheeks with no staining. The packaging comes with a dropper which controls how much product you dispense. They say it's good for precise application but I prefer to put some product on the back of my hand and then apply.
They are pigmented (you only need a small amount) but blend naturally on the skin. You can build them up for a more intense flush of color or they can also look very natural. The finish that they give is natural radiant. They just give a beautiful healthy look on the cheeks.
There are six available shades in: Pinched (pinky nude), Nectar (light warm peach), Melon (bright orange coral), Bubbly (light pink violet), Cinnamon (terra-cotta nude) and Bitten (dark wine).

Swatches L to R: Pinched, Nectar, Melon, Bubbly, Cinnamon, Bitten
The formula of the Flower Beauty Blush Bomb Color Drops is very easy to work with. I use my fingers for application and blending but you can also use a stippling brush. They are natural on the skin but give a beautiful flush of radiant color. I think they did a great job with the shade selection too as there is a shade for every skin tone.
As a comparison to the Glossier Cloud Paints (a lot of people asked me to compare the two), I think the Blush Bomb Color Drops are a close dupe. The formula is slightly more radiant than the Cloud Paints, but they give almost the same look on the cheeks. Highly recommend if you're looking for a new affordable cream/liquid blush to try.
*PR Sample