A natural looking glow is what I'm after when doing my day to day makeup. The intense highlighters are all beautiful but not very practical for every day use if you're going for a "no makeup, makeup look" or just prefer your makeup to be on the natural side. Especially for summer I love a good healthy looking glow both in my base and cheeks makeup.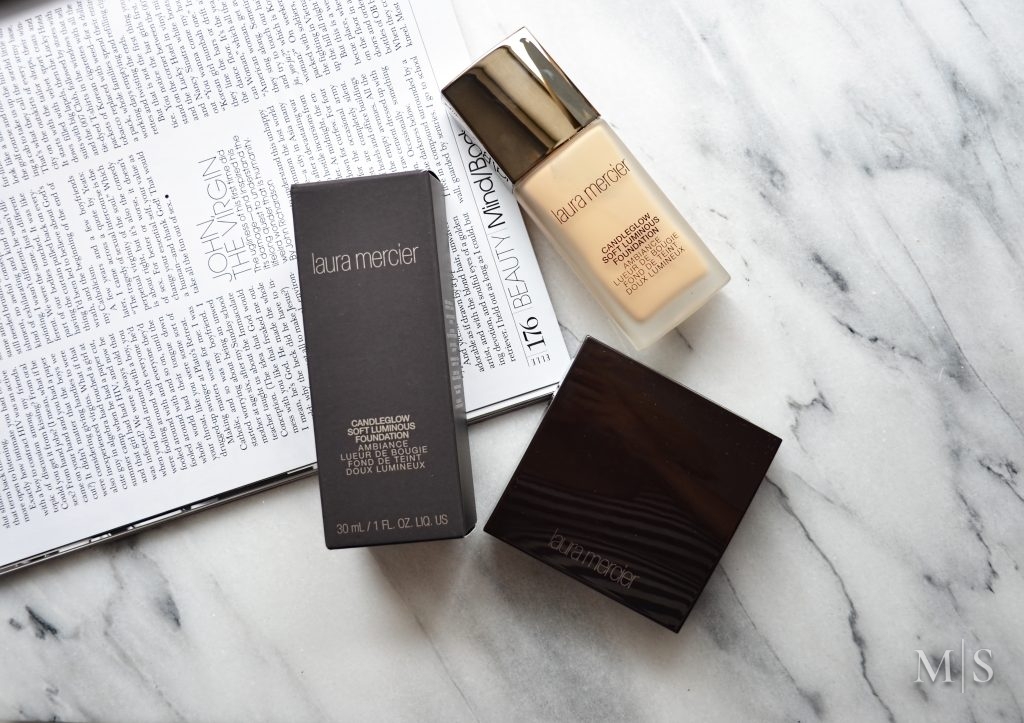 I've been testing out two products from Laura Mercier that give just that, a nice natural glow to the face without being over the top. I was very intrigued by the Candleglow Soft Luminous Foundation well because everything that has glow in the name I'm all about. A candle glow effect to the skin sounds amazing so I was curious to see how the foundation will perform.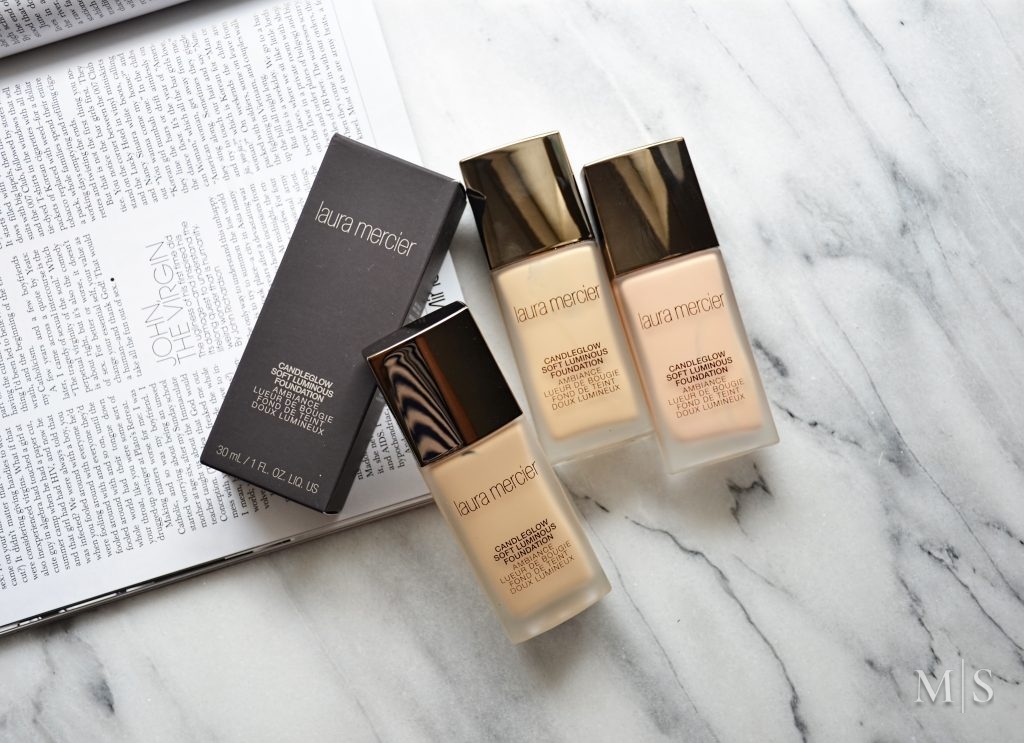 The Laura Mercier Candleglow Soft Luminous Foundation is described as a sheer to medium coverage foundation that gives the skin a lit from within look. The shade range is pretty impressive and has 24 different shades and good amount of choices for fair and dark skin tones.
I received three shades to test out, the shade in Macadamia (light with neutral to warm undertones), Honey (light to medium with neutral undertones) and Dusk (light to medium with neutral to warm undertones). I'm currently tanner than I'm used to so Dusk is a great match for my current skin tone. The shade in Dusk has the perfect neutral and warm undertones and doesn't appear too yellow on my skin which I prefer.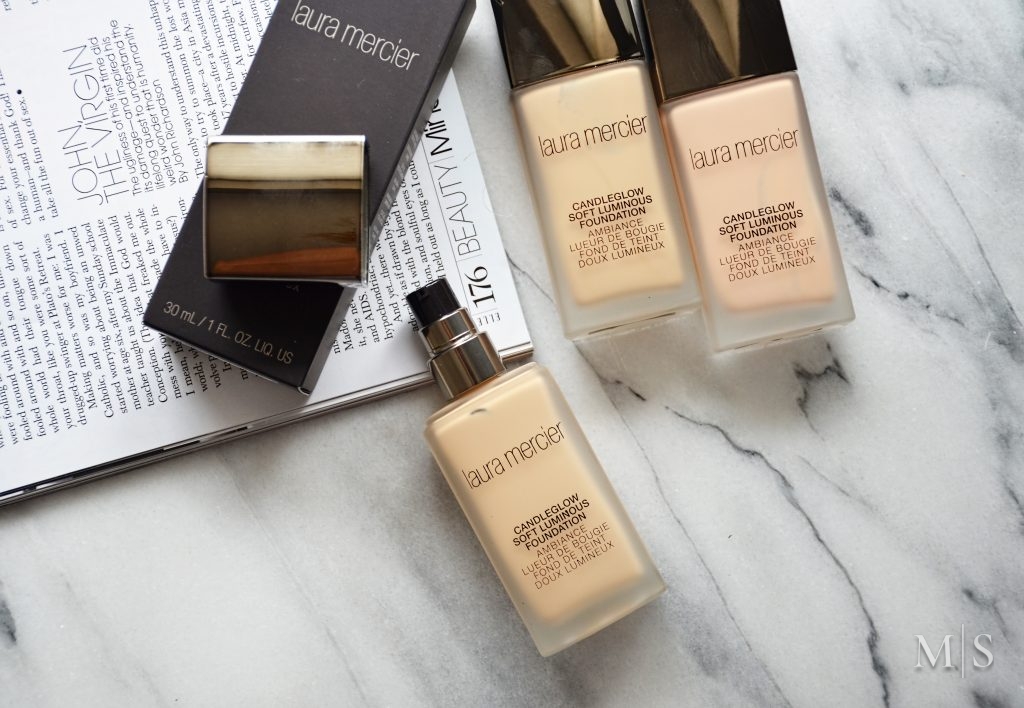 With two pumps you can achieve light coverage that looks literally like skin. The foundation doesn't catch on any dry patches and also doesn't settle in to fine lines or pores. It gives a very natural glow to the skin without being too glowy or greasy and sets pretty quickly so I didn't feel the need to set it since it didn't feel tacky to the touch. The foundation is also buildable and you can get to medium coverage without it looking cakey.
I wore the Candleglow Soft Luminous Foundation for eight hours yesterday and it still looked really nice at the end of the day.
From the Laura Mercier website:
A mosaic of nature's most luminous natural ingredients gives skin a candlelit glow at any time of day or night. A calibrated blend of radiant pearl mica, embedded in an ultra-lightweight, sheer to medium buildable formula, mimics the reflective glow of just lit candles.
This mica mélange mingles with refreshing purified water to give skin a burst of hydration and help foundation glide onto skin for lasting smoothness and natural luminosity. A luxurious blend of lightweight oils locks in this moisture to leave skin balanced, soft and beautifully ignited. 
Available in 24 shades, colour stays true without the formula settling into fine lines, wrinkles or pores. Sheer to medium buildable coverage. Dermatologist tested. Non-comedogenic. Fragrance free.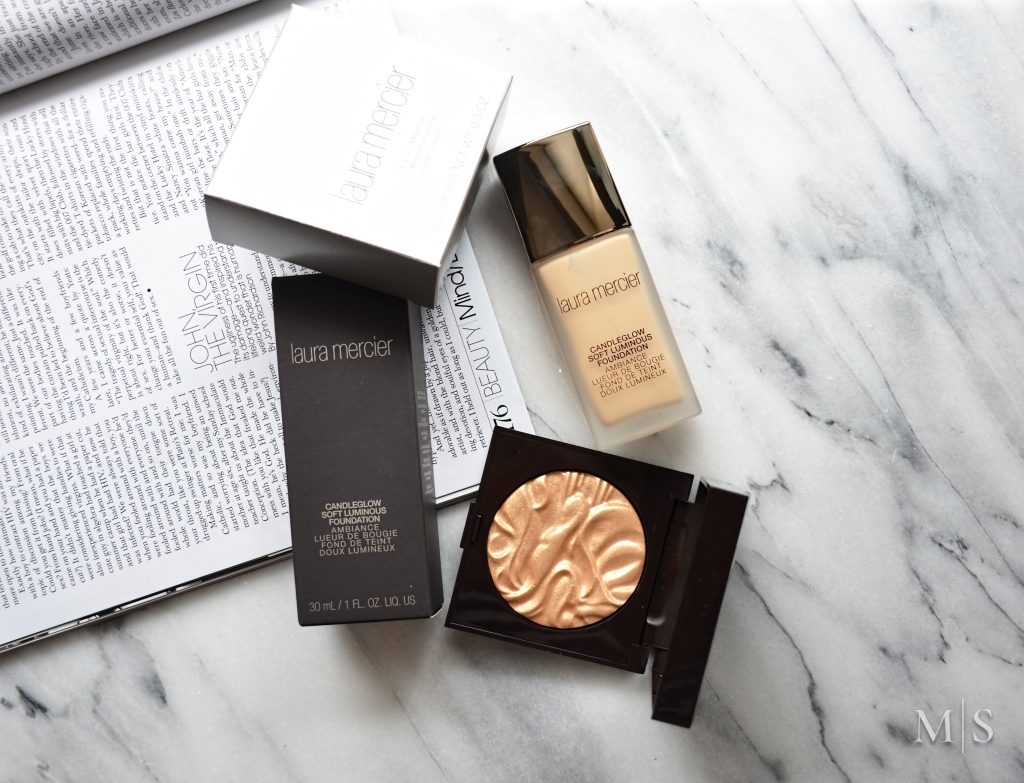 Of course for some extra glow you will need a highlighter for your cheeks. The Laura Mercier Face Illuminator in Addiction is described as a long wearing buildable highlighting powder that provides a natural and radiant all over glow. The shade in Addiction is a beautiful golden highlighter with warm undertones. Like the description says this highlighting powder is buildable so when you dip your brush you don't have to worry about the highlighter being too intense. This is one of those shade that I can liberally apply all over the face and not look over the top and greasy.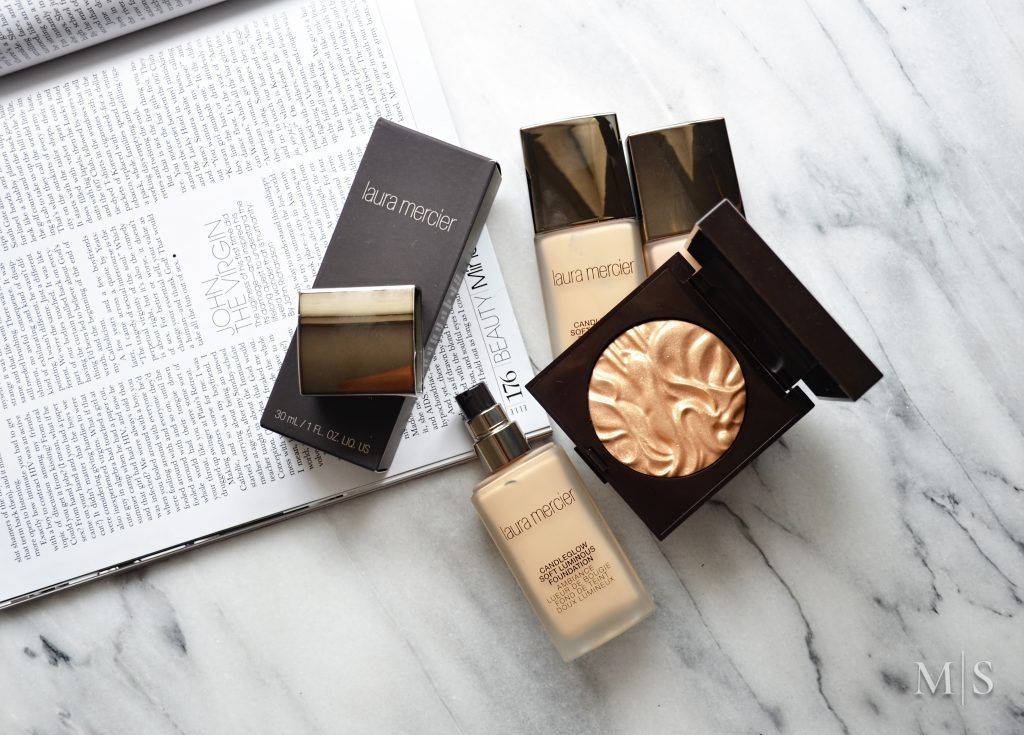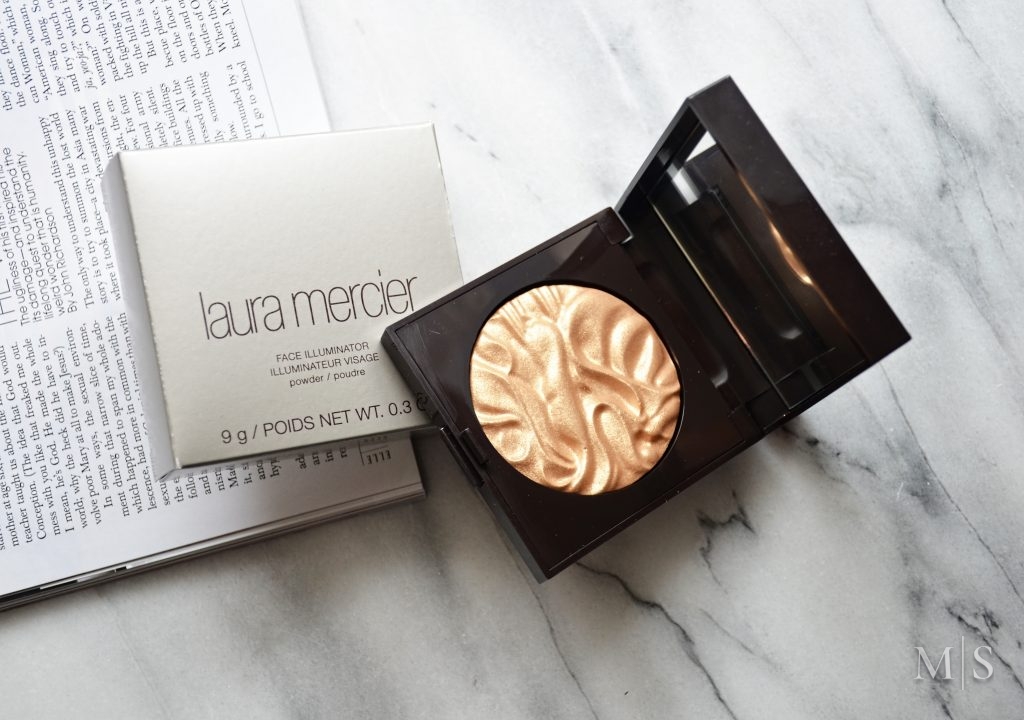 The shade in Addiction is meant for medium to dark skin tones but she also has two other shades that will suit fair to light skin tones.
From the Laura Mercier website:
A beautiful face illuminating hybrid product that highlights skin with pure light-reflecting pearl for a colour-true, multidimensional, luminous finish that complements all skin tones. The non-dusting texture allows for excellent colour payoff and applies smoothly and evenly onto skin without dragging or dusting.  Unique formula provides natural radiance to complexion for an instant healthy glow, lasting up to 8 hours.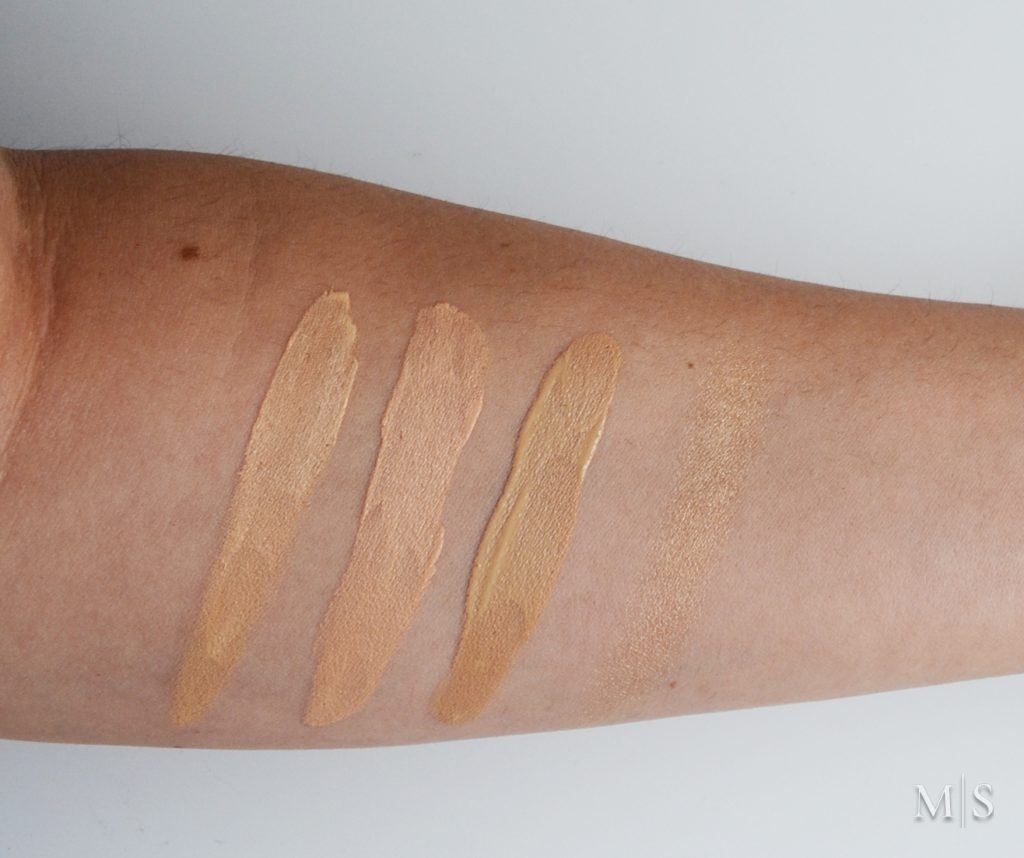 Swatches L to R: Laura Mercier Candleglow Soft Luminous Foundation in Macadamia, Laura Mercier Candleglow Soft Luminous Foundation in Honey, Laura Mercier Candleglow Soft Luminous Foundation in Dusk, Laura Mercier Face Illuminator in Addiction
If you're after a natural looking glow I highly recommend these two products from Laura Mercier. The foundation is perfect for the summer months since it's very lightweight on the skin but still provides some coverage and I don't have to talk about how beautiful the highlighter is because you can tell by the photos.
They're currently running a 20% off Friends+Family sale plus free shipping on any order on lauramercier.com till June 25th so it's a great way to take advantage of the sale if you were looking to get something from her line.
*PR Samples