It is Beautylish's biggest shopping event of the year! It is their annual event that rewards customers with a $20 Gift Card for every $100 spent. Last year, I took advantage of this event, and stocked up on brow products (somehow I run out of brow products the most). But this year, I have a goof mix of skincare and makeup, and some great holiday releases that are worth checking out.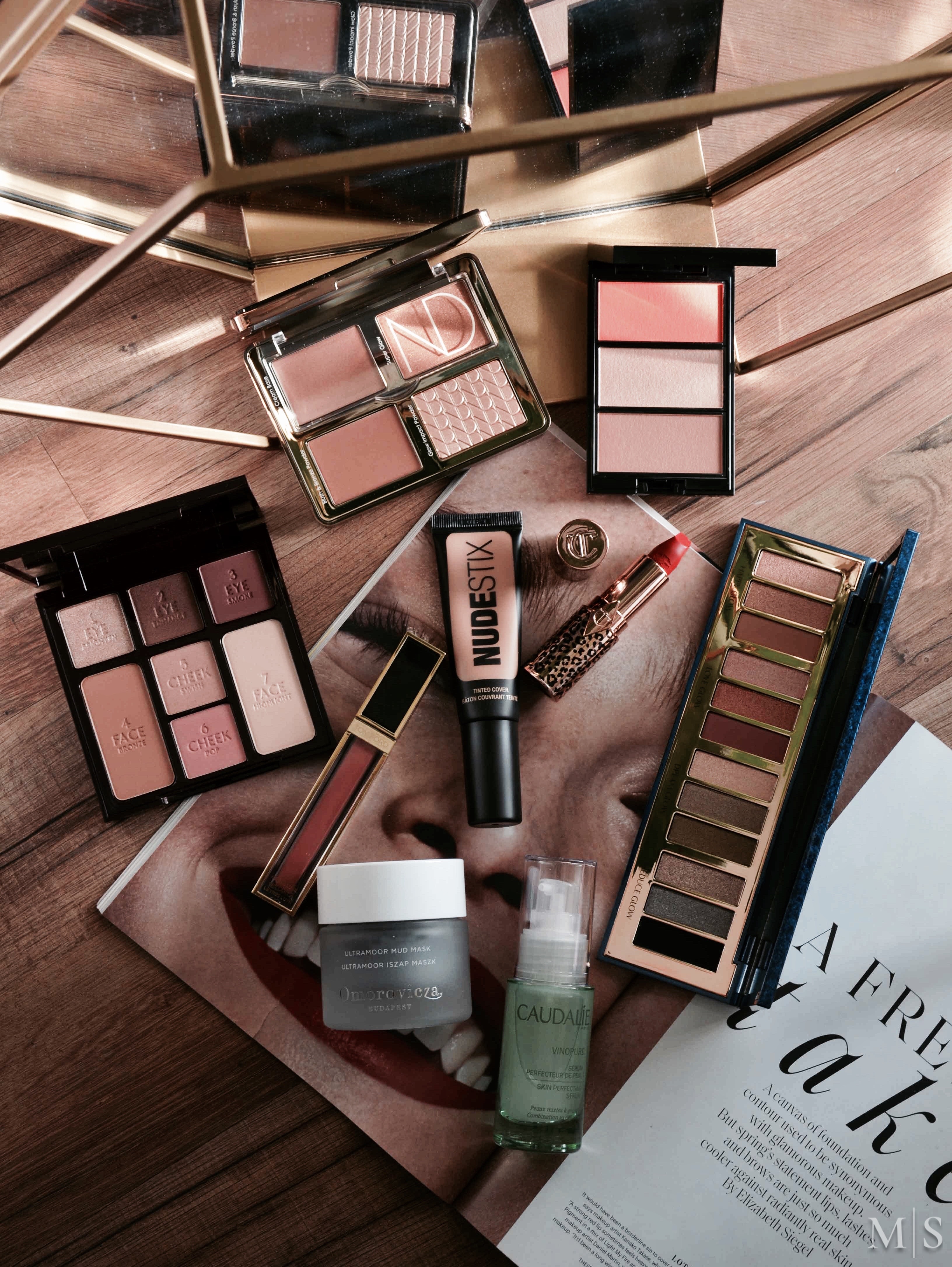 Skincare
Caudalie Vinopure Skin Perfecting Serum 
I already used up a bottle of this serum so this is a repurchase. I have skin that is prone to clogged pores and this serum has helped me tremendously. It is a lightweight exfoliating serum that has Salicylic Acid, Niacinamide and a mix of non-comedogenic essential oils that work as an antiseptic to calm and soothe the skin. It helps with blackheads, unclogs pores and helps with blemishes. I use this serum at night and layer with retinol and a good night time moisturizer.
My first introduction to this wonderful skincare brand was from Beautylish. The team sent me the Daily Vitamin C Serum (which I still use and love) and since then I've tried a bunch of their products. Omorovicza makes amazing luxurious skincare packed with great natural ingredients that work. I find their products gentle yet effective and well worth the splurge.
The Ultramoor Mud Mask is a gentle exfoliating and deep pore cleansing mask but it also helps lift the skin and provides anti-aging benefits.
Ingredients:
Essential oils of sage, chamomile, rosemary, rose geranium and camphor have a cooling and antiseptic effect on the skin.
Marine exopolysaccharides derived from plankton plump fine lines and tighten collagen fibres, providing an immediate lifting, firming effect.
Hungarian Moor Mud is rich in calcium and magnesium carbonates, humic acid and fulvic acid, which purify and detoxify the skin.
Hectorite Clay draws out impurities and hydrates the skin.
A complex of oligopeptides and amino acids gently resurface the skin, eliminating dead cells for a brighter, smoother and more even-toned complexion.
Omorovicza's patented Hydro Mineral Transference delivery system leaves skin firmer, more supple and younger-looking.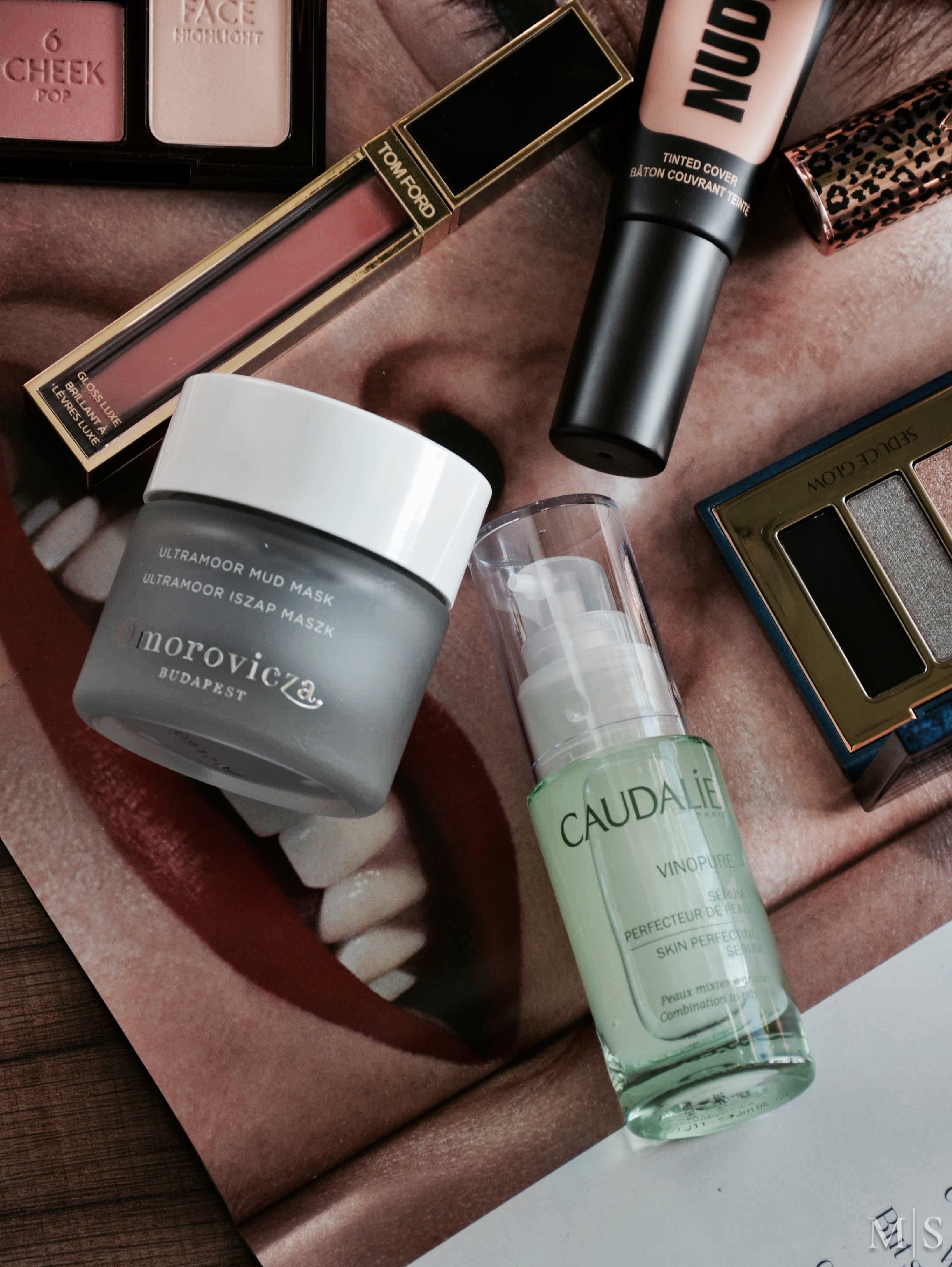 Makeup
I picked up two of Charlotte Tilbury's holiday releases, the Instant Look In a Palette Gorgeous, Glowing Beauty and Starry Eyes To Hypnotise Palette and one of the Hot Lips 2 Lipsticks in Red Hot Susan.
I've been collection Charlotte Tilbury's Instant Look In A Palette for years now and I think I have most of them. This is my perfect all in one travel palette. It comes packaged in a compact but beautifully designed packaging and features three eyeshadows, two blushes, a bronzer and highlighter. Basically everything that you need to create a whole makeup look.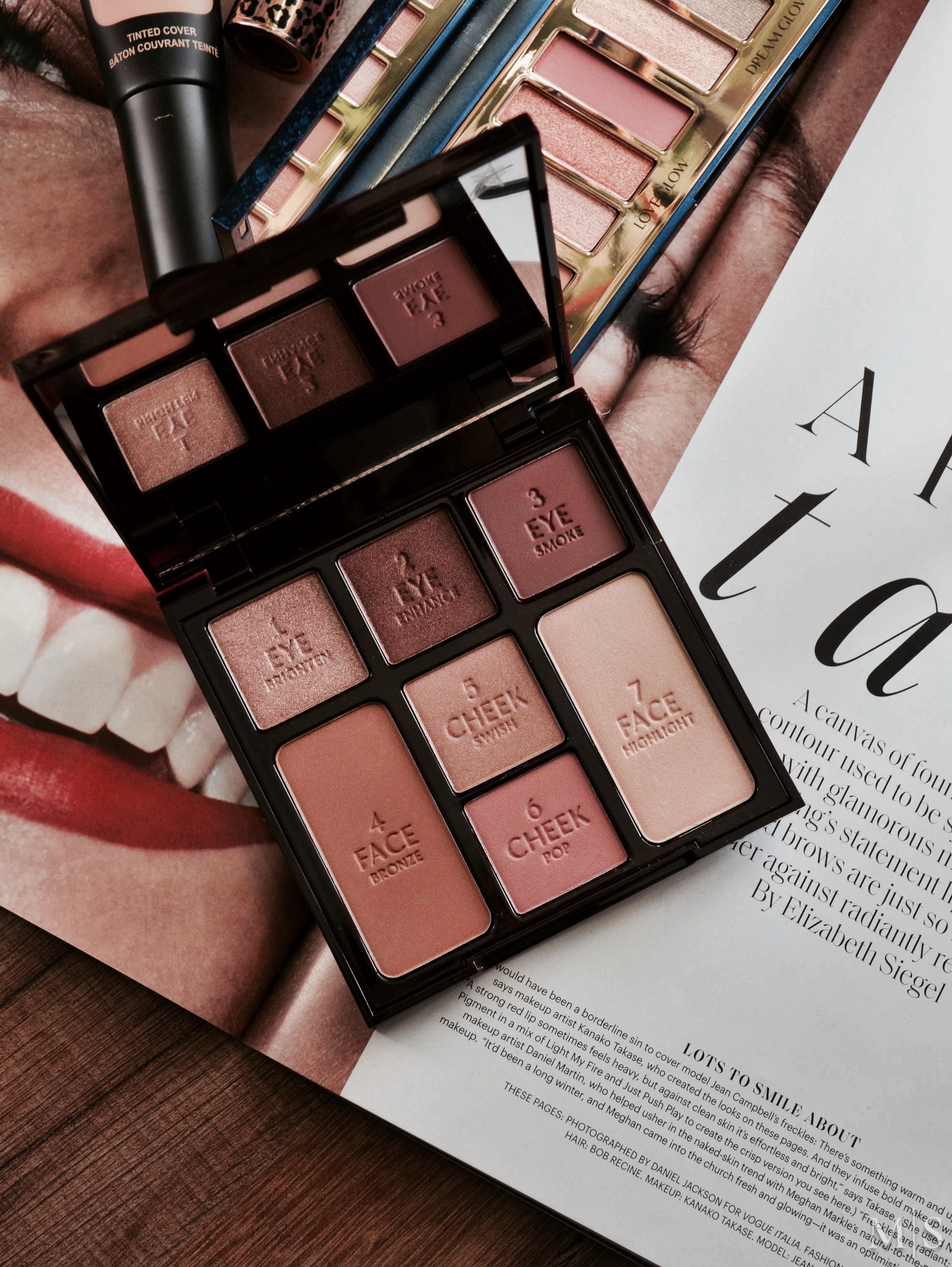 The Charlotte Tilbury Instant Look In A Palette Gorgeous, Glowing Beauty comes with the following shades:
Prime Eye Shadow: Muted pink with a shimmer finish
Enhance Eye Shadow: Bronzed amethyst with a shimmer finish
Smoke Eye Shadow: Muted plum with a matte finish
Blush 1: Dusty rose with a matte finish
Blush 2: Warm rose gold with a shimmer finish
Highlight: Soft pink champagne with a shimmer finish
Bronzer: Neutral honey with a matte finish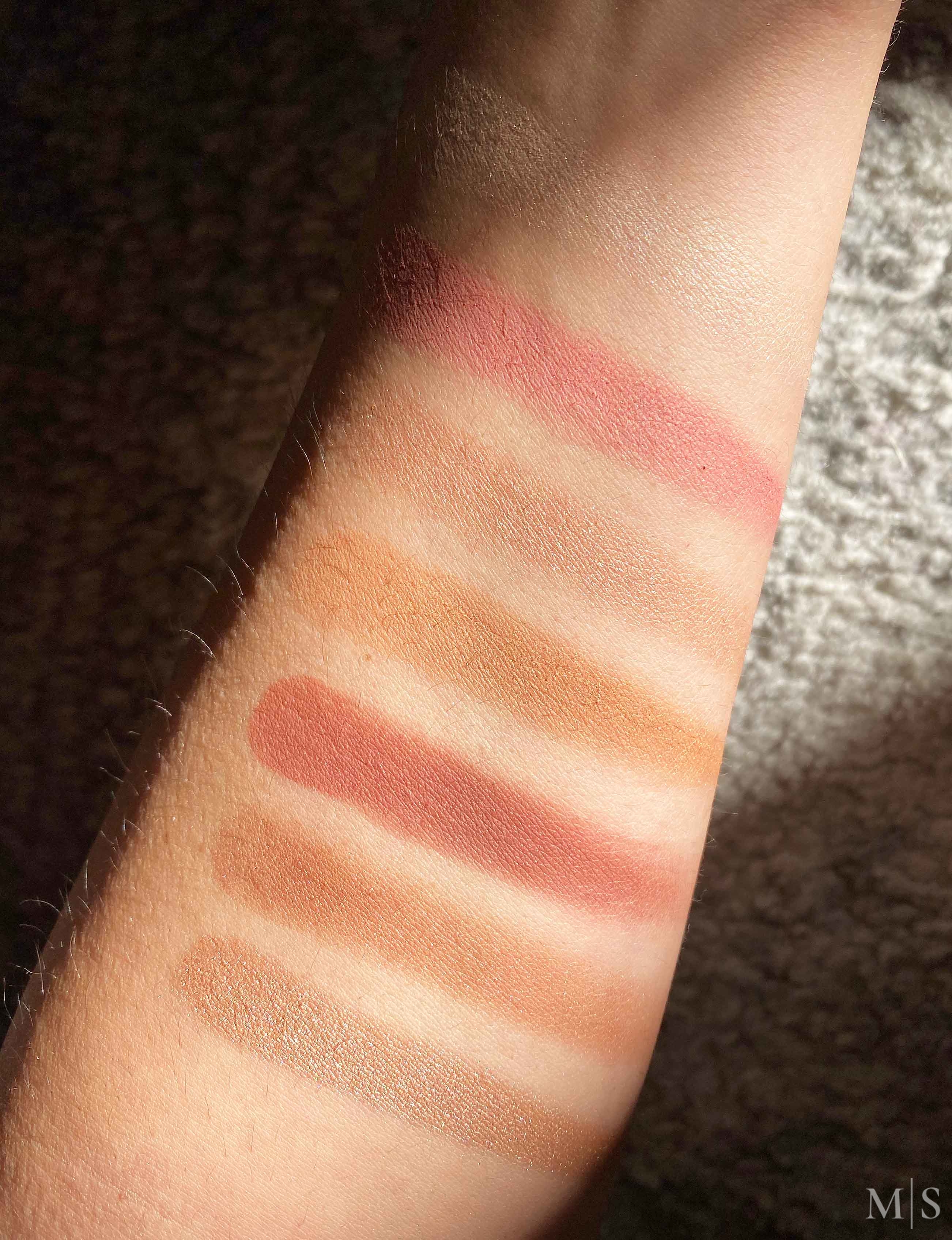 Swatches of the Charlotte Tilbury Instant Look In A Palette Gorgeous, Glowing Beauty
I love the rosy tones in this new palette and the fact that the eyeshadows are on the deeper side. The face powder shades would work for everyone who is fair up to medium tan skin tone.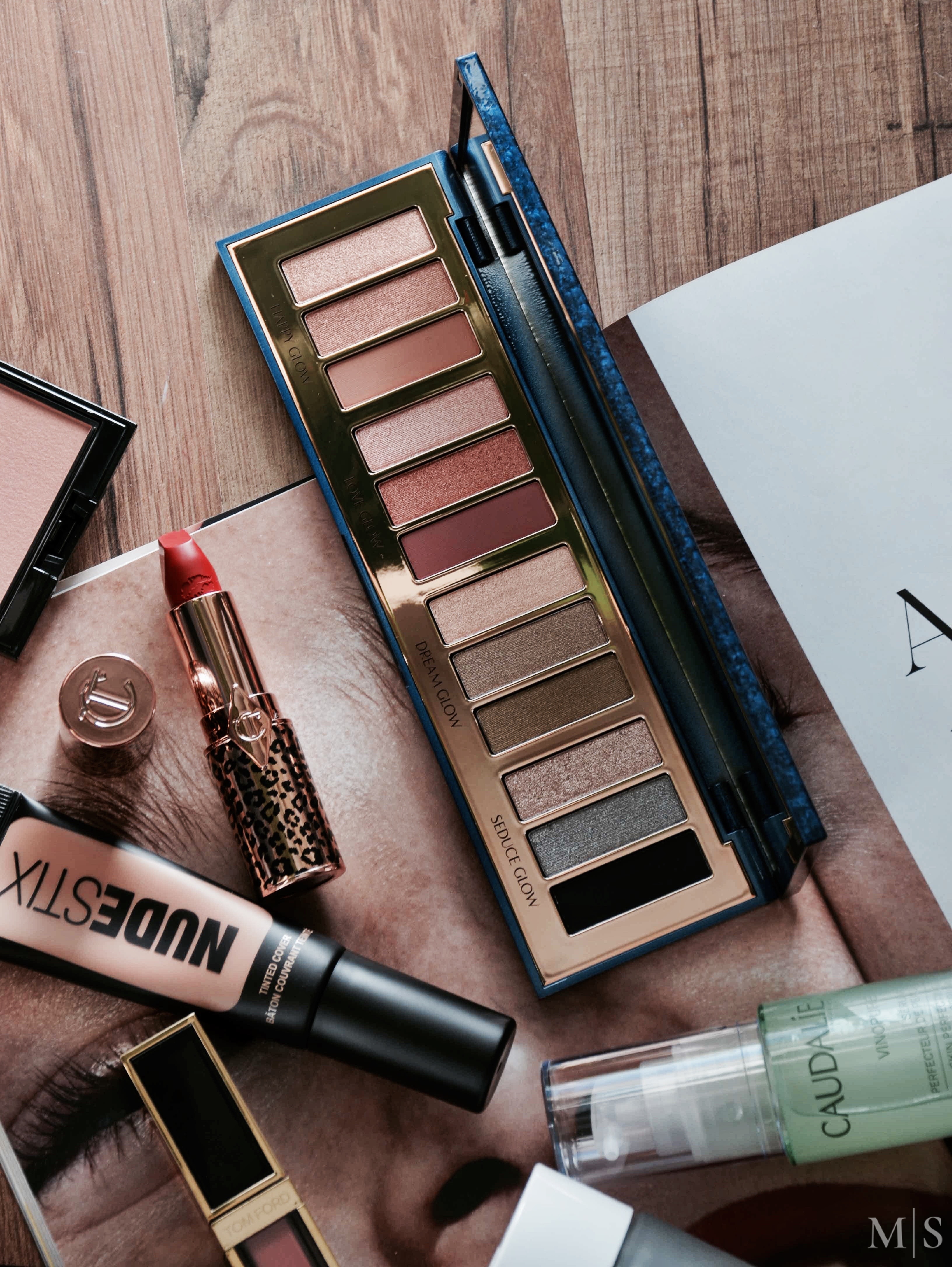 The Charlotte Tilbury Starry Eyes To Hypnotise Palette is a limited edition eyeshadow palette that comes with 12 shades. The unique thing about it, is that Charlotte has the looks already grouped by names so it is easier to use (way easier since the shades are already paired together). That doesn't mean that you can't mix and match the shades, but it is a nice concept for people who are not pros and don't know how to pair shades.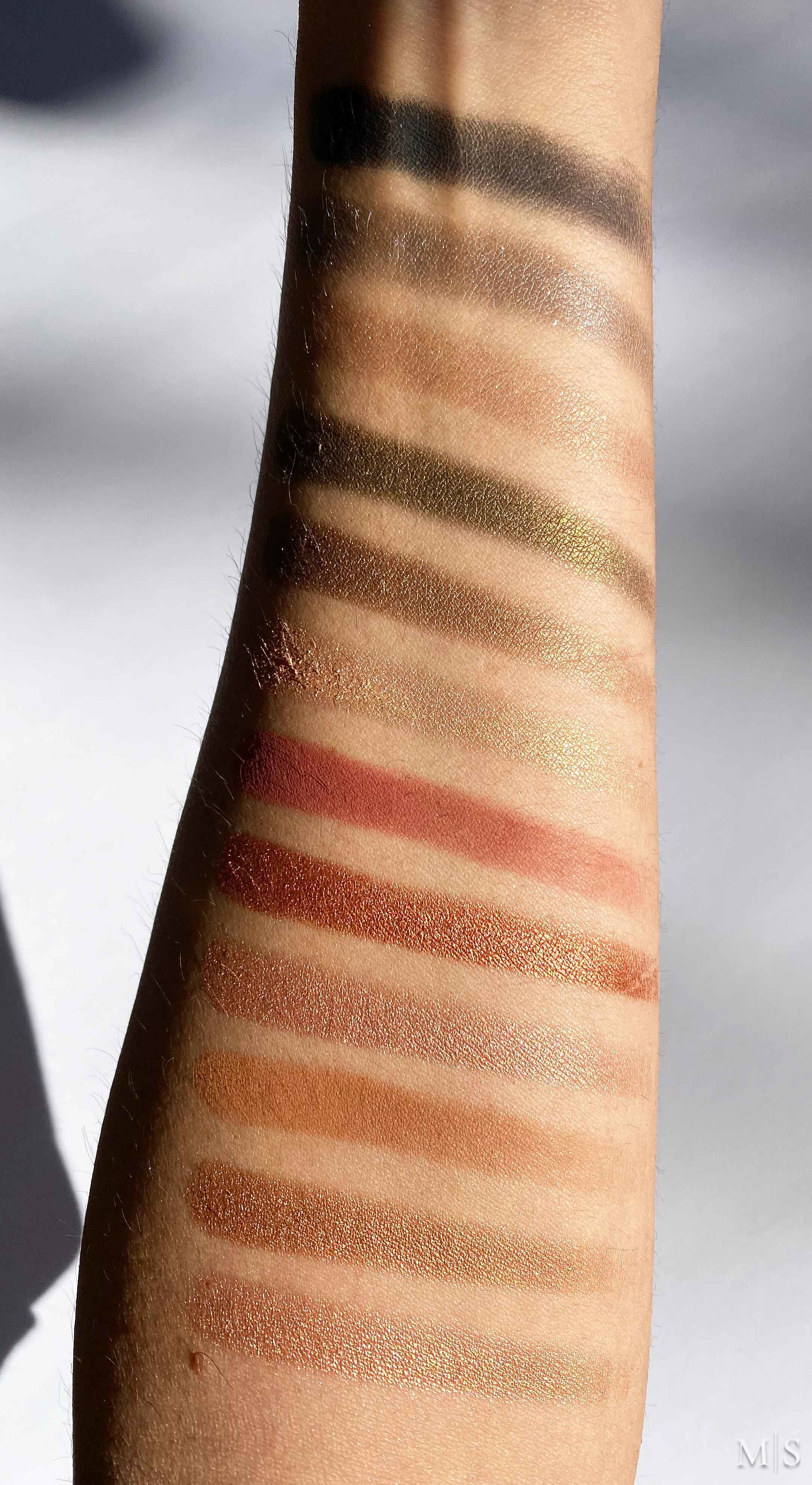 Swatches of the Charlotte Tilbury Starry Eyes To Hypnotise Palette
The shades that come in the Charlotte Tilbury Starry Eyes To Hypnotise Palette are:
Happy Glow Prime: Warm gold with a metallic finish
Happy Glow Enhance: Warm bronze with a metallic finish
Happy Glow Smoke: Warm caramel brown with a matte finish
Love Glow Prime: Rose gold with a metallic finish
Love Glow Enhance: Copper with a metallic finish
Love Glow Smoke: Deep cherry with a matte finish
Dream Glow Prime: True gold with a metallic finish
Dream Glow Enhance: Bronzed khaki with a metallic finish
Dream Glow Smoke: Deep emerald with gold pearl and a matte finish
Seduce Glow Prime: Champagne gold with a metallic finish
Seduce Glow Enhance: Rustic gold with a metallic finish
Seduce Glow Smoke: Midnight blue with silver pearl and a matte finish
I think there is a good mix of warm vs cool toned eyeshadows. It is still a neutral palette but it does have the pop of blue and emerald. The quality is amazing on both the shimmers and matte shades.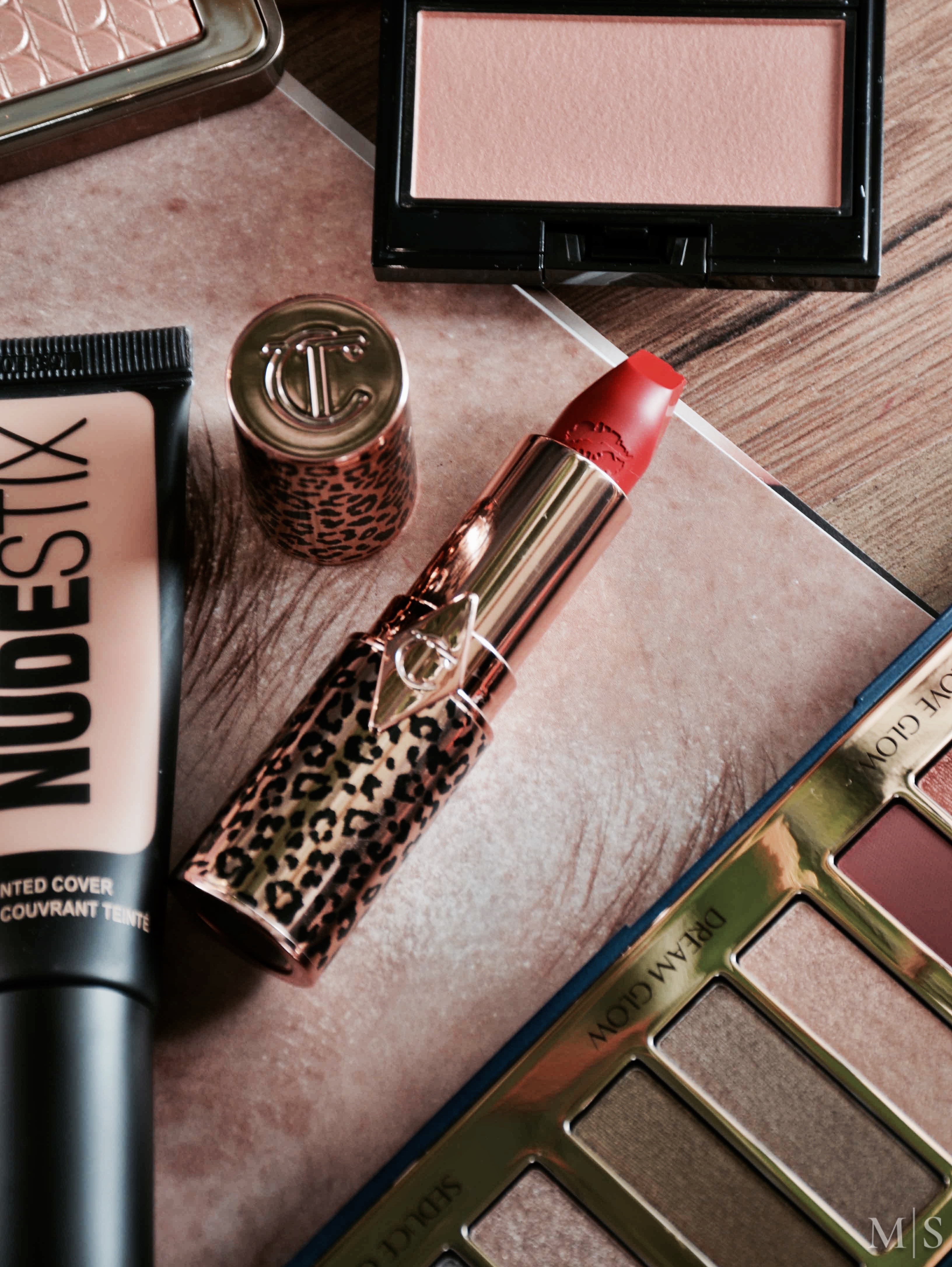 Last piece from Charlotte Tilbury is the Hot Lips 2 Lipstick in Red Hot Susan. I already have all the nude shades from the collection (review here) so I picked up a pop of color. Red Hot Susan is a beautiful red brick shade in a matte finish. I love both the formula and the unique packaging of the Hot Lips 2 so this is definitely a winner for me.
The Nudestix Tinted Cover Foundation is the newest release from the brand. I'm a big fan of their cream cheek products (I use Sunkissed almost every day when I do my makeup) so I was curious to try their new foundation. The brand is all about natural and glowy makeup and the new Tinted Cover is no exception.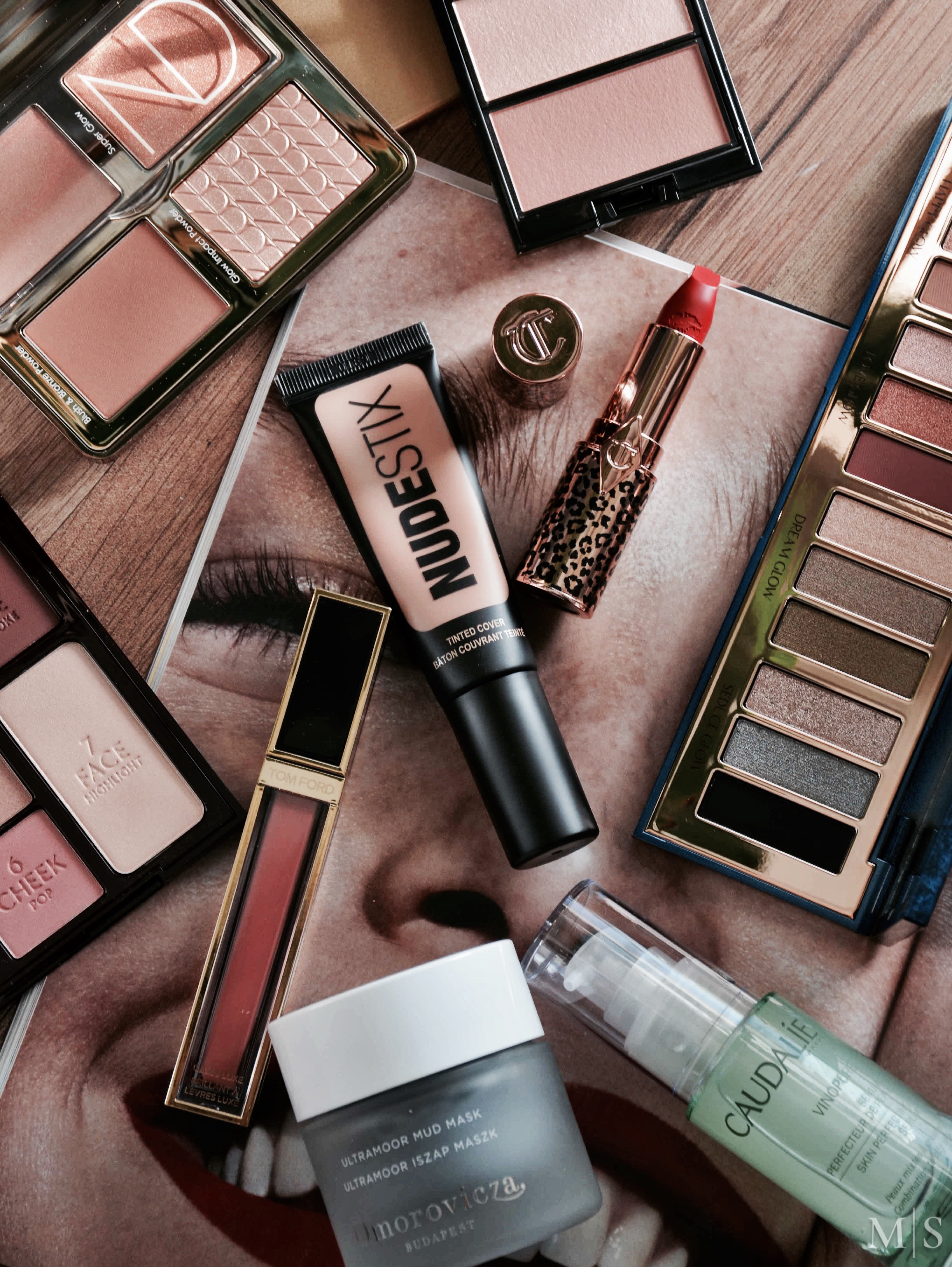 This is a natural finish foundation that also has skincare benefits. They claim the foundation provides hydration, anti-aging protection and also brightens and improves the skin over time. The foundation comes in 14 shades so I'm hoping they will expand the line in the future. I picked the shade in Nude 5 which is a tad bit dark on my skin but still works when blended. I really like the natural buildable finish of the Tinted Cover. The foundation also wears well and looks like skin. Definitely a great option for someone who likes their base on the natural and light side.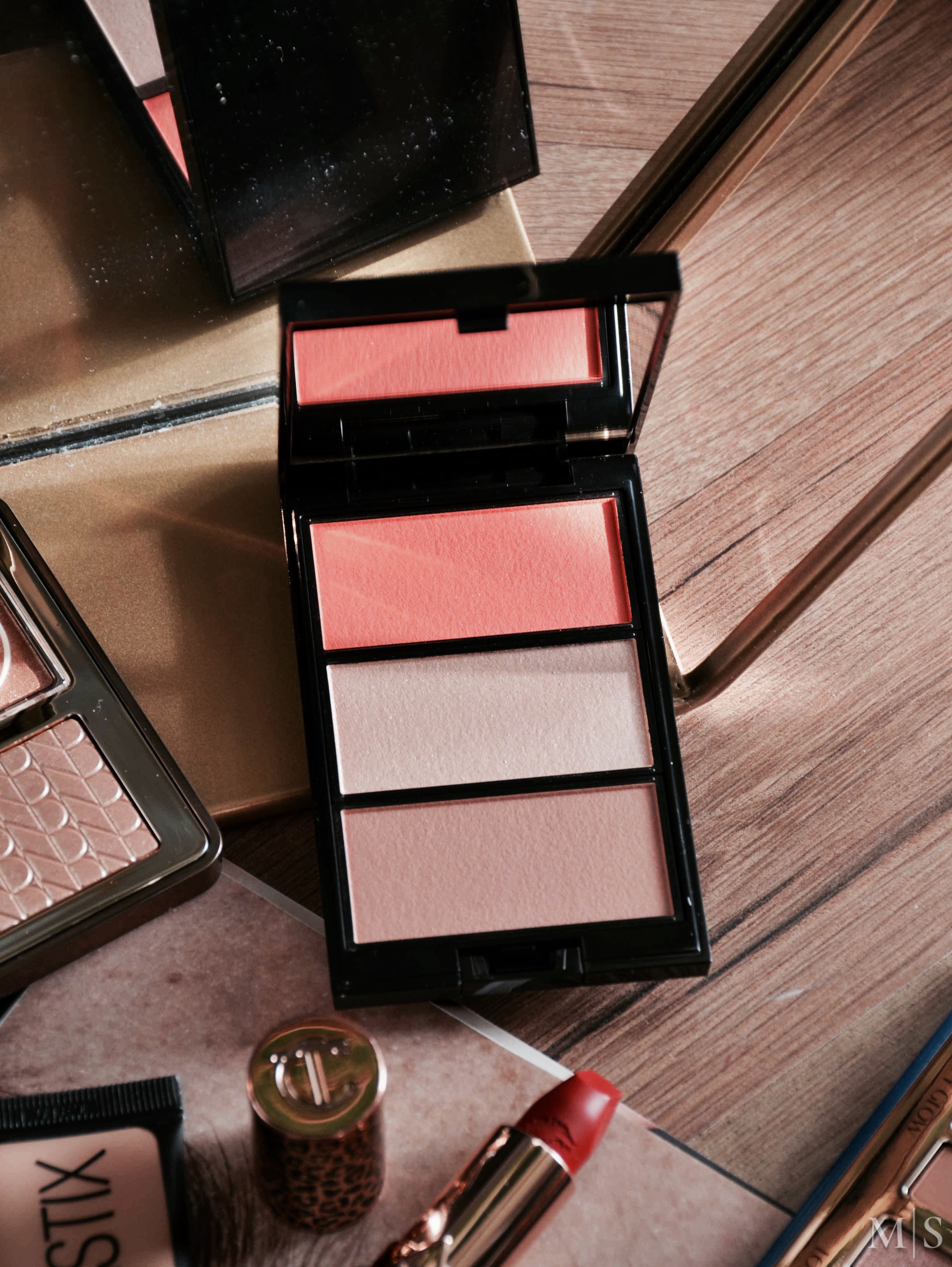 The Surratt Plus De Soleil Grande Palette caught my eye because of the shade selection. I love a good orange and burned orange blush especially in fall and summer. The palette comes with three blush shades:
Artistique Blush – Coup de Genie: Sheer peachy highlighter
Artistique Blush – Brilliante Idee: Bright orange
Artistique Blush – Chaleur: Warm bronze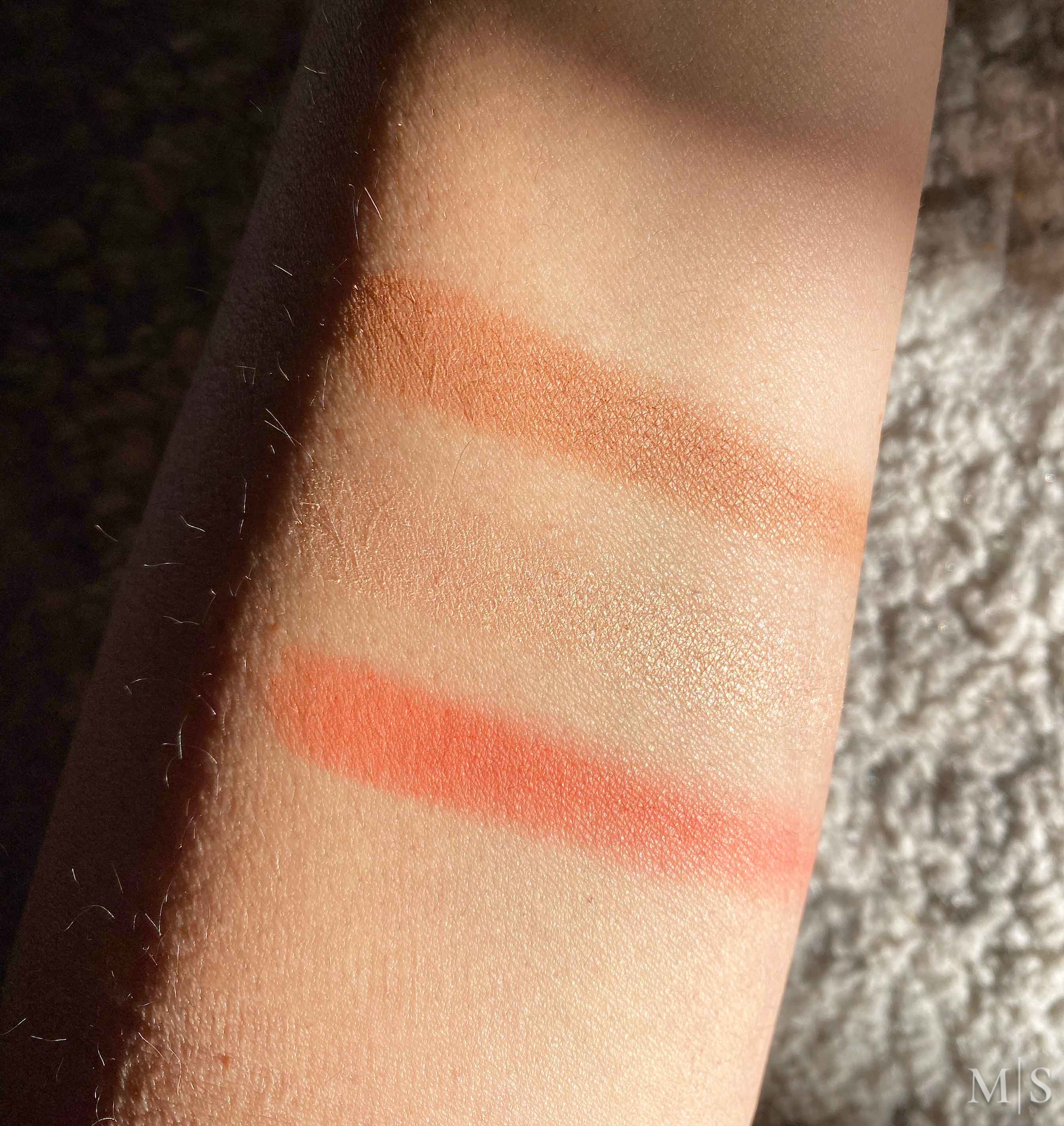 Swatches of the Surratt Plus De Soleil Grande Palette
Chaleur works both as a bronzer and a blush on my light to medium skin so I'm getting a great travel palette out of the Plus De Soleil Grande Palette. This is the kind of palette I would use on repeat during the summer months. The formula is also one of the best I've tried. It is so soft and blend-able and just becomes one with the skin.
It is my first time trying a lip gloss formula by Tom Ford. I really like his lipsticks and eyeshadow quads, but I've never tried his lip glosses. He recently released a brand new formula so I picked one of the neutral shades in Ravish. The Tom Ford Gloss Luxe formula is described as a high shine moisturizing lip gloss that can be worn on it's own or paired with a lipstick.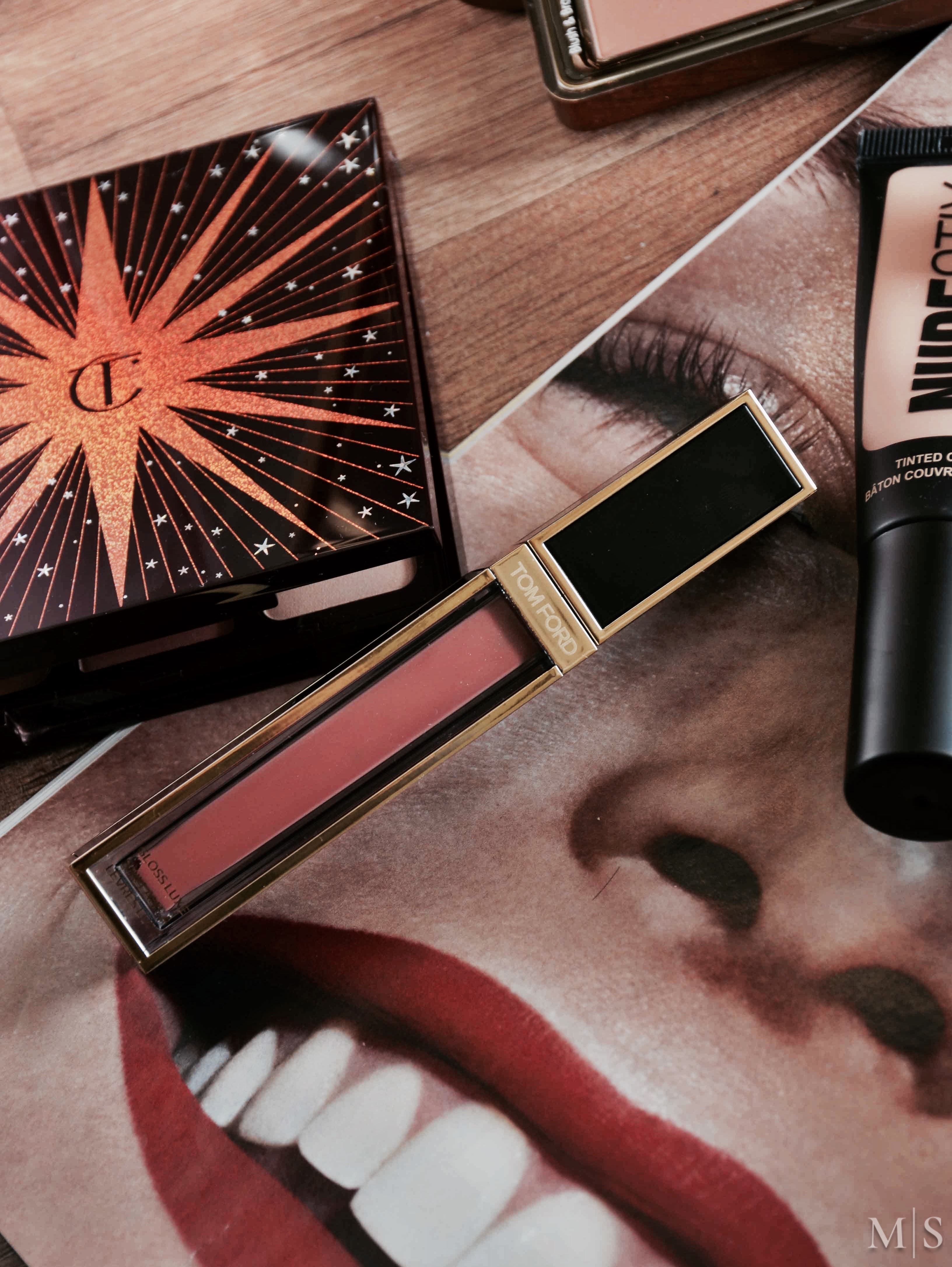 The shade in Ravish is a beautiful pinky nude shade with a pearl finish. This is one of the most luxe packaging of lip gloss that I've seen. It is so heavy and just feels luxurious when you hold it in your hand. The gloss has a fruity pleasant scent and an awesome cushiony applicator. It is not sticky and gives a beautiful glossy shine on the lips. I would say that the pigment is semi sheer so you can really wear it on it's own for natural makeup days or layer it over your favorite lipstick. If you want to treat yourself to some luxury, the Tom Ford Gloss Luxe are amazing.
The Natasha Denona Tan Bronze & Glow palette is not a new release but it is new to me. I have her Bloom Blush & Glow Palette which I love (both the powder and the creams are amazing in that palette) so I wanted to see how this palette compares.
The Tan Bronze & Glow Palette comes with:
Glow Cream Base: peachy bronze with a metallic finish
Super Glow: soft gold with a metallic finish
Blush & Bronze Powder: neutral brown with a matte finish
Glow Impact Powder: warm champagne a metallic finish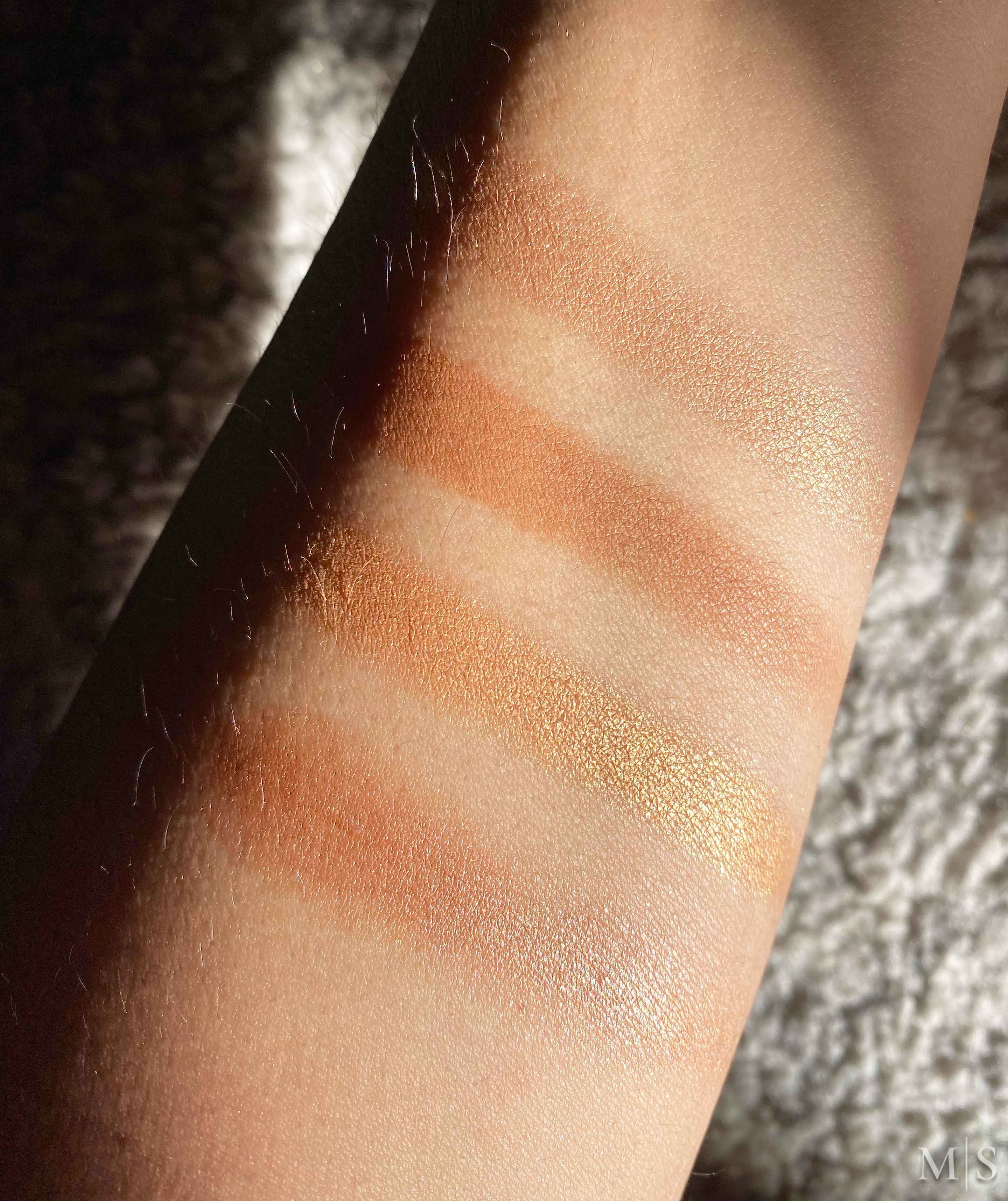 Swatches of the Natasha Denona Tan Bronze & Glow Palette
The formula of both the cream and powders is as amazing as her previous palette. They are easy to work with and give a beautiful glow on the face. I like the bronze shade in the palette as a blush and bronzer in one. All three highlighters give an amazing glow on the cheeks and I think will work on different skin tones. If you are in to more bronze warm tones, the Tan Bronze & Glow is a better option than the Bloom & Blush Palette. For me, I really like both and can't pick a favorite.
And that's the end of my makeup and skincare haul from Beautylish. Their Gift Card Event 2019 is launching today at 9AM PST and will last up to October 25th 11:59 PM PST.
It's a great event to stock up on some favorites or discover new brands that you always wanted to try.
*Many thanks to the Beautylish team for partnering with me for their Gift Card 2019 Event