I don't remember when was the last time a makeup launch was so anticipated. All the makeup lovers were excited about the new Fenty Beauty launch by Rhianna. Of course as a beauty lover myself, I even woke up for the 12 AM launch. I was worried that the products will sell out so I ordered everything that I wanted as soon as they launched on Sephora's website. To my surprise, everything was still in stock the next day which is amazing.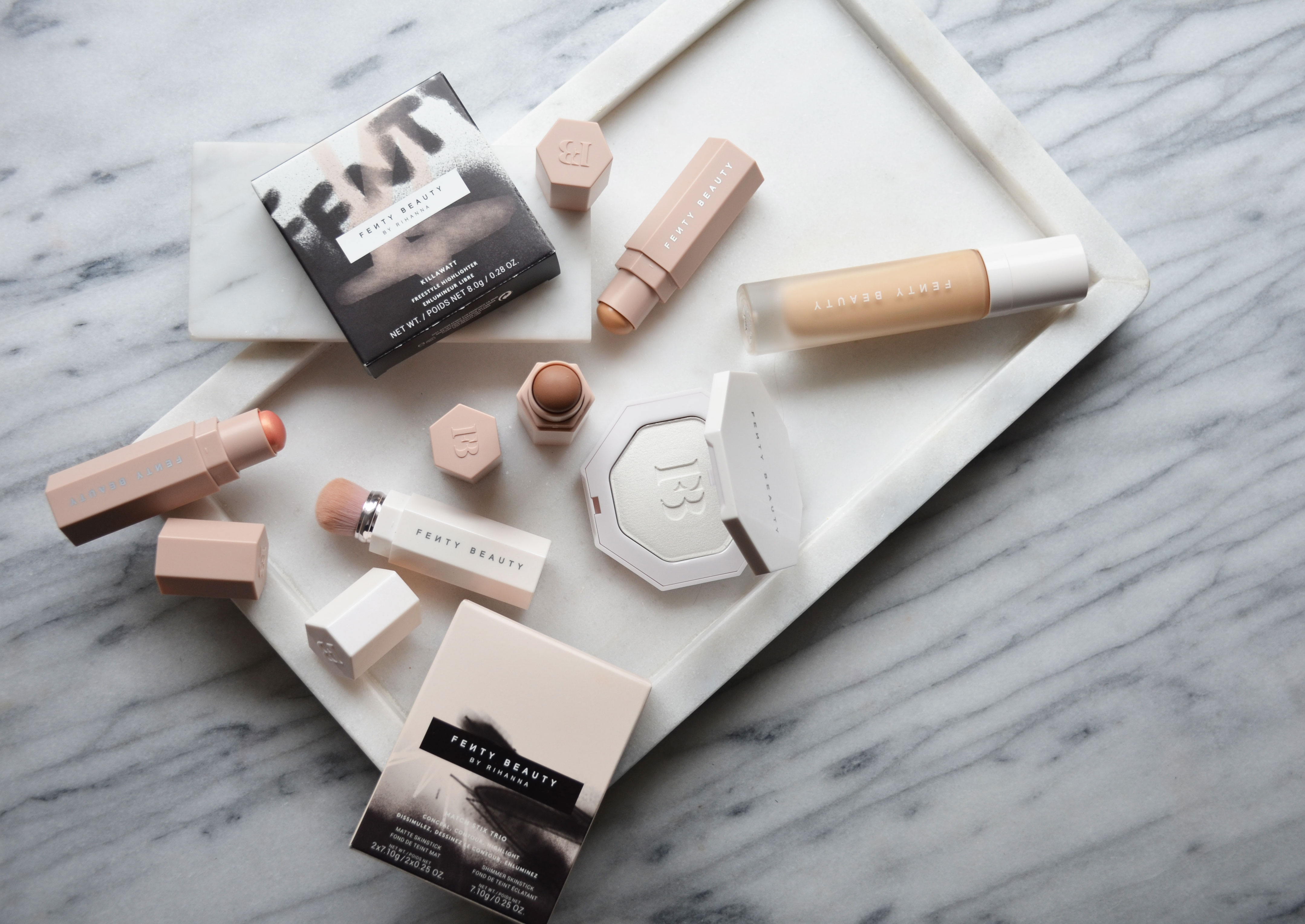 Despite being a matte foundation, I am a sucker for new foundation launches, I decided to try the Fenty Beauty release. The Fenty Beauty Pro Filt'r Soft Matte Foundation is described as a soft matte long-wear foundation with medium to full coverage and 40 available shades.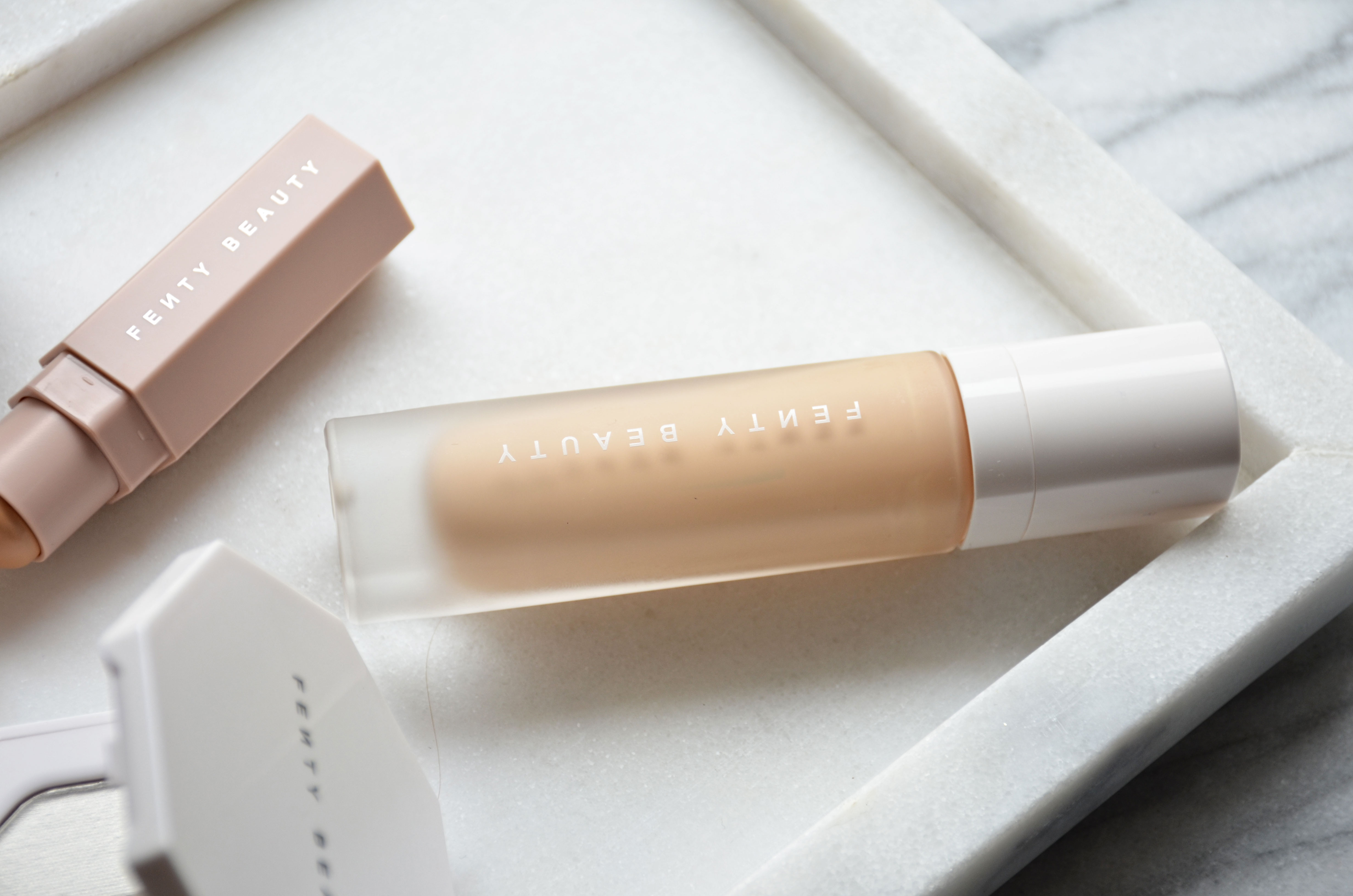 The foundation is housed in a frosted glass bottle with a white cap and a pump. It has thin consistency and feels very light-weight on the skin. It is listed as suited for all skin types but if you have dry skin it can be a little tricky to work with.
When I first used this foundation, I used it with a hydrating primer, my usual choice is the Marc Jacobs Coconut Primer. The foundation looked horrible on my skin. It accentuated every dry patch that I had and just didn't sit well on the skin. I'm not sure if it was the primer/foundation combo, but I didn't like it at all.
I decided to give it another chance by prepping my skin really well. I exfoliated and applied a rich moisturizer before application and it was a success. My base looked flawless. The Pro Filt'r Soft Matte Foundation provides medium coverage but still looks like skin. The finish is matte but it is not flat. It's more of a velvet matte natural finish.
The foundation is made with climate adaptive technology so it is sweat and humidity resistant. It is very long-wearing. I wore the foundation for probably 12 hours and my base still looked flawless at the end of the day. And this is without using any powder.
So my advice is, if you are dry or normal, maybe first get a sample and see if the foundation will work for you. It definitely catches on dry patches so you really have to prep your skin if you want to make this foundation work. I decided to keep mine and use it for special occasions and whenever I want my makeup to last all day. For everyday use I still prefer my base on the lighter more glowy side.
For shade reference I matched myself to 230 which is listed as for medium skin with neutral undertones. The foundation did not darken on my skin but I heard a lot of people commenting that the foundation oxidizes so be aware of that when you pick your shade.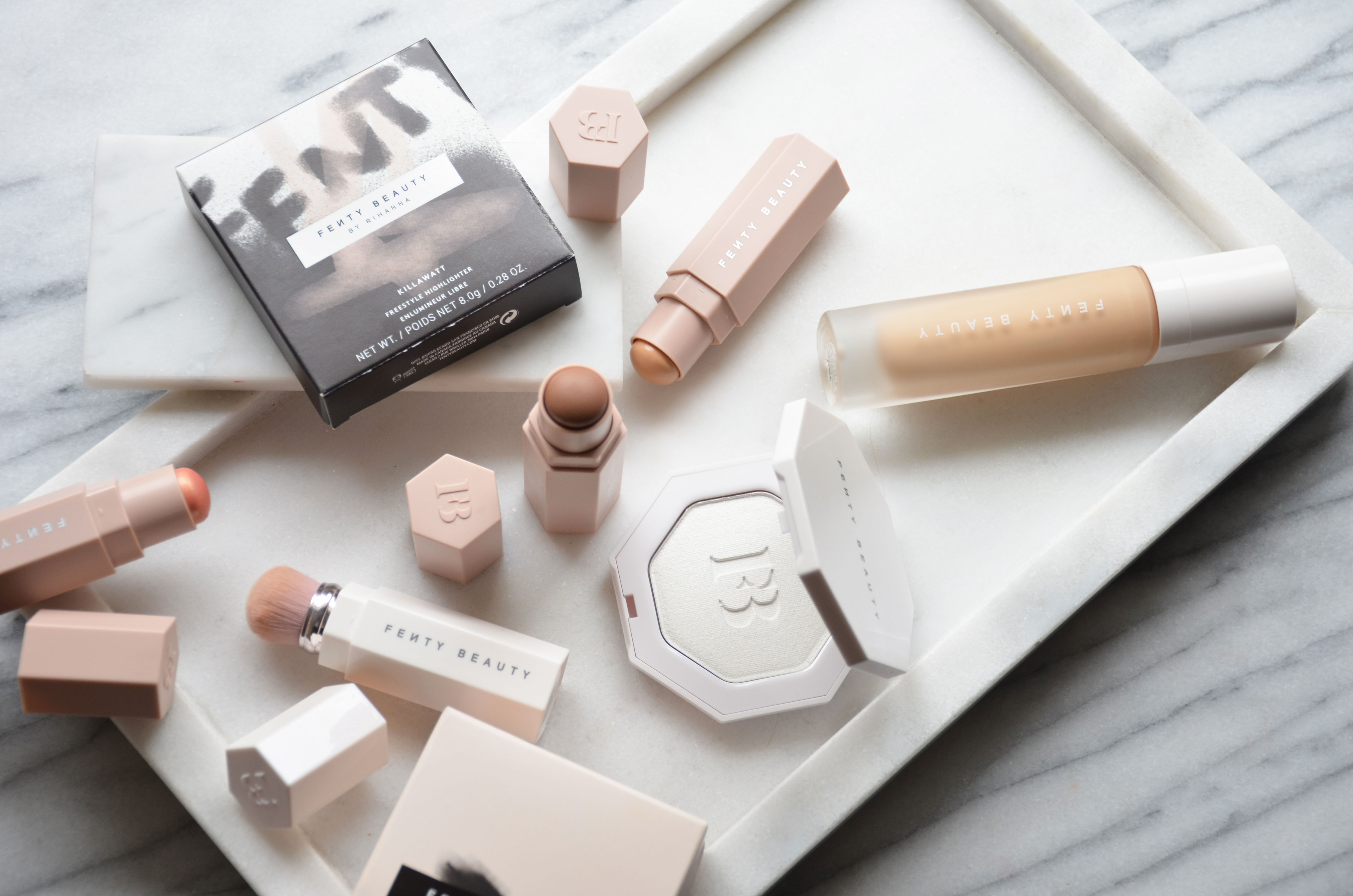 I originally picked up the Match Stix Trio in Light but ended up exchanging it for the Medium shade because the contour shade was too ashy for my warm skin.
The Fenty Beauty Match Stix Trio in Medium comes with three shades in Bamboo, Mocha and Trippin. Two of the shades are matte with Bamboo being a shade meant for concealing and Mocha, a shade for contouring. Trippin is a beautiful warm peach shimmer that is great for highlighting.
First, the packaging of the Match Stix is amazing. They are plastic but don't feel cheap and are also magnetized which makes them great for travel.
The Match Stix feature a cream to powder formula. It's a formula that I think was made for oily skin since it's not as creamy as others I've tried.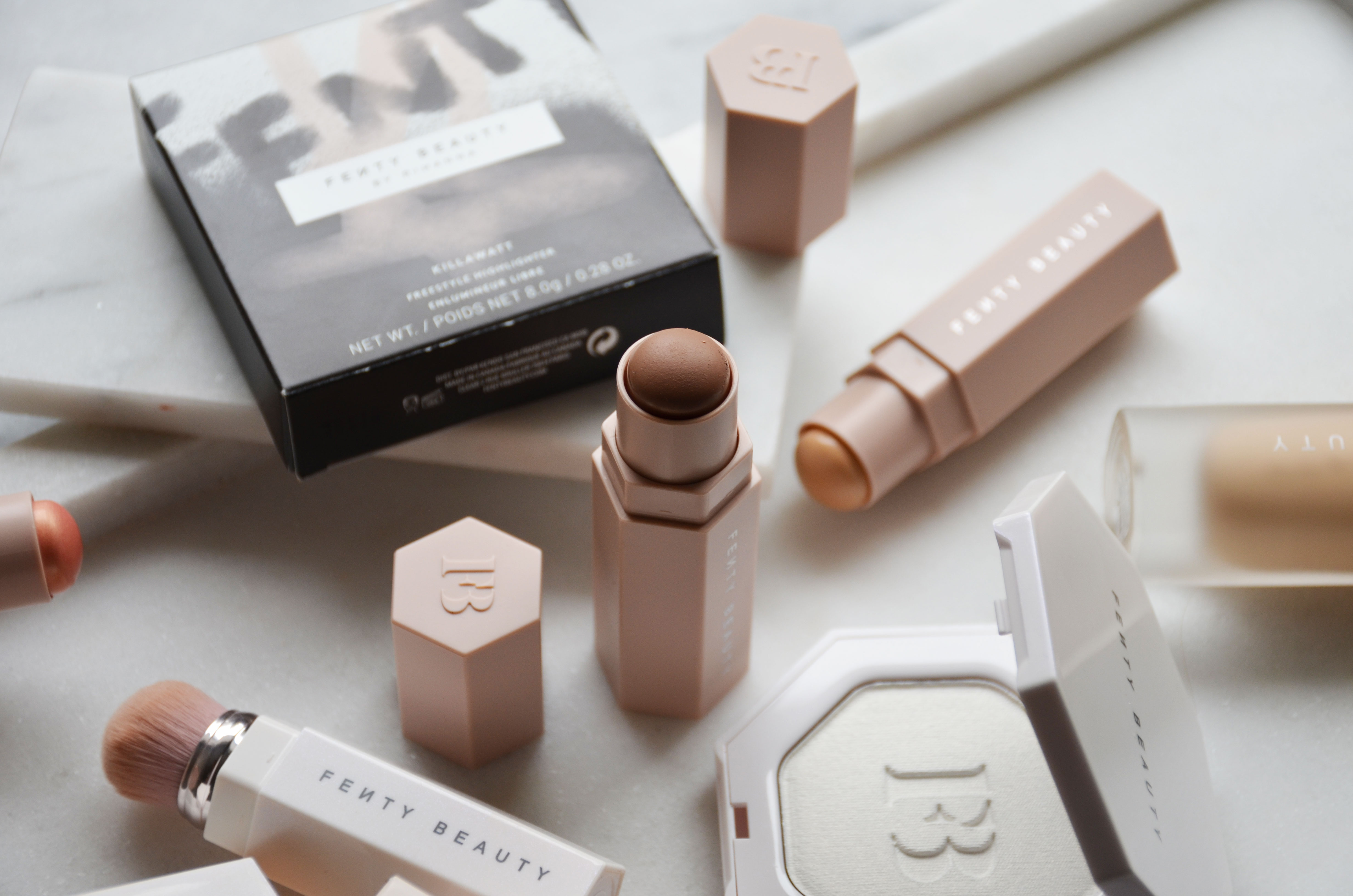 For application I find the best way is to first get the product on a brush and then apply and blend on the skin. Since the formula is not as slippery, if you apply the product directly from the stick, they can move your foundation.
I tried the shade in Bamboo both on my face and under the eyes. It worked better as a spot concealer rather than an under eye concealer. The formula is thicker and on the dry side so if you have dry under eye area do not use this to conceal.
Mocha on the other hand was a big hit for me. It is my perfect contour shade that is not too cool but also not too warm. It applied evenly and blended seamlessly on the skin. Because the formula is cream to powder, the shade sets really well so I don't feel the need to set it with any powder.
Trippin is a beautiful warm peach shade with gold shimmer. I can still use this shade as a highlighter since I have a little tan. It is a nice subtle highlighter for the daytime but because the formula is on the drier side it is not as buildable as I would want it to be. I also tried to use it as a cream eyeshadow and it worked really well for the eyes.
The Match Stix also come as singles both in matte and shimmery formula so there is literally a shade for every taste.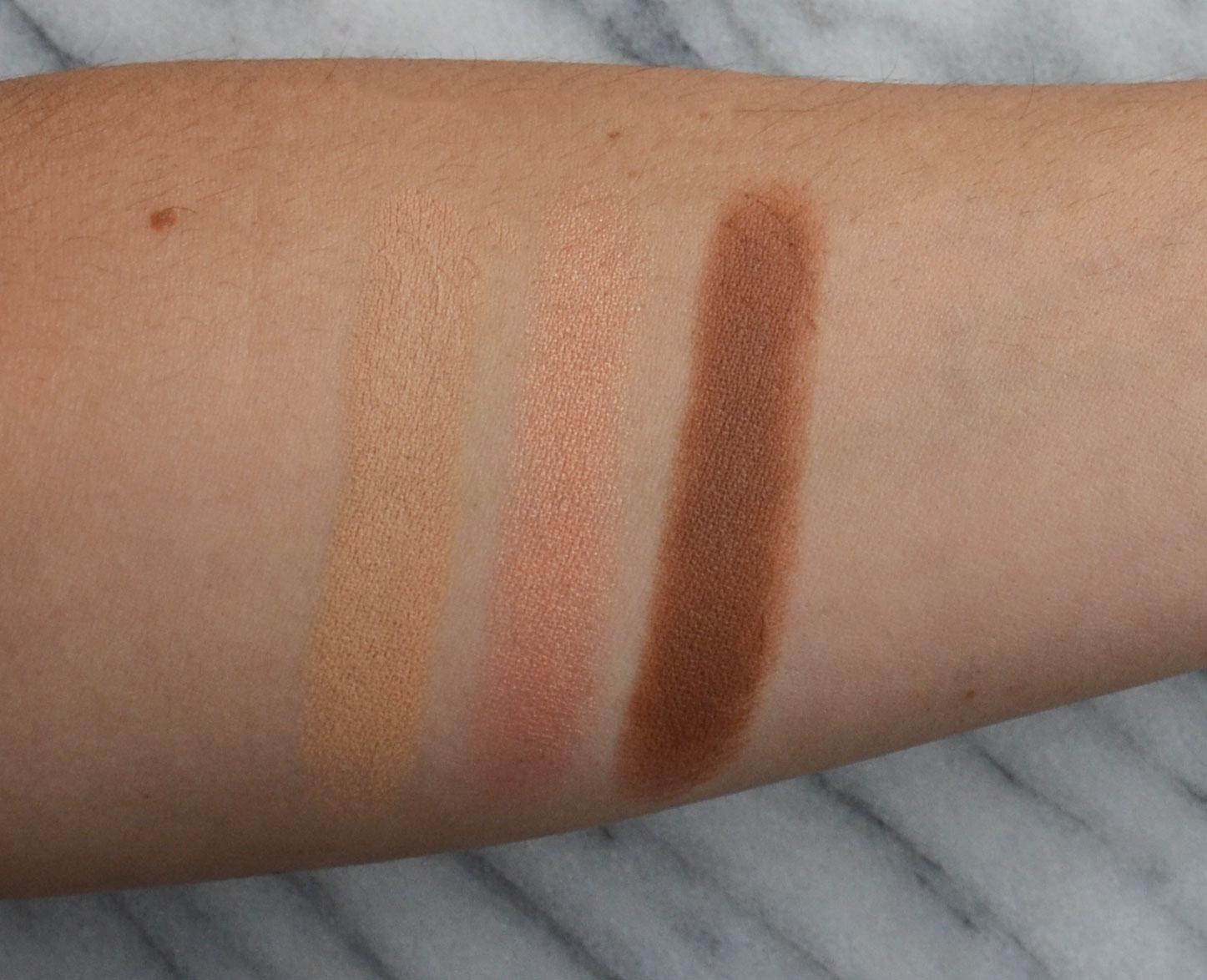 Swatches L to R: Bamboo, Trippin, Mocha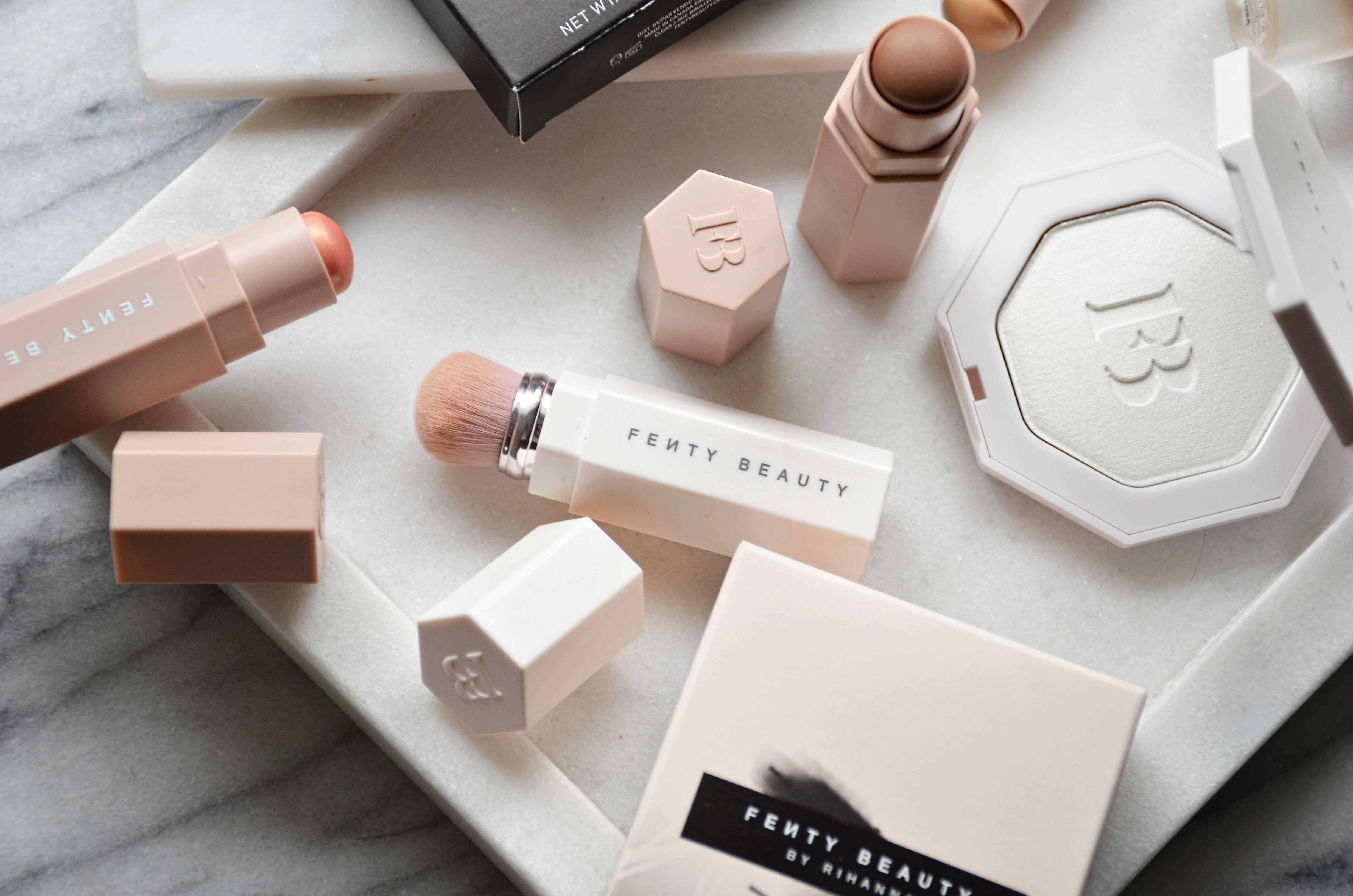 I also picked up the Portable Contour & Concealer Brush 150. It is a magnetic retractable brush that I like to use for blending out my cream contour. The brush is super cute and well made so I'm definitely getting the rest from the line. They will be great to take when I travel or just keep in my bag for touchups.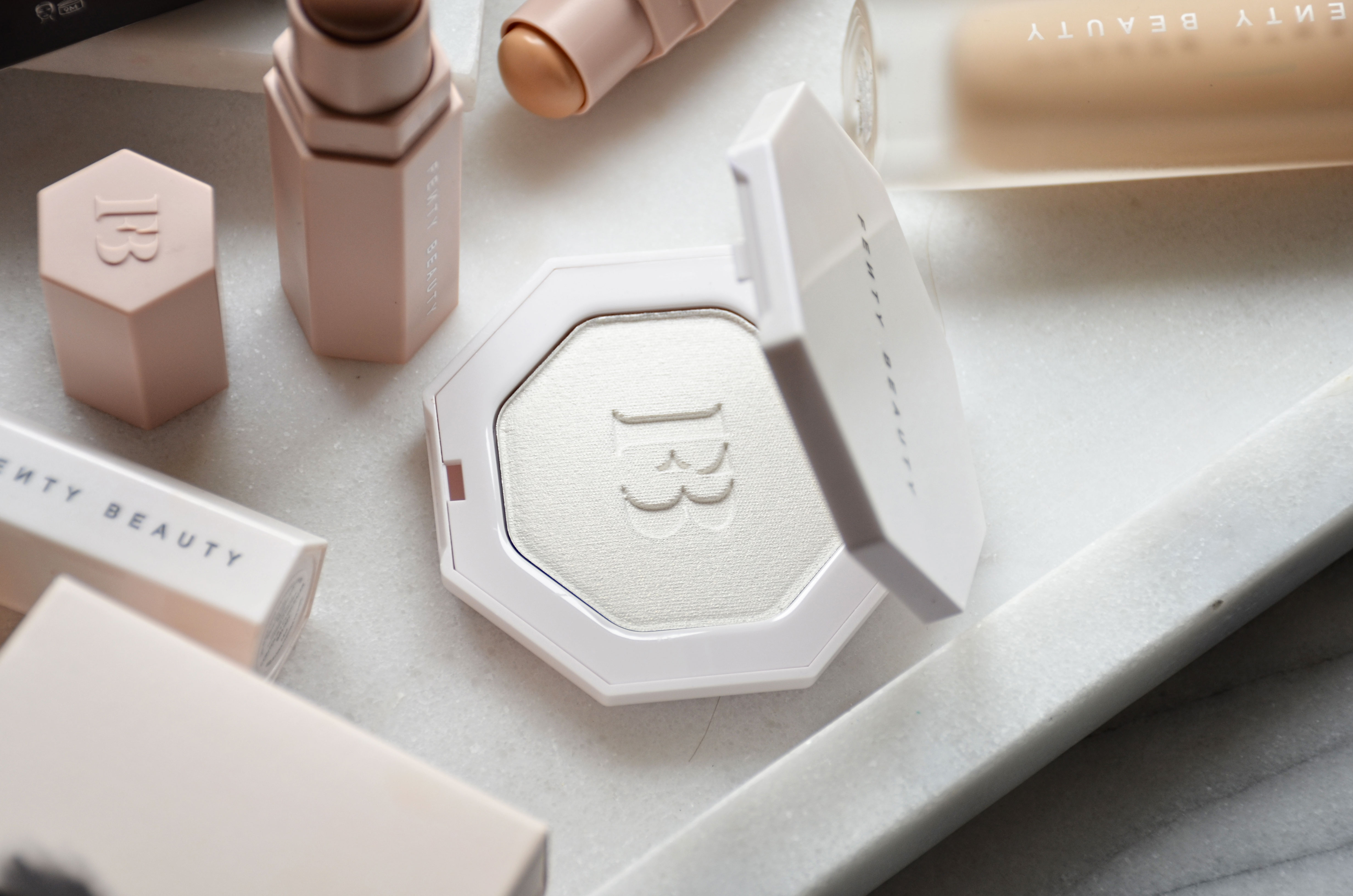 The Fenty Beauty Killawatt Freestyle Highlighter in Metal Moon is a beautiful white gold highlighter. At first glance the highlighter looks stark white in the pan, almost like a setting powder. But when you swatch it on the skin, magic happens. The powder turns in to this beautiful light golden sheen. And as you blend, you get more light golden pigment which never looks over the top.
This shade is more subtle than the other shades in the line. It caught my eye because it is quite unique plus I prefer more of a sheen rather than shimmer for day to day use. I highly recommend it for people that are up to medium skin tone.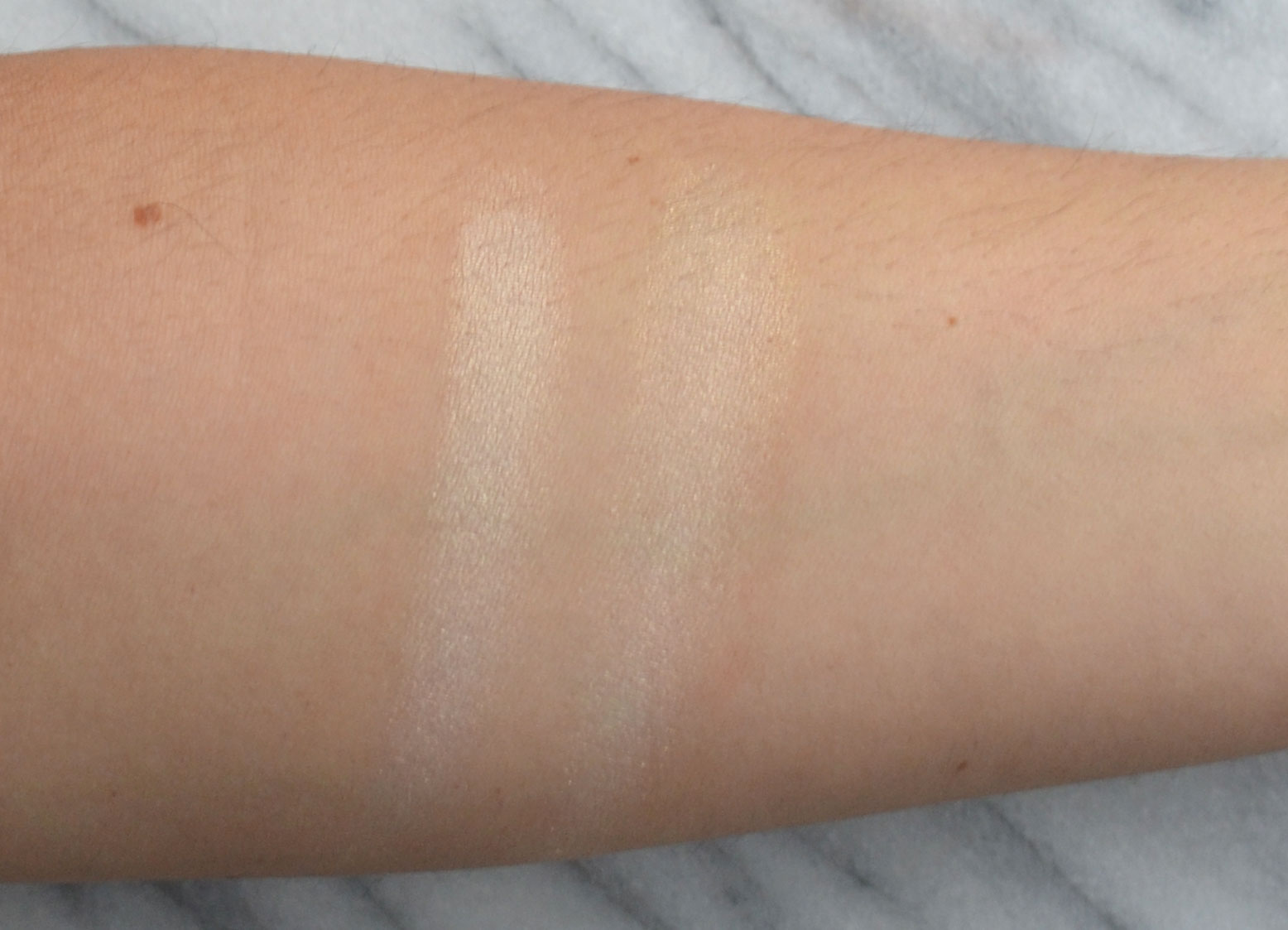 Fenty Beauty Killawatt Freestyle Highlighter in Metal Moon swatches and blended out
And lastly, as an honorable mention, the Gloss Bomb Universal Lip Luminizer in Fenty Glow. It is described as a shimmery rose nude shade that was formulated to suit every skin tone. On me, it's more of a terra-cotta rose shade that makes my lips look super glossy and healthy. It has a fruity scent that doesn't linger too long and the lasting power is impressive for a gloss. Even if you are not a gloss person, go have it a swatch, because believe me, you will love it.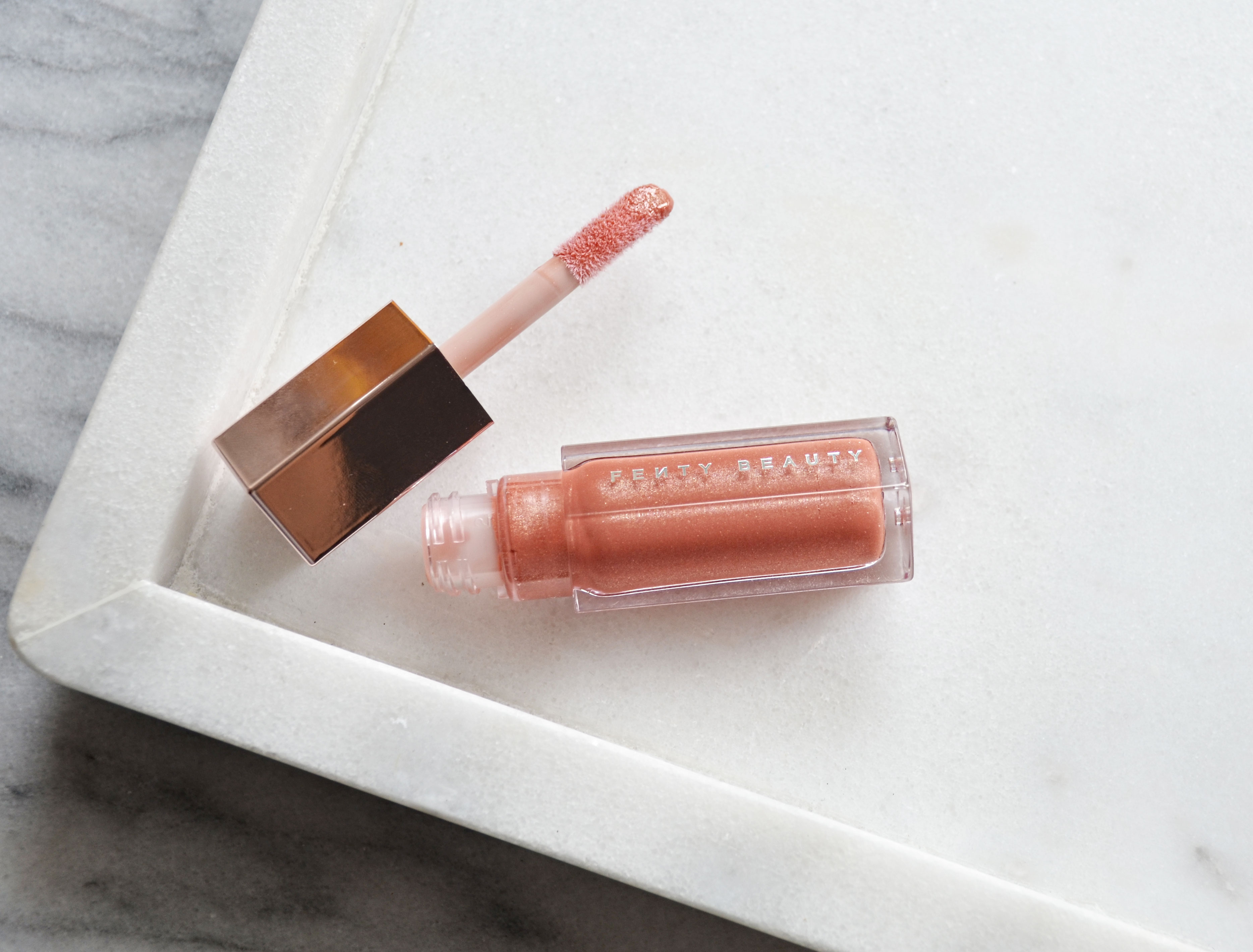 Did you pick up anything from the Fenty Beauty line? Also did you see the sneak preview of the Holiday Collection? Let me know your thoughts.
SaveSaveSaveSaveSaveSave
SaveSave