Marble plus rose gold is the perfect aesthetically pleasing packaging that the brand Dear Dahlia has. Dear Dahlia is a prestige vegan beauty brand that comes from Korea. They are 100& cruelty free and made with 8 free formula, so with no harmful ingredients. I'm pretty new to the brand but so far, I've been liking everything that I've tried. They carry face, lips, eyes and even skincare products. I've tried some of the lip products and one eyeshadow palette so here are my thoughts.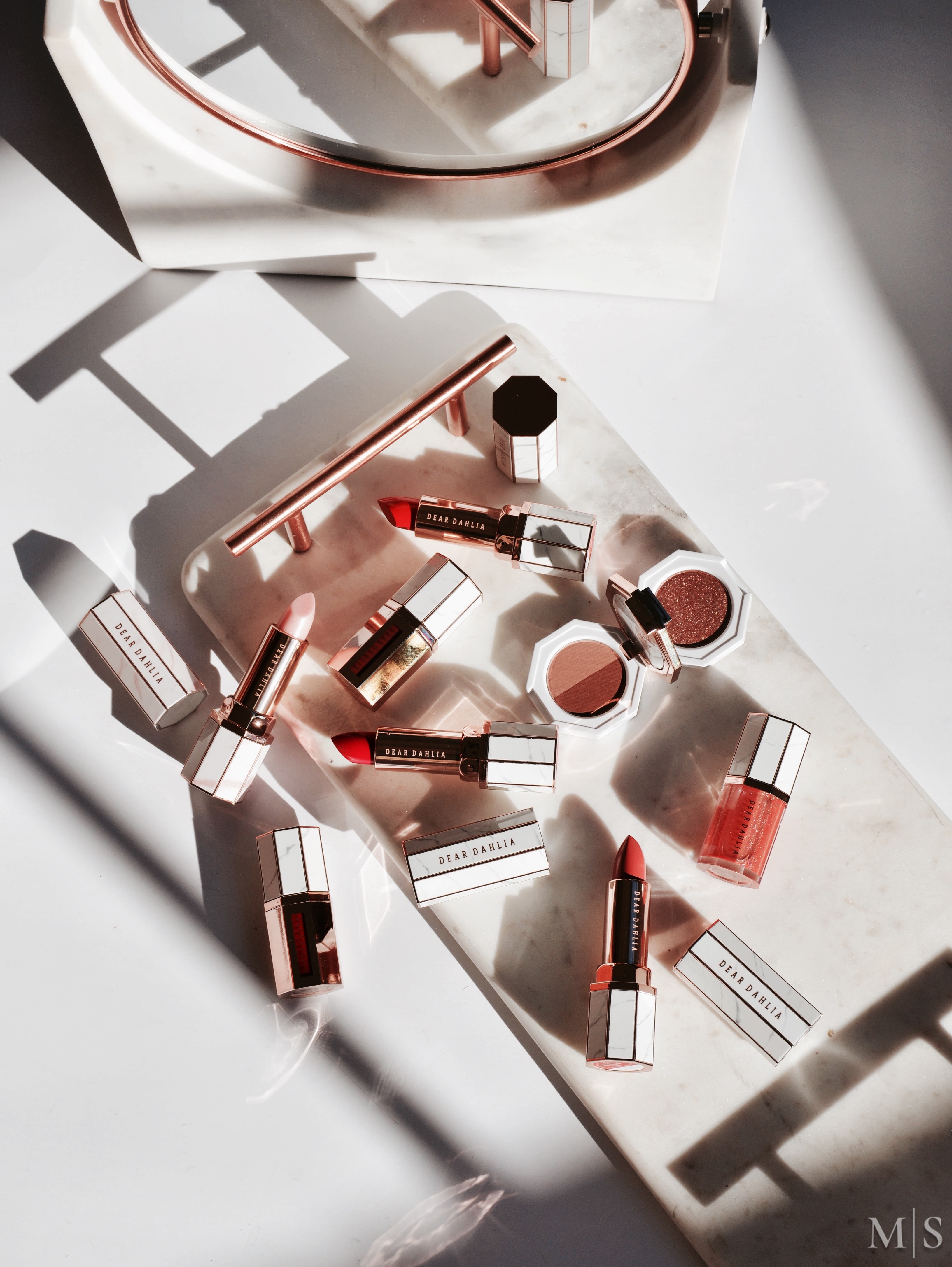 The Dear Dahlia Lip Paradise Intense Satin Lipstick is available in 10 shades. This is a one swipe, very comfortable to wear satin formula. I received three of the ten shades to test and I'm quite pleased with all three. The formula of the lipsticks has the signature Dahlia Flower Extract which is rich in antioxidants and USDA Certified Organic ingredient. It's also made without parabens, artificial fragrances and any animal derived ingredients.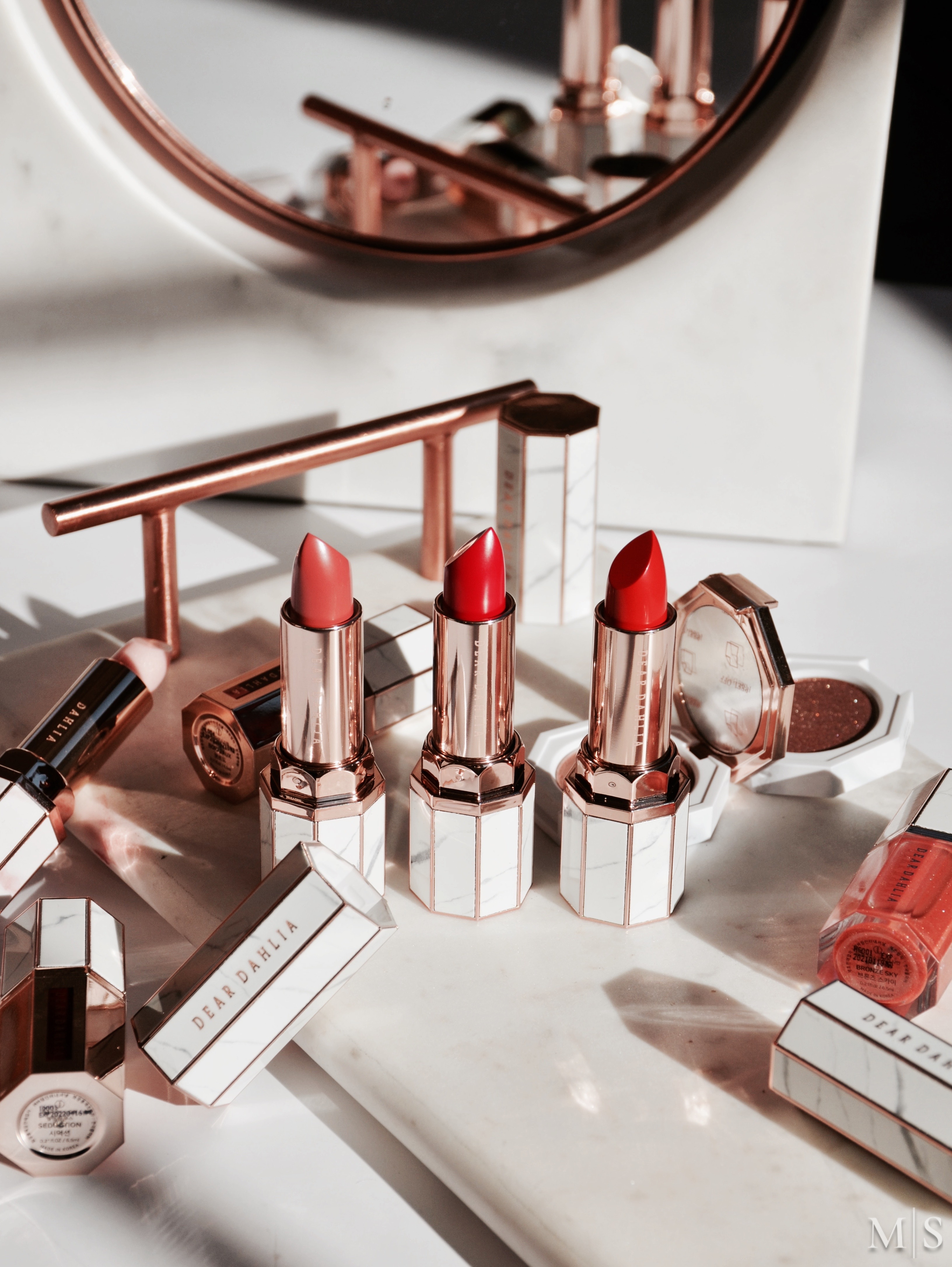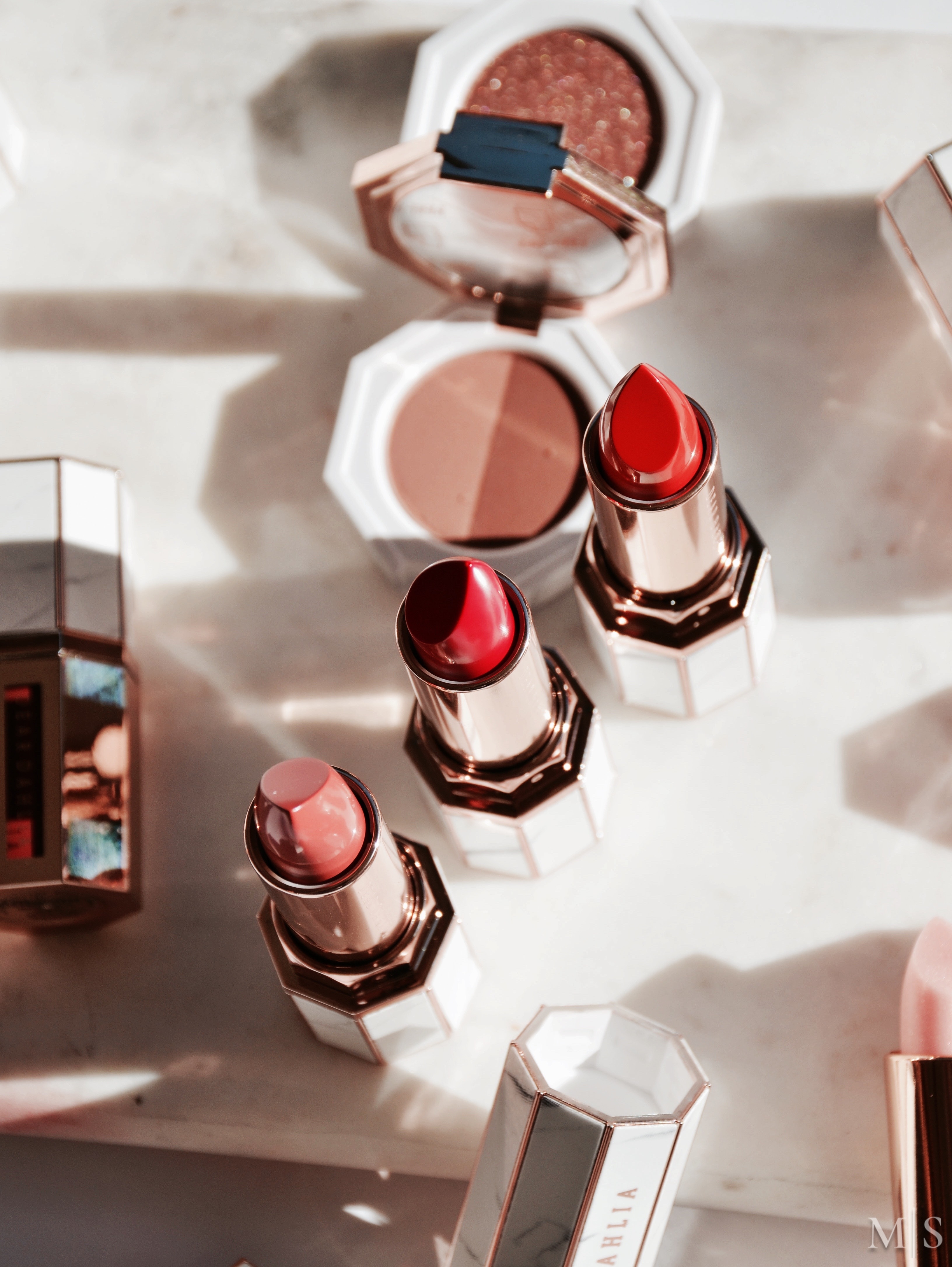 The three shades that I have are in: Adele (peachy orange nude), Scarlet (orange red) and Stella (magenta). I honestly can't pick a favorite as all three look amazing and suit me so well. The shade in Adele is my perfect fall shade. It's one of those neutral pops of color that are still very wearable. I knew I was going to love Scarlet just by looking at the bullet. I just love a good orange red! As for Stella, this is a pink that I can actually pull off. It just brightens my skin and it is an amazing pop of color.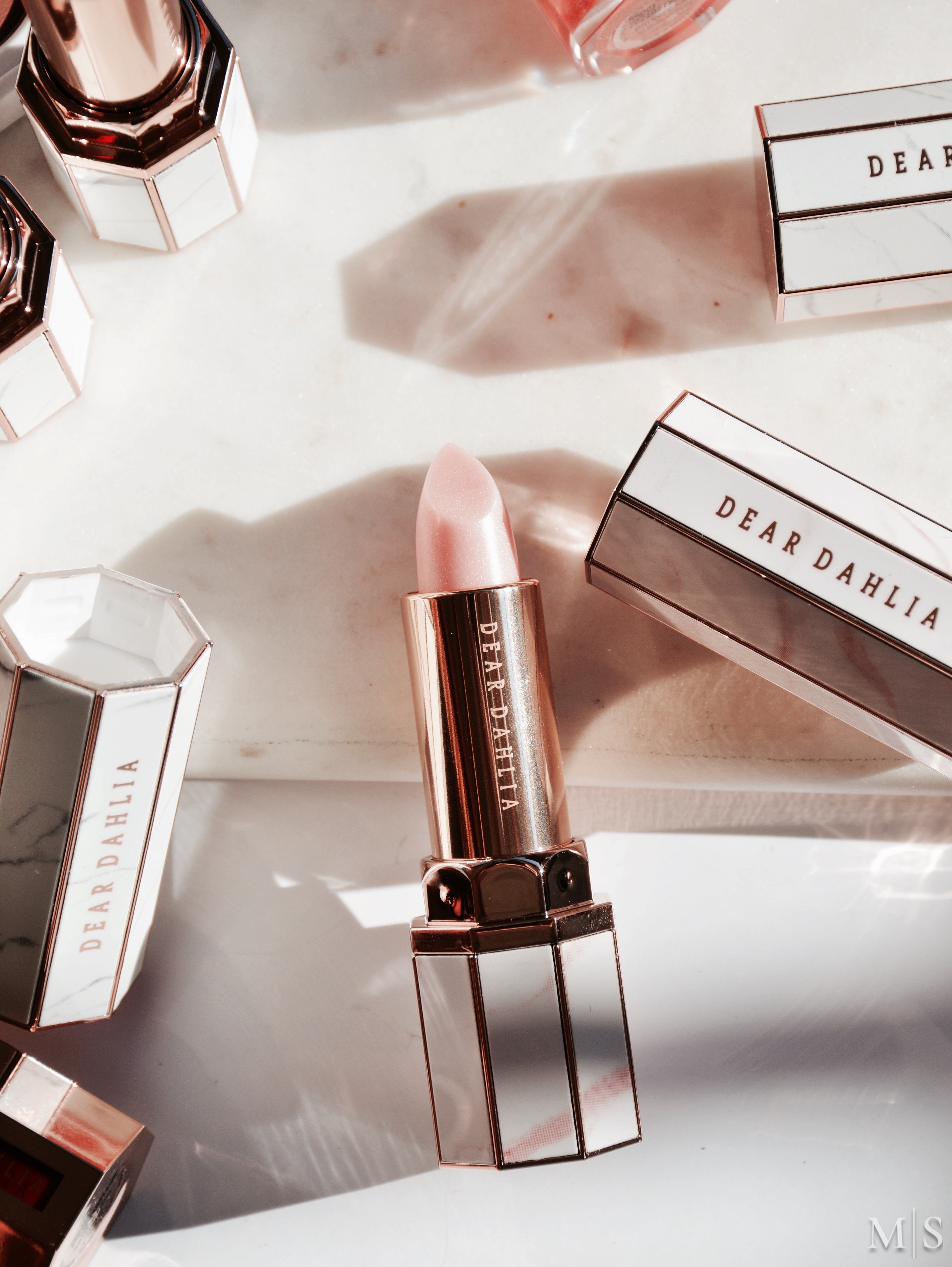 I also received the Paradise Blooming Balm in Fantasy. This is a clear lip balm with a touch of shimmer that reacts to your body chemistry for a custom sheer shade. On me, it turns in to e beautiful sheer pink. It's very hydrating and has a pleasant herbal scent.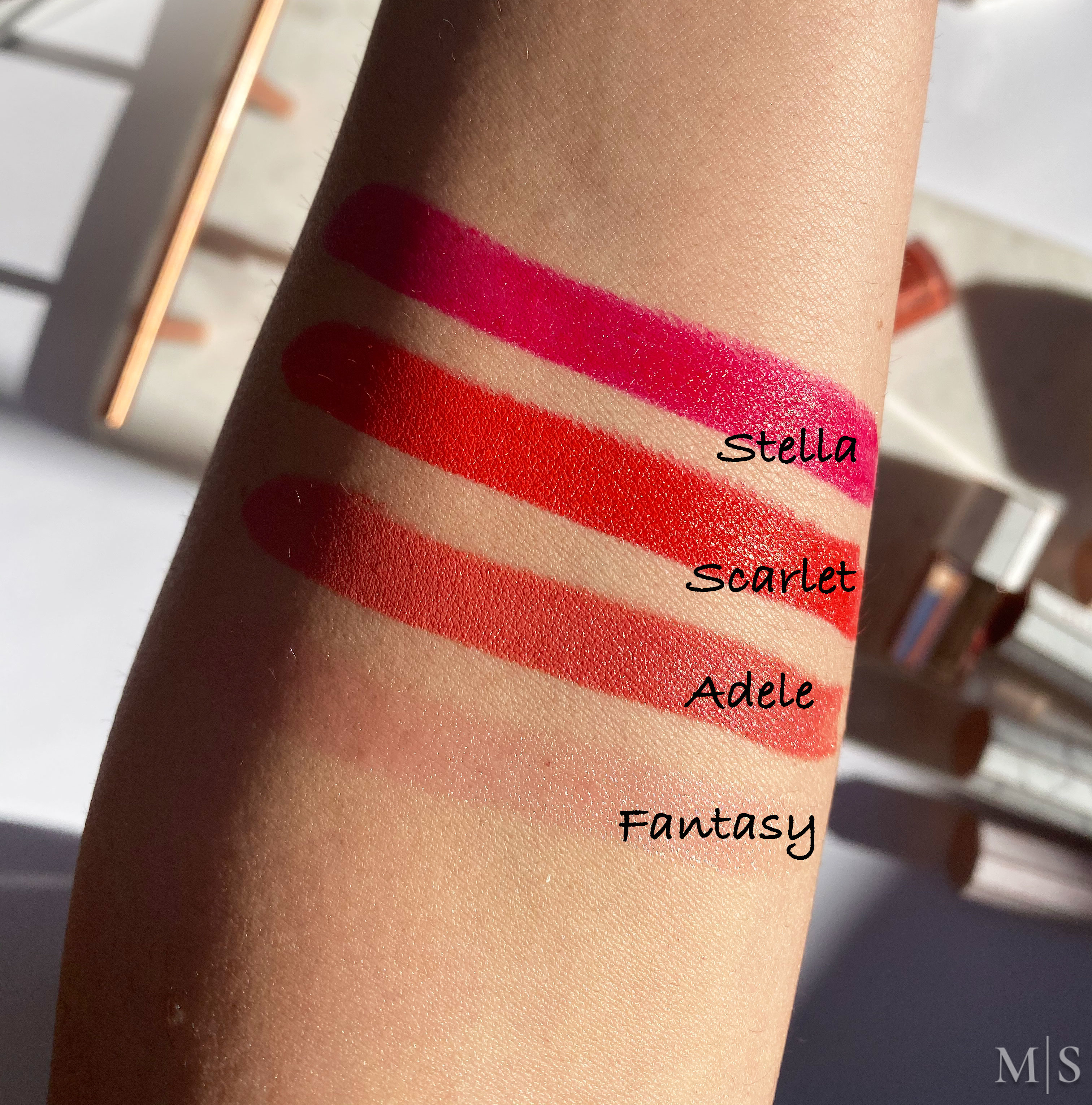 Fantasy

Adele

Scarlet

Stella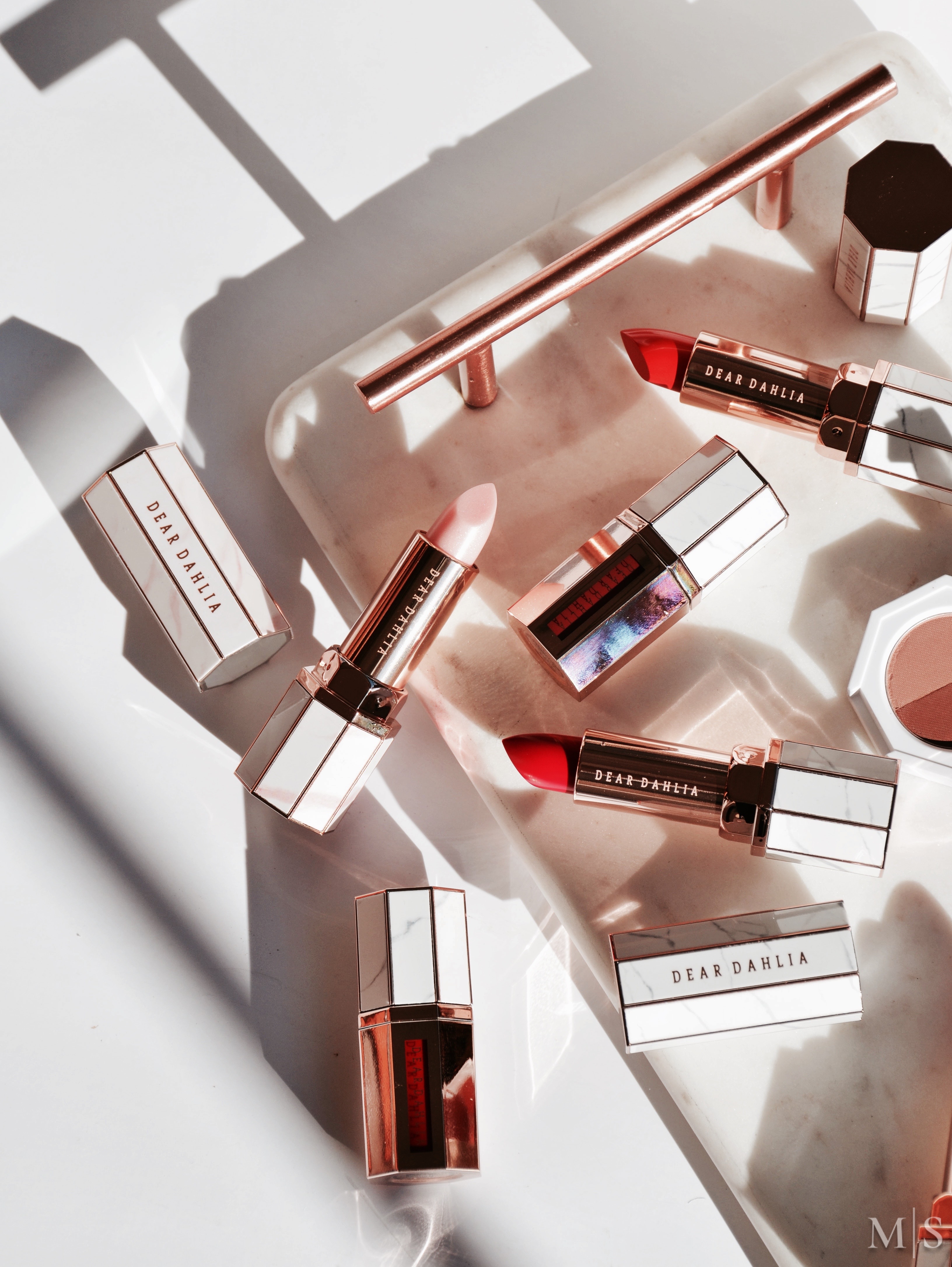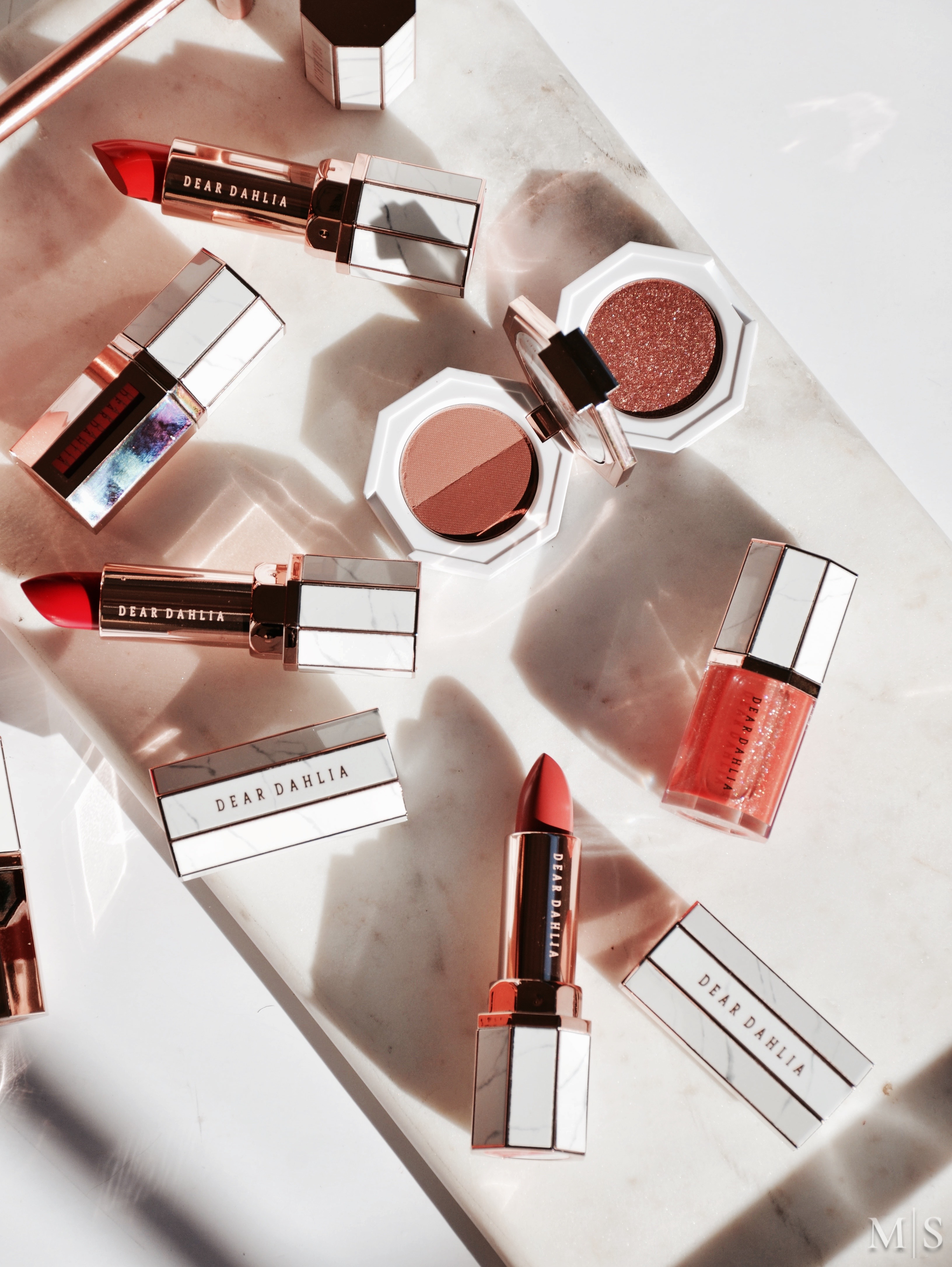 The Dear Dahlia Paradise Aurora Shine Lip Treatment is a lightweight moisturizing lip gloss with a sheer formula and a subtle sparkle. I received the shade in Bronze Sky which is a sheer warm toned orangey nude with sparkle. This shade reminds me a lot to the Fenty original gloss. It has the same tone and same amount of sparkle but with a different, thinner formula.
I adore the packaging of these glosses. They are so tiny and cute and make for great bag glosses.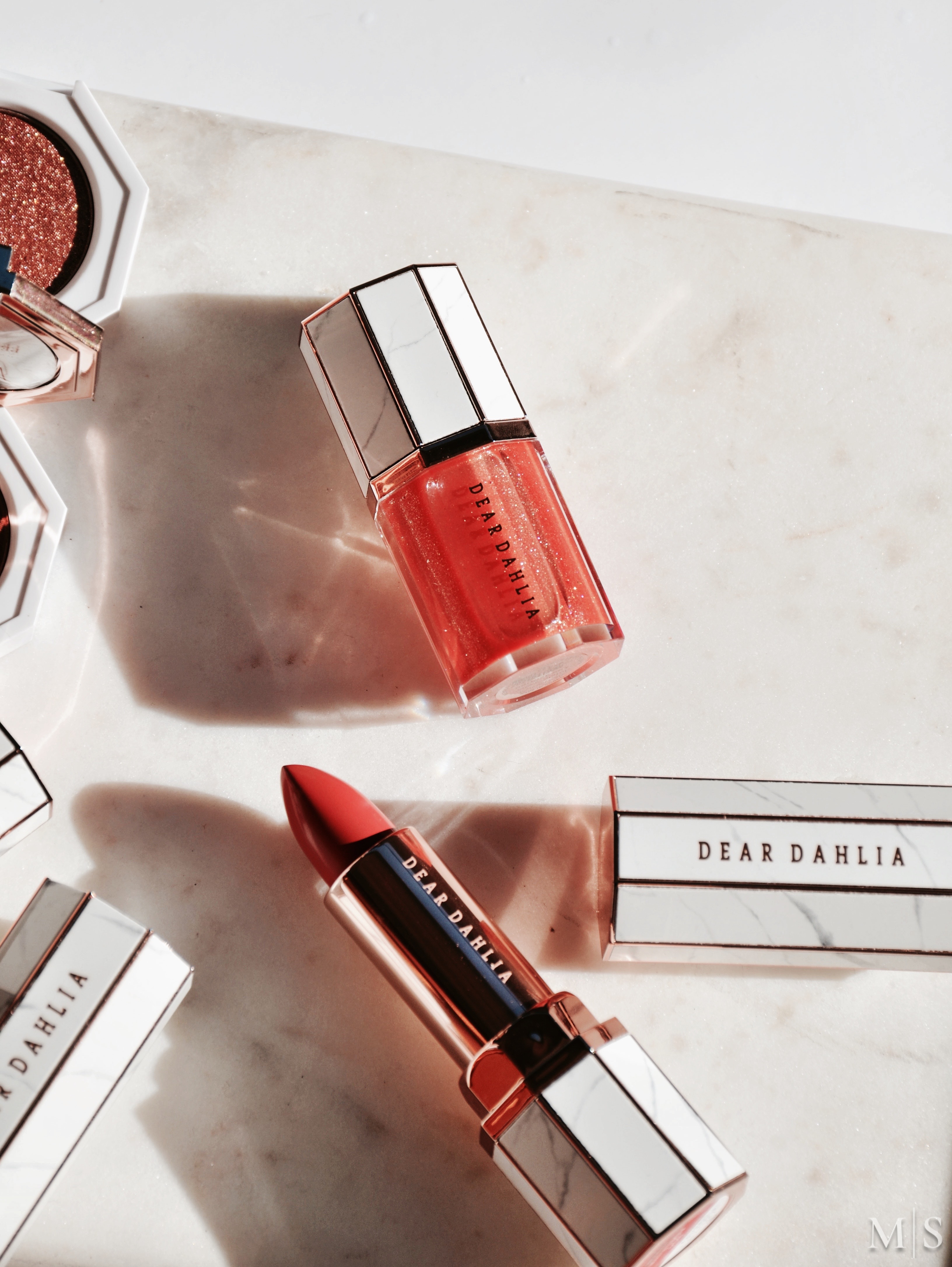 The two other lip products I tried are the Paradise Dream Velvet Lip Mousse in Seduction (a classic red) and Bordeaux (muted red). This formula was a pleasant surprise. It is not your usual liquid lipstick so it is not drying at all. It has a whipped mousse formula that feels like real velvet on the lips. The Velvet Lip Mousse gives a blurred matte look effect on the lips without being drying. This is not a formula that is not going to transfer but it does wear well through the day. Definitely want to try more shades.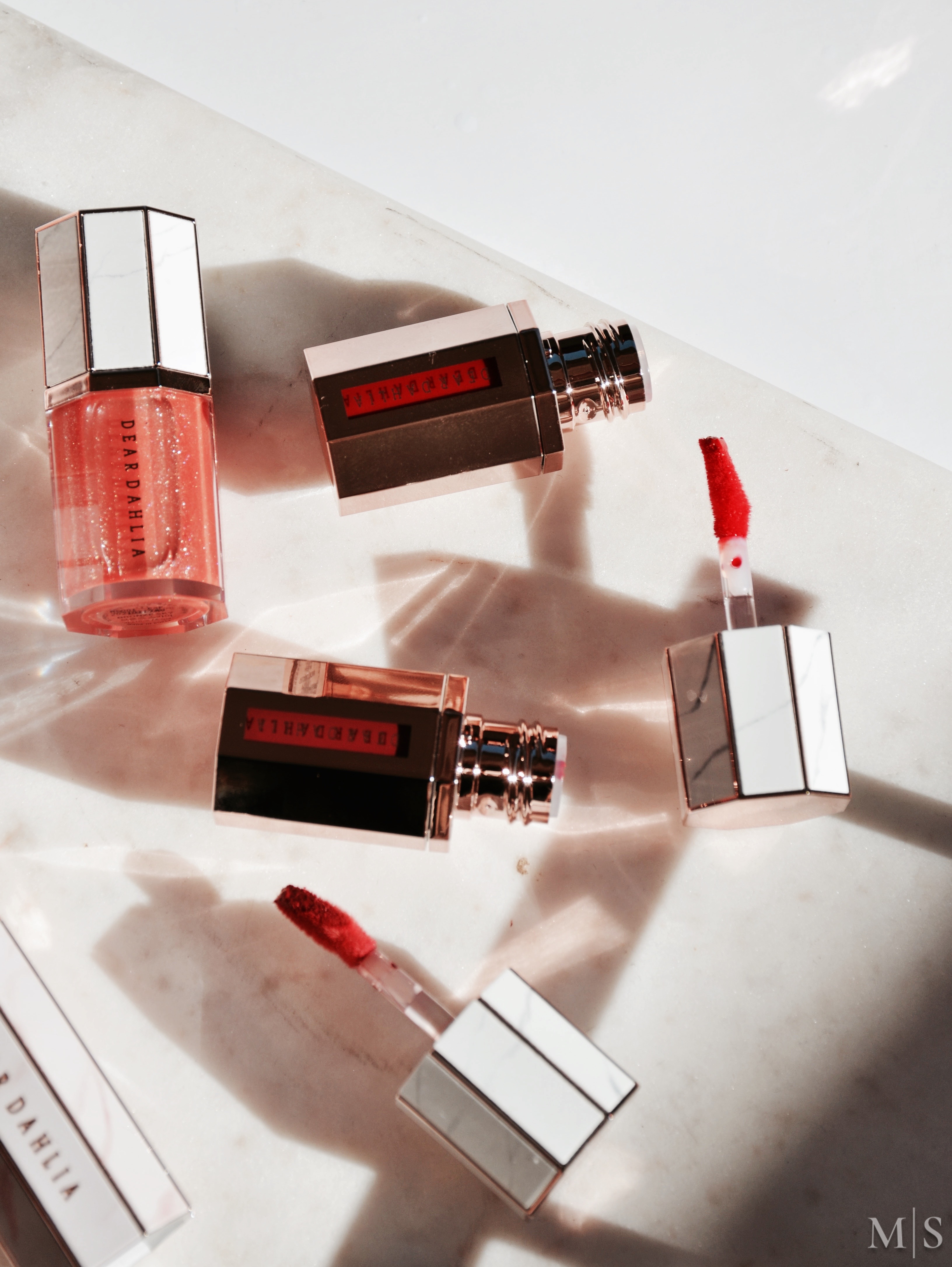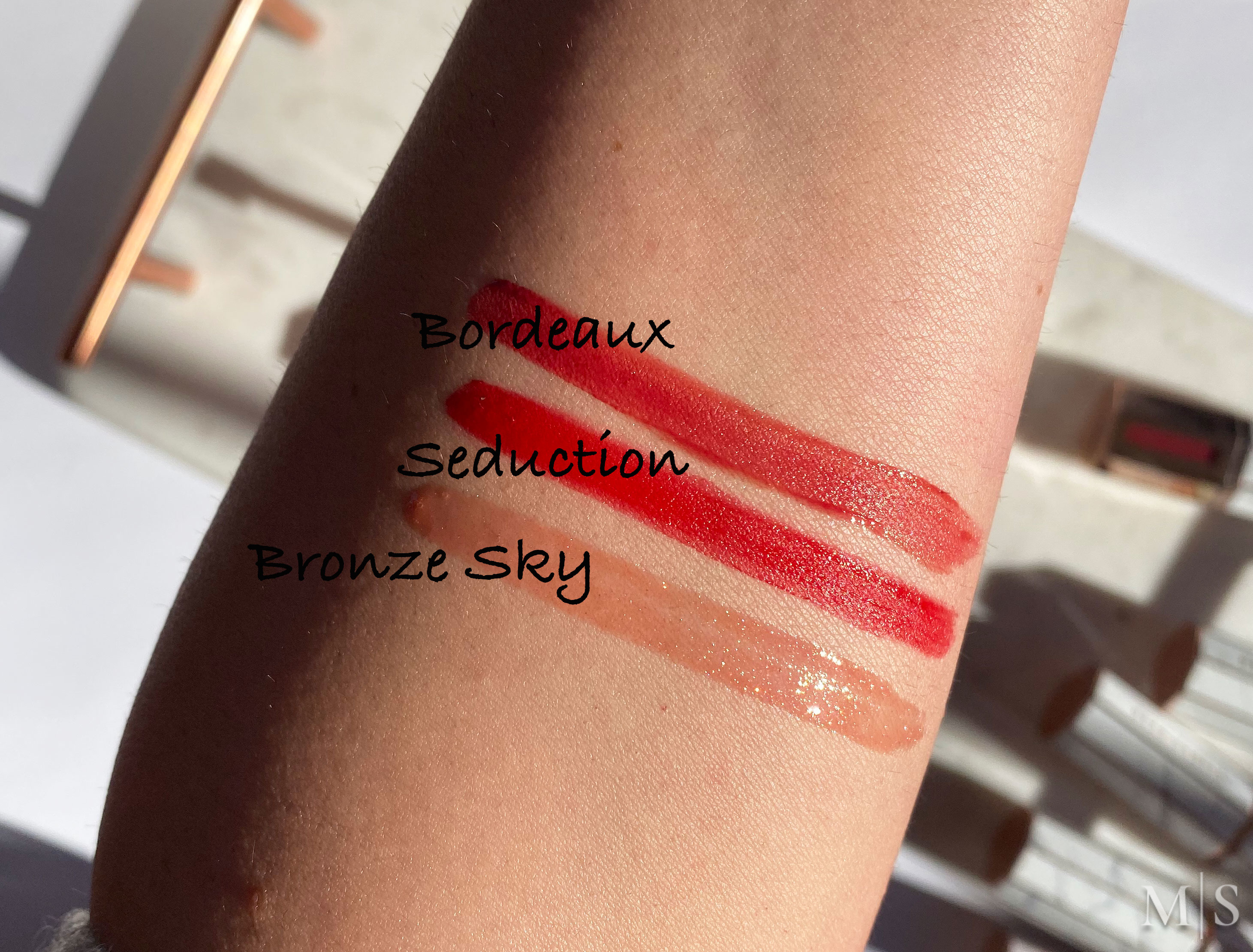 Bronze Sky

Seduction
Bordeaux
And lastly, I had the pleasure of testing the Paradise Dual Palette in Coco Delight. This is such a cute little palette that is housed in hexagon packaging that opens up on both ends. In the middle you get a small mirror and two matte shades on one side and a glitter shade on the other. If you like simple looks for every day, this is the perfect little palette for you. It is the size of a single shadow so it's great for travel.
The formula of both the matte and shimmer shades are very easy to work with. The matte shades blend easy on the eyes and appear very smooth. The glitter shade reminds me of the Hourglass Scattered Light formula. It has a semi sheer pigment and adds a ton of sparkle on the eyes.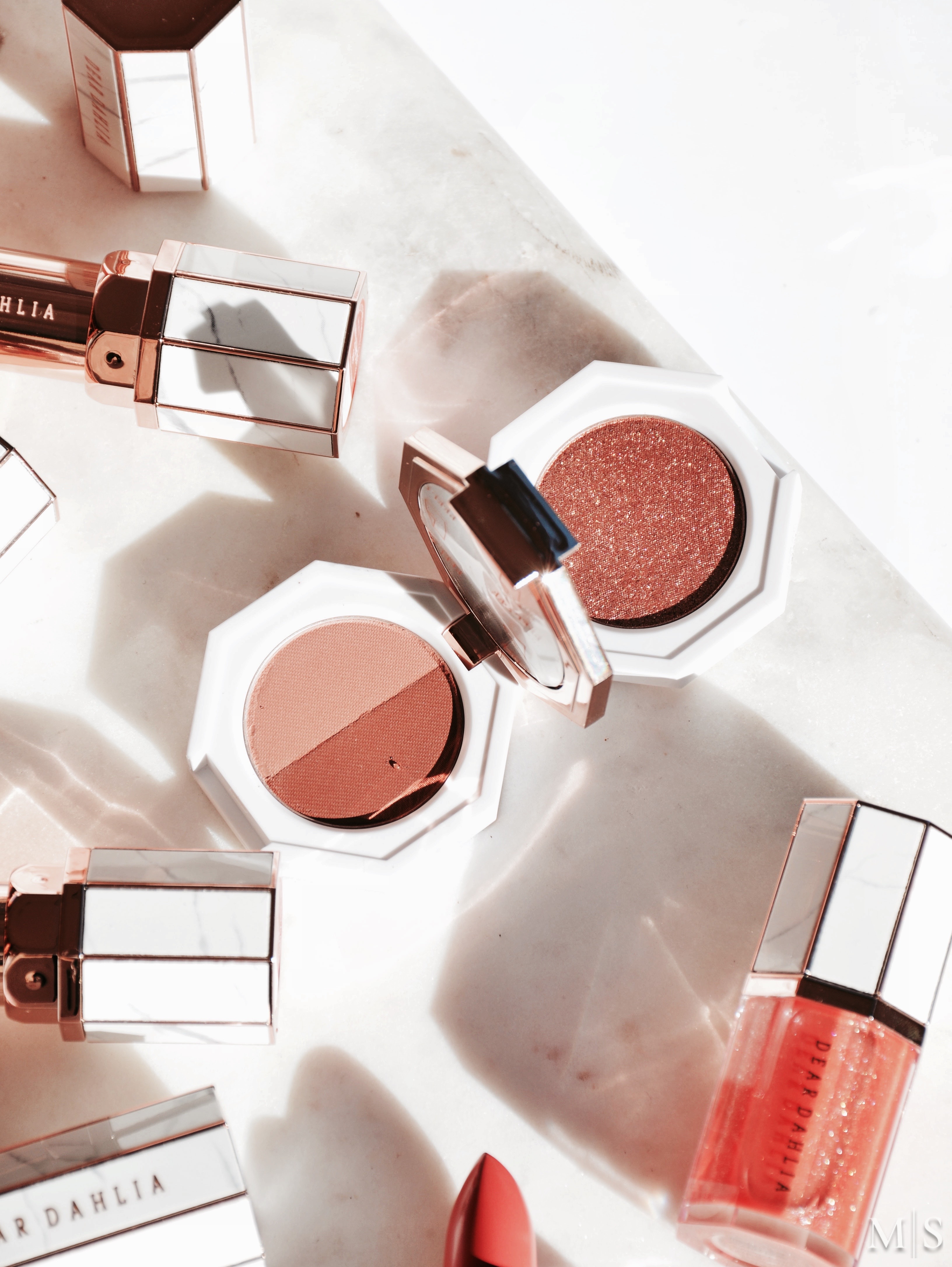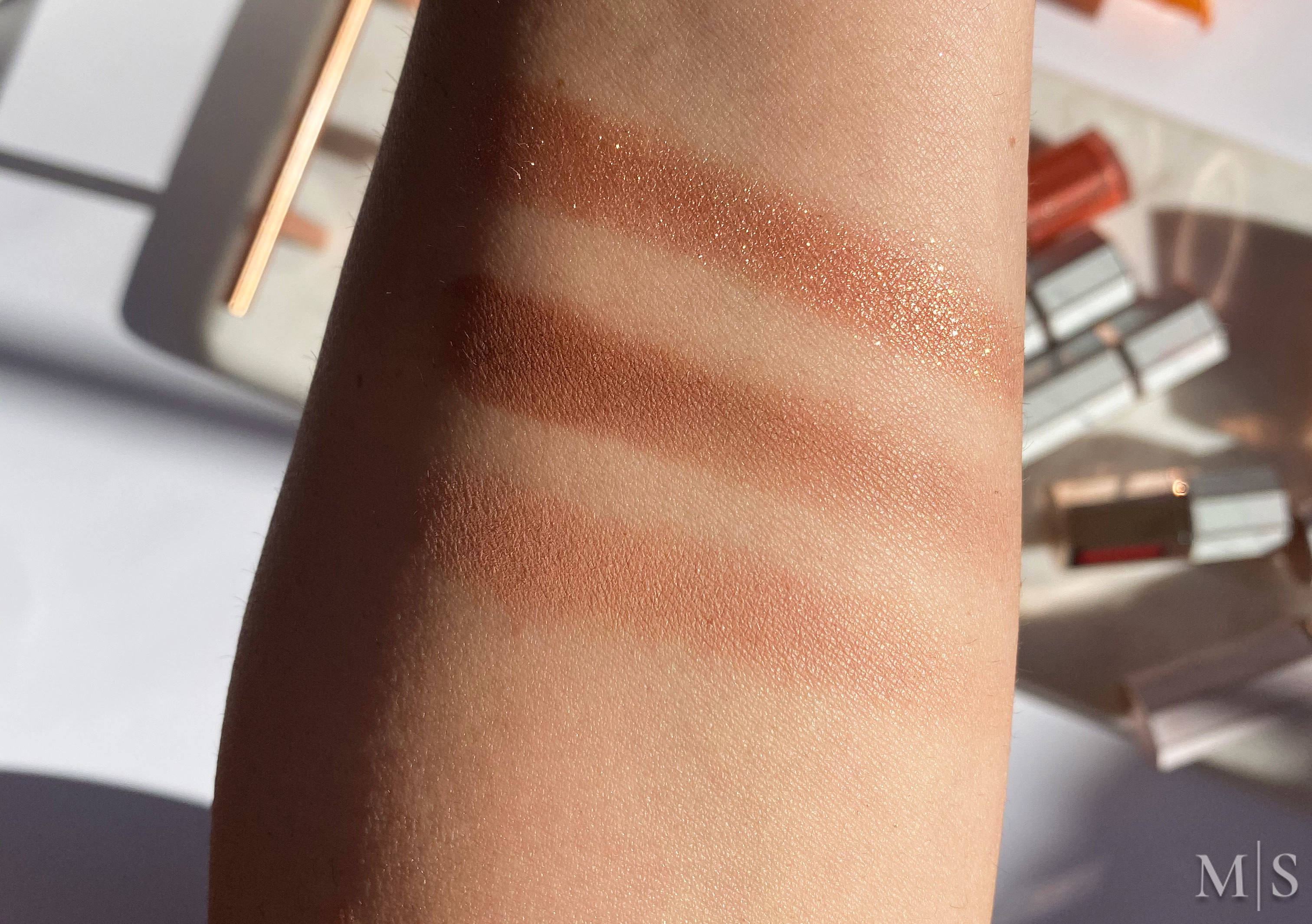 Swatches of the Paradise Dual Palette in Coco Delight
Bottom line, I'm very impressed by everything I've tried so far from Dear Dahlia. I really like both the lipsticks and the balm. If you're looking to try something different and original, the Paradise Dream Velvet Lip Mousse comes highly recommended. The eyeshadow palette is nothing new but it is packaged differently so I think it's worth checking out if you need a simple neutral travel palette.
*PR Sample