Charlotte Tilbury recently lunched her Eyes to Mesmerise line of cream eyeshadows. The line has six shades which range from a beautiful champagne color to a wonderful peacock shade inspired by the Queen of Egypt Cleopatra. The formula is water infused and has a cooling effect on the eyes. There is Vitamin E that helps with hydration and provides antioxidant protection from free radicals.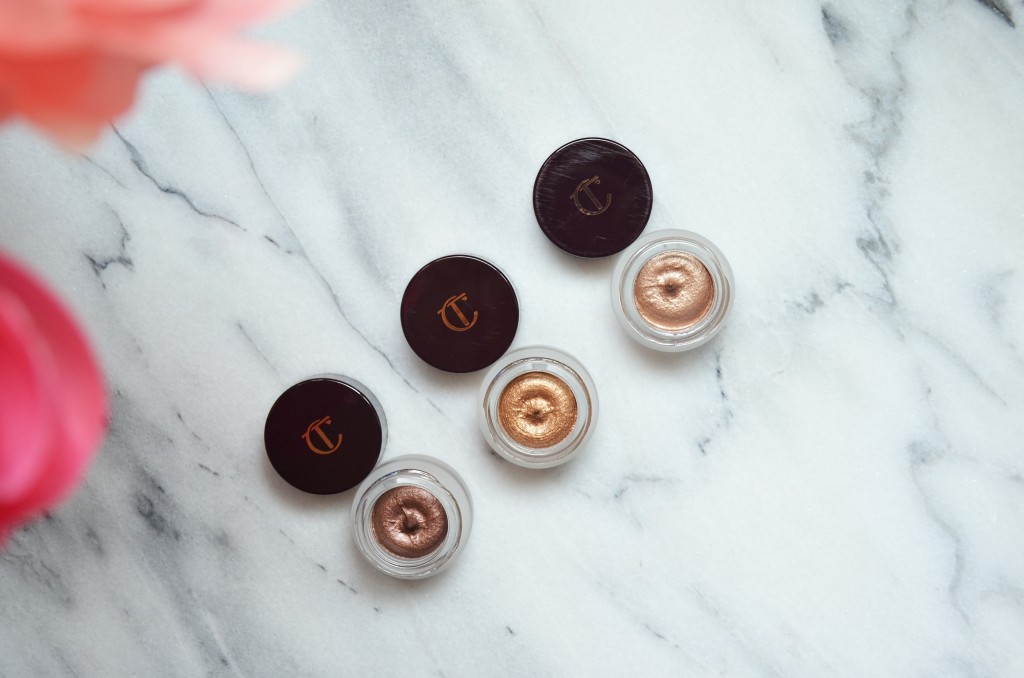 The application tips from Charlotte Tilbury are:
If you want just a wash of color, apply your Eyes to Mesmerise eyeshadow with your fingers working it backwards and forwards like windscreen wiper and you will create a gorgeous wash of color.
If you want a more intense look for the nighttime you can use a brush for application. You can even damp the brush to get a more intense liquid metallic finish.
I have three out of the six shades: Mona Lisa, Bette and Marie Antoinette.
Mona Lisa is a wisteria chocolate bronze shade that's designed to create a soft smoky eye similar to the famous Da Vinci painting of Mona Lisa. It's a rich chocolate bronze cream eyeshadow that has a little bit of purple when swatched on my skin.
Bette is a rich burned amber gold designed to create those famous Bette Davis eyes. This eyeshadow reminds me a lot of MAC Amber Lights but in a cream form.
Marie Antoinette is an antique oyster gold eyeshadow inspired by the Queen of France. This is a great every day shade for creating a natural look with a little bit of sparkle.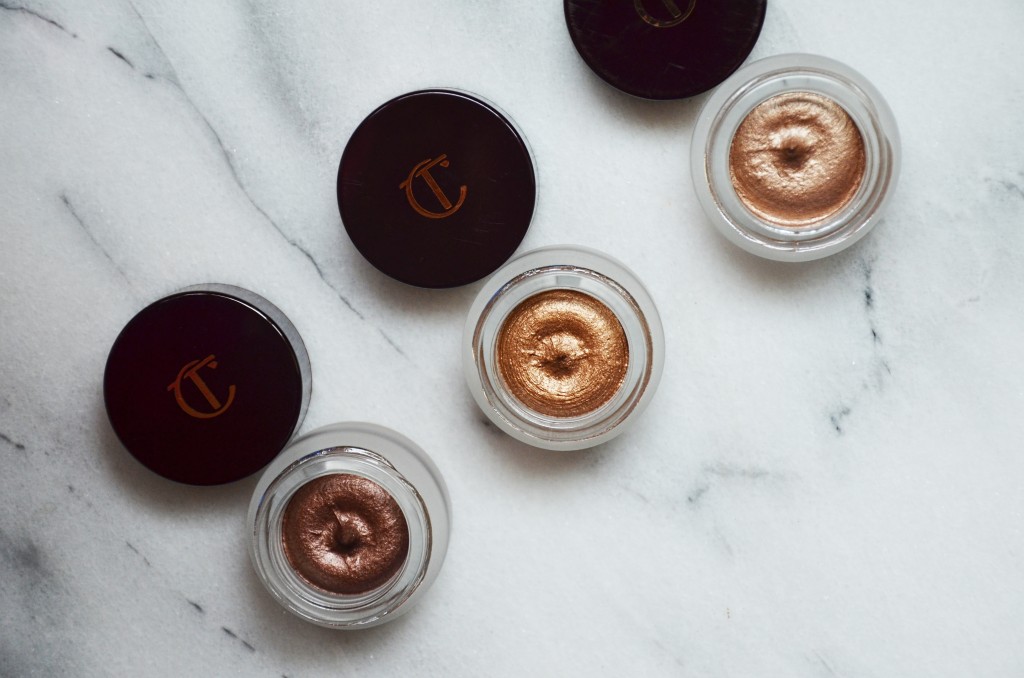 The formula of the Eyes to Mesmerise cream eyeshadows is very creamy and extremely pigmented. You seriously need just a touch of the cream eyeshadow to get a really nice wash of color on your lids. The consistency is very soft, it almost feels like the cream eyeshadow was whipped.
I prefer to use my fingers with cream eyeshadows cause I find that's the quickest way to apply them. I used these with a brush too and got the same result. The one advantage that you get when using a brush is that you can easily get in to your inner corners and also to smoke out your lower lash area.
The finish is very metallic like, when packed it almost looks like you have wet eyelids which is a pretty cool effect. The shimmer is so fine that they appear like liquid metal on your eyes.
I got around six hour wear before I saw slight creasing which was not really that bad and you could notice it if you got really close to the mirror. For reference I have normal and slightly hooded eyelids. If you have extremely oily eyelids I recommend using a primer just so you can prolog the wear of the eyeshadow.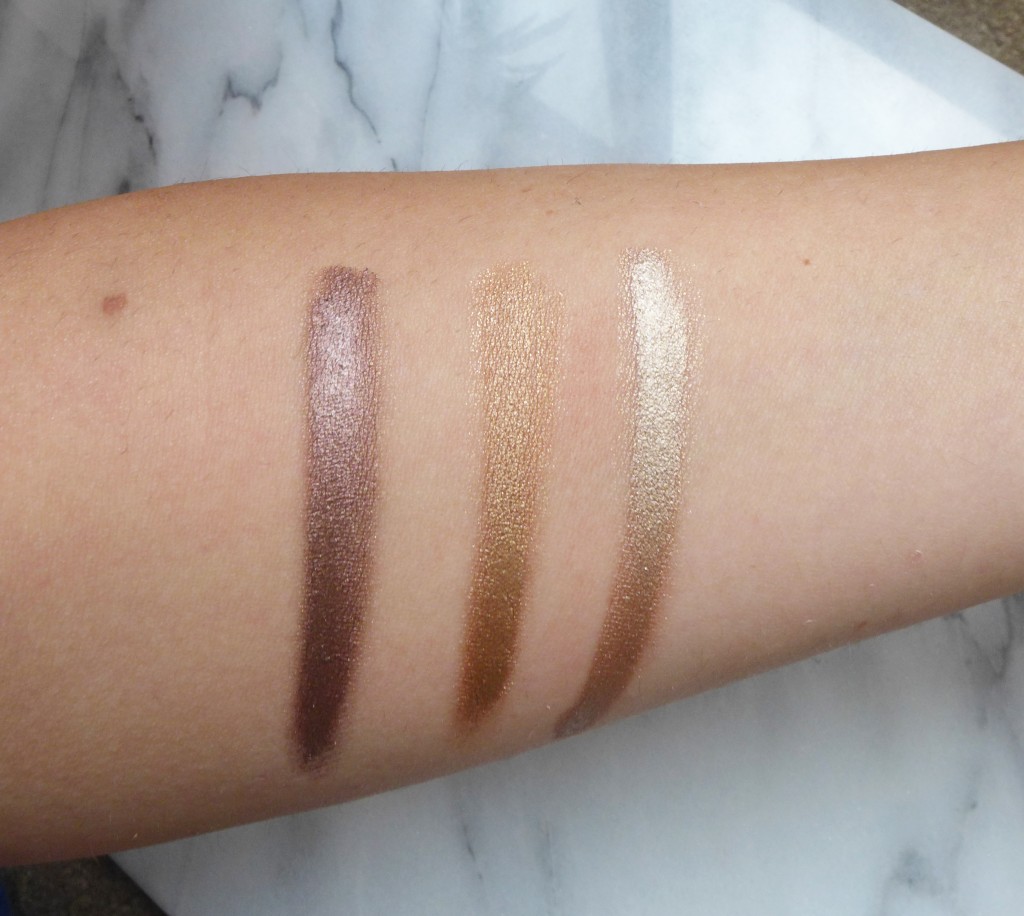 Swatches L to R: Mona Lisa, Bette, Marie Antoinette
The above swatches are made with just touching the cream eyeshadow so you can see how pigmented and metallic they are.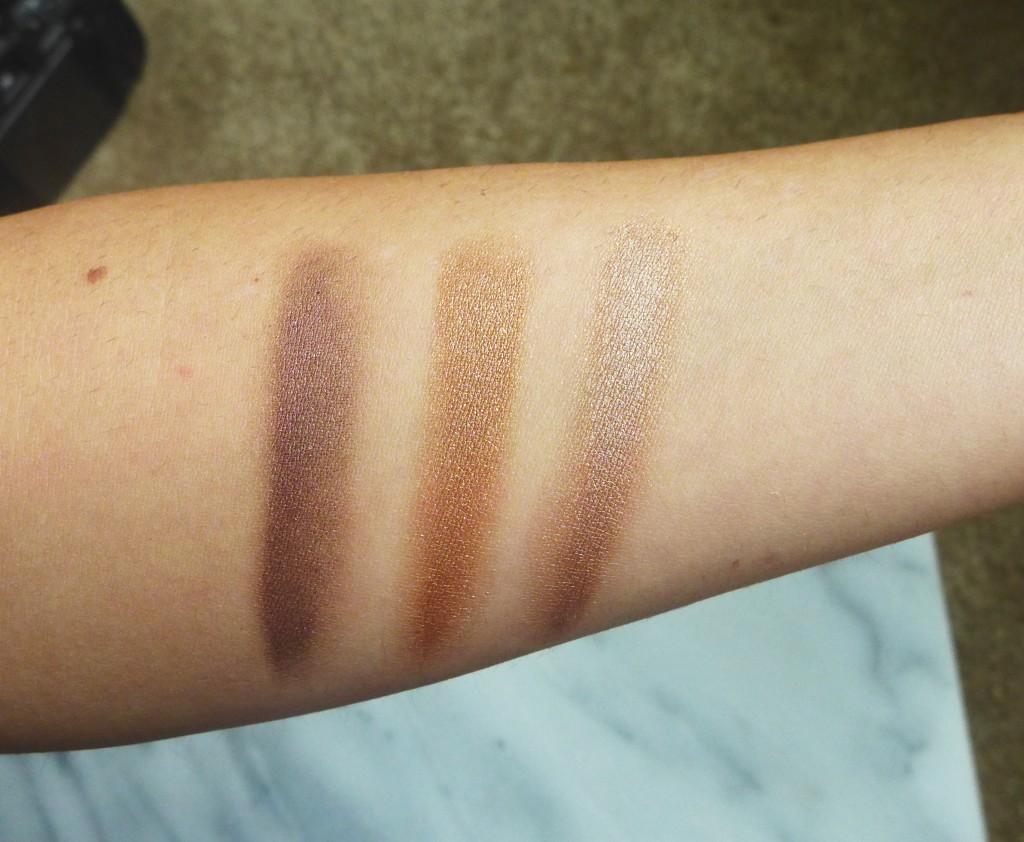 Blended out swatches L to R: Mona Lisa, Bette and Marie Antoinette
I'm in love with these cream eyeshadows, they're one of the best ones I've tried that come in a pot. I really like that you can get a lot of pigment with just one swipe and how user friendly they are.
If you're in to cream eyeshadows these are worth checking out. I'm hoping she'll add more shades to the line so we can get some cooler toned choices.
Have you tried the Eyes To Mesmerize cream eyeshadows? Let me know if there's a shade that you like and recommend.
Disclaimer: Marie Antoinette was provided as a PR sample, the other two shades were purchased by me