Charlotte Tilbury Airbrush Flawless Foundation is the latest base release from the brand. I'm always looking forward to new foundation releases from Charlotte since she is well known for her glowy and natural makeup. Her Light Wonder foundation is one of my favorite to wear day to day because of the light and glowy coverage. The new Airbrush Flawless Foundation is a great addition to the line as it is a full coverage foundation with a natural matte finish.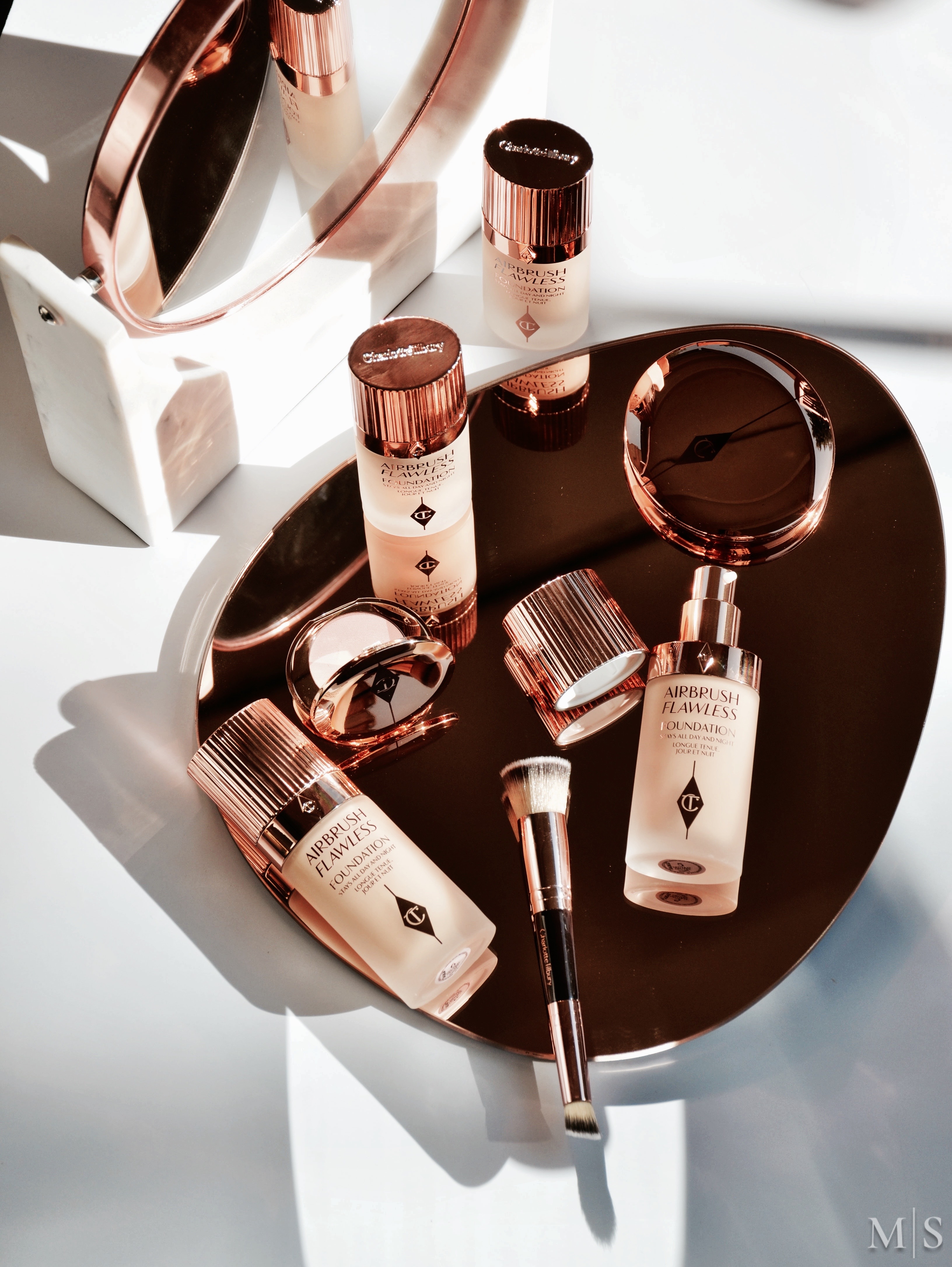 This is a hybrid skincare foundation that promises to give a stay all day, weightless full coverage base that still looks like skin.
Claims:
Ground-breaking Magic REPLEXIUM® to significantly reduce the appearance of wrinkles by up to 22%* after 8 weeks of use
MossCellTec™ No. 1 to boost HYDRATION by up to +216%*
AirCool™ for an instant fresh feel on the skin**!
Has a unique C.T. DEFENCE™ that is designed to limit exposure of the skin to everyday pollutants.***
Gives a FLAWLESS, PORELESS looking finish! 95% agree pores look reduced!**
The Charlotte Tilbury Airbrush Flawless Foundation is available in 40 shades with cool, neutral and warm undertones. The formula of the foundation is waterproof, transfer-proof and humidity and sweat resistant. I would say that the finish of the Airbrush Flawless is more of a satin than matte (which I prefer).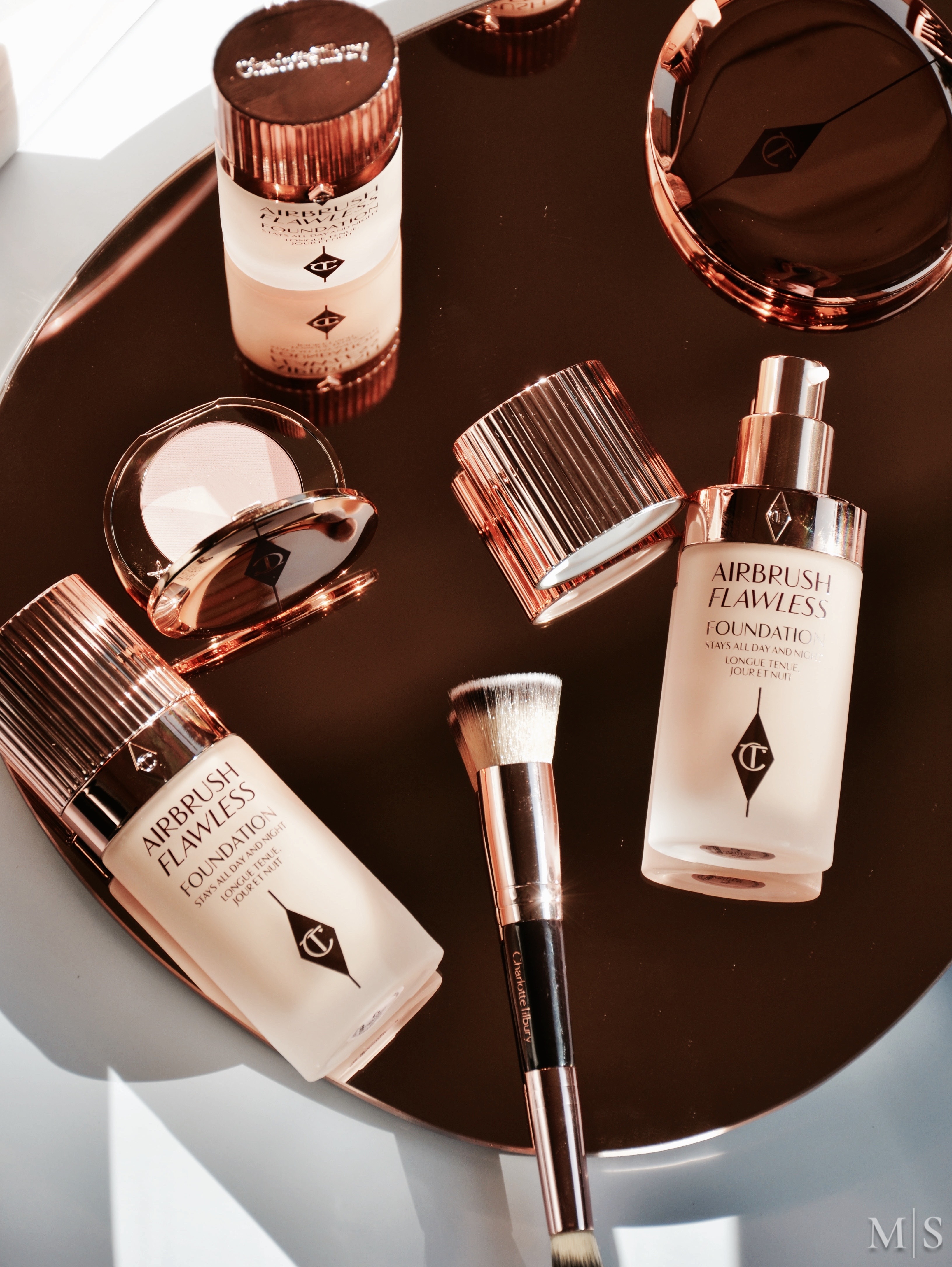 This is a very pigmented foundation. Since I don't like to wear full coverage (for day to day I prefer light coverage), I use half a pump and still get good medium coverage. I use her Hollywood Complexion Brush for application but any buffing brush will do. I also tried it with a beauty sponge and I find that it applies the same but looks more natural on the skin.
The finish that I get from the Airbrush Flawless Foundation is really airbrushed. It blurs out pores and leaves my skin with a beautiful glowy satin finish. I must say that I always use a hydrating primer before any foundation (even if the foundation is hydrating). If you have dry skin since this is a satin finish foundation I would prep the skin really well. Also less is more when it comes to the Airbrush Flawless if you prefer your coverage like me, on the lighter side.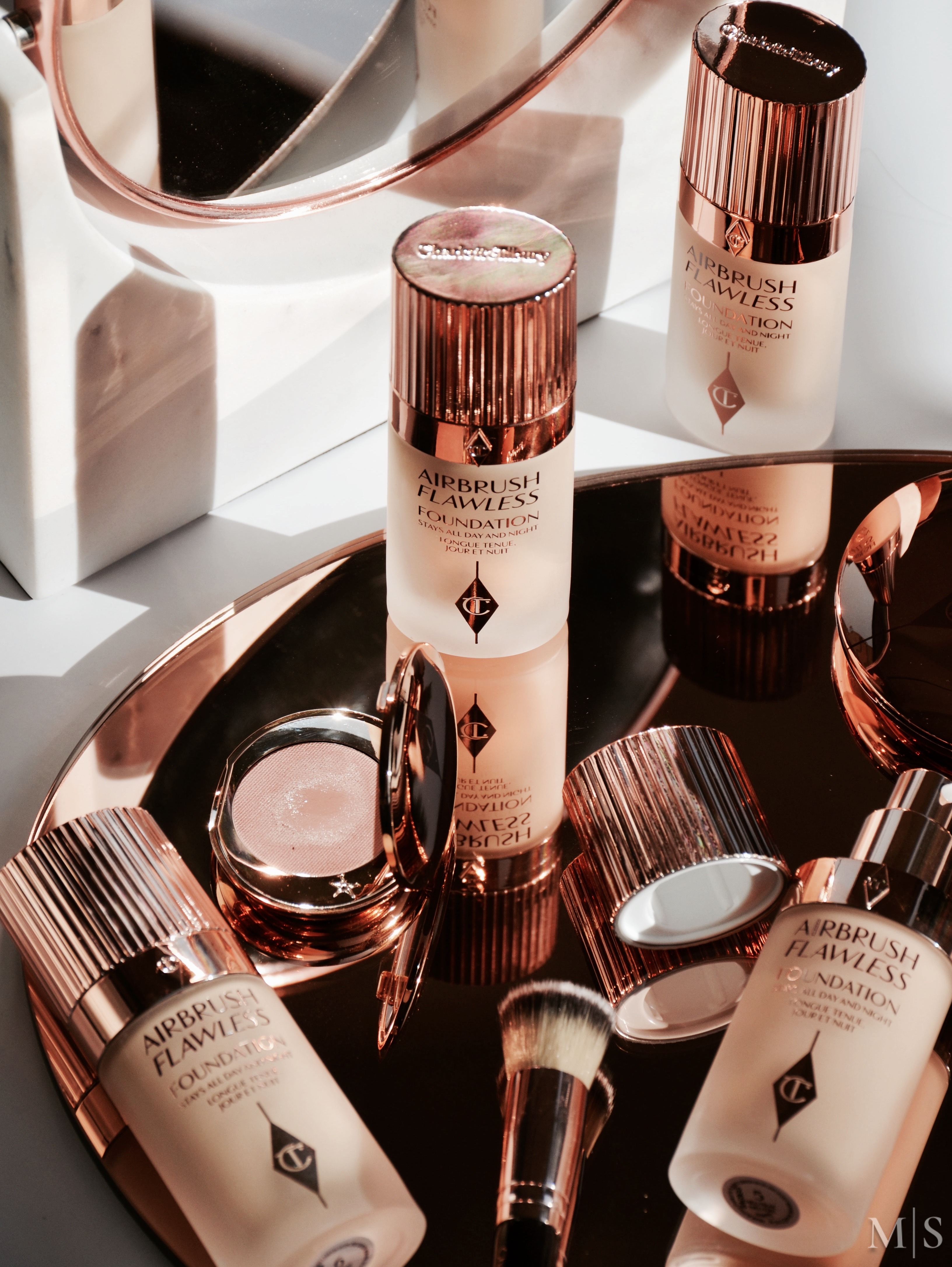 As for the shades, they are not the same as her Light Wonder and Magic Foundation since there is a bigger shade selection. I'm usually #6 both in the Light Wonder and the Magic Foundation. In the Airbrush Flawless Foundation my perfect match is the shade in #5.5 Neutral which is listed as for golden olive for medium skin with neutral undertones. I am lighter in fall so this shade is perfect for me now. For summer, I would wear 6 Neutral. The foundation also dries down darker when it sets so I think it's better to go a shade lighter than darker.
If you are not familiar with Charlotte Tilbury's foundations I wanted to mention that all three are different. If you like your light coverage and a glowy finish, I would go with the Light Wonder foundation. This is a great light base for people with normal and dry skin. The Magic Foundation provides medium coverage and a glowy finish. It is a beautiful base for someone that likes more coverage than the Light Wonder but still likes a glowy base. The new Airbrush Flawless Foundation is a full coverage foundation with a natural matte (more satin) finish. If you like your coverage, you will love this new release. I think the foundation would work for most skin types.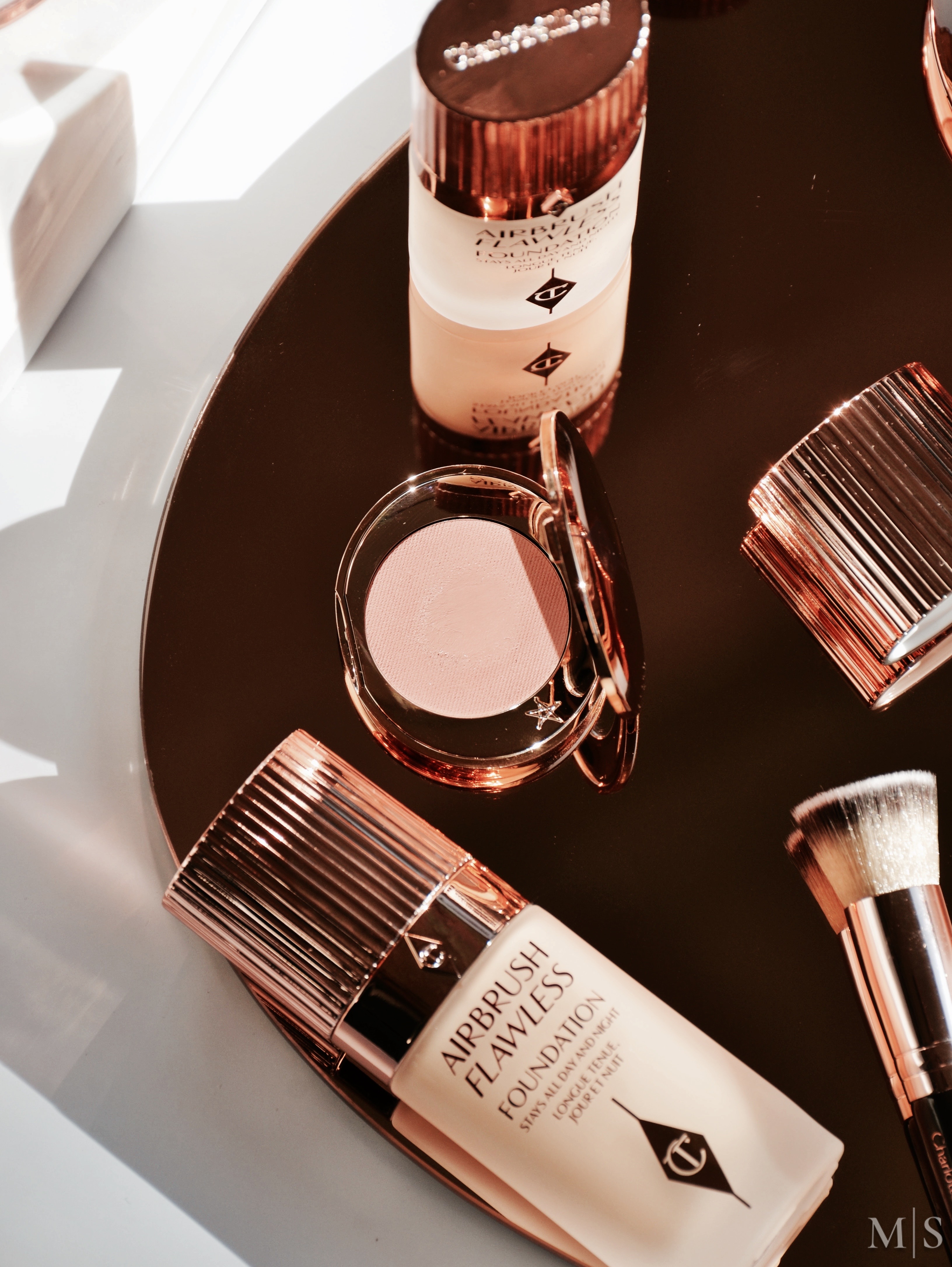 Charlotte also released her first ever under eye corrector called the Magic Vanish. Magic Vanish is an under eye and face corrector and it's available in four shades. For my light to medium skin, the shade in 2 Medium works really well.
The formula of the Magic Vanish is like no other corrector I've tried. Usually with the under eye correctors that come in a pot, they are creamy but also thick. The Magic Vanish is not as creamy but it is also very thin but super pigmented. I use half of the product that I use from other correctors and get the same coverage. Magic Vanish comes in a beautiful rose gold compact that is a smaller version of her Airbrush Flawless Finish Powder which is my all time favorite.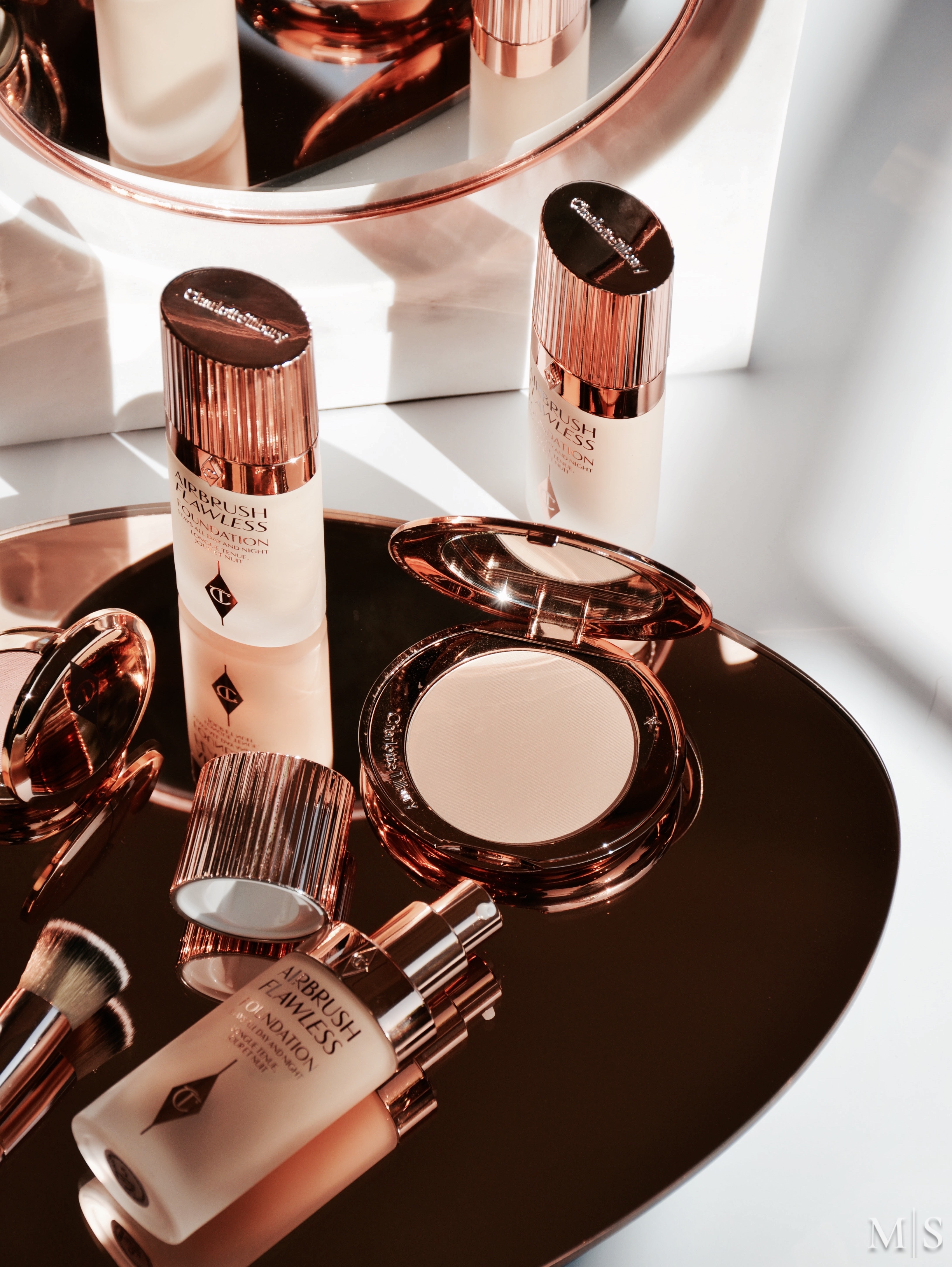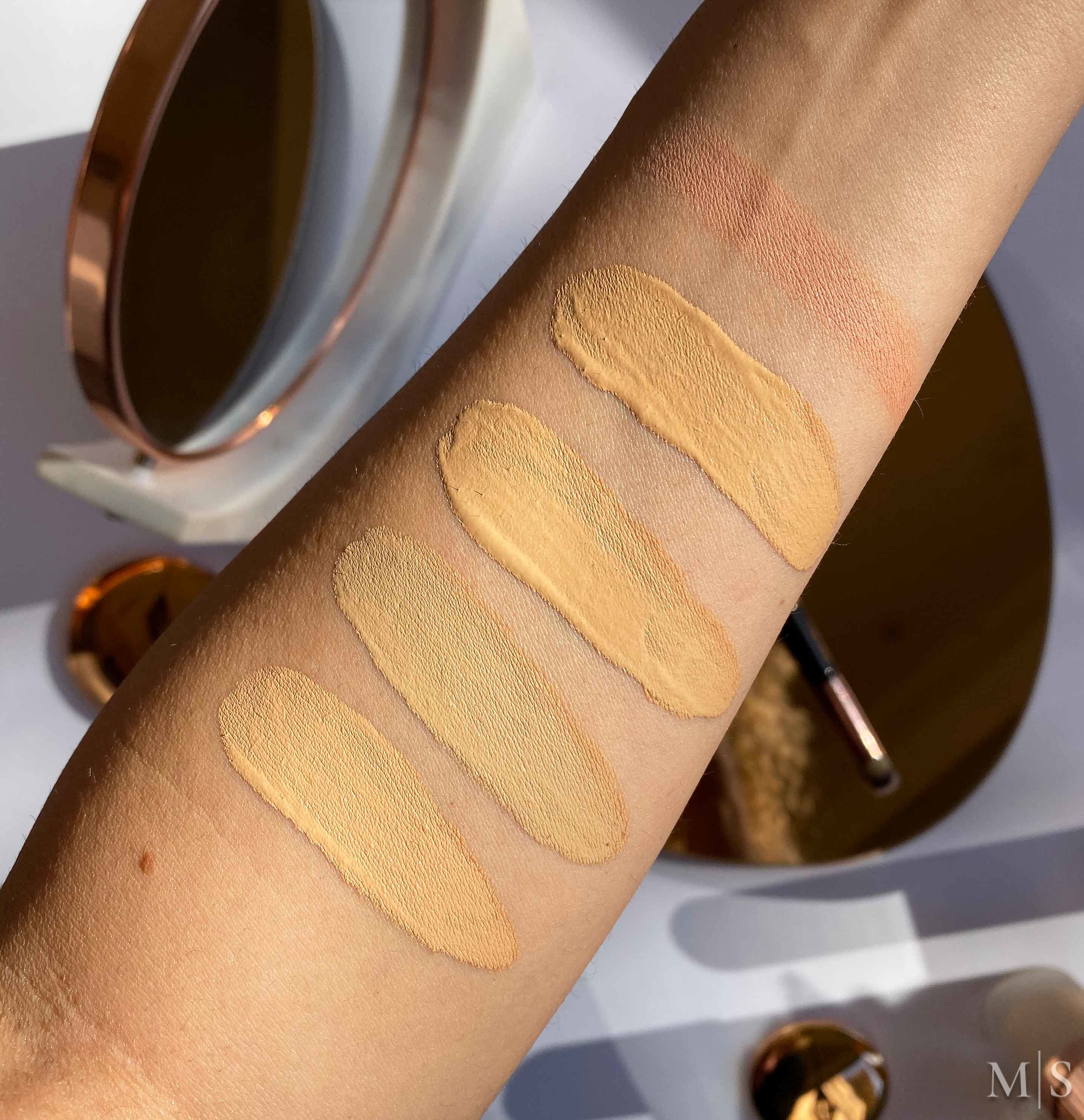 Swatches L to R: Airbrush Flawless Foundation in 5 Neutral, 5.5 Neutral, 6 Neutral, 6 Warm, Magic Vanish in Medium
Bottom line, I'm a big fan of both releases. I didn't expect to love the Airbrush Flawless Foundation since it is full coverage and I hardly ever wear a full face of makeup but I love it. It makes my skin look perfect and still looks like skin. As I mentioned before, I do use half a pump which works better for me. I also think that this will make for a great special occasions foundation. It lasts on me all day and that is without using any powder (I don't feel the need to set this base with powder since it's not dewy). As for the Magic Vanish, I use it every time I do my makeup. It really helps with cancelling any darkness that I have in the inner corners of my eyes but doesn't look heavy or cakey under my concealer.
The Charlotte Tilbury Airbrush Flawless Foundation and Magic Vanish are available at charlottetilbury.com and Beautylish. The Airbrush Flawless Foundation is priced at $44 and Magic Vanish is $32.
* Many thanks to Beautylish and Charlotte Tilbury team for sending me samples to try.