Continuing with my spring theme here on the blog, today I'm going to talk about what lipstick shades I prefer to wear during the warmer months. Spring and Summer usually overlap and I wear a lot of the same lip shades during those months, well except of my favorite red orange shades that I add in summer. The finish of the lipsticks is also pretty much the same, I reach for more comfortable options and lipsticks with a more creamy and satin finish.
The shades that are in rotation during Spring time are different shades of nudes, corals, peaches and warm pinks. The ones I'm going to mention in this blog post are all very comfortable to wear and very forgiving if you have dry lips like mine.
Nude
YSL Rouge Volupte Shine Oil In Stick Lipstick in 44 Nude Lavalliere, described as a pinkish brown it is the perfect nude pink with a touch of brown undertones. If you have light to medium skin tone this would be your perfect my lips but better shade. The formula of these lipsticks is very hydrating and the pigmentation is buildable, meaning you can apply a sheer layer or you can build it up for a full on pigment.
Burberry Kisses Lipstick in Nude Pink is also a really nice pinky nude with a satin finish. If you're not familiar with the Kisses lipstick line their formula is also listed as buildable, you can apply one layer for a more natural look or you can pack it on for a full pigmented lip. If you're sensitive to scented products I'll be happy to report that these are not scented like the other Burberry lipsticks.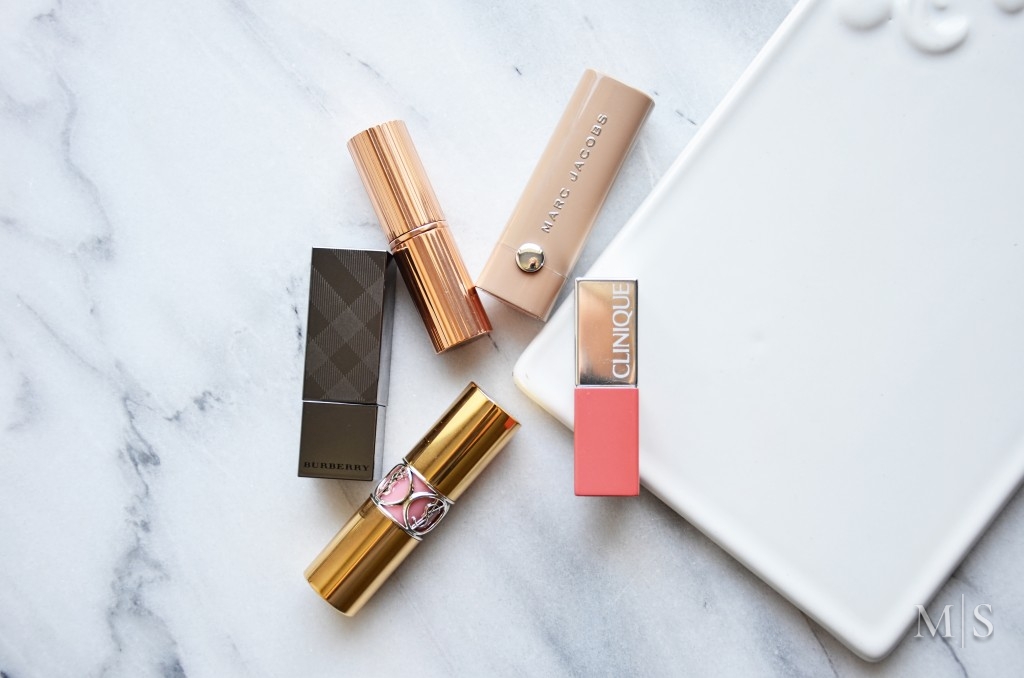 Coral
When I think of the perfect coral lipstick I think of Charlotte Tilbury's K.I.S.S.I.N.G lipstick in Coachella Coral, a beautiful coral that's also very wearable. The formula of the lipstick is on the thicker side but it is also very creamy. Corals are great for summer because they go so well with a little tan and I think the shade really stands out when you're a little bit more bronzed.
Peach
Clinique Melon Pop, described as a light creme peach it is hands down my top pick for the spring/summer. I got this shade last year when the Clinique Pop lipsticks launched and it is my favorite shade from the line. The lipstick is pretty light but also very wearable if you have light and light to medium skin tone. The formula of these is very creamy, pigmented and all that goodness.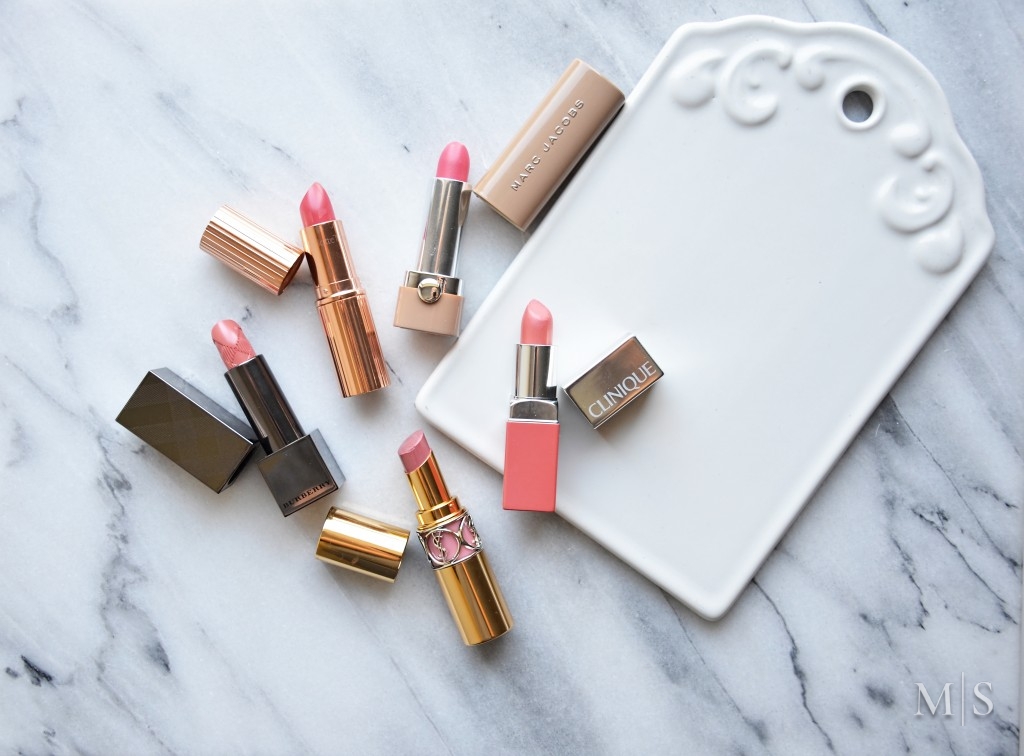 Warm Pink
Pinks are harder for me to pull off but I do find some shades that suit me. The Marc Jacobs New Nudes Sheer Gel Lipstick in Have We Met? is one of those shades. It's a very pretty shimmering warm pink that applies sheer but it's also buildable. The New Nudes line is a wonderful line all together if you're looking to add some neutrals in your collection. I have four of the seven available shades and they're all perfect for every day use.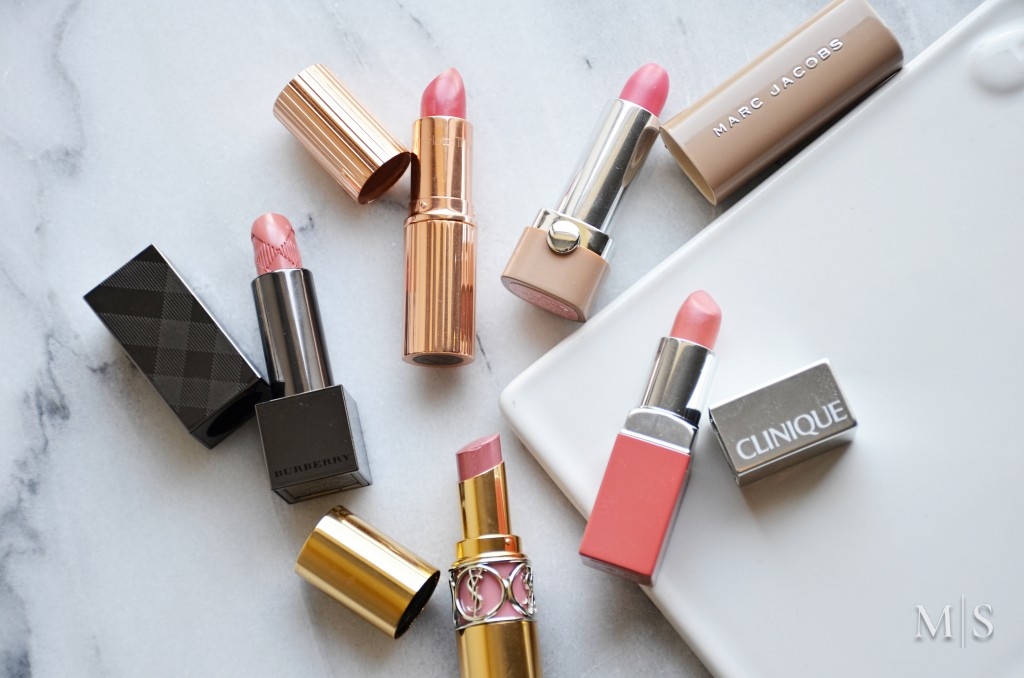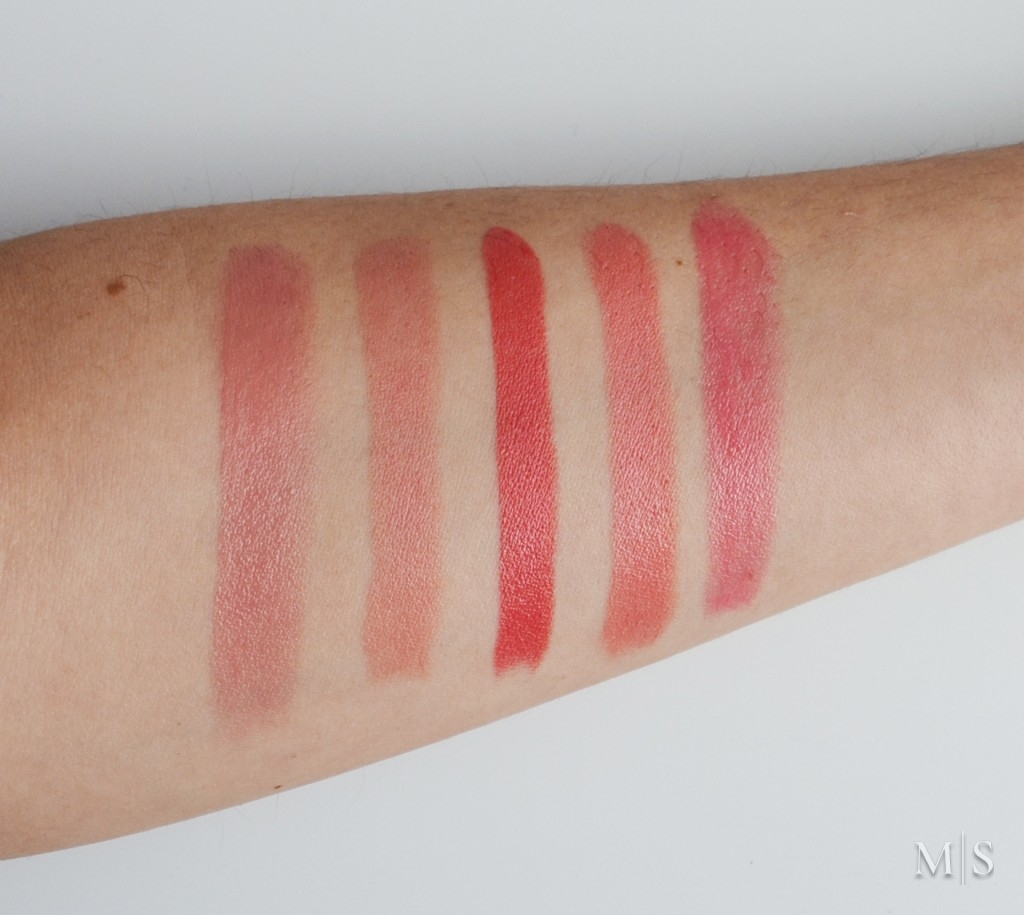 Swatches L to R: YSL Rouge Volupte Shine Oil In Stick Lipstick in 44, Burberry Nude Pink, Charlotte Tilbury Coachella Coral, Clinique Melon Pop, Marc Jacobs Have We Met?
What is your go to shade when it comes to spring lipsticks? Do you go on the lighter side as me or you stick with your usual all year round shades?