Korean beauty is taking over the skincare world! Korean beauty brands are famous for their dewy look effect. The skincare and also makeup is all about hydration and healthy looking skin. 
The Belif Skincare line is formulated without mineral oils, petrolatum, synthetic preservatives, dyes and fragrances. I had the pleasure of testing out their best selling product, The True Cream Aqua Bomb*, a gel-cream moisturizer that promises hydration and minimizing pores.
Aqua Bomb is a very lightweight moisturizer that instantly cools and refreshes the skin while providing a lot of hydration. It's recommended for normal to combination skin but also for oily and dry skin types who are looking for a lightweight moisturizer. It contains Lady Mantle (provides antioxidants and also has pore minimizing benefits; helps remove free radicals from skin), Malachite (antioxidant that neutralizes free radical activity), Plantin (creates moisture seal on skin ) and Oat Husk (attracts moisture).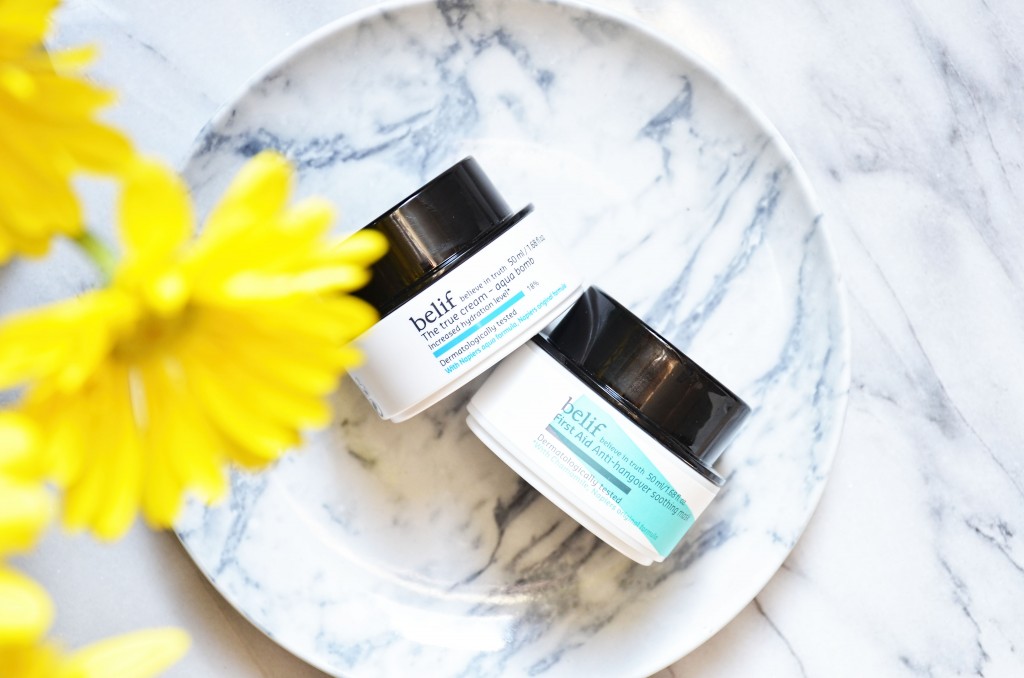 It's a very refreshing gel-cream moisturizer that doesn't feel heavy on the skin and sinks in right away, it's like your skin is drinking it all. It sits really nicely under makeup and also doesn't make me oily through the day. It also doesn't leave a sticky feeling on your skin which is a huge plus for me. If you're looking for a hydrating moisturizer that's not heavy this is a good one to try.
The other product that I tested out is the Belif First Aid Anti-Hangover Soothing Mask*. I have to admit that the name was the first thing that caught my eye, how cool is that name? It's an overnight gel mask that soothes stressed and irritated skin and reveals a glowing complexion. The mask is formulated with soothing apothecary herbs like Chamomile and Xylitol that refresh and energize the skin.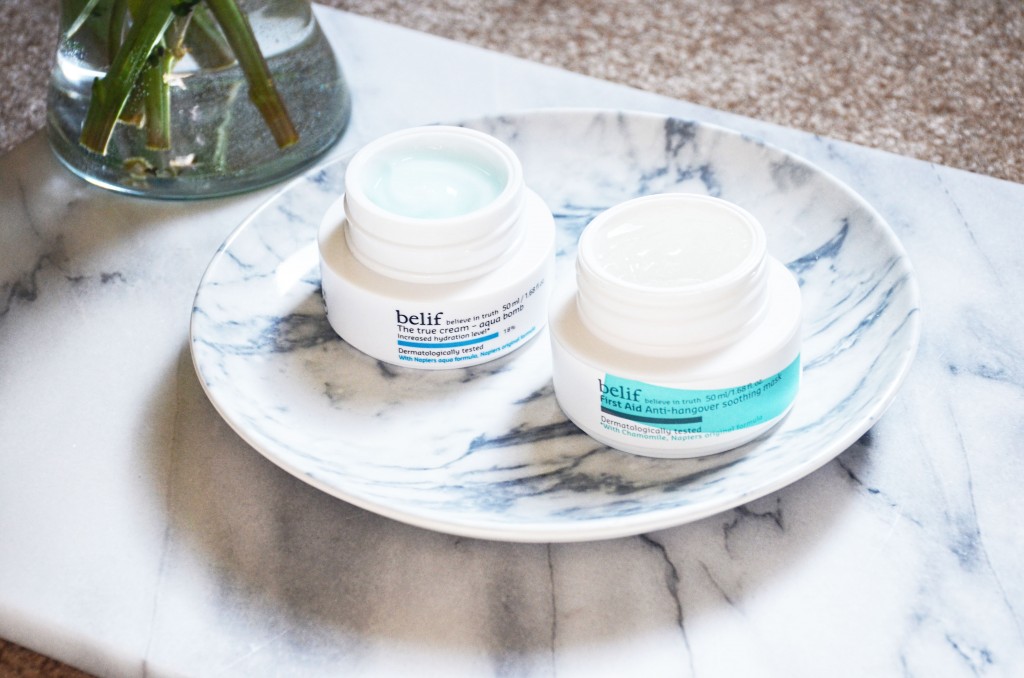 I highly recommend this mask to people that suffer from redness. When I wake up after using this mask my face looks well rested and my skin tone is very even and doesn't have any redness. The Chamomile really helps with calming the skin and reducing any redness. You can either leave it overnight or apply it on clean skin for 10 minutes and rinse it off. If you have a lot of redness I recommend the overnight treatment otherwise for a quick refreshment the 10 minutes work really well too.
The Belif skincare line is available at Sephora and they have a good variety of products. Next on my list to try are the Hungarian Water Essence and the First Aid Overnight Brightening Mask.