It's that time of the year! Beautylish launches their Gift Card Event today where you get a $20 Beautylish Gift Card for every $100 you spend. It starts today and will go on for four days. I usually take advantage of the event to stock up on some favorites that I'm running out, but also check out new releases. There are a ton of new beauty releases for the Holidays!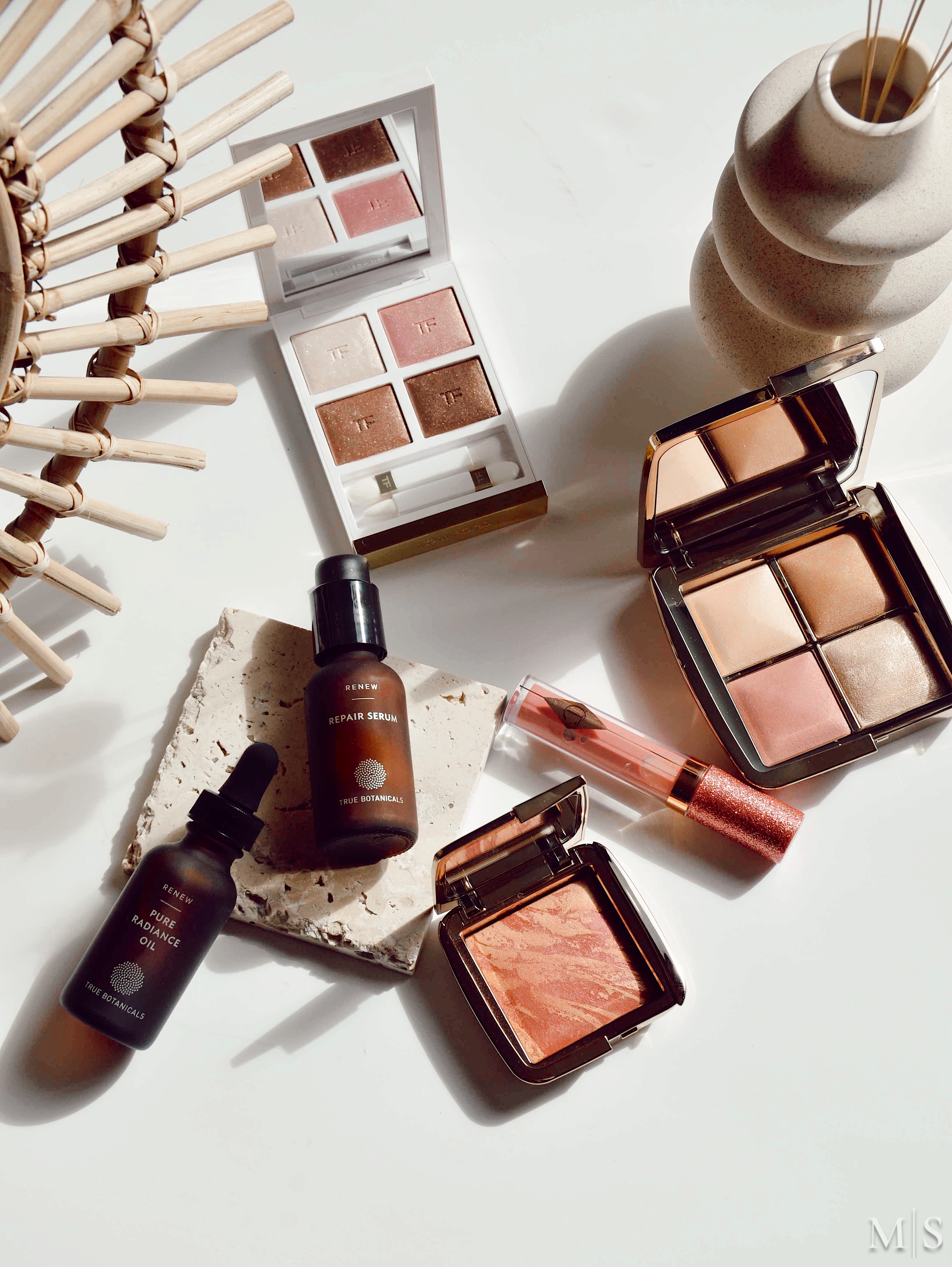 This year, I picked some new makeup releases and products from a skincare brand that just launched at Beautylish.
Hourglass Ambient Lighting Edit Mini – Sculpture Unlocked – I always look forward to the Hourglass holiday releases. I think I have every limited edition palette that they've come out. This year, I decided to pick up the mini palette since it looks like the perfect every day palette. The Ambient Lighting Edit Mini – Sculpture Unlocked comes with four shades. You get a finishing powder, bronzer, a blush and a highlighter. The shades that come in the palette are:
Ambient Lighting Powder in Soft Light: soft peach in a satin finish
Ambient Lighting Bronzer in Golden Bronze Light: coppery gold in a luminous finish
Ambient Lighting Blush in Mood Flush: warm plum in a radiant finish
Ambient Metallic Strobe Lighting Powder in Champagne Strobe Light: soft champagne in a satin finish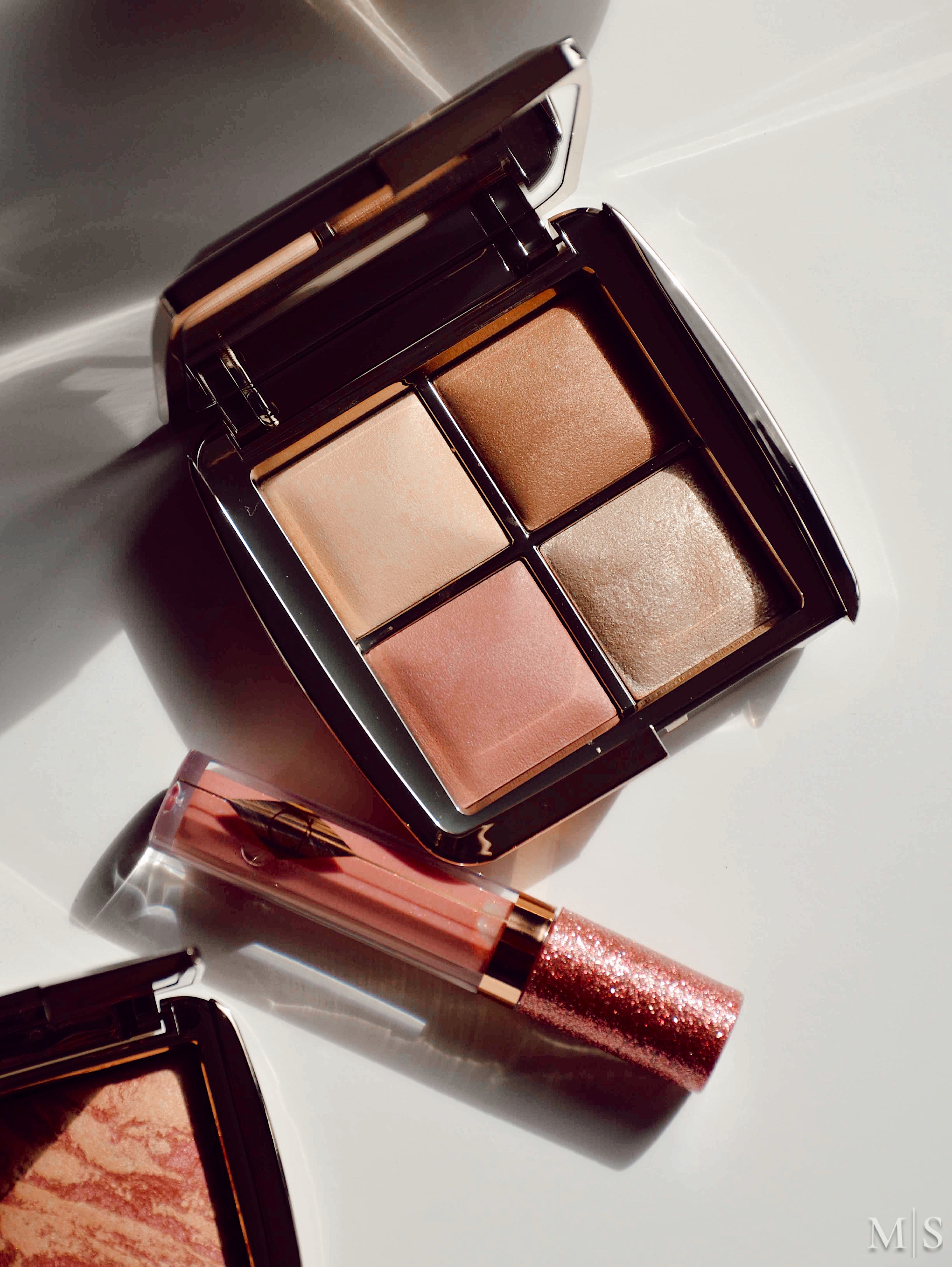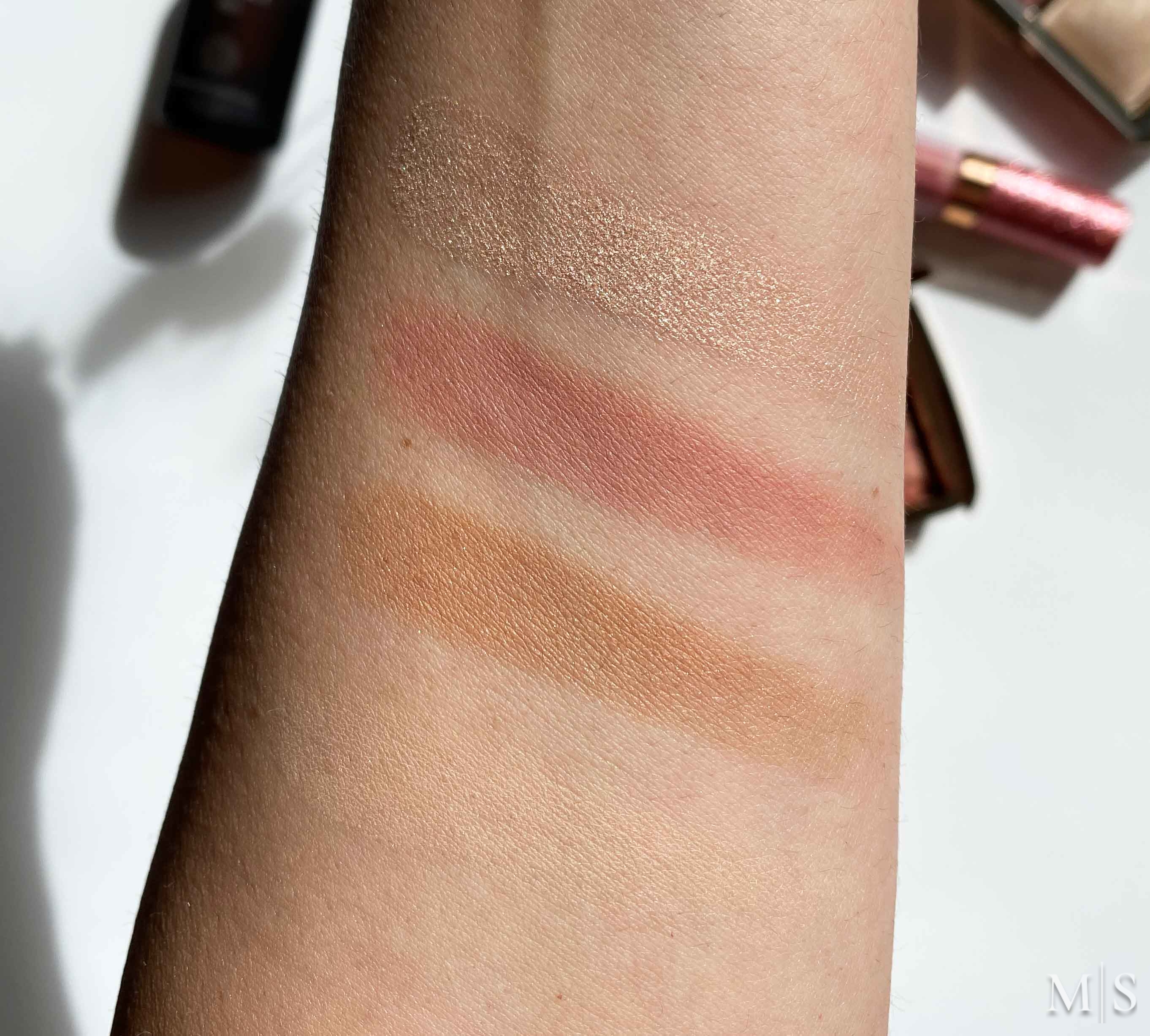 Swatches of the Hourglass Ambient Lighting Edit Mini – Sculpture Unlocked
The pigmentation and finish of the Hourglass powders never disappoints. They always look natural on the skin and give a beautiful glow in within look. This palette would work for people who are fair and up to medium skin tone. I feel like Hourglass is missing a deeper palette in this collection. The mini palette has shades that will work for deeper skin, but the bronzer in the palette only will show up on lighter skin.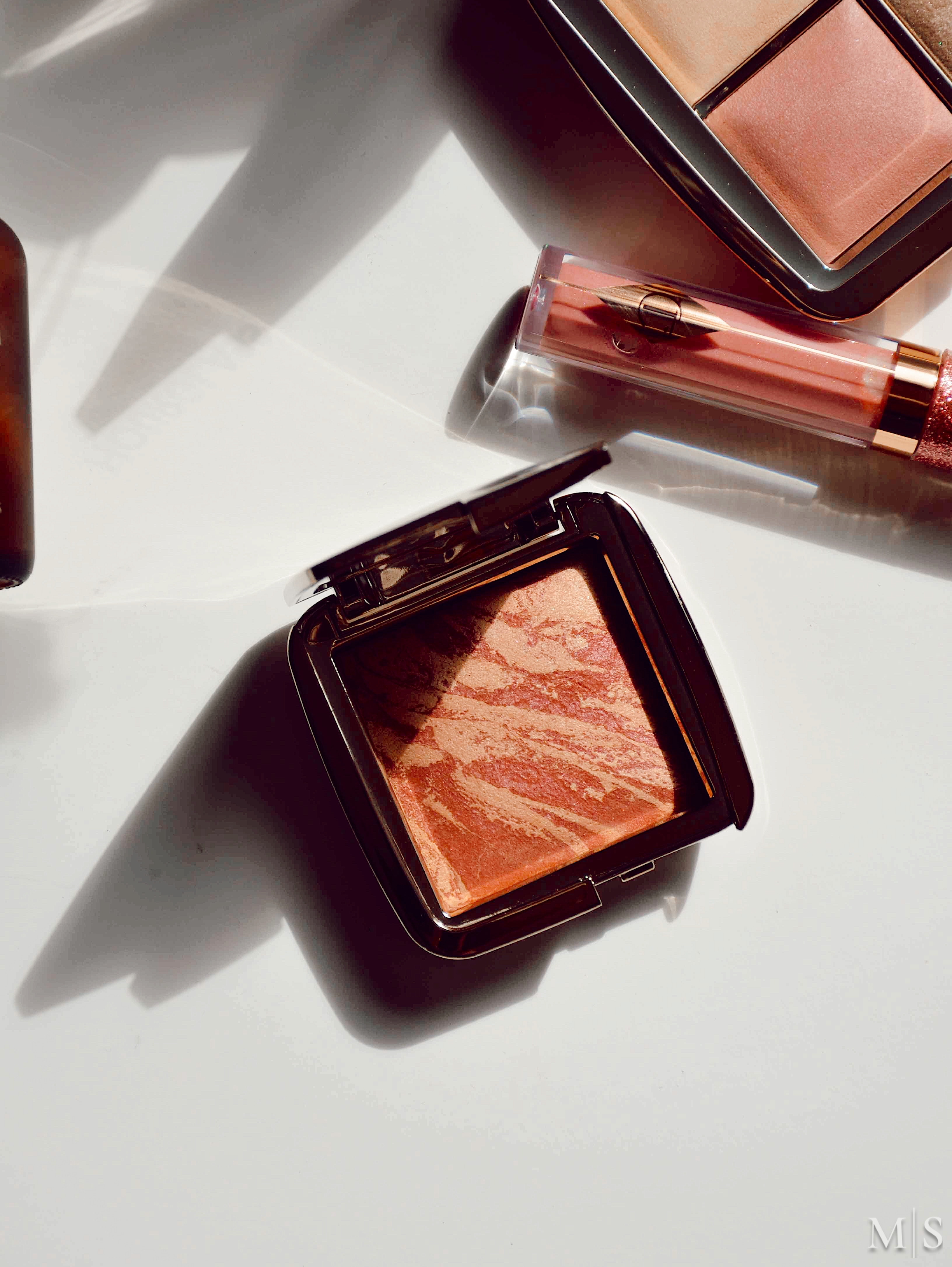 Hourglass Ambient Lighting Blush in At Night – At Night is described as a brick red with a radiant finish. This shade is one of my favorite shades that Hourglass has released. It is so versatile and will suit all skin tones. On my light to medium skin, At Night shows up as a burned bronze mauve shade which reminds me a lot of the old Mac Warm Soul blush shade. Just a beautiful blush shade that will go with every makeup look.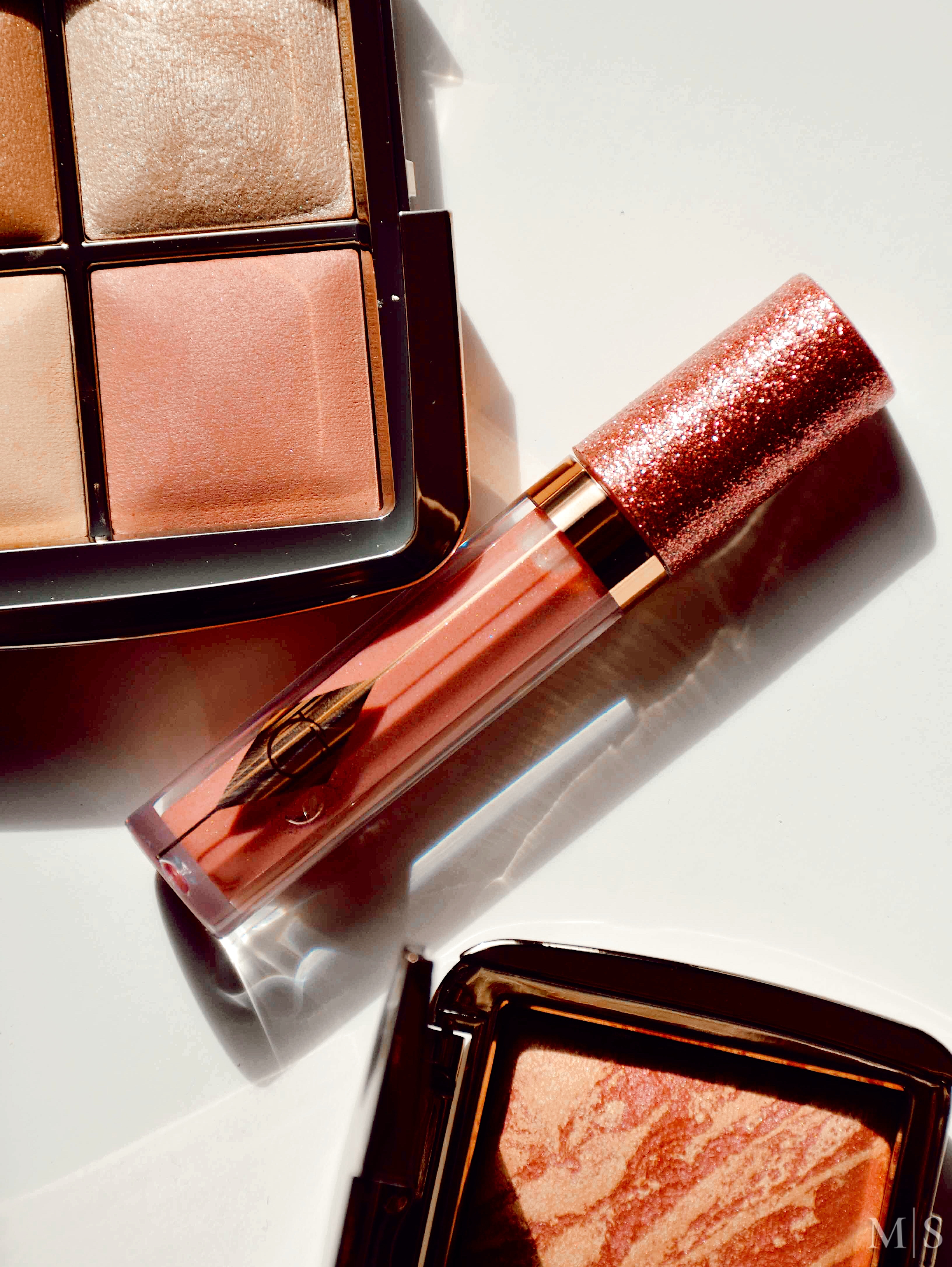 Charlotte Tilbury Jewel Lips in Pillow Talk – You know I had to try the new lip gloss formula by Charlotte! I picked up Pillow Talk since I knew I was going to love the shade (I love both the lipstick and Collagen Lip Bath in the same shade)
Why It's Special
Made with diamond powder and jewel-toned pearls that infuse a jewel-like light and create a luminous, multi-dimensional finish
A blend of vitamin E and hyaluronic acid hydrate, moisturize, and condition lips for a luscious pout
Long-lasting formula that stays put throughout the day
The formula of the Jewel Lips is semi – sheer, feels very cushiony and hydrating on the lips, and, has a sparkle that is not over the top. You also don't feel the shimmer on the lips which is a big deal for me (I don't like gritty lip glosses). It has the same vanilla scent as her lipsticks and just looks beautiful and juicy on the lips.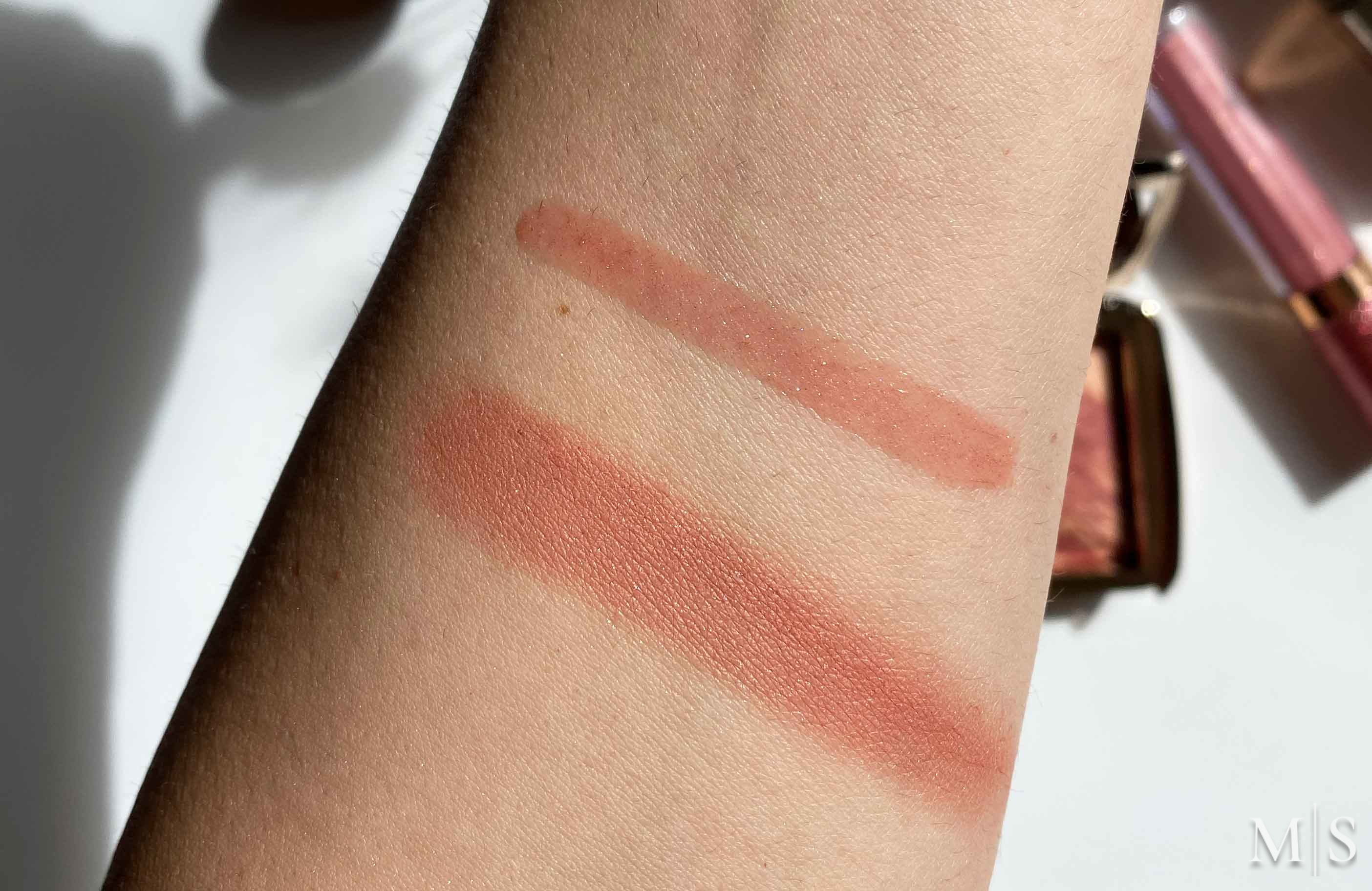 Swatches bottom to top: Hourglass At Night, Charlotte Tilbury Jewel Lips in Pillow Talk
Tom Ford Soleil Neige Eye Color Quad – Tom Ford has a new beautiful collection for the Holidays. I picked the quad because I love his eyeshadow formula. Both the powders and the cream eyeshadows are one of the best. The Soleil Neige Eye Color Quad comes with four shimmery shades. They are perfect if you like one and done eyeshadow looks, but you can also mix them up, for more complex looks. I do need to use another palette that has matte shades when I want to do a whole look. But, for everyday, both bronze shades are beautiful all over the lid as one eyeshadow looks.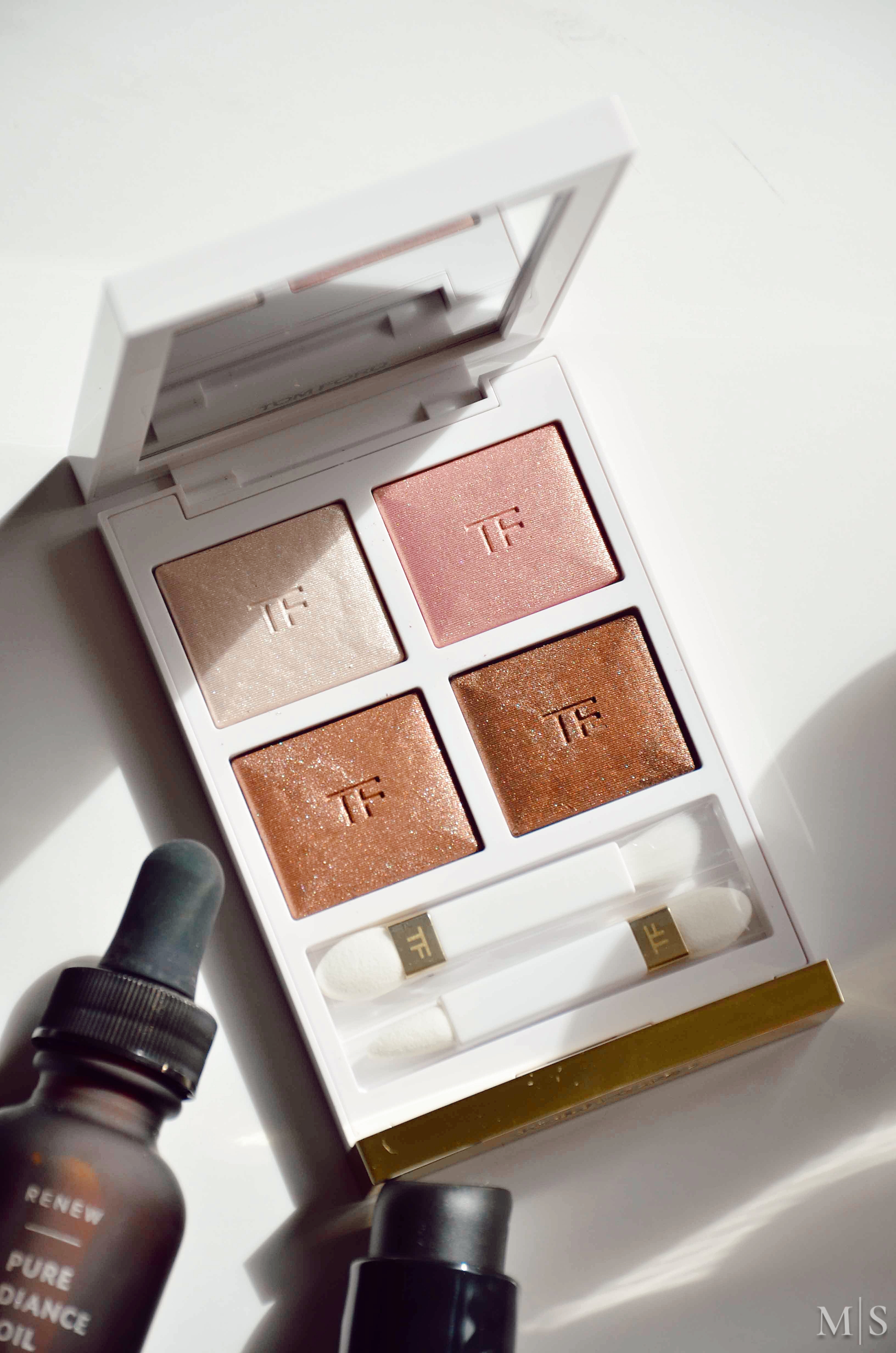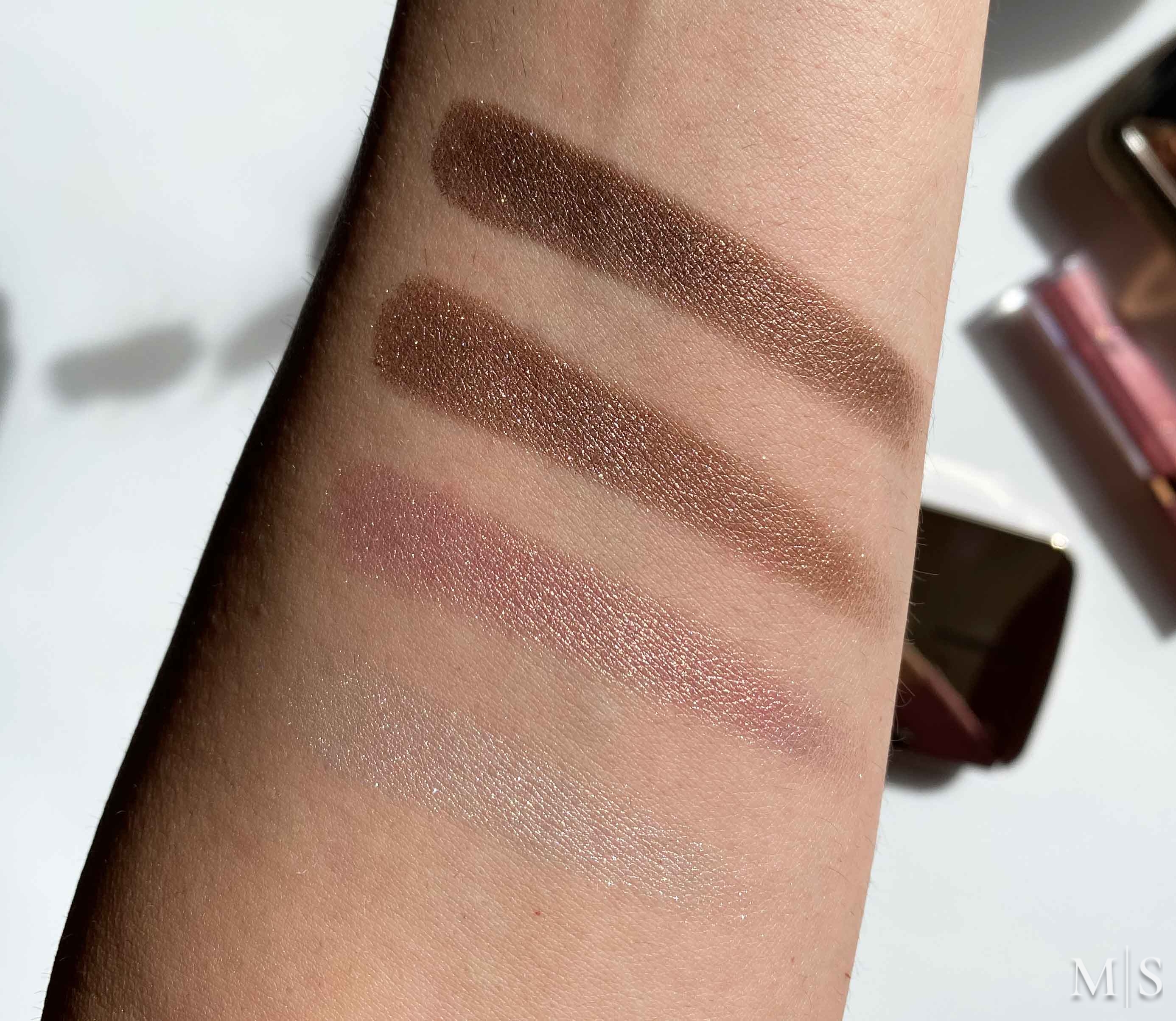 Swatches of the Tom Ford Soleil Neige Eye Color Quad
True Botanicals Pure Radiance Oil & Renew Repair Serum – It's going to be my first time trying products from True Botanicals. They are a clean skincare brand that makes clinically proven formulas that address everything from fine lines, to breakouts, rosacea and more.
The True Botanicals Pure Radiance Oil is a moisturizer that helps balance and prevent breakouts.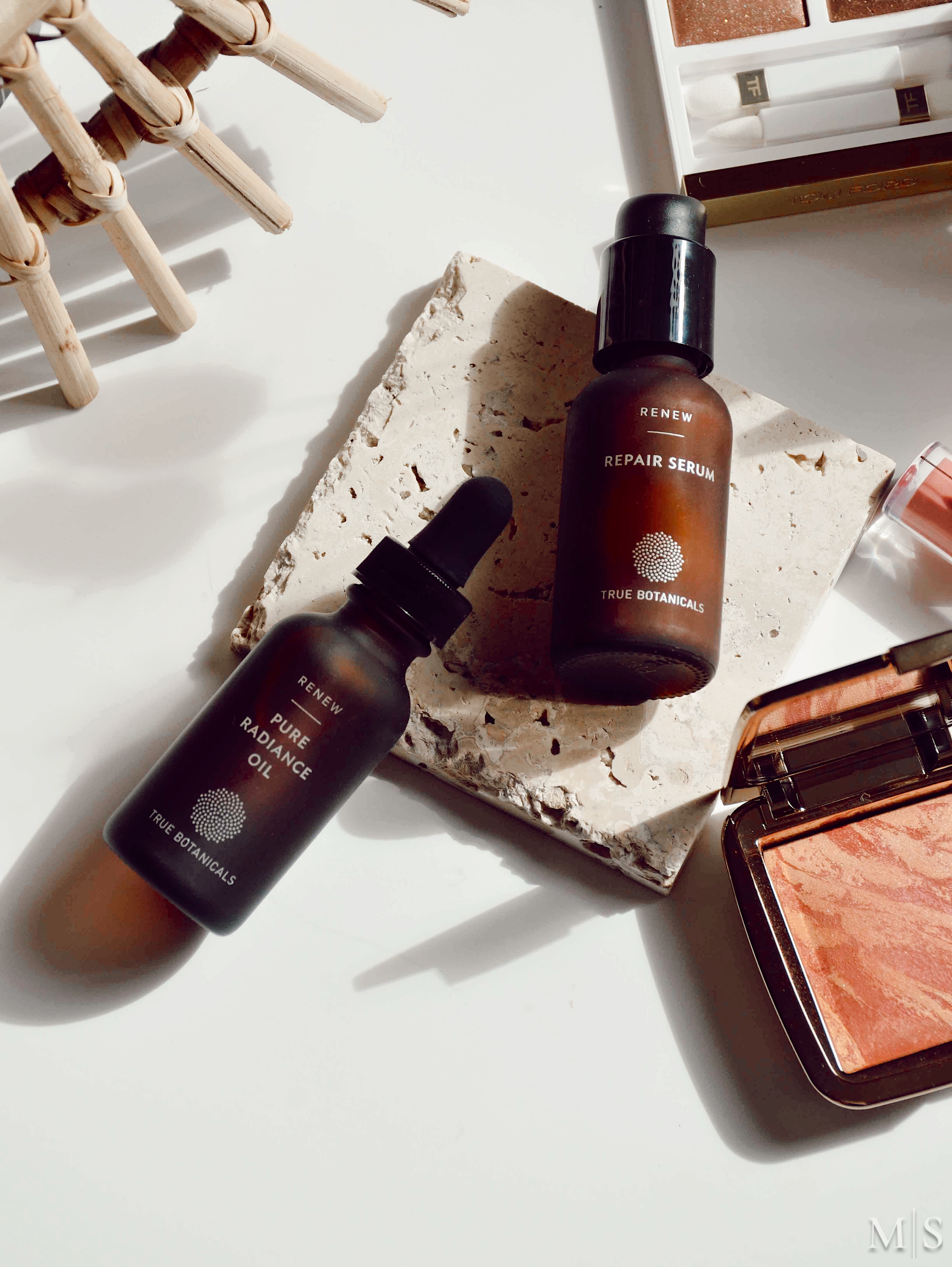 Why It's Special
Formulated to address breakouts and the signs of aging, this glow-inducing face oil promotes a clear and hydrated complexion with nature's most potent antioxidants and omega-3 essential fatty acids. Hemp, pumpkin, and grape seed oils help unclog pores and balance sebum. Algae extract and astaxanthin help to keep skin looking hydrated and plump.
The Renew Repair Serum is described as a hydrating blend of concentrated nutrients that help with aging and dry skin.
Why It's Special
Unlike most other serums, this Repair Serum is formulated with ingredients that are low enough in molecular weight to penetrate beyond the surface of the skin. True Botanical's proprietary True Botanicals Bioferment™ and Tripeptide 29 helps to visibly firm and plump skin.
Both products sound amazing so I have high hopes! I'll keep you posted how both worked out for my skin.
I feel like this year, I picked some good products to try. I focused more on new releases that I know I would use in my daily routine. As I mentioned before, the Beautylish Gift Card Event starts today and will be open for four days.
Are you picking up anything?
*Many thanks to the Beautylish team for partnering with me for their Gift Card 2020 Event