bareMinerals released a new foundation called the Bare Pro Performance Wear Liquid Foundation. It is a full coverage foundation that has a matte finish and supposed to last up to 24h wear. The line has 30 shades which I think is a great selection. They also released a brush to go with the foundation, a hydrating primer (which I love by the way) and a contour kit which also has a matching brush.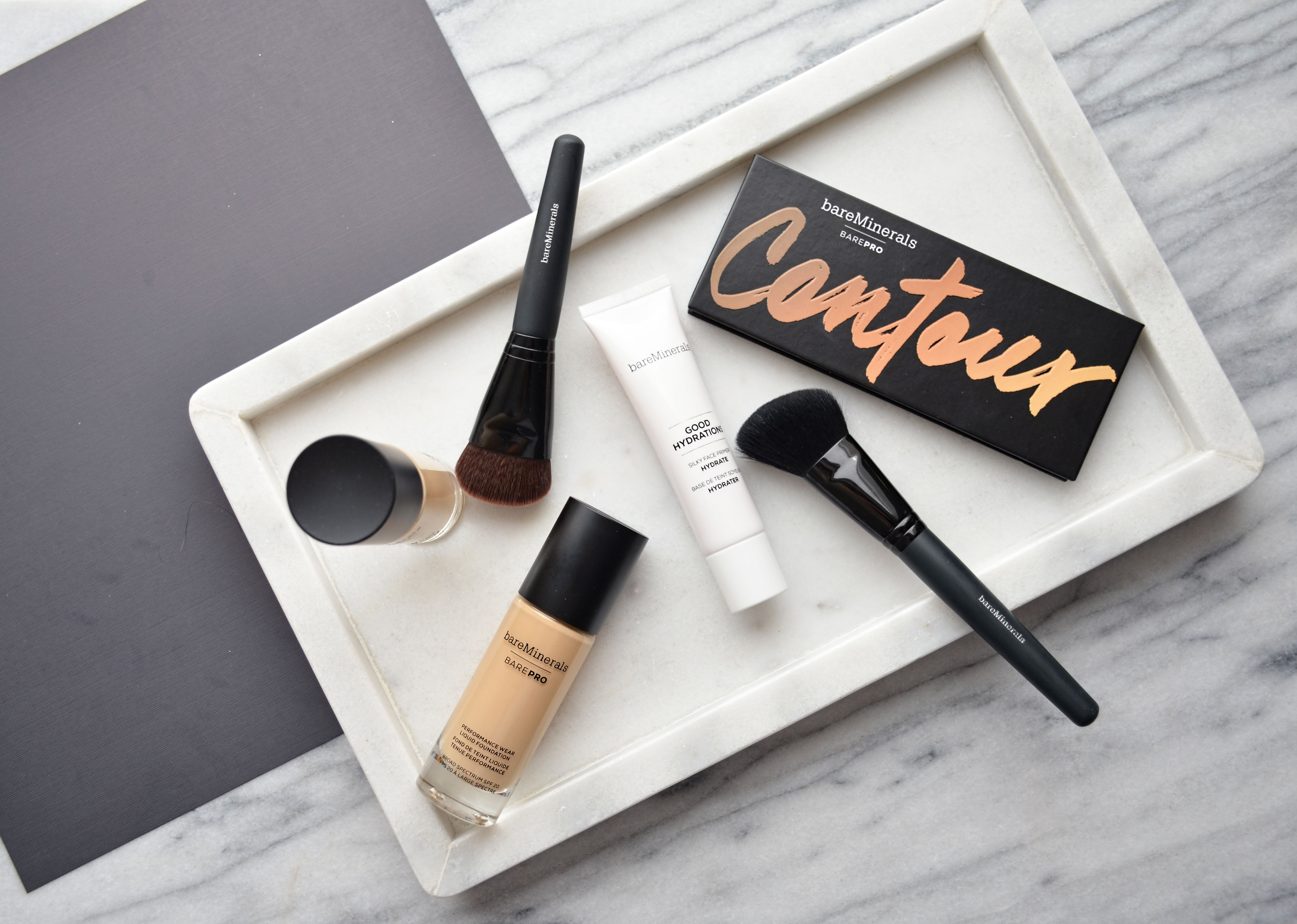 These days I prefer a foundation with more glow but I was pleasantly surprised by the bareMinerals Bare Pro Foundation. The finish is listed as matte but it is not super matte or flat looking on the skin. It has more of a natural looking finish and it also has blurring properties so it makes your skin look the best.
The formula is infused specially-developed Mineral Lock™ long-wear technology that blends mineral pigments with lipids naturally found in skin to lock in all-day full coverage. Natural bamboo stem extract provides a smooth, soft-focus finish, while papaya enzymes gently improve skin's texture both immediately and over time. This self-setting foundation is transfer-resistant and color-true.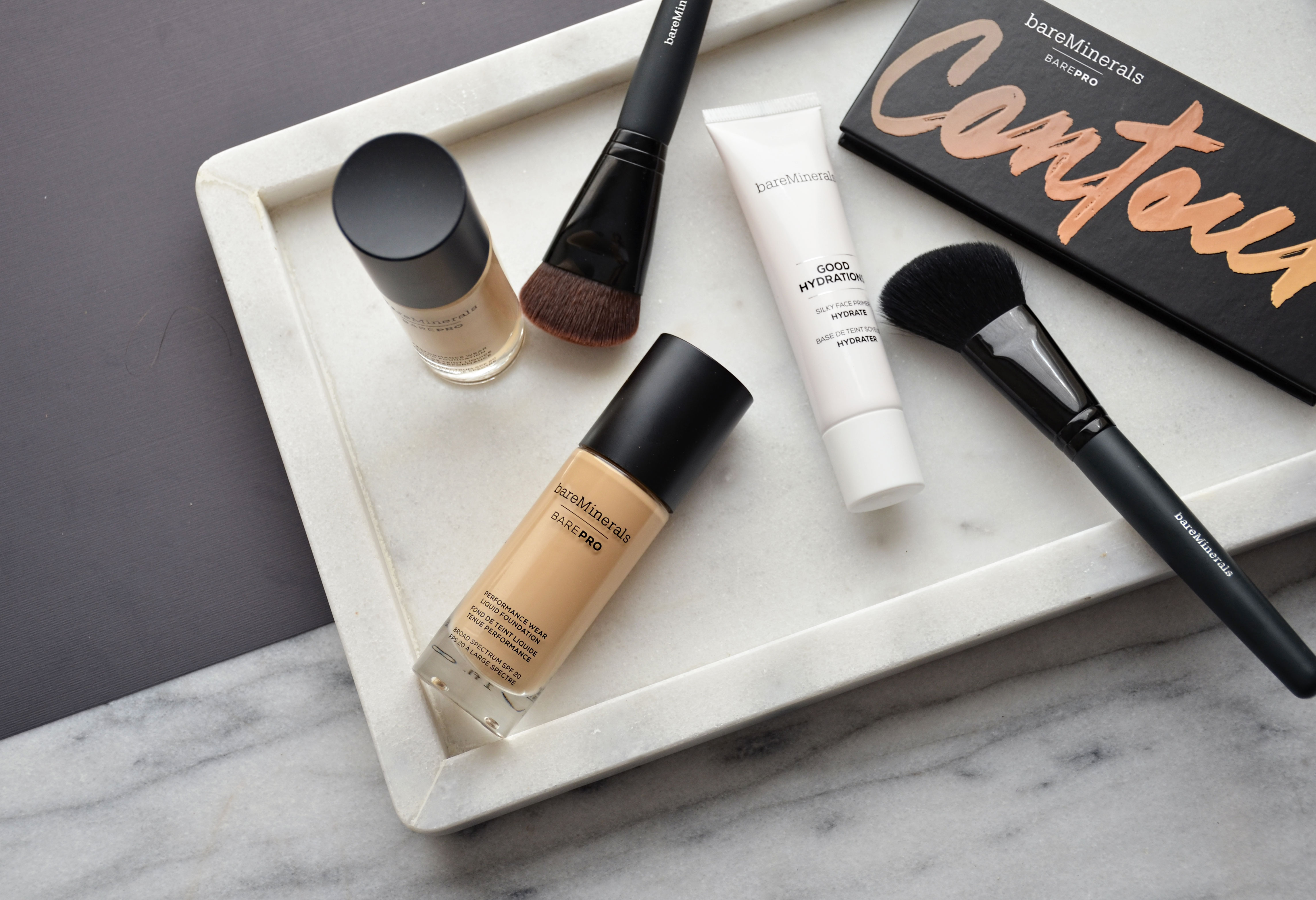 Since I have normal skin I like to use a hydrating primer before I use a matte foundation. The new bareMinerals Good Hydration Primer works really well with the foundation. If you have normal to dry skin and you want to try the Bare Pro foundation I highly recommend you use a hydrating primer before, just to make sure you don't have any dry patches and your skin is well hydrated for a matte foundation.
Regarding the foundation, I really love it. With two pumps I can achieve medium to full coverage but a natural looking skin like finish. The texture of the foundation is pretty liquidy so it glides super easy on the skin. I used both the bareMinerals Luxe Performance Brush and a damp sponge for application and both worked great. If you use a damp sponge you can get a more natural lighter finish which I love for every day.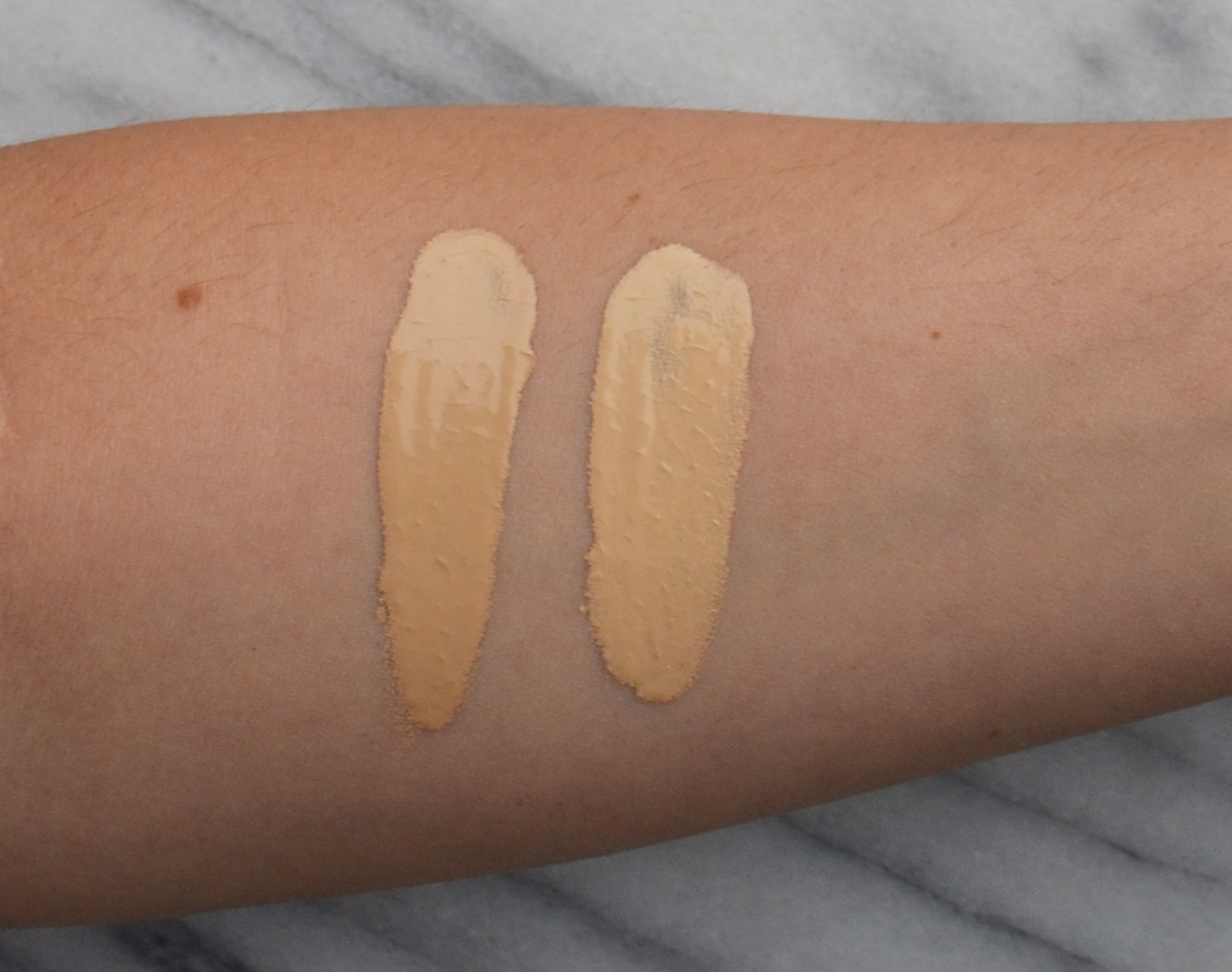 Swatches L to R: Warm Natural 12, Golden Nude 13
I matched myself to the above shades but both are a tiny bit light for me since I have a tan. I can still work with Warm Natural 12 (for light to medium skin tones with neutral undertone) and just do some bronzing so it matches my body but I think that shade will be a perfect match for the winter when I'm lighter in skin tone.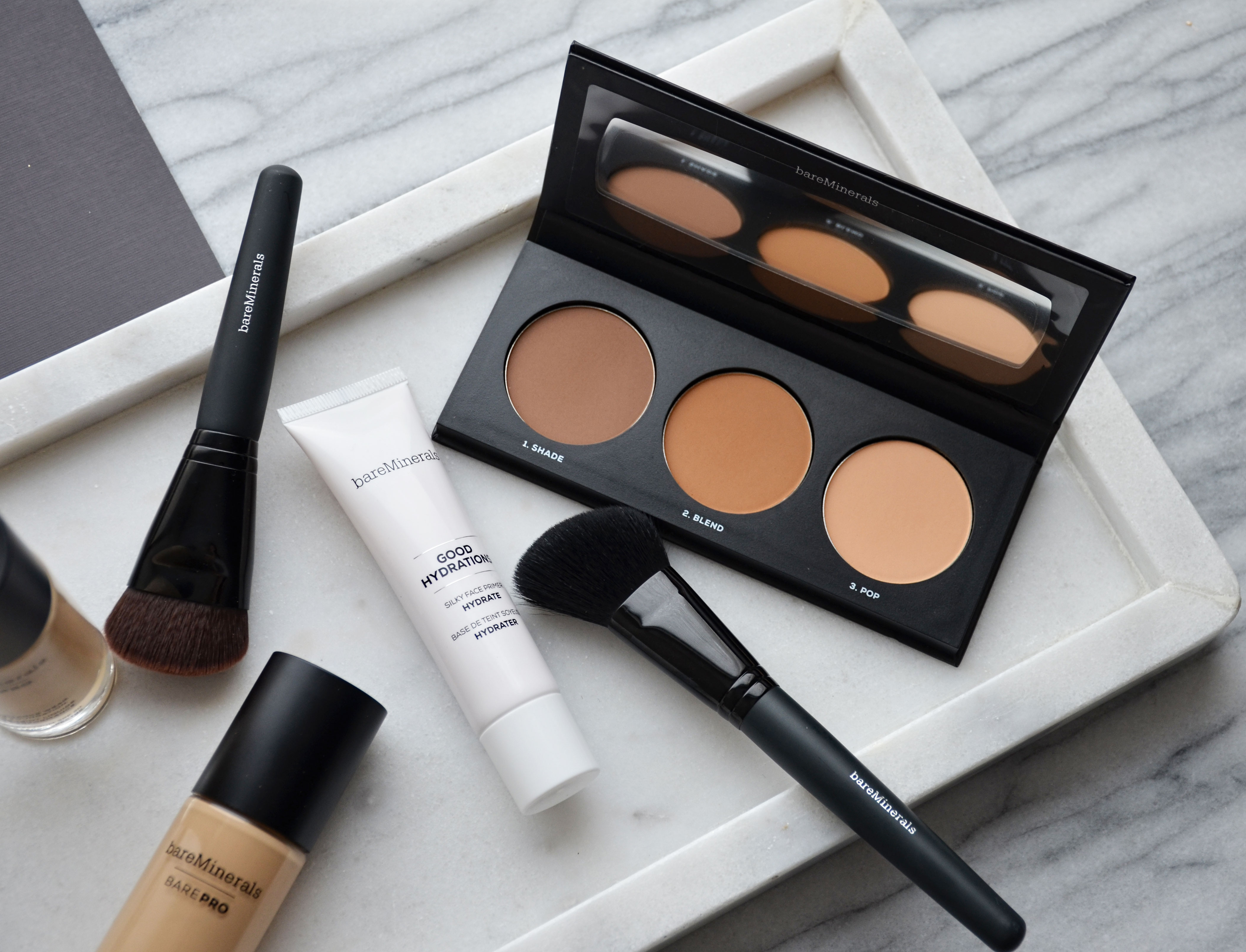 The Bare Pro Contour Face Shaping Powder Trio is an easy to use contour palette. It comes with:
SHADE: Cooler and deeper than a bronzer, this color mimics shadows to create depth below the cheekbones.
BLEND: Sheerer than a bronzer, this shade blends your contour for a softer, more natural look and gives a warm glow to cheeks and forehead.
POP: This shade gives light to the high points of the face and contrasts the depth of your contour to create natural-looking dimension.
There are two shades in the line in Fair to Medium and Medium to Deep. I have the darker shade and it works great for my light to medium skin tone. The shades actually look darker in the pan but appear lighter on the skin and when swatched on the hand.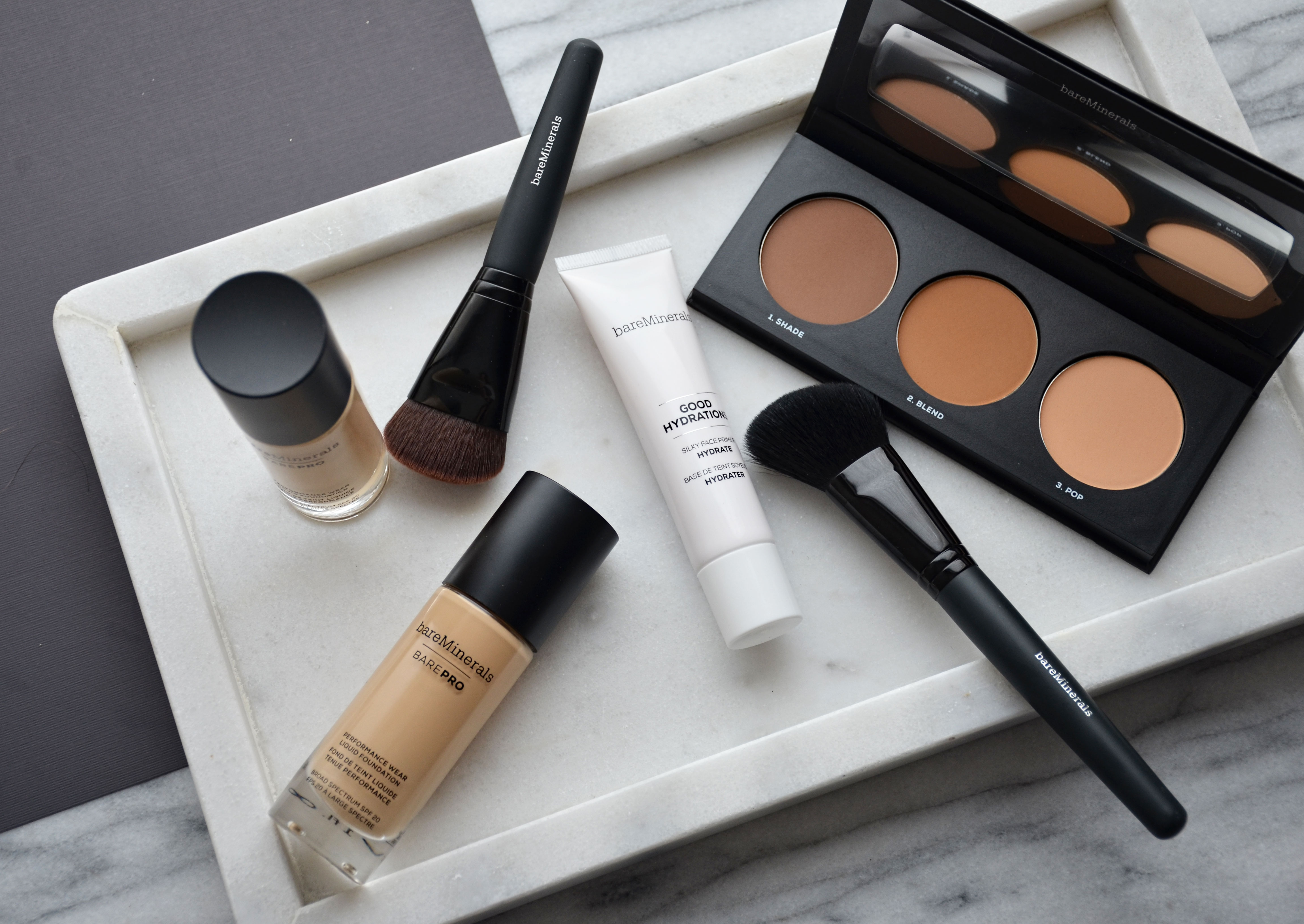 I think this would be a great beginners palette since the powders are not overly pigmented so you don't have to be careful with over applying. The contour shade is pigmented enough so you don't have to swirl the brush too much to get enough product. The Blend shade which is a warmer bronze type shade is more sheer so you can go in with a heavier hand if you prefer a bronzed look.
I use the Pop shade to set my under eye area since it has yellow undertones. It does a nice job with setting but also with brightening the area.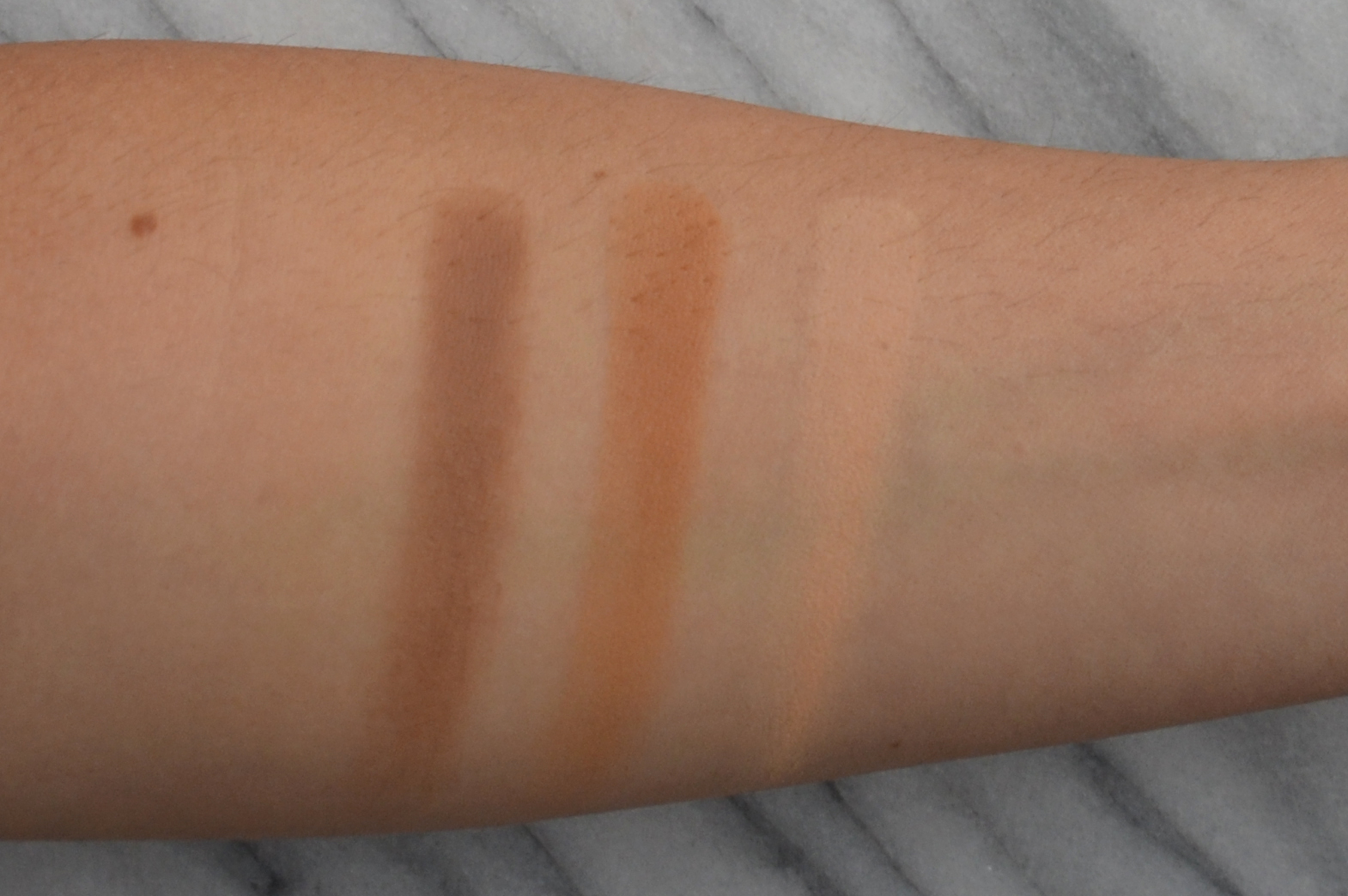 Bottom line, I really like the bareMinerals Bare Pro Foundation. It's a great long-lasting matte foundation that still looks natural on the skin. I don't like the feeling of heavy foundation on my skin and this one is light and just feels like skin. If you are oily or combination skin you will love this foundation. Even if you have dry skin I think you can still make it work by using a hydrating primer.
All in all, a great foundation for special occasions or for every day if you prefer more coverage on daily basis.
*All products mentioned provided by bareMinerals for review consideration
SaveSaveSaveSave