Well there goes another month! It was a good month though! I got to experience proper fall weather after eight years, did a lot of hikes and actually our last one was a hike on snow which was pretty cool. I also tested a lot of new makeup and skincare products and discovered some new favorites.
Skincare:
The Kiehl's Powerful-Strength Line-Reducing Concentrate* has taken over my night time routine. I did a full blog post about this product explaining why I love it but to put it short it has made a big difference in my skin texture and has made my skin brighter and more even.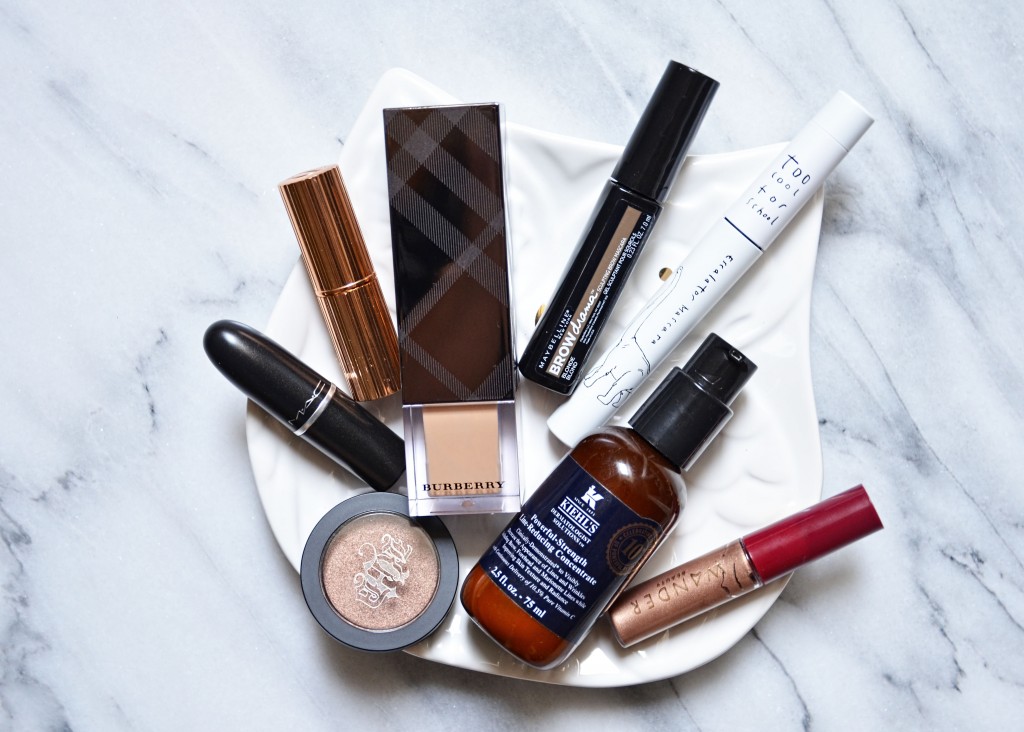 Makeup:
Burberry Fresh Glow Luminous Fluid Foundation – A perfect base if you're looking for lighter coverage that's also buildable. It has a semi-dewy finish that doesn't make my combo skin oily and it just looks like skin. It was my go-to base for the month of October.
Maybelline Brow Drama – I had this brow mascara for awhile now but it was just sitting in my makeup stash because I was obsessed with the L'oreal Brow Plumper and exclusively used just that. I decided to switch it up and tried the Brow Drama and OMG, it's such a nice brow mascara! I like it because it doesn't deposit a lot of product and makes my brows look very natural and feathery. I don't use it on it's own because I need some filling in but I always set my brows with some kind of a mascara and this one is a really nice one plus it comes from the drugstore so very affordable.
Too Cool For School Dinoplatz Escalator Mascara* – There's a reason why this mascara is sold out on Sephora's and Birchbox's website, it's just that good. It's one of the few mascaras that gives me length and volume and doesn't budge all day. The packaging is pretty cool and the wand is adjustable so you can personalize the brush to your preference. Highly recommend!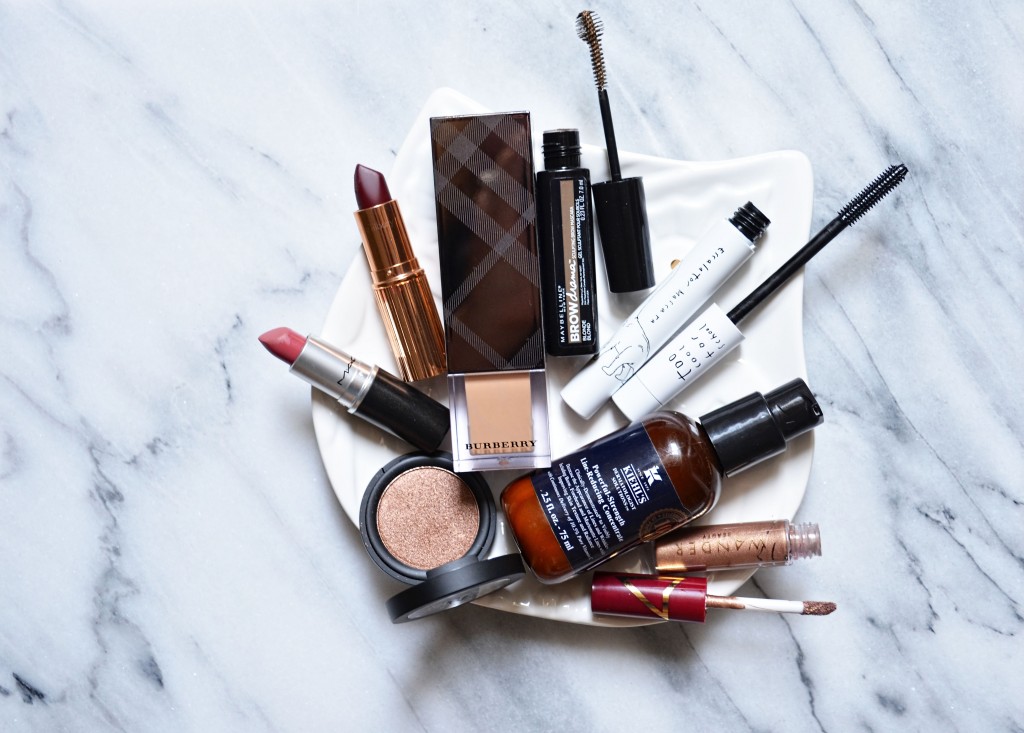 Wander Beauty Exquisite Eye Liquid Shadow in Bronze* – A nice every day bronze shades that doesn't budge. Because of the doe foot applicator it's very easy to use and blends out like a dream. You can sheer it out for a daytime look or you can pack it on for an almost wet metallic look.
Kat Von D Metal Crush Eyeshadow in Synergy – I know, I know another bronze shade, what can I do I just can't resist a good bronze eyeshadow. These Metal Crush eyeshadows are the creamiest and most pigmented eyeshadows I've ever tried. I use Synergy on it's own because as soon as you blend it out it changes color so it looks like you have two shades on your eyes. After trying these I'm definitely getting Doce and Raw Power next.
Charlotte Tilbury Matte Revolution Lipstick in Glastonberry is my perfect fall dark berry shade. The Matte Revolution lipsticks are the most comfortable matte lipsticks that I have and they last all day. I would say Glastonberry is a more wearable version of Nars Liv and a darker version of Mac Rebel. It's the perfect in between shade!
Mac Mehr – For every day use this shade was my go to in the month of October. Mehr is described as a dirty blue pink but I would describe it as a darker my lips but better shade. It's also a matte finish but doesn't dry up my lips and lasts all day when combined with a lip liner.
Now let me know what you have been loving for the past month. Is there a product that you love and I need to try?