The Urban Decay Hi-Fi Shine Ultra Cushion Lip Gloss is the newest release from the brand. They are described as ultra shiny lipgloss that provides non tacky comfortable wear and a cushiony feel. The line has 20 shades and four different finishes. They are infused with Vitamin E and peppermint oil which help with hydration and plump the lips.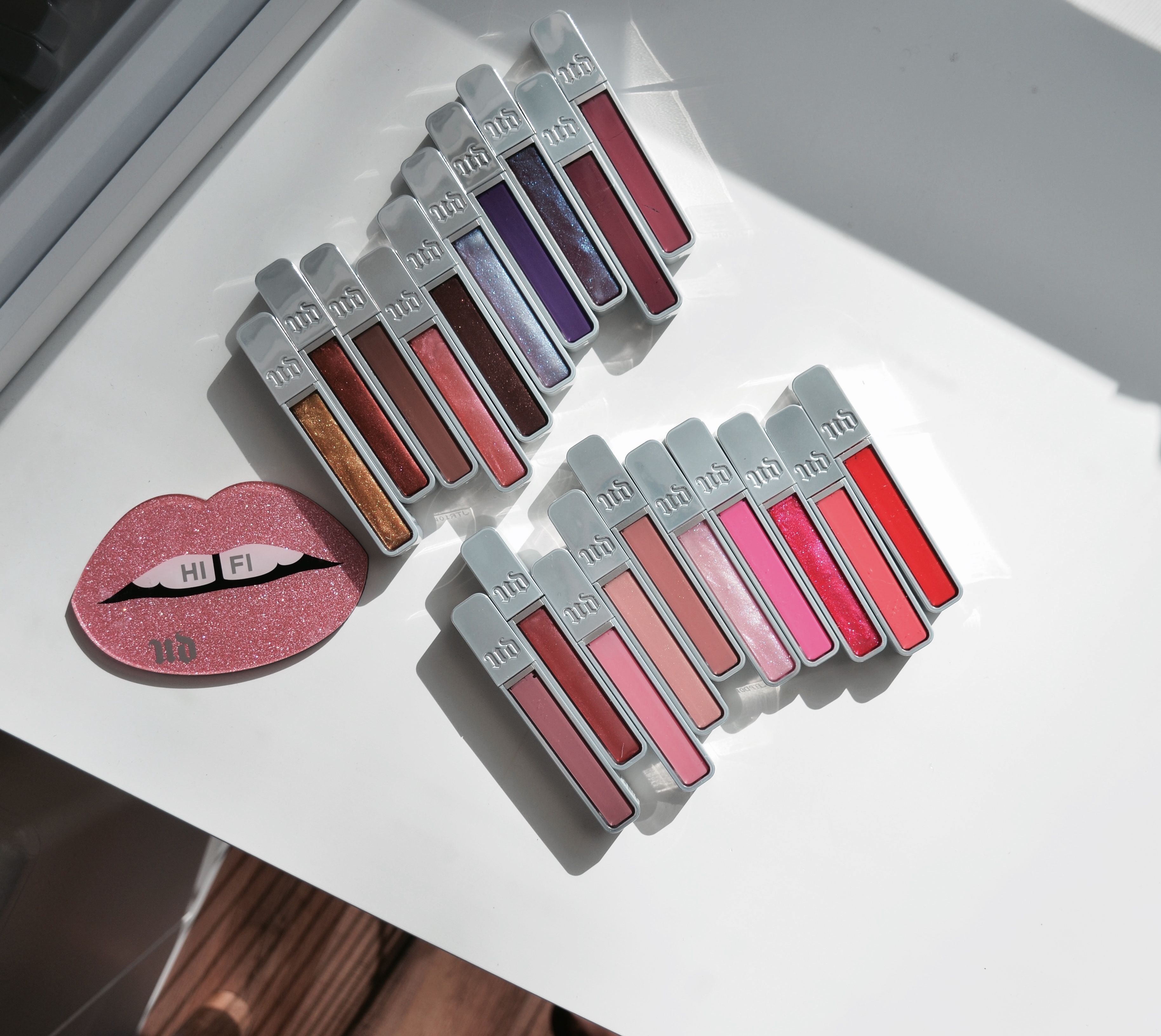 The Hi-Fi Shine Ultra Cushion Lip Glosses come in flat packaging that they deliberately designed so they can fit in a small bag and even in your pocket.
The tubes are clear so you can easily see the shades and most of the shades actually appear more intense and darker in the tube than on the lips, which I like.
As I mentioned above, the Hi-Fi Shine Ultra Cushion Lip Glosses come in four different finishes: metallic, holographic, cream and sheer cream.
The formula is non-sticky, feels very comfortable on the lips and almost cushiony and they have a delicious chocolate mint scent. Since they have peppermint oil, they give a cooling effect on the lips and help with plumping. For a comparison, they feel similar to me as the Buxom lip glosses. They give the same minty cooling plump effect which I really like.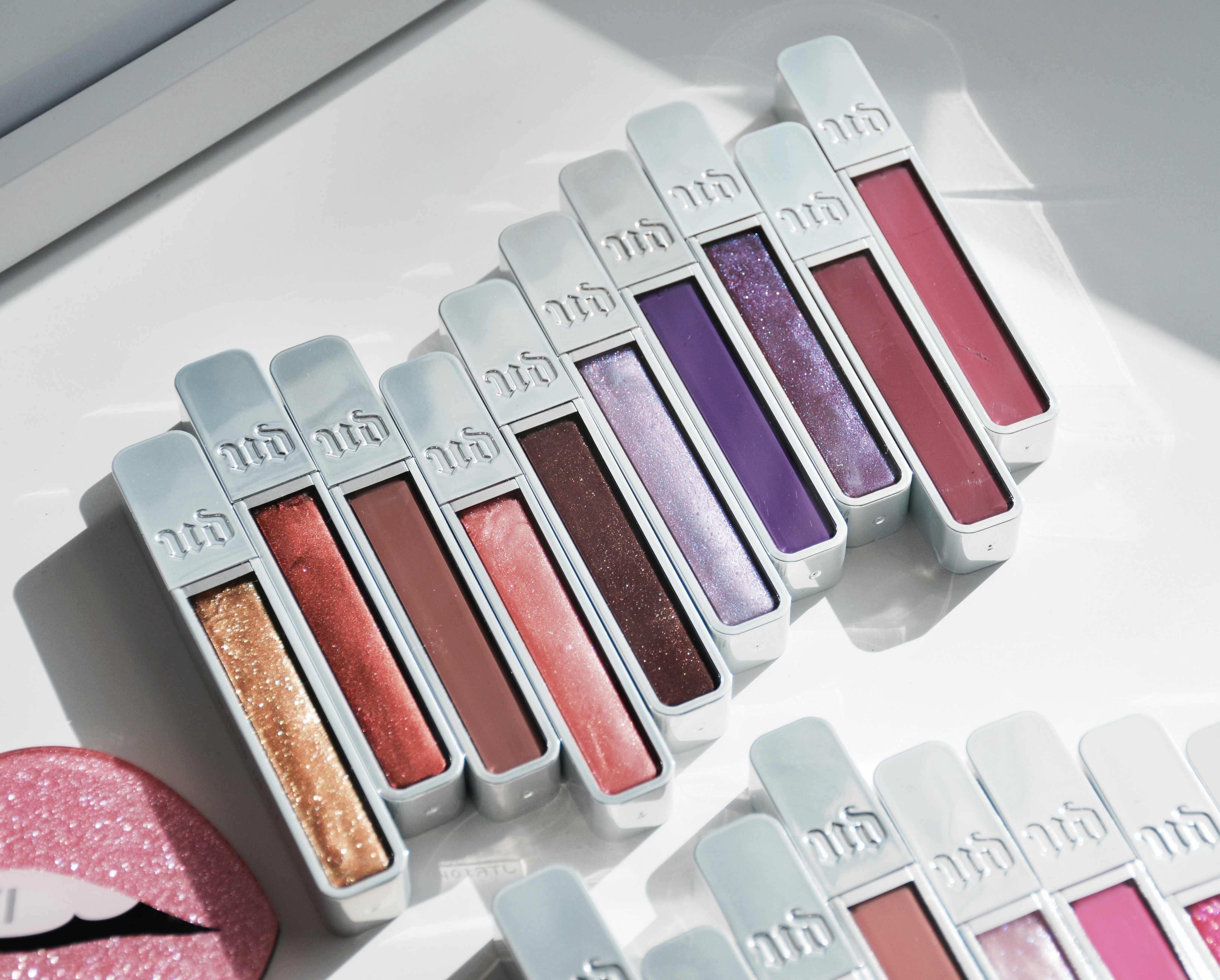 There are four shades with the metallic finish in Goldmine (metallic bright gold), Big Bang (metallic hot pink sparkle), Shadowheart (chocolate brown with gold sparkle) and Dirty Talk (metallic burgundy with pink shimmer).
The formula of the metallic finish glosses is very shiny and with a lot of shimmer. The only shade that I don't like on me is Goldmine since it's super shimmery. Otherwise, the other shades are actually quite wearable and appear more subtle than they seem in the tube.

Goldmine

Big Bang

Shadowheart

Dirty Talk
There are also four shade in the holographic finish in Fireball (holographic peach with gold sparkle), Snapped (holographic deep plum with blue shimmer), SPL (holographic candy pink with iridescent sparkle) and Candy Flip (holographic lavender with blue pink sparkle).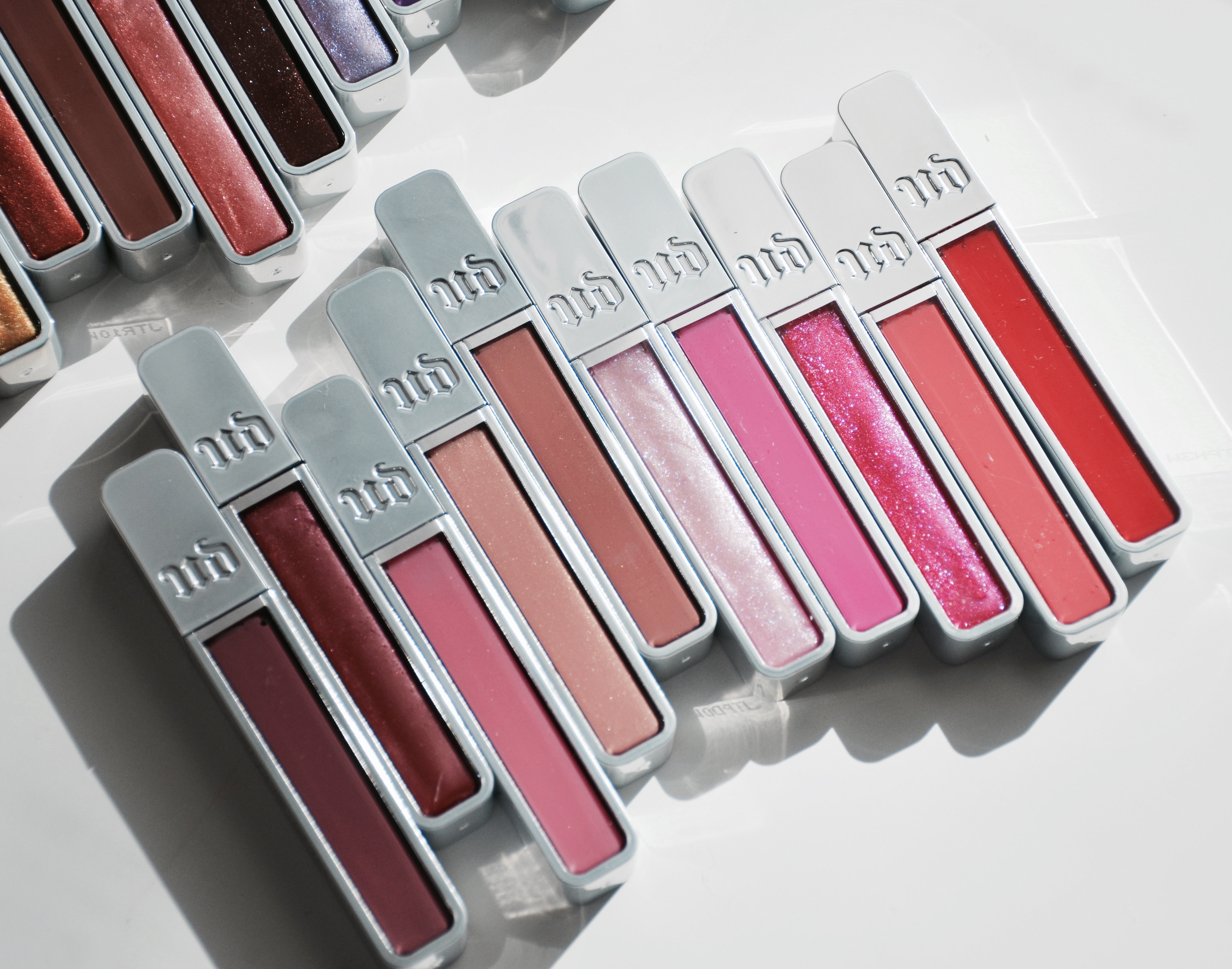 These are also surprisingly very wearable. I like the different shades of sparkles especially in direct sunlight. They give the lips more dimension and also make them look fuller and plumper. I
also like that you can't feel the shimmer on your lips with both the holographic and metallic finish. They feel very smooth and cushiony on the lips.

Fireball

Snapped

SPL

Candy Flip
My favorite formula of the four is the cream finish. I like the finish because the pigment is in the middle (not super pigmented but also not sheer). Also the shade selection in the cream finish is right up my alley, there are a lot of nude and neutral shades.
The Hi-Fi Shine Ultra Cushion Lip Glosses that come in cream finish are:
Snitch (bright coral cream)
Rapture (rose mauve cream)
1993 (medium brown cream)
Fuel (light neutral nude cream)
Backtalk (mauve nude pink cream)
Jawbreaker (classic purple cream)
Beso (deep mauve cream)
Bang (bright orange red cream)
Savage (electric pink cream)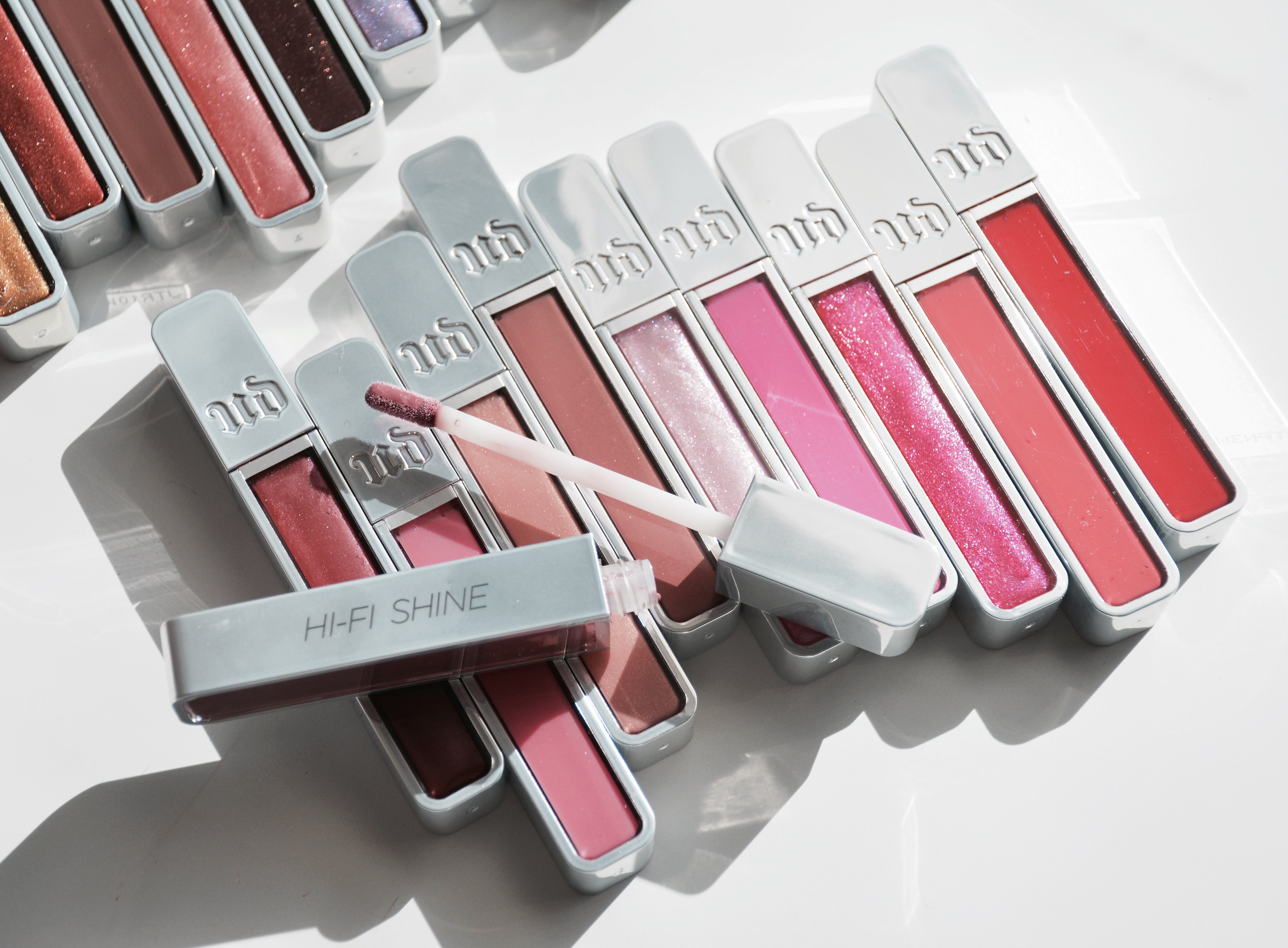 Snitch

Rapture

1993

Fuel

Backtalk

Jawbreaker

Beso

Bang

Savage
The pigment on all of them is really nice. They all apply evenly and wear really well through the day.
As for favorite shades, I love Fuel, Backtalk, Snitch and 1993. I find all shades very wearable. Even the brights like Bang, Savage and Jawbreaker, I can totally wear on special occasion.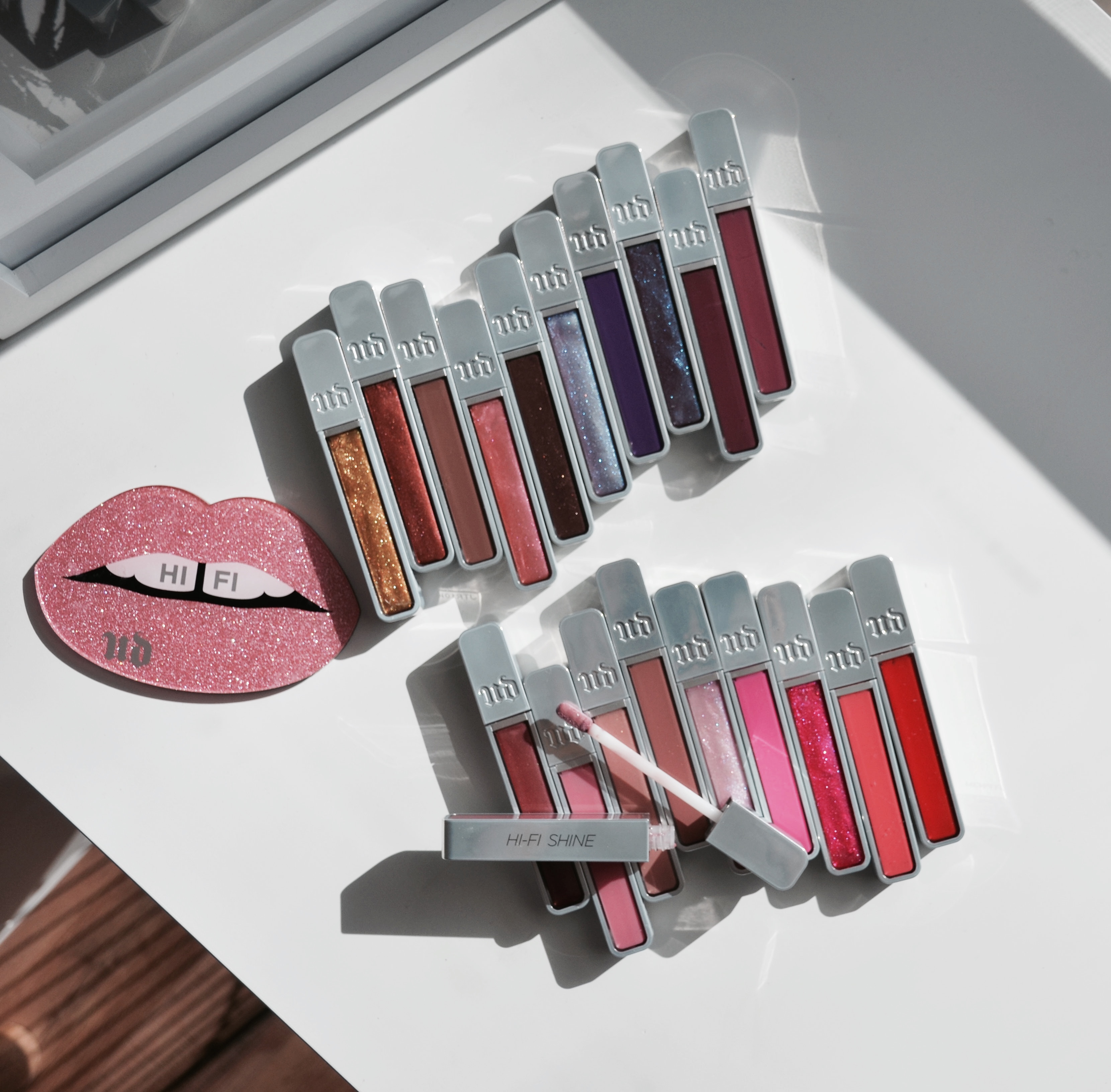 The sheer finish lip glosses come in three shades in Naked (nude pink cream with pink pearl shift), Obsessed (baby pink cream) and Midnight Cowgirl (nude cream with golden shimmer).
Naked

Obsessed

Midnight Cowgirl
As you can see by the swatches, these are pretty sheer. The three shades look pretty similar on my lips with slight variation. They still feel very cushiony and creamy on the lips like the cream formula, but with a more sheer finish.

Swatches L to R: Backtalk, Naked, Obsessed, Midnight Cowgirl, Fuel, SPL, Savage, Big Bang, Snitch, Bang

Swatches L to R: Goldmine, Dirty Talk, 1993, Fireball, Shadowheart, Candy Flip, Jawbreaker, Snapped, Beso, Rapture
Bottom line, it's pure love for the Urban Decay Hi-Fi Shine Ultra Cushion Lip Gloss . From the super comfortable formula, to the shade selection and packaging, everything is super nice. I like that they plump my lips but they don't give a burning sensation and I also like the cooling effect on the lips. The scent is also lovely (I really like mint scent in lip glosses) and you can't really smell them when applied on the lips which is nice for people who don't like strong scents.
*PR Sample
SaveSaveSaveSave