Too Faced released a new concealer that is part of their Born This Way line. The Too Faced Born This Way Super Coverage Concealer is described as a full coverage but weightless concealer that provides hydration and conceals, contours, retouches and highlights.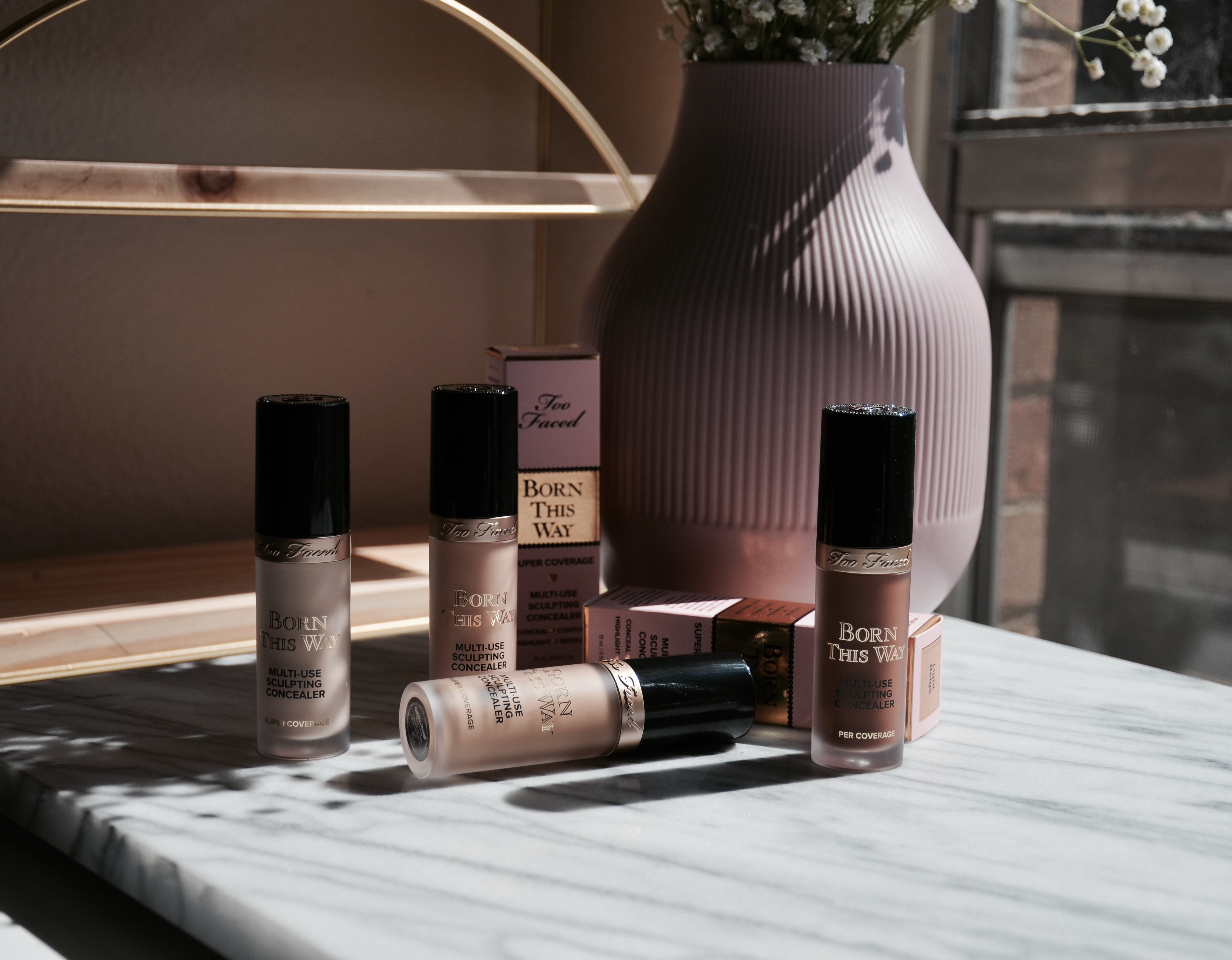 The concealer comes in 20 shades and three undertones. The formula is infused with coconut water, alpine rose and hyaluronic acid that help with hydration and creaseless and weightless coverage.
It comes with 0.50 oz of product which is quite impressive since the usual concealer comes with 0.22 oz of product, so you're getting a good value for the price. The Too Faced Born This Way Super Coverage Concealer can be used for concealing, brightening, contouring and retouching.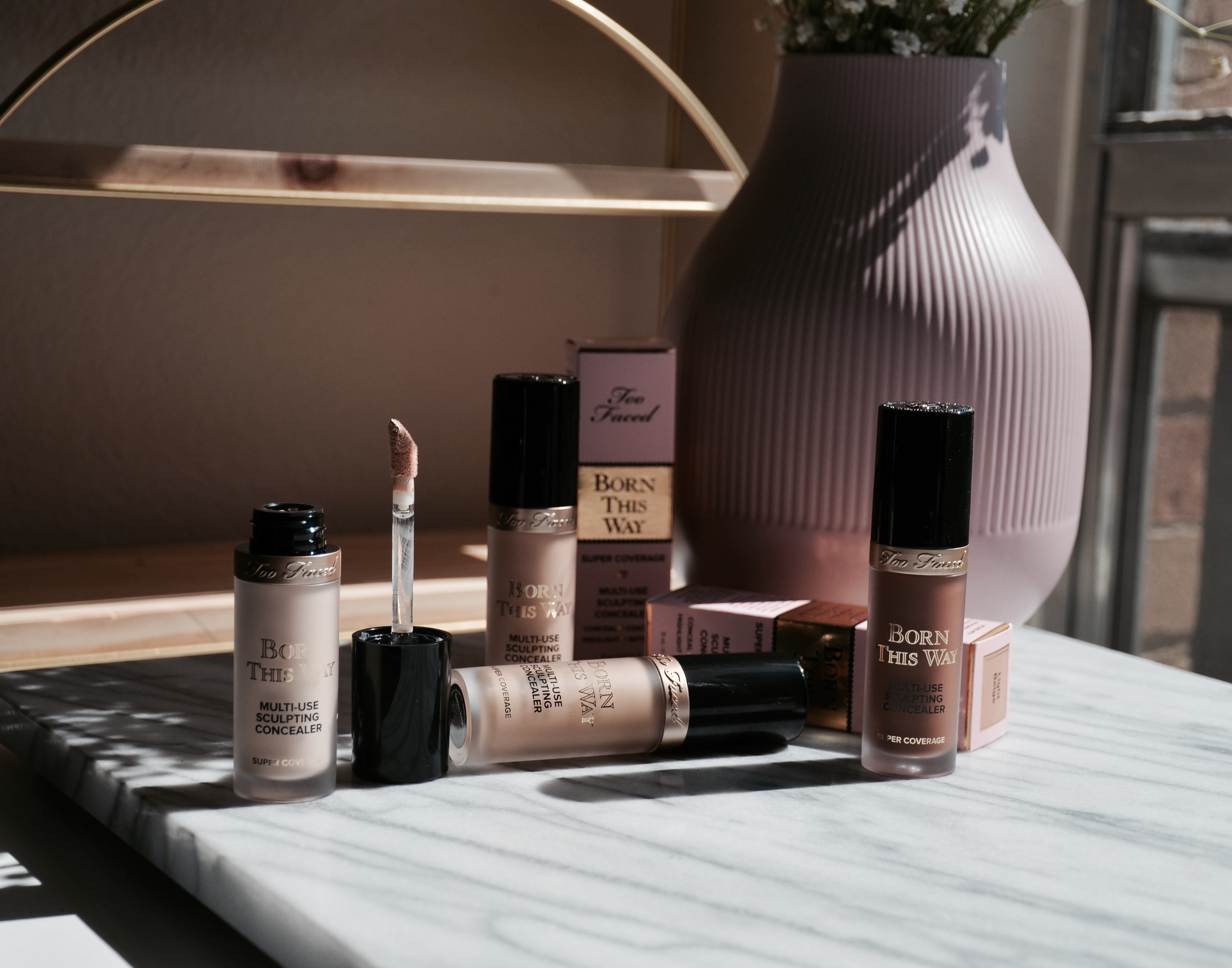 The big doe foot applicator makes application a breeze. Since it is a full coverage concealer I literally use two dots under my eyes and get good medium coverage. The finish is natural and the formula is non drying (this coming from a girl who suffers from dry under eye area). It doesn't settle in to fine lines and it doesn't crease on me even when I don't set it with powder.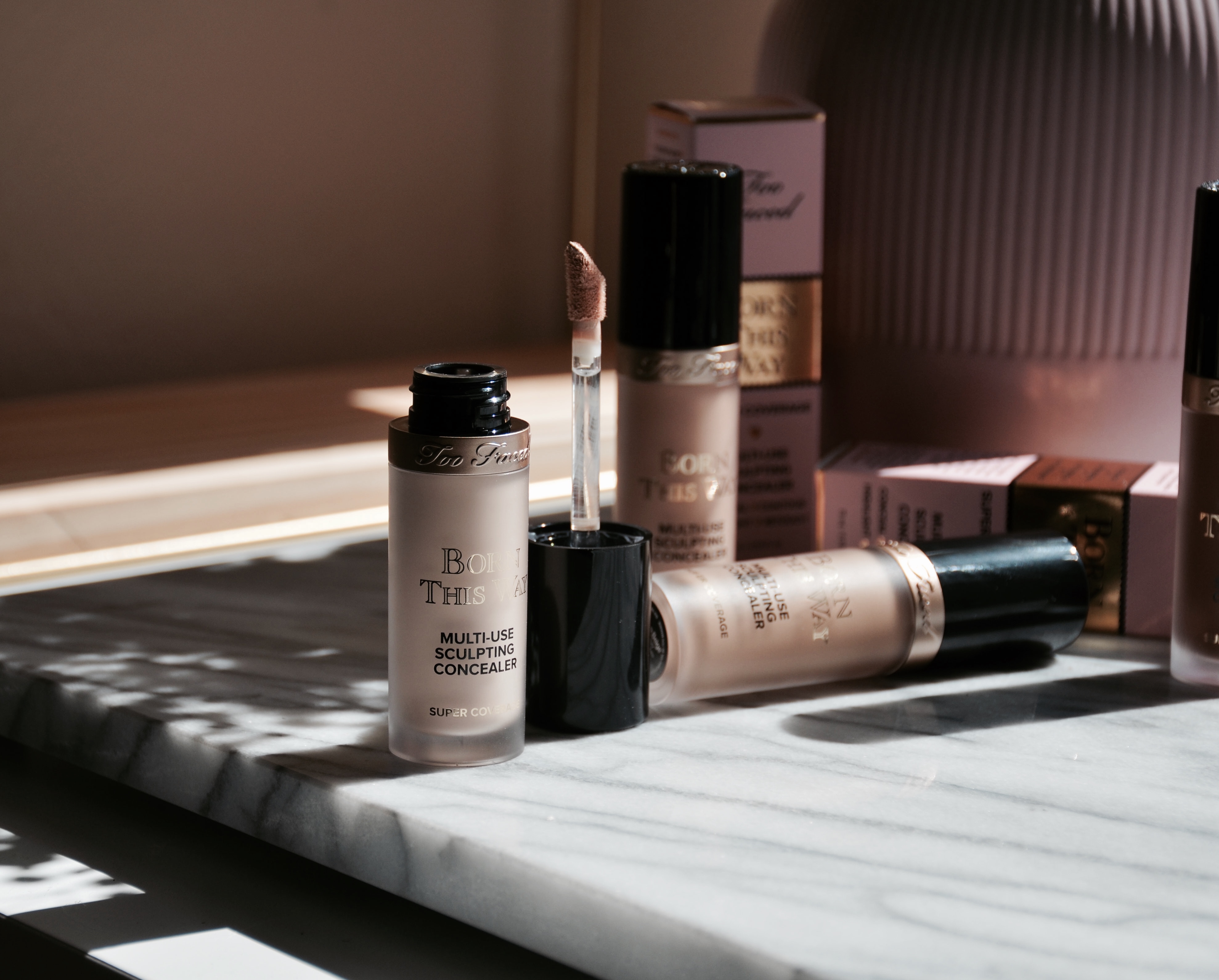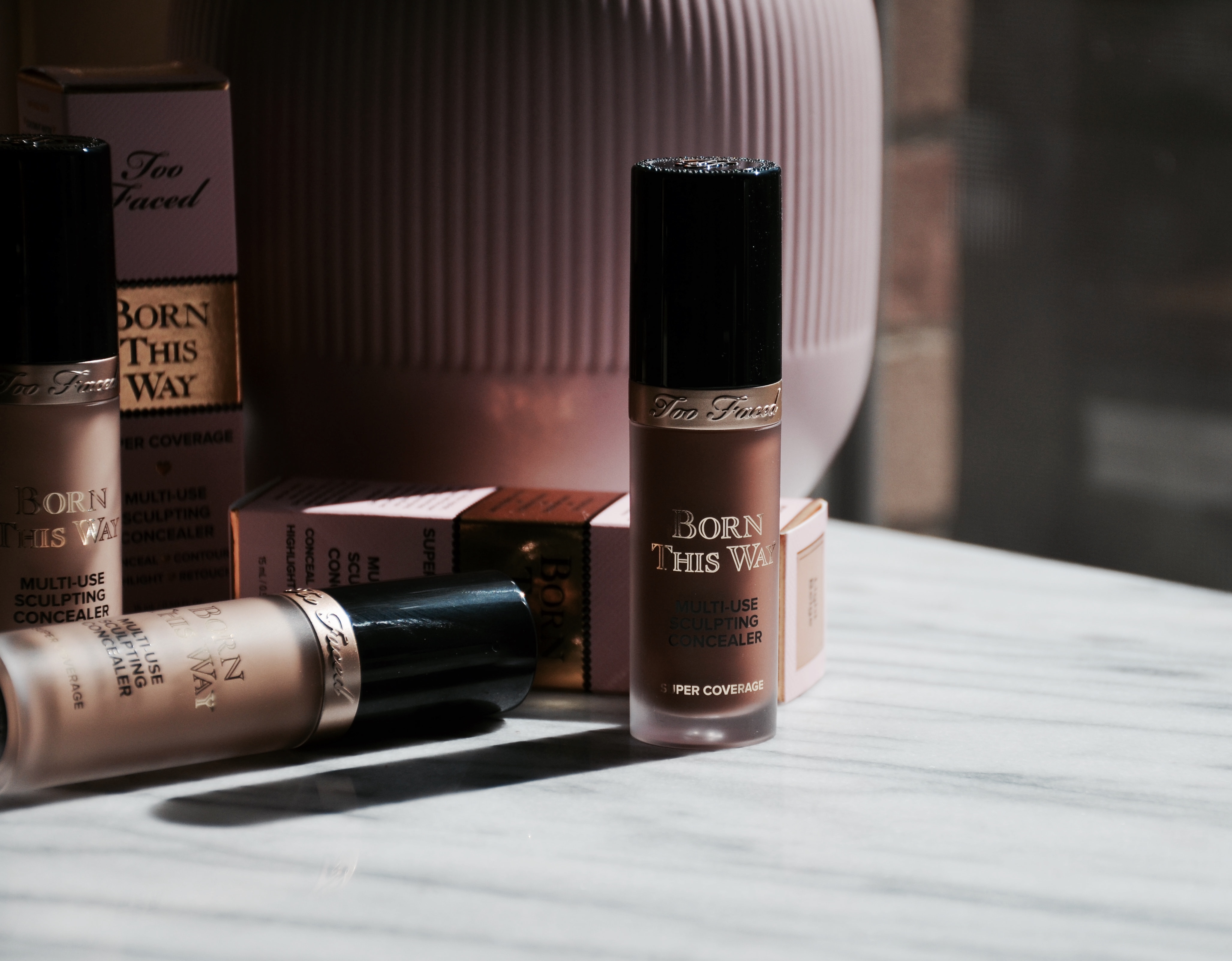 I've heard people compare this to the Tarte Shape Tape Concealer and I think this is better, at least for someone with dry skin. It has the same coverage but I find it more weightless and also more hydrating.
As I mentioned before, the Too Faced Born This Way Super Coverage Concealer comes in 20 versatile shades. I received the whole line so I figured I'll share swatches who hopefully will help you if you were considering this concealer.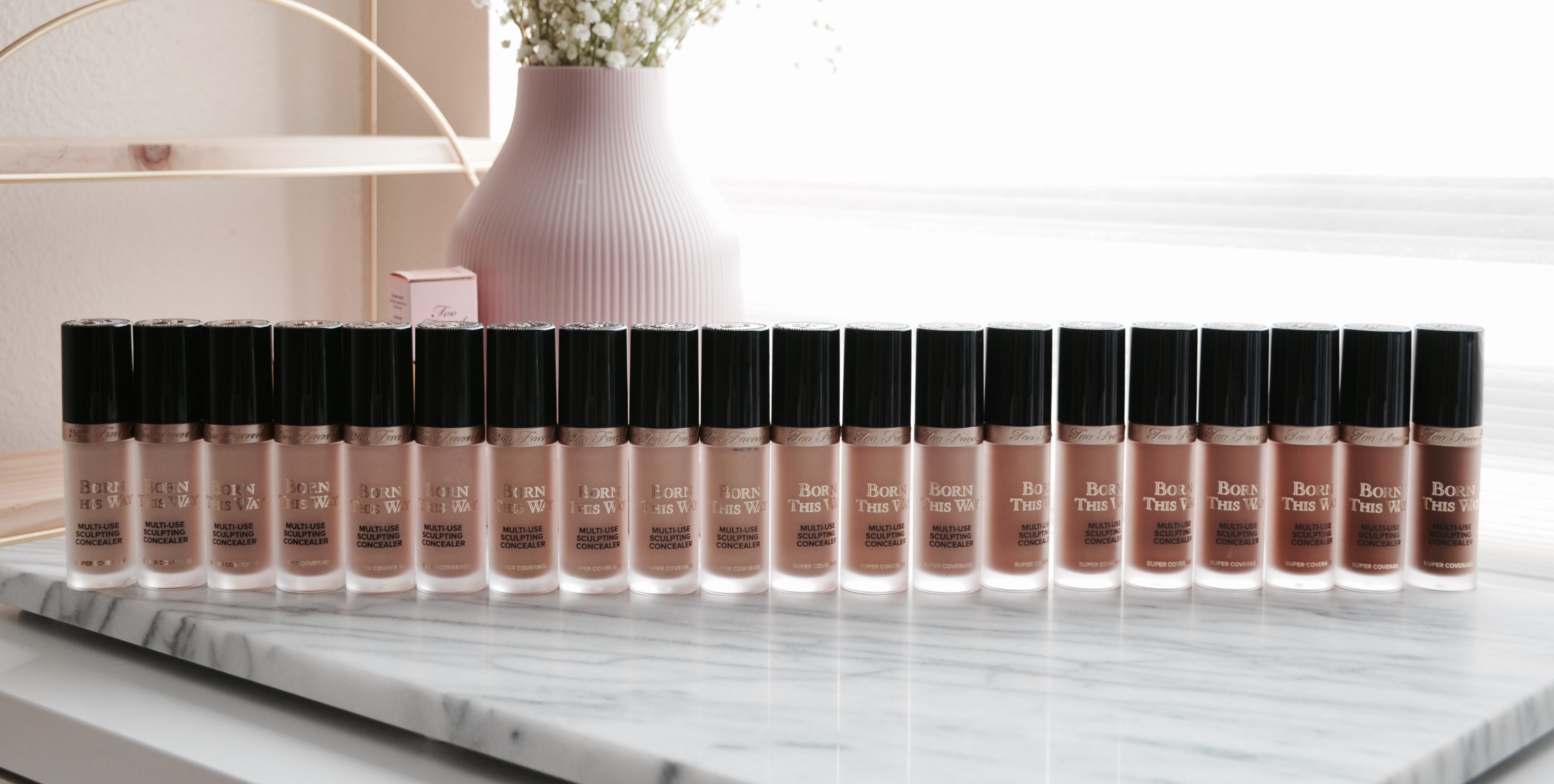 Fair
Swan – fairest neutral
Snow – fairest rosy
Almond – very fair golden
Porcelain – very fair neutral
Vanilla – fair neutral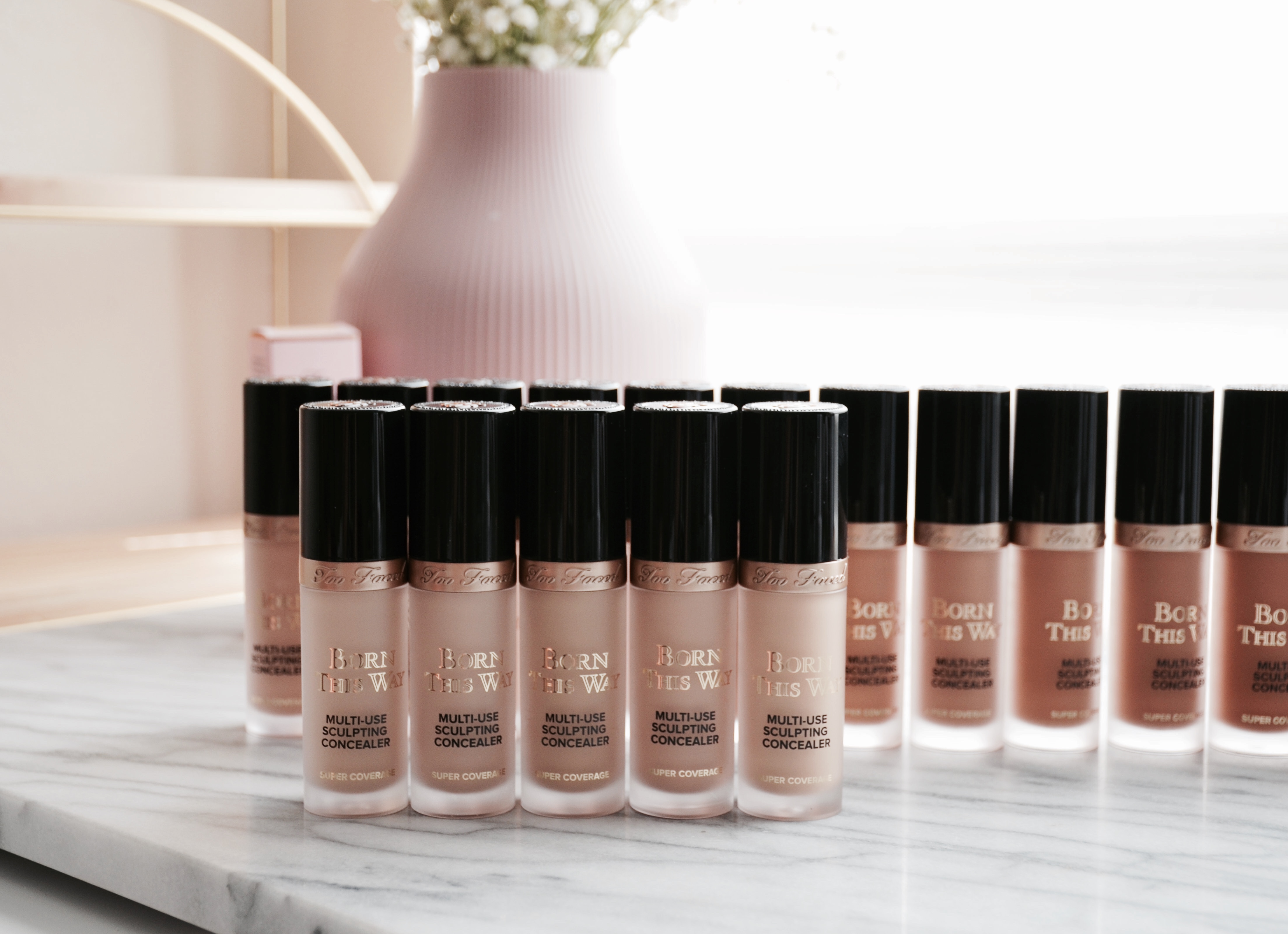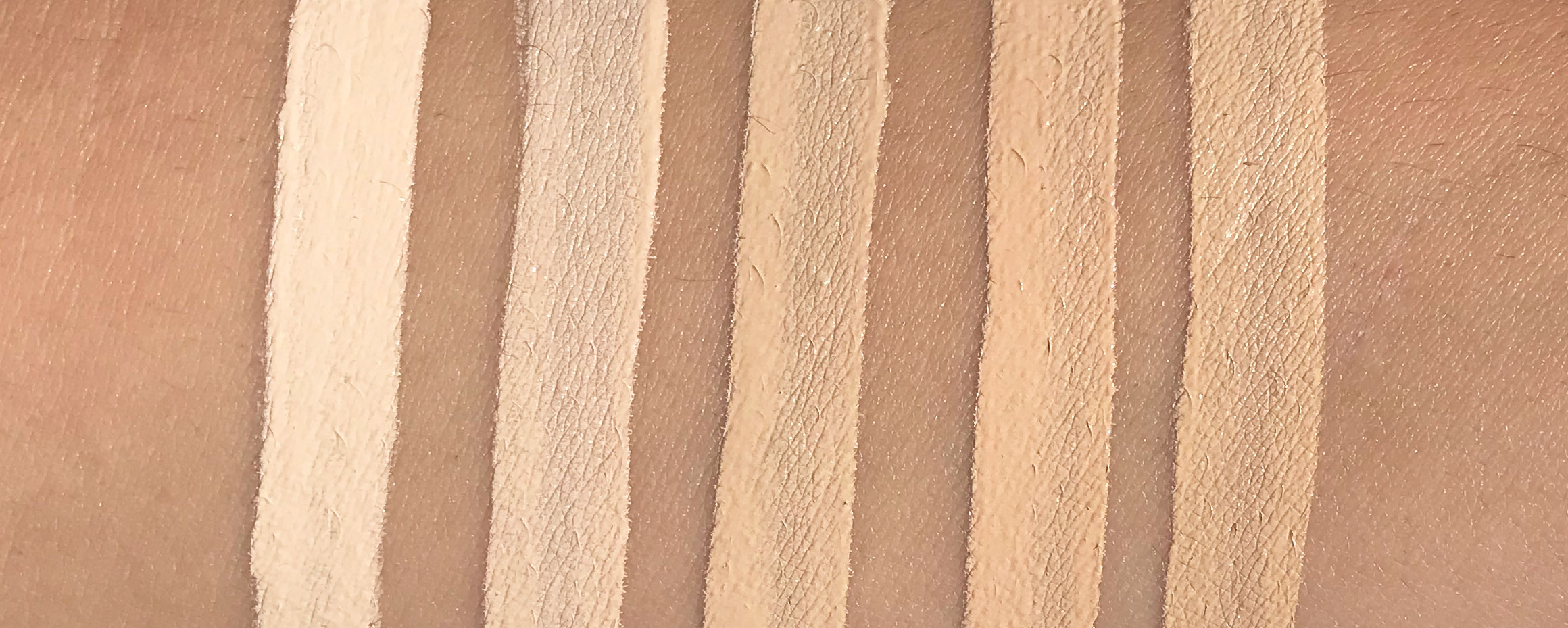 Swatches L to R: Swan, Snow, Almond, Porcelain, Vanilla
Light
Nude – very light rosy
Golden Beige – light golden
Light Beige – light neutral
Natural Beige – light medium neutral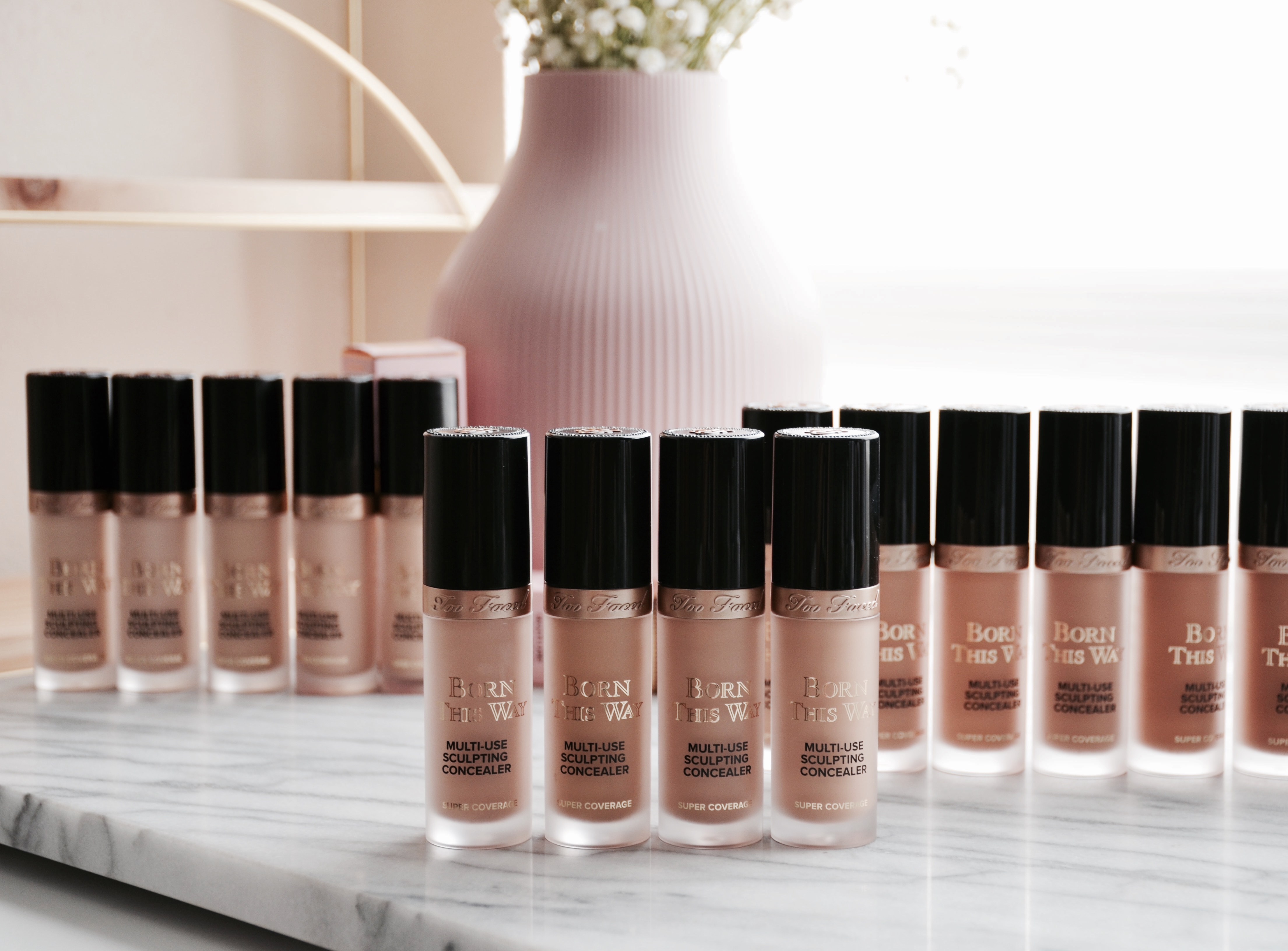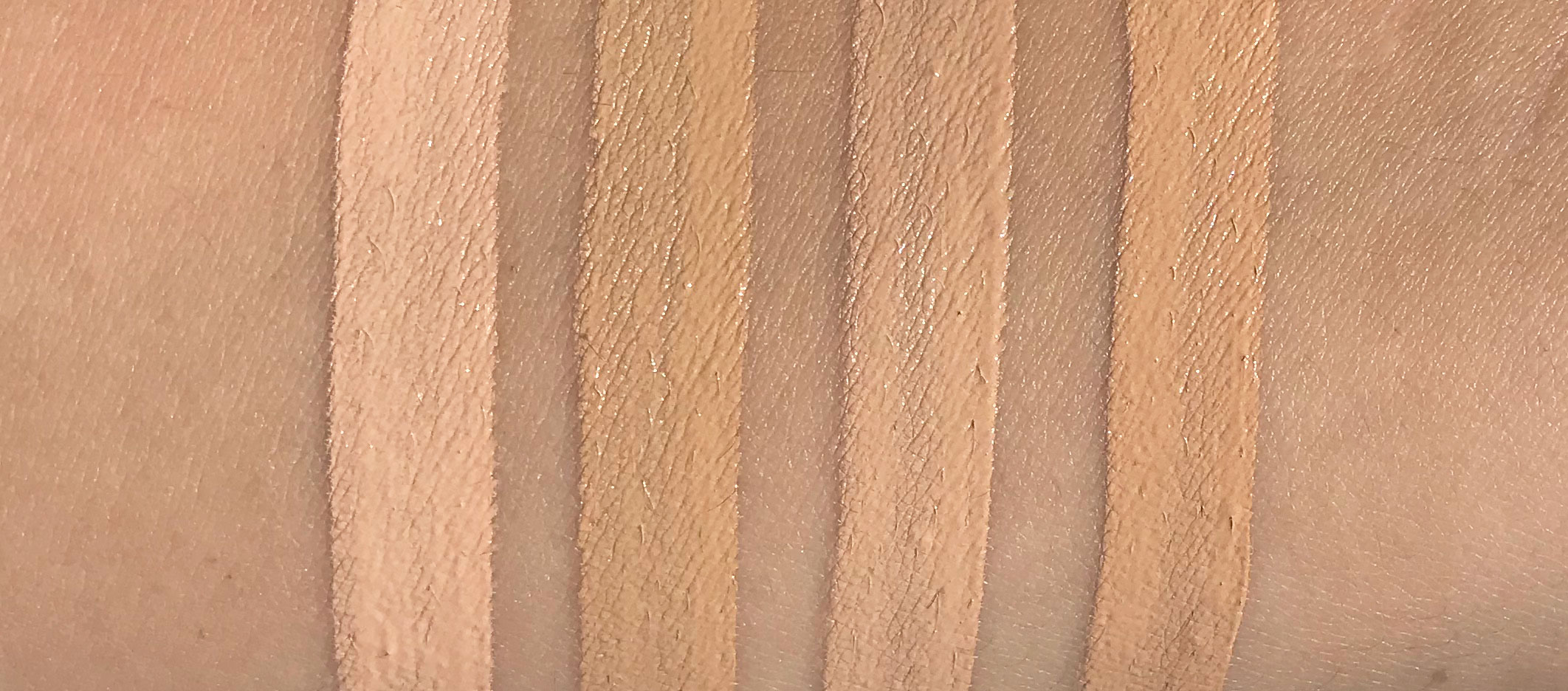 Swatches L to R: Nude, Golden Beige, Light Beige, Natural Beige
Medium and Tan 
Warm Beige – medium neutral
Sand – medium golden
Warm Sand – tan golden
Honey – tan neutral
Butterscotch – rich tan golden
Mocha – rich tan rosy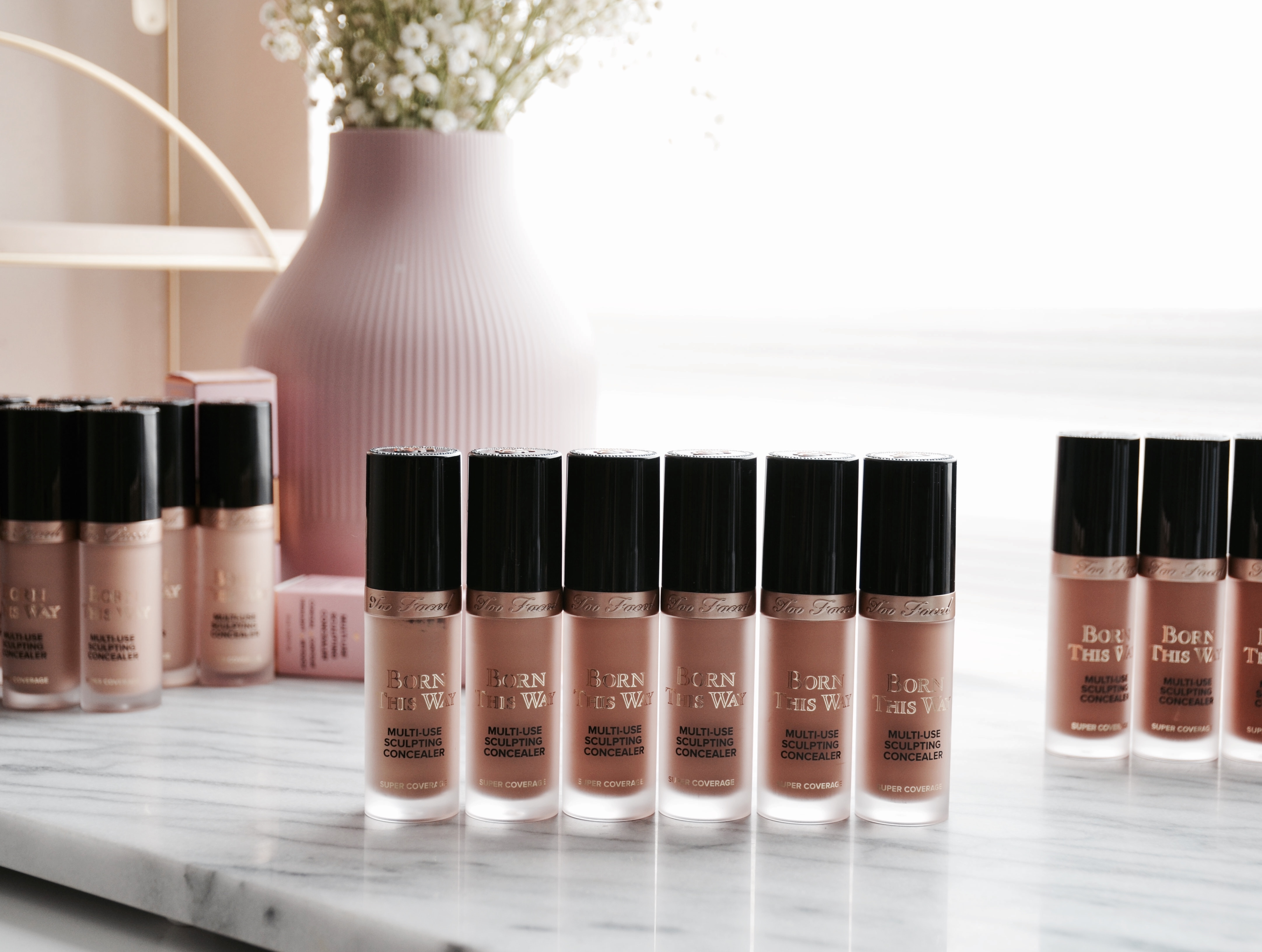 Swatches L to R: Warm Beige, Sand, Warm Sand, Honey, Butterscotch, Mocha
Deep
Maple – deep neutral
Chestnut – deep golden
Mahogany – very deep golden
Toffee – deepest golden
Cocoa – deepest neutral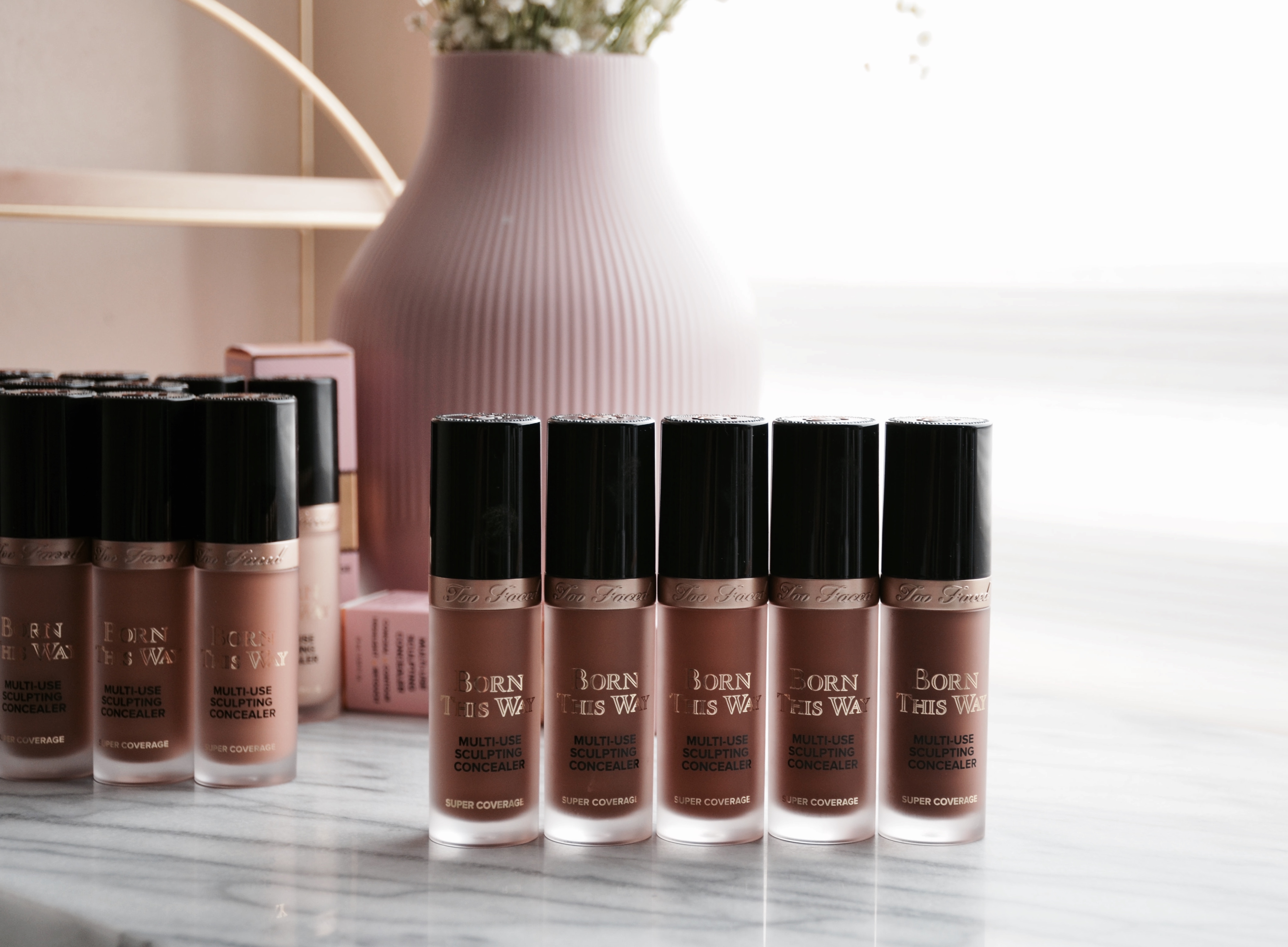 Swatches L to R: Maple, Chestnut, Mahogany, Toffee, Cocoa
If you have light/medium to medium skin tone and you like your concealer on the neutral, more flesh toned side, the shade in Nude works really well for me. I use Nude for under my eyes as I like a shade lighter concealer than my foundation. As for concealing blemishes, I use the shade in Natural Beige.
For application, if you are looking for fuller coverage, you can use both your fingers or a brush. If you like a more natural finish, a damp sponge works really well. If you are like me and wear light coverage bases on the daily, just remember, less is more when it comes to the Too Faced Born This Way Super Coverage Concealer. It is really full coverage so you don't need a lot of product to achieve light or medium coverage. Even if you like your full coverage, I think three to four dots is enough to achieve that, so a bottle will last you more than your regular concealer.
Bottom line, love it! I tested the Too Faced Born This Way Super Coverage Concealer in hot and humid weather and it hold up so well. It claims that it provides coverage up to 12 hours but I've had it on me for 8, and it lasted really well (I never wear makeup for more than 8 hours). Since it comes with a lot of product, I see myself using this all over and sheered out for when I'm in a hurry. The concealer provides excellent coverage while being weightless and non-drying. It's everything that I'm looking for in a concealer.
*PR Sample
SaveSave