Soap & Glory launched a bunch of new products for Spring. From new body products, to bath bombs and new makeup, they have some pretty exciting and affordable new releases. I really like their body care line. The products are all hydrating and smell amazing. The other day I tried one of the new Bath Bombs and they are so, so nice. They made my bath water pink and shimmery and after my bath, my skin felt soft and nourished. And they're only $4!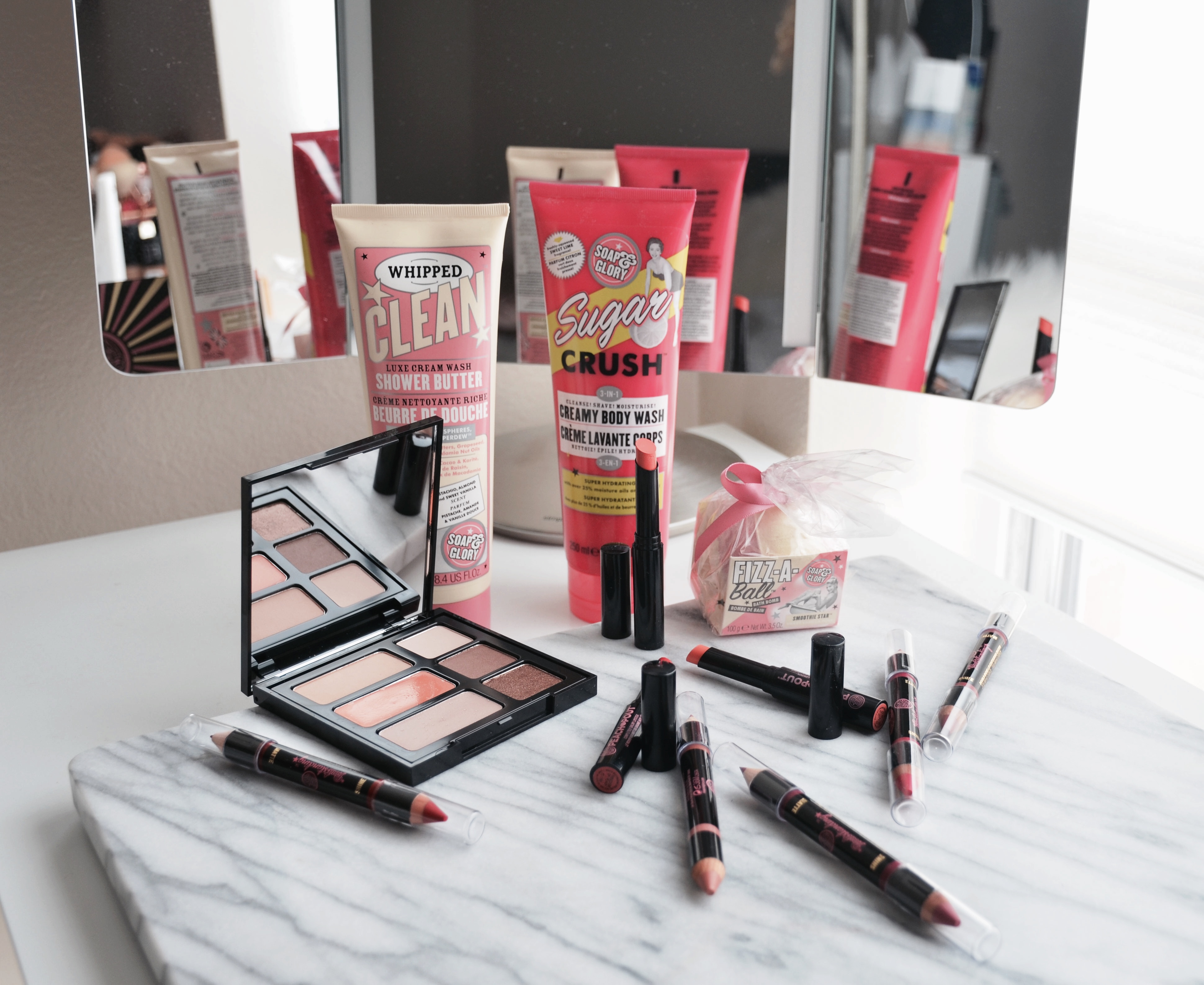 As much as I was excited about the new body care products, I'm more excited about the makeup since they are pretty affordable.
And of course most of them are lippies which I'm always eager to try.
First up, the Peach Pout Completely Balmy Lipsticks. They are lipsticks that have a balm texture and give a sheer tint of color. They are available in three shades that are all different shades of peach and they also smell like peach.
The formula is hydrating and gives a juicy look on the lips. I would say that these are like a tinted lip balm. They appear glossy on the lips and provide sheer coverage so they are a no fuss lip product that you can apply with no mirror.
Swatches L to R: Peach Ball, Peach For The Sky, Freedom Of Peach

Peach Ball

Peach For The Sky

Freedom of Peach
Out of the three, the lightest shade in Peach For The Sky is too light for my liking. The other two I love and will definitely wear in summer on no makeup makeup days. The formula is easy to wear and it keeps my lips hydrated, which I'm always for.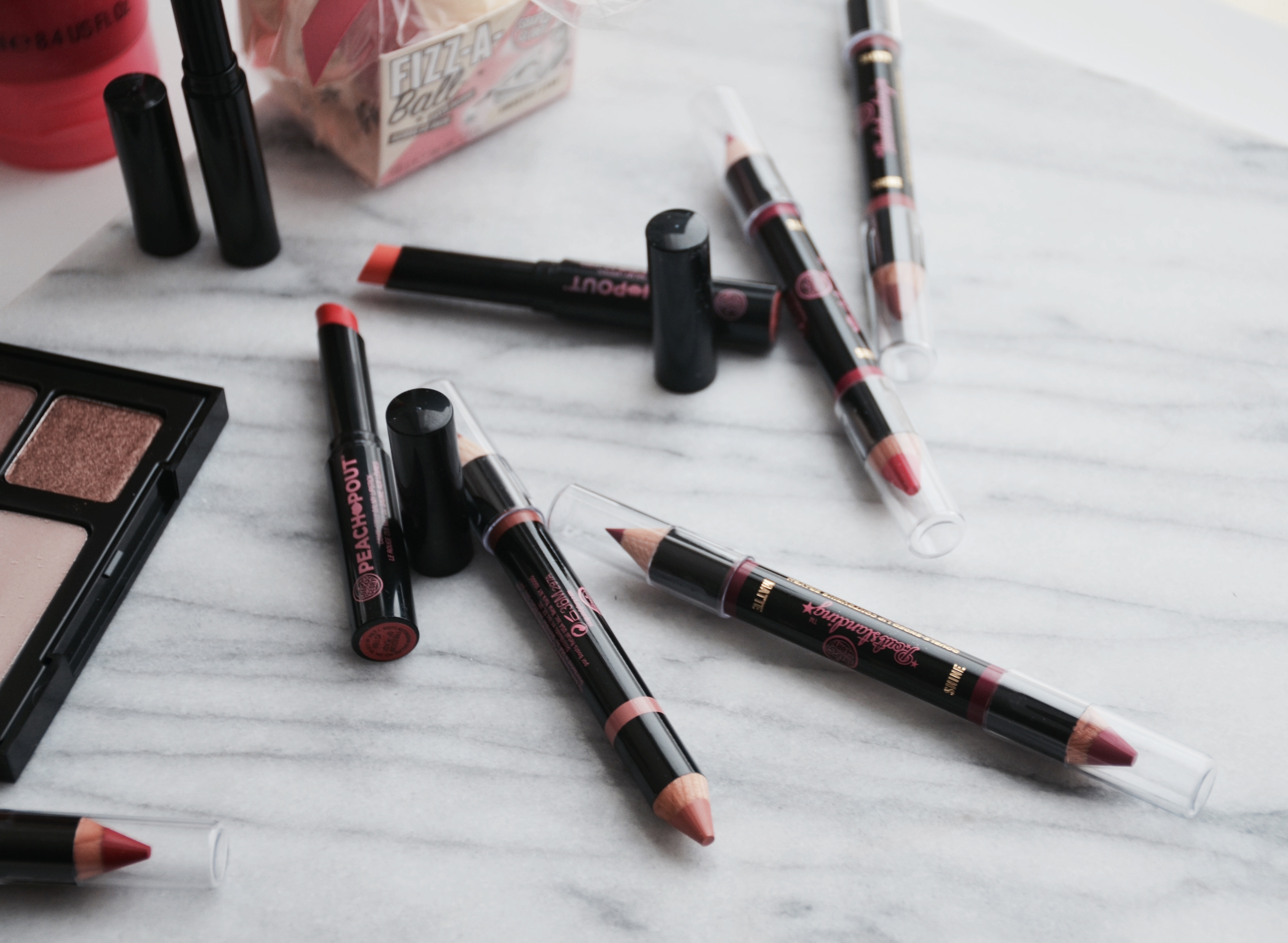 The other lip product that is new from the brand are the Poutstanding Double-Ended Lip Contouring Crayons. The formula of these is amazing for the price point (they are only $12).
They are double-ended crayons that come with a matte lip liner shade on one side and a creamy lipstick on the other. You can use the matte side to line your lips and make them appear bigger and add the creamy color for a juicy looking lip.

Swathes L to R: Front Page Nudes, Rhubarbarella, Plumbelievable, No Candy Do, Cherry Up

Front Page Nudes

Rhubarbarella

Plumbelievable

No Candy Do

Cherry Up
It has been awhile since I liked all the shades in a lipstick line. The shade selection is not big but I think they did a good job with the shade variety but also with the wearability of the shades. I can totally wear all shades. Plus the formula is amazing. It's comfortable to wear, doesn't accentuate any dryness but also lasts all day. Highly recommend!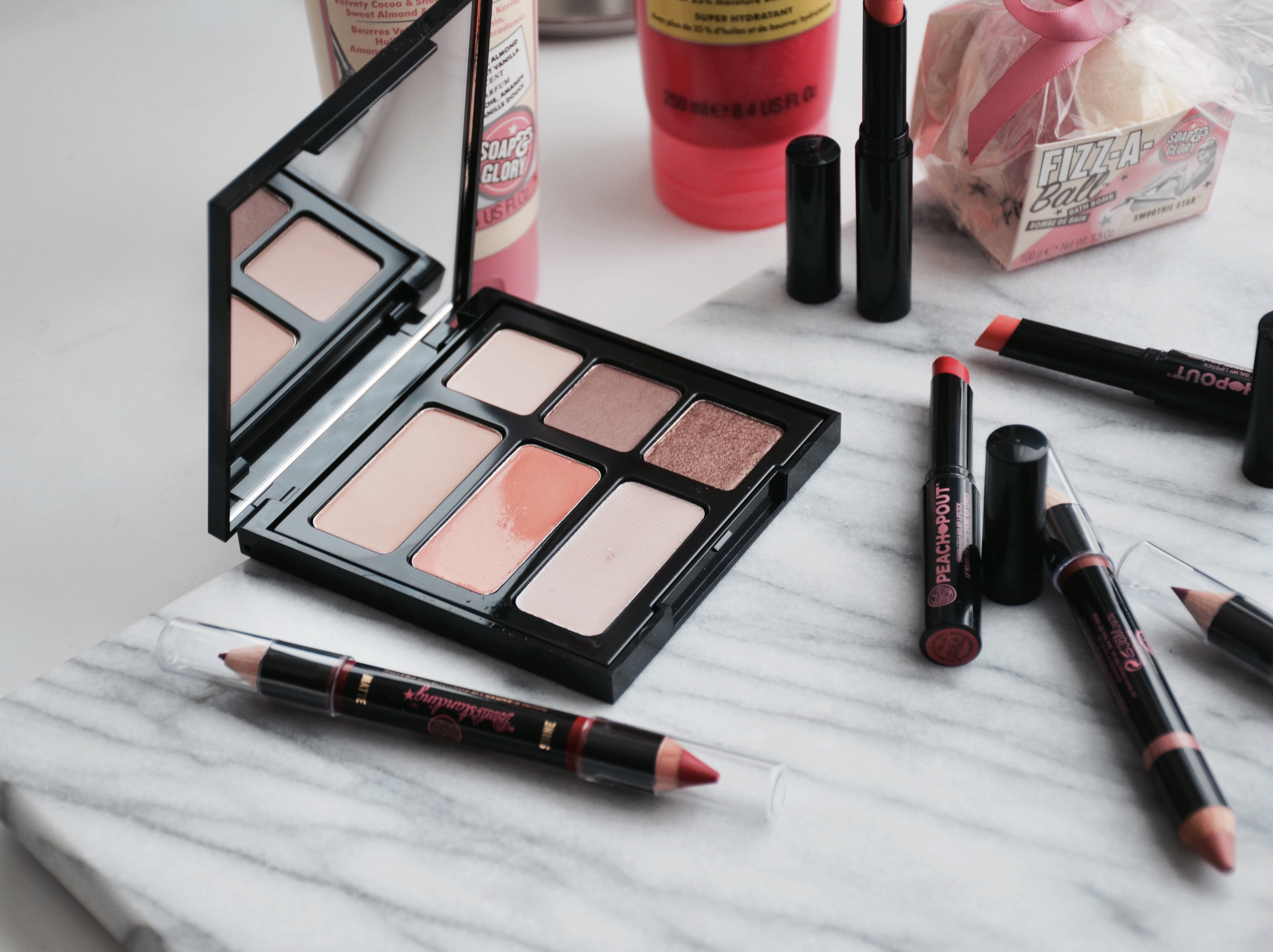 The She's A Natural Face Palette is an all in one makeup palette that is meant for creating natural looks. It comes with the following shades:
Powder Bronzer in Bronze Moment (light warm bronze)
Cream Blush in Coral Dillema (bright coral peach)
Cream Highlighter in Glowing Places (light pink champagne)
Eyeshadow in Cafe Away (matte light beige)
Eyeshadow in Culture Choc (satin mid tone brown)
Eyeshadow in Choccy (shimmery warm bronze)

Swatches L to R: Bronze Moment, Coral Dillema, Glowing Places, Cafe Away, Culture Choc, Choccy
As the name implies, this is a palette for someone who prefers natural looking makeup. The face shades all run on the lighter side so this will be perfect for someone with fair to light skin tones.
On me, since I'm tanner, the bronzer hardly shows up on my skin. The cream blush is subtle and gives a dewy look on the skin and same goes for the highlighter.
I also like the formula of the eyeshadows. It's very easy to work with and perfect for someone who's just starting with makeup.
Bottom line, some really nice and affordable releases from Soap & Glory. If I have to pick a favorite, I would definitely go with the Poutstanding Double-Ended Lip Contouring Crayons. I'm surprised that I haven't heard any buzz about them because the formula is amazing.
*PR Sample
SaveSave