Another month another beauty favorites post. These kind of posts are actually one of my favorite to write and read, it's always nice to see what people are loving. March is a very special month for me because it's my wedding anniversary and also we finally bought our own place so we're moving in tomorrow. So many things happening and I'm super excited for everything.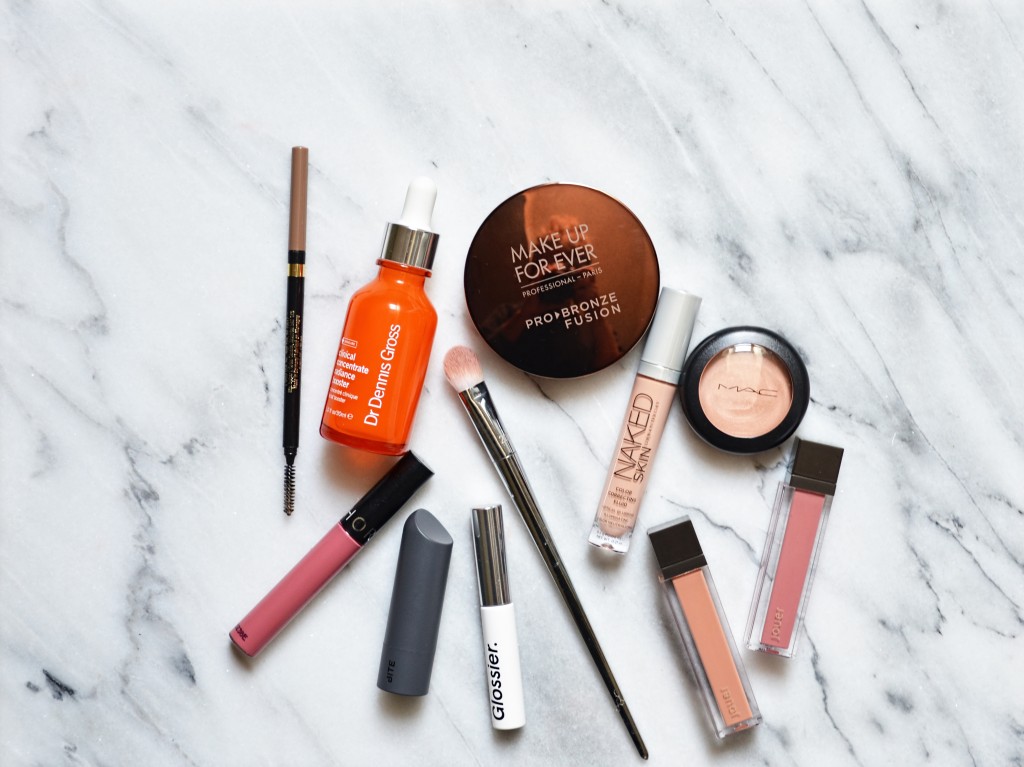 Now let's get on to the beauty favorites. I feel like March was the month for new lip product releases so I have couple of favorites that I've been loving. Also this month I discovered Dr Dennis Gross skincare which made such a difference in my skincare routine.
Skincare – I'm planning on a separate blog post for all the Dr Dennis Gross skincare that I'm currently testing but I had to include his Clinical Concentrate Radiance Booster in my favorites because I can't get enough. I use this mainly in my morning routine and I love the glow that it gives to my skin. More details in my review which is coming soon!
Base – Correctors are very in right now and I hopped on the bandwagon and tried the new Urban Decay Naked Skin Color Correcting Fluids. I've been using the shade in Peach almost every day since I got it to cancel my under eye darkness and I find that it works really well.
Cheeks – I've been really in to cream highlighters this past month maybe because we had a change of seasons or maybe because they're very easy to use and look more natural than your usual powder highlighter. The MAC Cream Color Base in Hush has been my go to when it comes to cream highlighters. It's a beautiful light peach highlighter that gives you almost a wet look to your cheeks. Highly recommend!
The Make Up For Ever Pro Bronze Fusion bronzer in 20m is my new favorite bronzer that will probably have a permanent place in my makeup collection. I previously got the shade in 35l but that one was very warm and dark to use during the colder months, but 20m is just perfect. It looks very natural on the face and the shade is the perfect in between shade, not too warm and not too cool.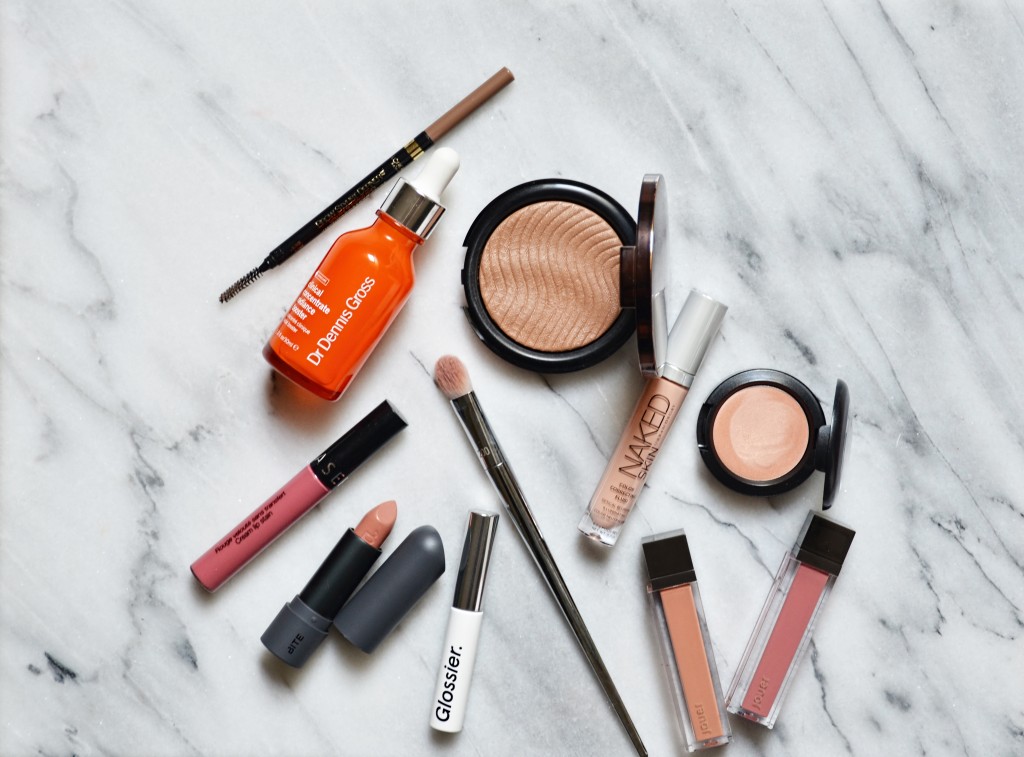 Brows – I have two brow products in my favorites for this month, the Glossier Boy Brow mascara and the L'oreal Brow Stylist Definer aka my favorite brow pencil from the drugstore.
The Glossier Boy Brow is your usual brow mascara that sets your brows in place but what't different about it it's that it also gives volume to your brows and some tint. I prefer to use this after I fill in my brows because I feel that it's not enough for me but for those who have fuller brows you can use just the Boy Brow and you'll be good to go.
L'oreal did it again with their new brow product. I'm a big fan of the L'oreal Brow Plumper so when I saw that they have a new pencil I had to try it. This brow pencil is almost the same as the well famous ABH Brow Wiz. It has the same consistency and same shape so it's super easy to do natural looking fake hairs. If you're looking for an affordable brow pencil this is the one to try.
Brushes – I got this Real Techniques Bold Metals brush that's meant for eyeshadow and I have to say that it's one of my favorites from that line. This brush is for people who prefer to wear a wash of color on their eyes and just use one shade because it applies color super quick because of it's size. I would not recommend it for precise application but if you're looking for a brush to use when you're in a hurry it's a good one to try.
Lips – Jouer had a big launch for their Lip Creme Liquid Lipsticks and I had the pleasure of testing out the shades and ended up loving the formula. The formula is as comfortable as you can get from a matte liquid lipstick and the lasting power is amazing. They have 16 available shades and they're all very nice and wearable shades.
Bite Beauty also launched a new line of lipsticks, the Amuse Bouche lipstick line. I've been wearing the shade in Honeycomb a lot this month and it is becoming one of my favorite every day nudes. I'll have a blog post coming up for the four shades that I got so you can read more details about them.
The Sephora Lip Cream Stains are not new to me, I think I have around seven shades in my collection so you can tell I like the formula. I recently picked up the very popular shade in Marvelous Mauve and I can see why it's always sold out. It's a beautiful pinky mauve shade that you can wear all year round. Oh if you wanted to get that shade it's currently in stock on Sephora's website.
Let me know what you have been loving for the month of March in the comments below. Have you tried any of the new spring launches?