Kat Von D released a whole new line of base products, from primer to setting powder, she has it all. I already reviewed the Lock It Concealer Creme on my blog, if you're interested you can read about it here but today I'll give you an overview of the rest of the products from the Lock It line.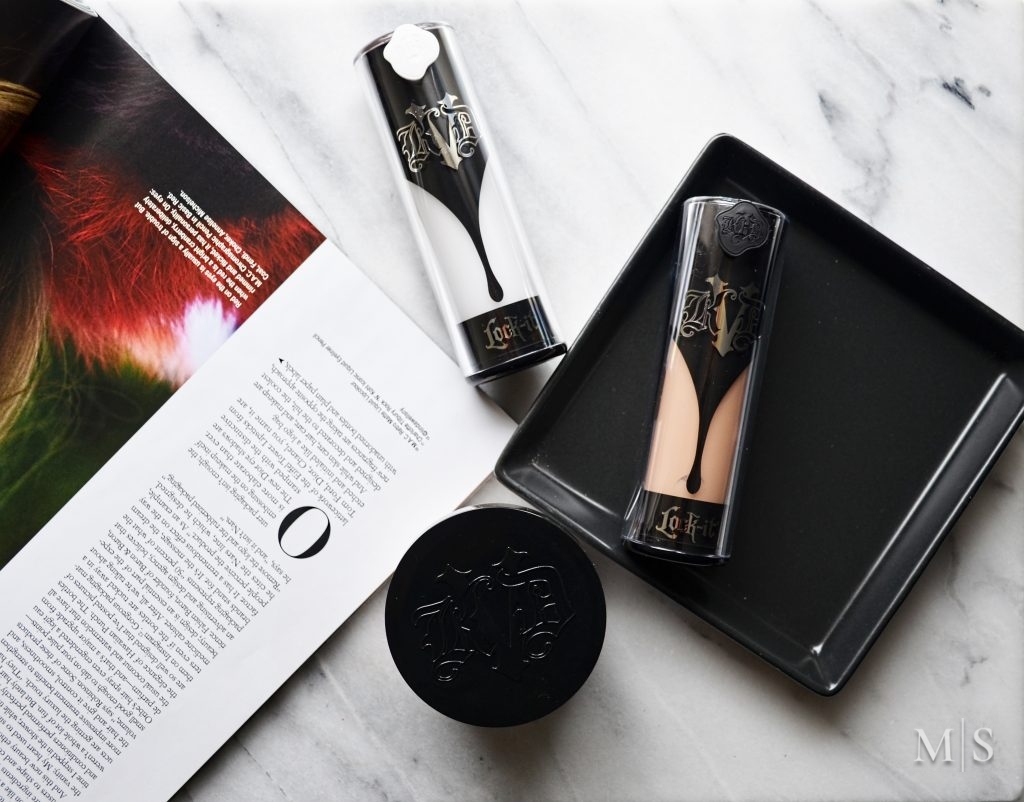 First the Lock It Hydrating Primer, a water based primer that was specially designed for long-wearing foundations. It's formulated with lightweight milky texture that feels weightless on the skin and it's infused with nourishing ingredients like Vitamin B5, aloe vera, jojoba and shea. It also has smoothing properties which help to smooth any pores and imperfections on the skin.
It's fragrance free and colorless and recommended for sensitive and dry skin. The primer actually really reminds me of the Marc Jacobs Coconut Primer, it has the same consistency and feels similar when applied to the skin. On my normal skin the primer felt nourishing and hydrating, which I love in a primer.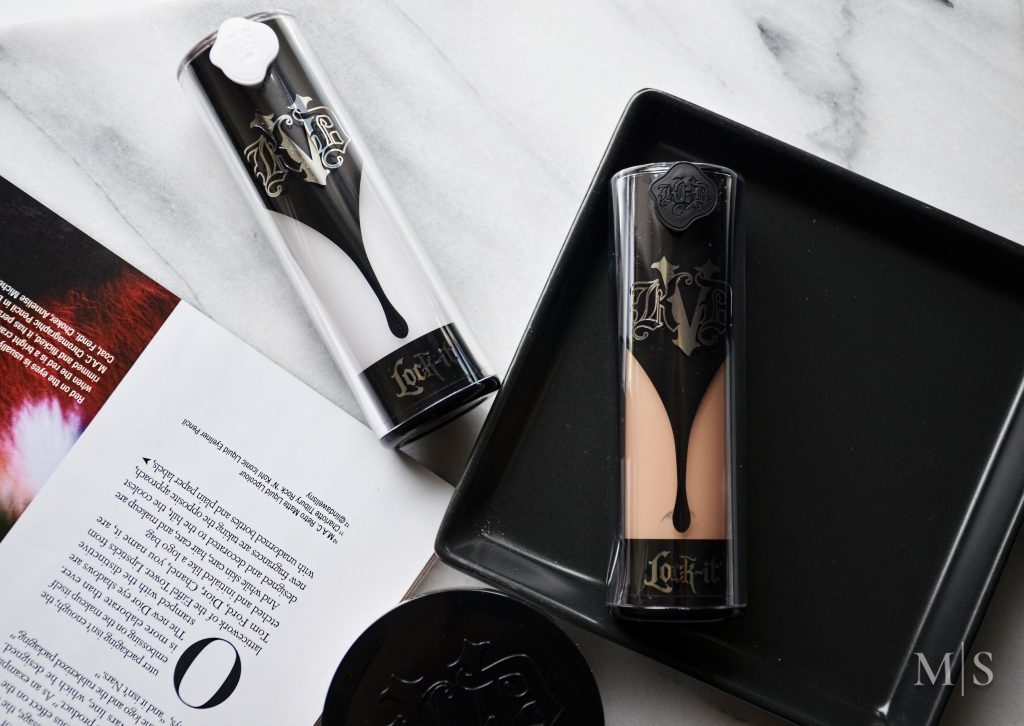 The KVD Lock It Foundation got a revamped more pretty packaging than the old version. The Lock It Foundation is described as a high pigmented foundation with full coverage that supposed to be long-lasting. The line has 19 available shades which is a pretty good shade selection for a foundation.
I received three shades to test out in Light 48 Neutral (light sand with neutral undertone), Light 49 Neutral (light apricot with neutral undertone) and Medium 52 Warm (medium bisque with warm undertone). Since I'm on the lighter side after not spending a lot of time tanning, the shade in Light 48 Neutral worked really well for my skin tone. It's a light-medium shade with neutral undertones which I prefer in a foundation,it has the perfect shade of being no too yellow but also not pink.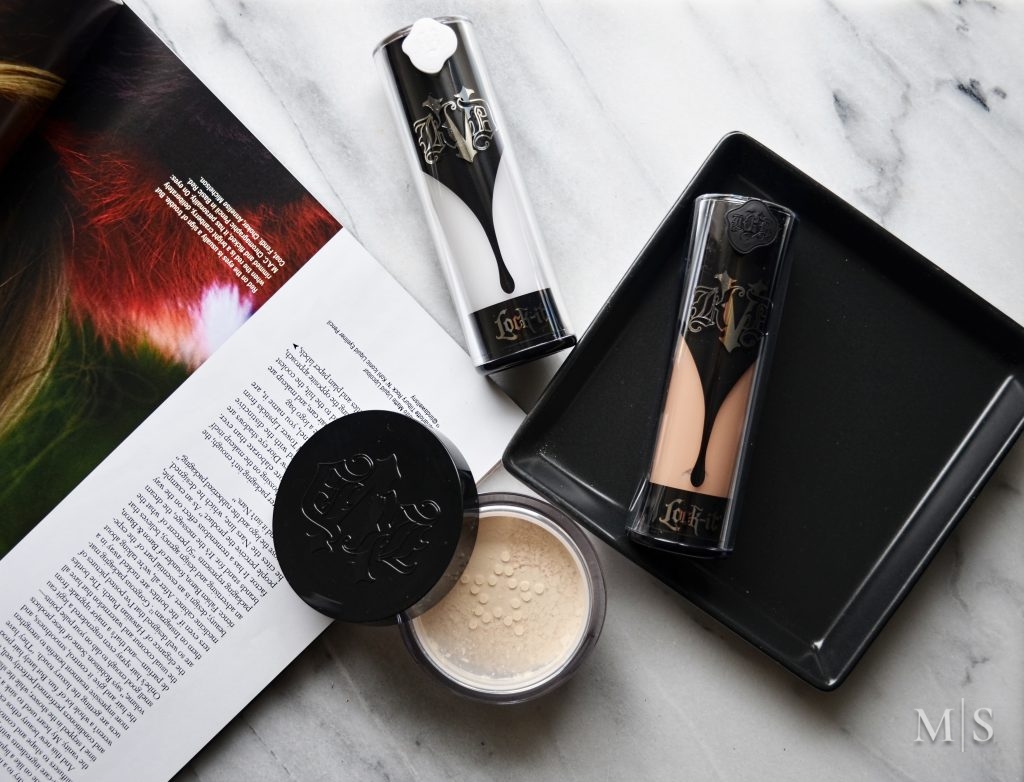 I have to admit that I was a little hesitant to try the Lock It Foundation since I've heard that it's a super full coverage foundation which I stay away from, I like my foundation on the light to medium side and also don't like the feeling of a foundation on my face so the lighter the better. I'm not sure if she reformulated the foundation when she released the new packaging but I didn't find the foundation heavy at all and if you use just a tiny bit you'll end up with good medium coverage with a matte finish that still looks natural on the skin. I wore the foundation for around 8 hours and it looked freshly applied at the end of the day with no fading or creasing.
Kat Von D formulated this foundation to be super pigmented so you really need a tiny amount to achieve good coverage. I used one pump and I managed to cover my whole face and achieve medium coverage. The foundation blends on to the skin very nicely and sets to a powdery finish that feels light on the skin. For testing purposes I used the Lock It Hydrating Primer before applying the foundation and they go really well together. If you like a more dewy finish she also recommend mixing a pump of the Hydrating Primer with the foundation and if you like a sheerer coverage you can mix a higher ratio of the primer with the foundation.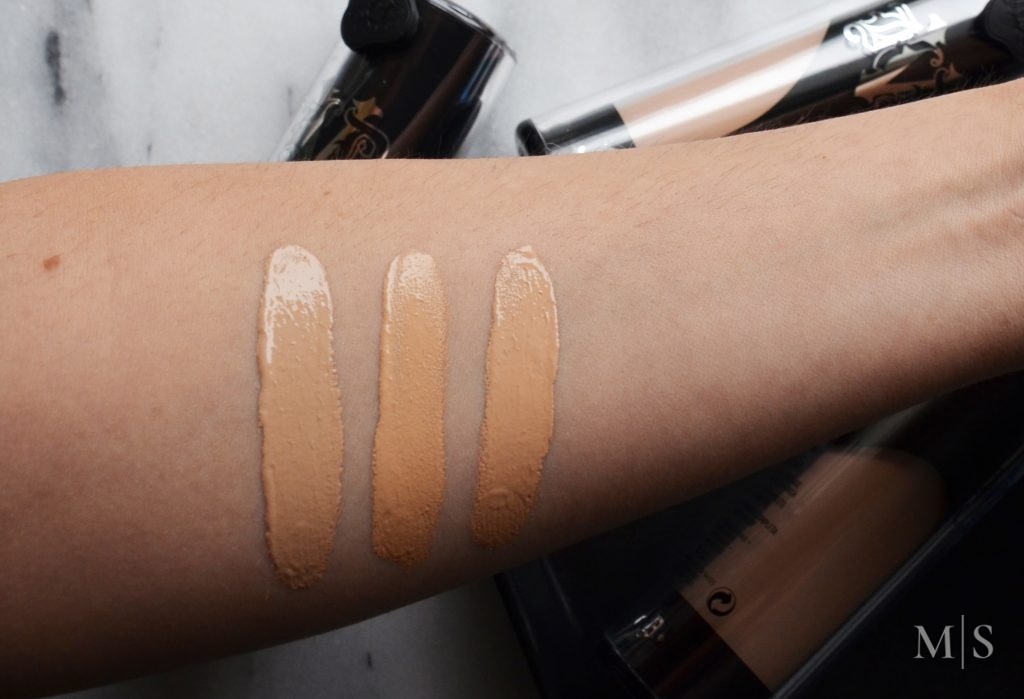 Swatches of the Kat Von D Lock It Foundation L to R: Light 48 Neutral, Light 49 Neutral, Medium 52 Warm
The Lock It Setting Powder is a weightless translucent setting powder formulated with Micro-Blurring Technology which helps set the makeup and achieve a flawless finish. I used the Kat Von D Lock It Setting Powder all over the face to set my makeup and it mattified my skin even more but didn't add extra coverage. The powder felt very light on the skin and I think it will be good for both setting your foundation but also will work for setting the under eye area. For me, I don't think I'll use it as an all over the face powder since I don't feel like I need it and I also prefer a dewier finish but for the under eye area it will work really well. Since it has exceptional mattifying properties I feel that the Lock It Setting Powder will work great for oily skin.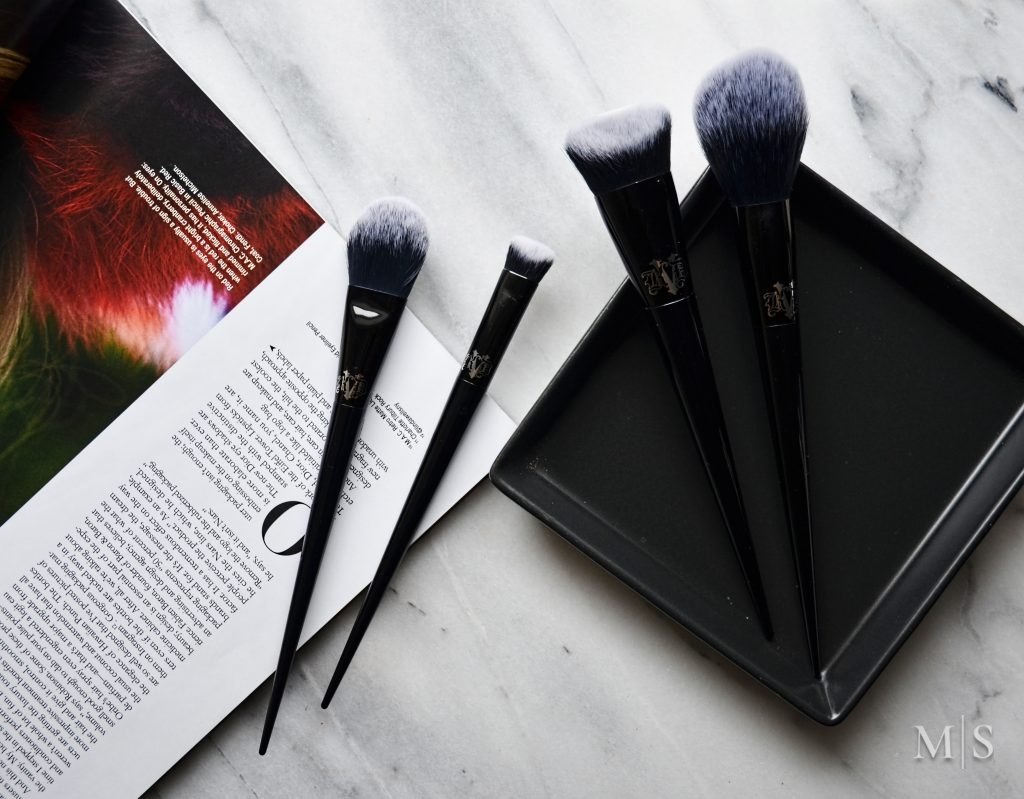 Kat Von D also came out with four brushes that are meant to be used with the Lock It base products. She came out with Lock It Edge Foundation Brush, Lock It Setting Powder Brush, Lock It Edge Concealer Brush and Lock It Precision Powder Brush.
I have previously used KVD brushes, I have her Shade + Contour Brush and love it. The quality of the brushes is amazing, they feel very well made and super soft on the skin plus I love the black design with the sharp ends. For application I used the new brushes and they compliment each product that they're meant for.
The whole Lock It line was a huge hit for me. I love the Lock It Concealer Cream and I've been using that concealer almost every day. The foundation is also really nice if you're looking for a super long-lasting foundation with a matte finish. I will keep the foundation for special occasions since I prefer something lighter and glowy for every day use. The Lock It Setting Powder is reserved for setting my under eye area and the brushes will be used on daily basis.
The Kat Von D Lock It line is available both at Sephora and katvondbeauty.com.
*PR Sample