Connecting beauty, environment and well being, that's the vision that Aveda has when they produce their beauty products. If you're not familiar with the Aveda brand, they're a beauty brand that produces high performance, botanical-based products that are kinder to the planet. All their products from skincare, makeup, haircare to body care are made from naturally derived ingredients which more than 50% of the molecule comes from plant, non-petroleum mineral, water or some other natural source.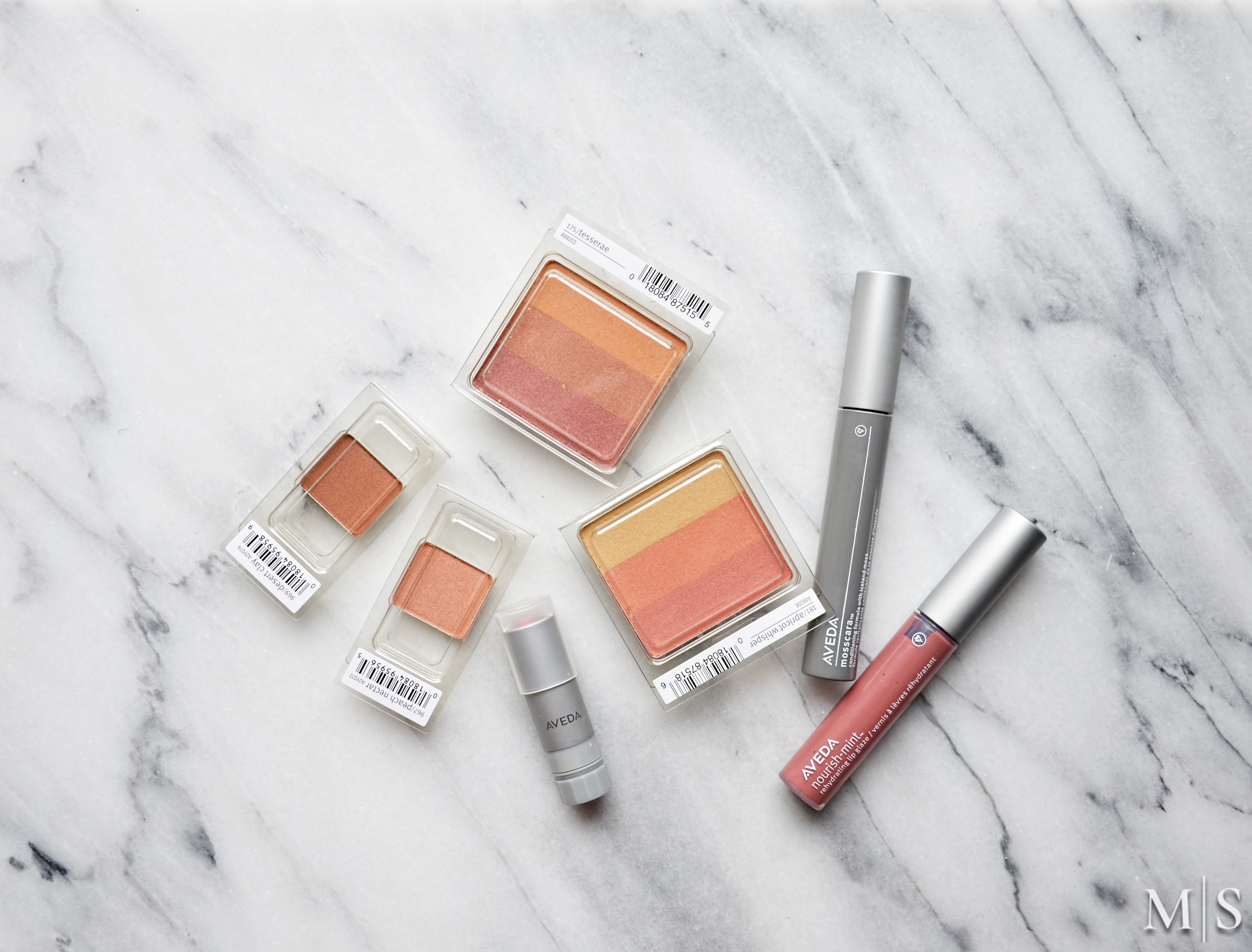 I had the pleasure of testing out some of their makeup products and I'm happy to say that they all performed pretty nicely. I would say that the makeup that I tested is more for natural looking days since they're all pretty neutral and appear more natural on the skin.
The Petal Essence Face Accents are cheek products that have a bronze, highlight and blush shade in one. They're talc and mineral oil free and infused with soft floral aroma with certified organic lavender. You can either use the shades on their own or just swirl your brush and use all three shades as a cheek color.
I tested the shades in Apricot Whisper (warm sunny golden to coral peach) and Tesserae (neutral peach to rose). Both shades performed really well as blushes and gave a natural luminous flush to the cheeks. Apricot Whisper being the lighter shade, I would recommend it for lighter skin tones since it gives a beautiful soft lighter peach color to the cheeks. On my light to medium skin tone it gives a subtle peach flush that's perfect for the warmer months. Tesserae has darker shades that would be perfect for light to medium skin tones. It has more neutral rosy tones that are good to wear all year round.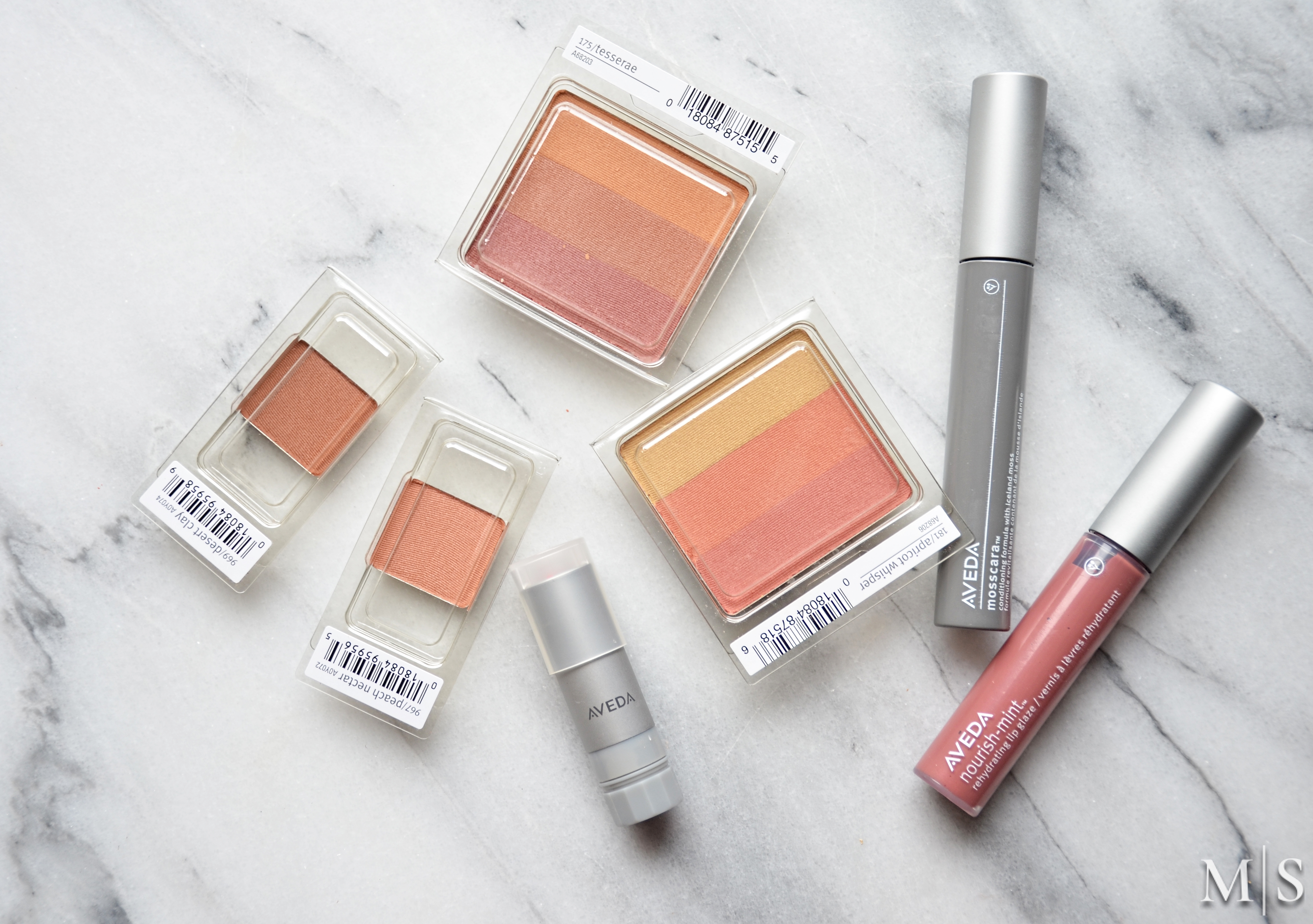 The Petal Essence Face Accents don't come in any packaging, they're settled in 100% PCR clamshell and paper sleeve but the pan is magnetic so you can put them in your Z palette which makes it great for travel.
The Petal Essence Single Eye Color are flower wax infused eyeshadows that are crease resistant and soft to the touch. The two shades that I tested were pigmented and buildable and very easy to blend. They're also packaged in 100% PCR clamshell and paper sleeve and also have magnetic pans which are great for storing. Naturally I go for the warm shades so my favorite of the bunch I tried are Peach Nectar (peachy sunset glow) and Desert Clay (bold matte earthy orange).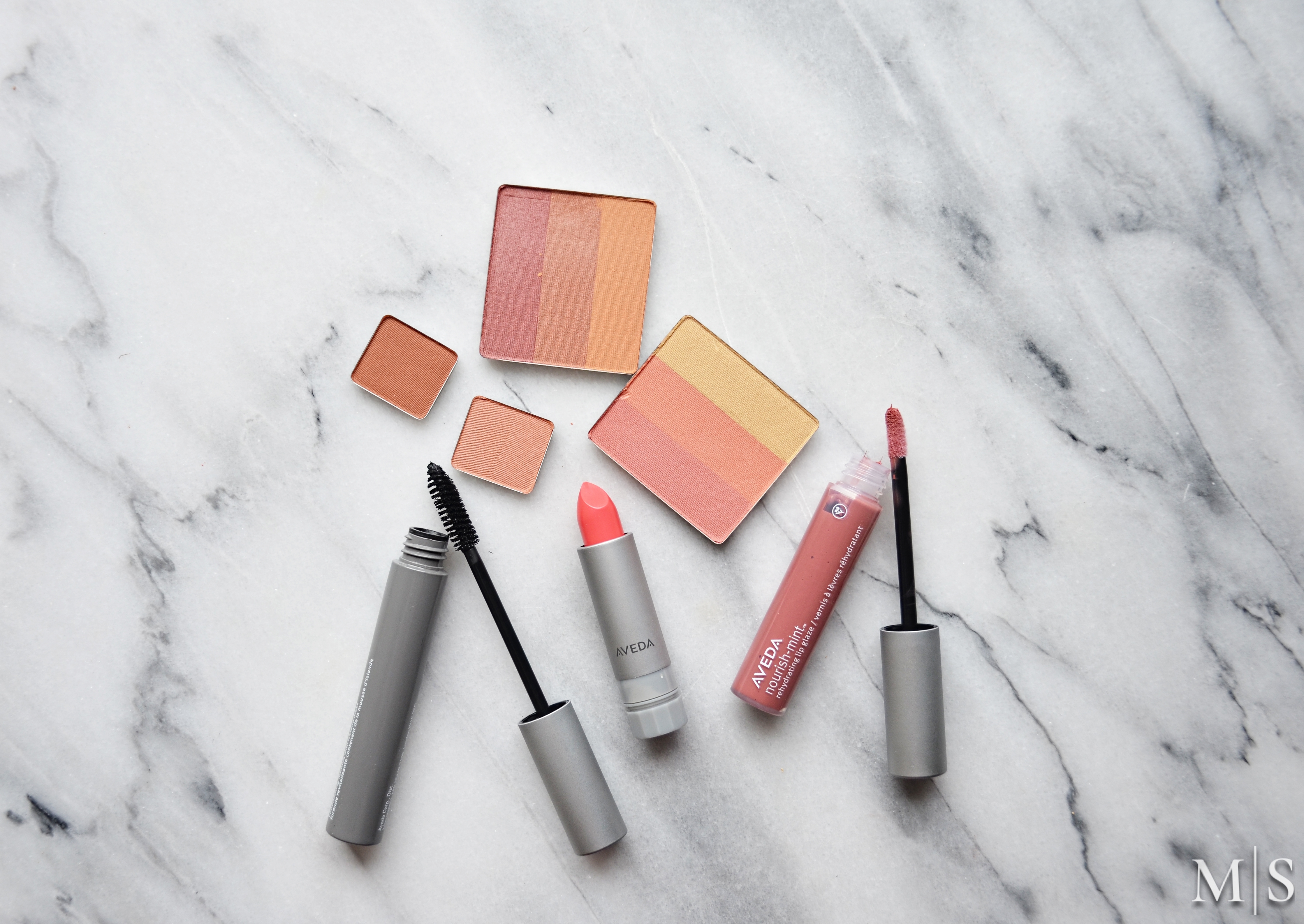 The two lip product I tried are the Nourish-mint Rehydrating Lip Glaze in Rose Dusk, a plumping lipgloss that helps nourish and moisturize the lips while giving nice pigment to the lips. The lipgloss has a minty scent which has this cooling and tingling effect when you apply it to the lips. The consistency is a little bit tacky which makes the lipgloss wear longer than your usual lipgloss. The shade that I have is pretty pigmented and can be worn on it's own.
The Nourish-Mint Smoothing Lip Color are lipsticks that increase moisture and help in smoothing the appearance of lip lines. The shade in Peruvian Lily is a bright pink that's super hydrating and comfortable on the lips. As I previously stated it is hard for me to pull off pink shades so this is not my typical choice of color but for people who love pinks this is a great hydrating lip choice.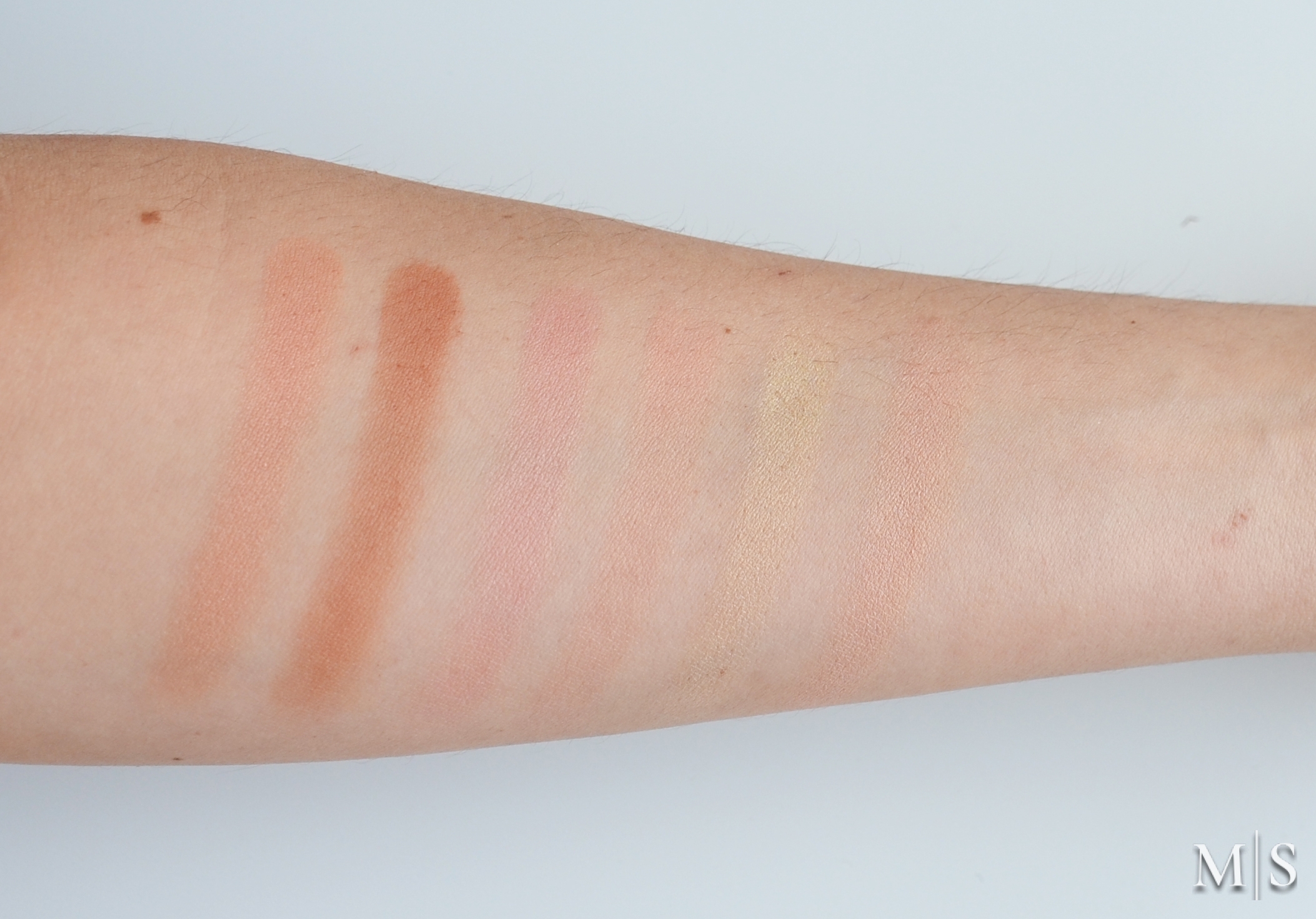 Swatches L to R: Aveda Petal Essence Single Eye Color in Peach Nectar & Dessert Clay, Aveda Petal Essence Face Accent in Apricot Whisper all three shades and swirled together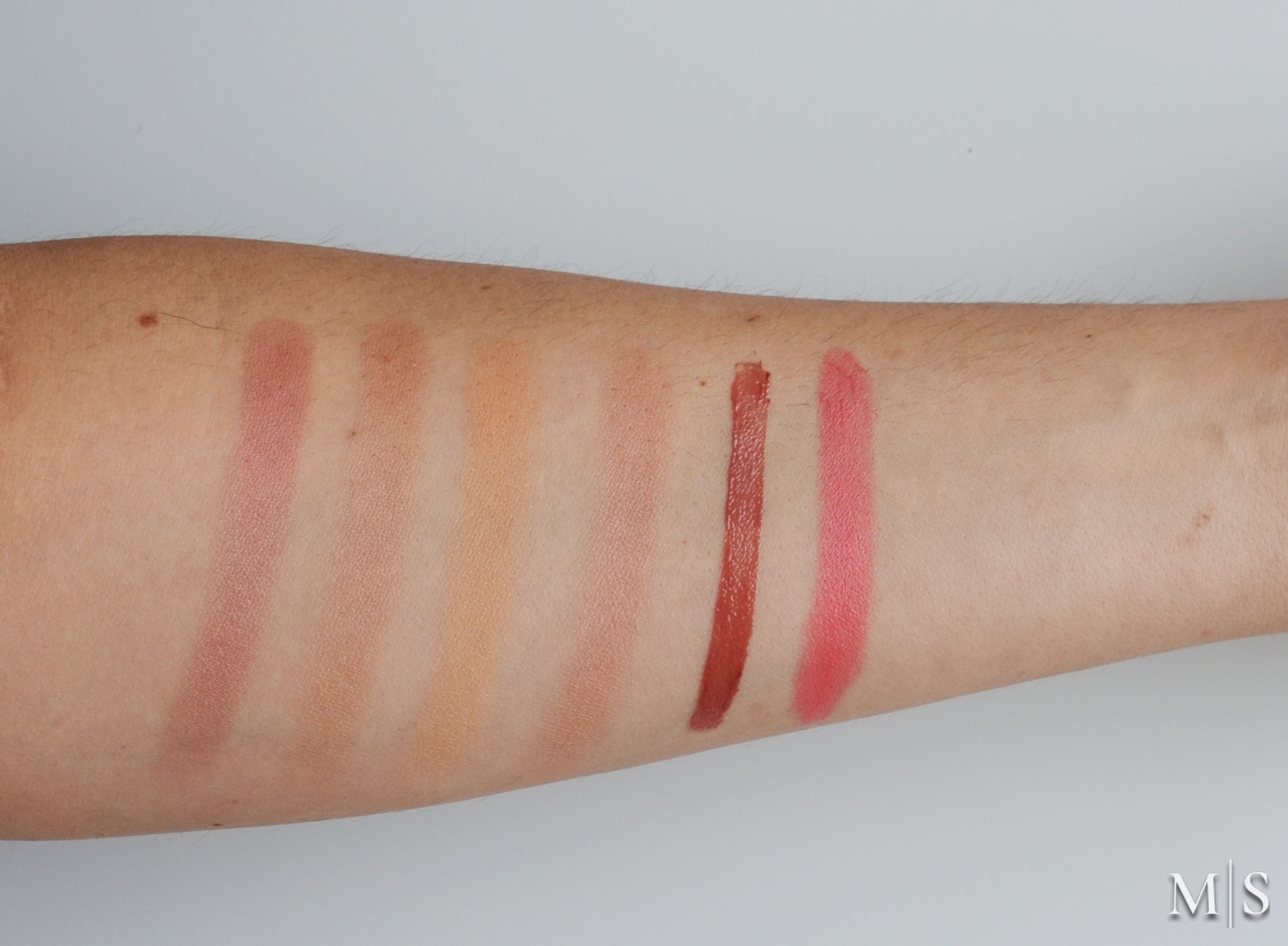 Swatches L to R: Aveda Petal Essence Face Accent in Tesserae with all three shades and swirled together, Aveda Nourish-mint Rehydrating Lip Glaze in Rose Dusk, Aveda Nourish-Mint Smoothing Lip Color in Peruvian Lilly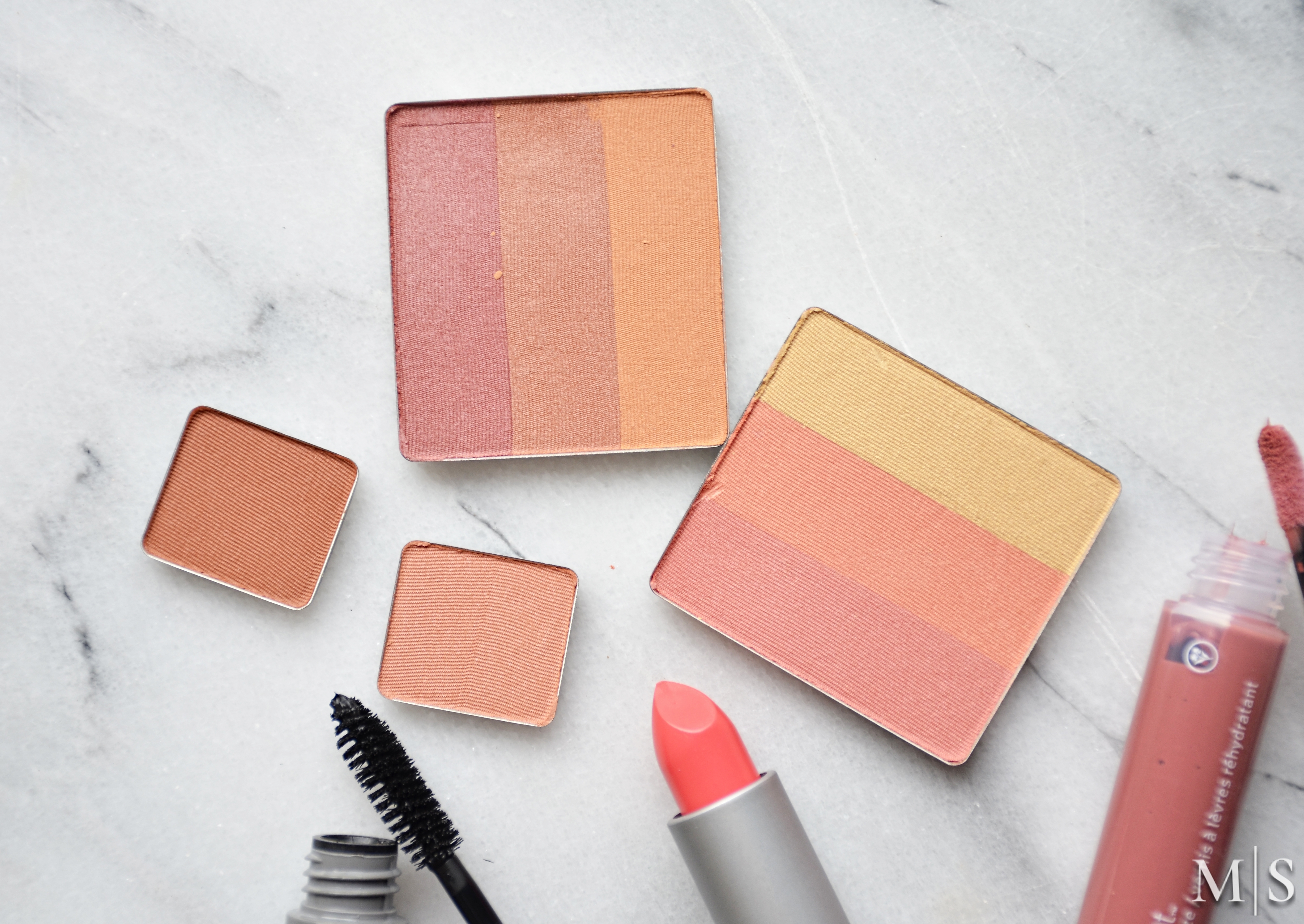 And last but not least the Aveda Mosscara, a thickening mascara that conditions the lashes with the help of Iceland moss and other pure plant extracts. It leaves the lashes lush and soft to the touch and it's smudge and flake proof. It's one of those mascaras that gives you a natural look to your lashes while also giving them a thicker look. For me I like drama all day every day so I prefer my mascaras not so natural but for people who like to wear a more natural look this is a good one to try since it literally stays put all day.
Have you tried any beauty products from Aveda? I'm currently testing some of their haircare so watch out for a post that will be all about my favorite Aveda hair products.
*PR Samples