I already did a blog post about the first three shades that I got from the Charlotte Tilbury Eyes To Mesmerise line. I did a review and swatches of Marie Antoinette, Mona Lisa and Bette, If you missed it you can read about it here.
I recently got the opportunity to participate in the "Smoky Eye Till I Die" campaign that was launched by Charlotte Tilbury so I got sent the other shades in the collection. Charlotte Tilbury wanted to show us that every woman can mesmerize with seductive smoky eyes no matter the age. She did a whole series of videos featuring her family and their go to smoky eyes.
Since I love the cream eyeshadows I wanted to share swatches with you guys of the whole line.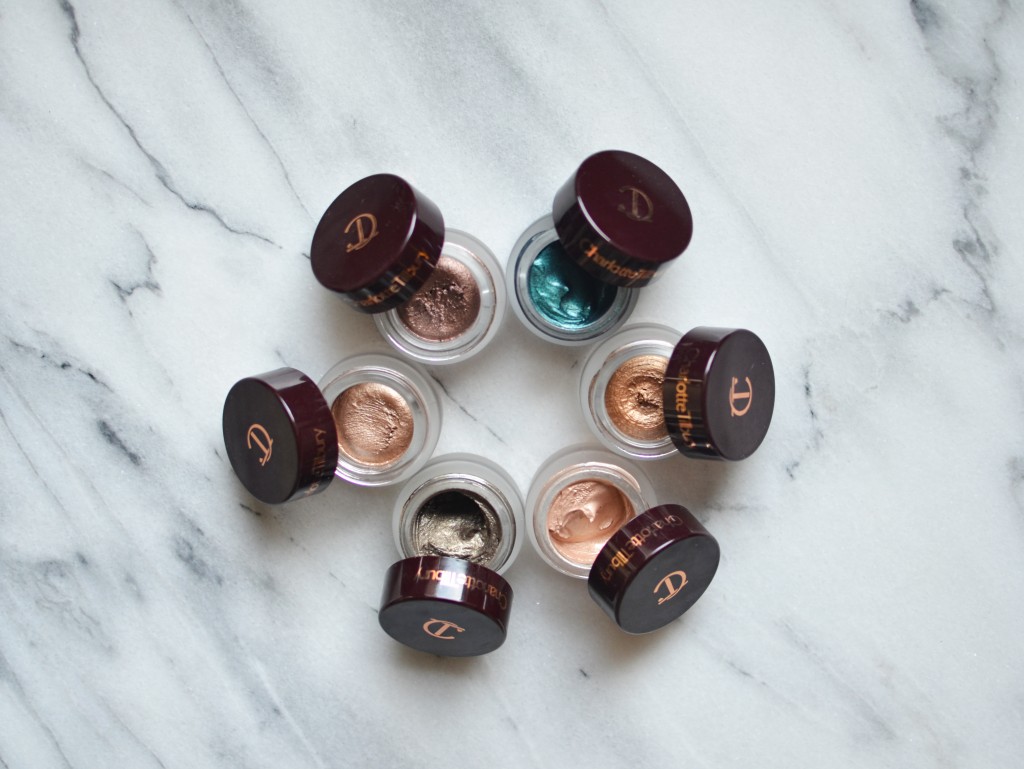 Like I mentioned in my previous review the cream eyeshadows are very pigmented, you only need a touch to cover the lid. I usually use my hands if I only use one shade but if I use two or more I prefer using brushes.
I love the color range and I'm also hoping she'll add more shades to the line, maybe a nice dark brown and a shimmery black.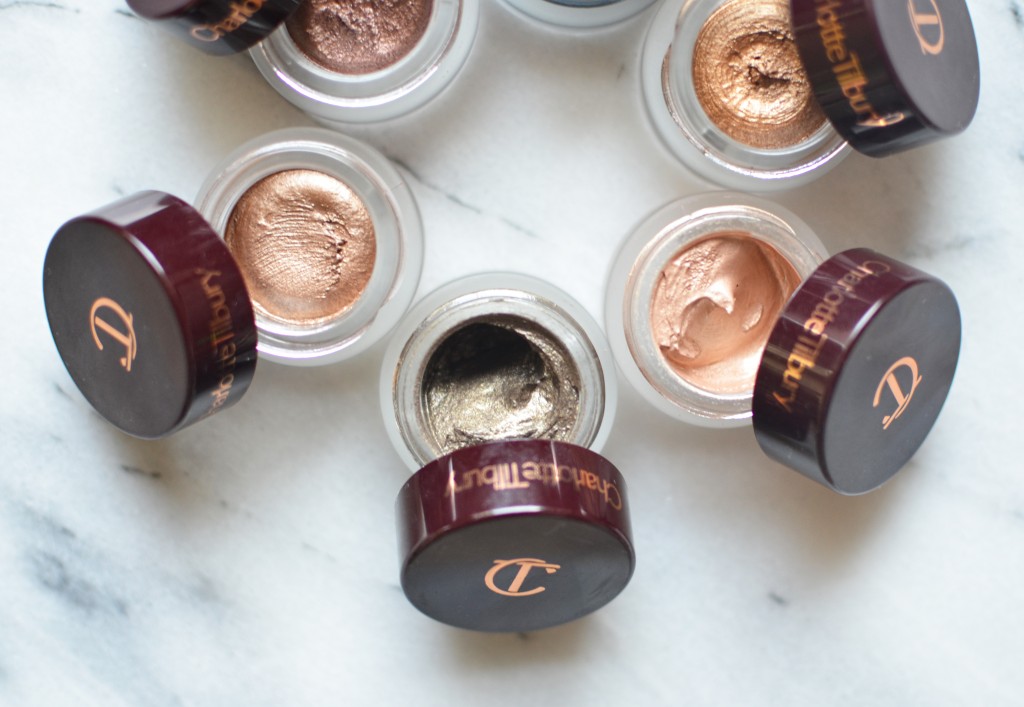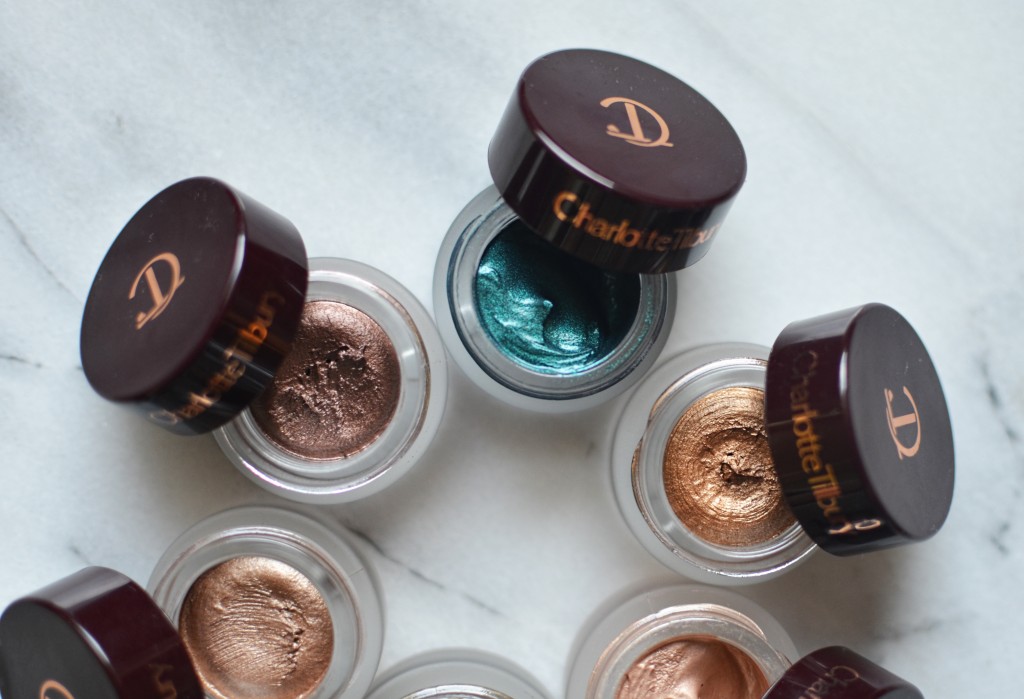 The only shade that's harder to work with is Cleopatra, you have to be patient with application and if you want to build up the shade but I don't mind it since the end result is beautiful.
Here is a short description of the shades from the Eyes To Mesmerise line:
Jean* – A pink champagne shade that was inspired by Merlin Monroe.
Marie Antoinette* – Inspired by the Queen of France this is a beautiful antique oyster gold shade.
Bette – A rich burnished amber gold inspired by Bette Davis.
Mona Lisa – A wisteria chocolate bronze shade that was made to recreate that soft focus smoky stare of the Mona Lisa.
Veruschka* – The most complex shade of the bunch, it's described as a minky-mossy golden grey-green that pays tribute to the iconic model Veruschka.
Cleopatra* – It's the colorful shade in the line inspired by the Queen of Egypt and Elizabeth Taylor's portrayal of her. It's a beautiful peacock shade that has a smoky finish and it's great if you want to add a pop of color to a neutral look.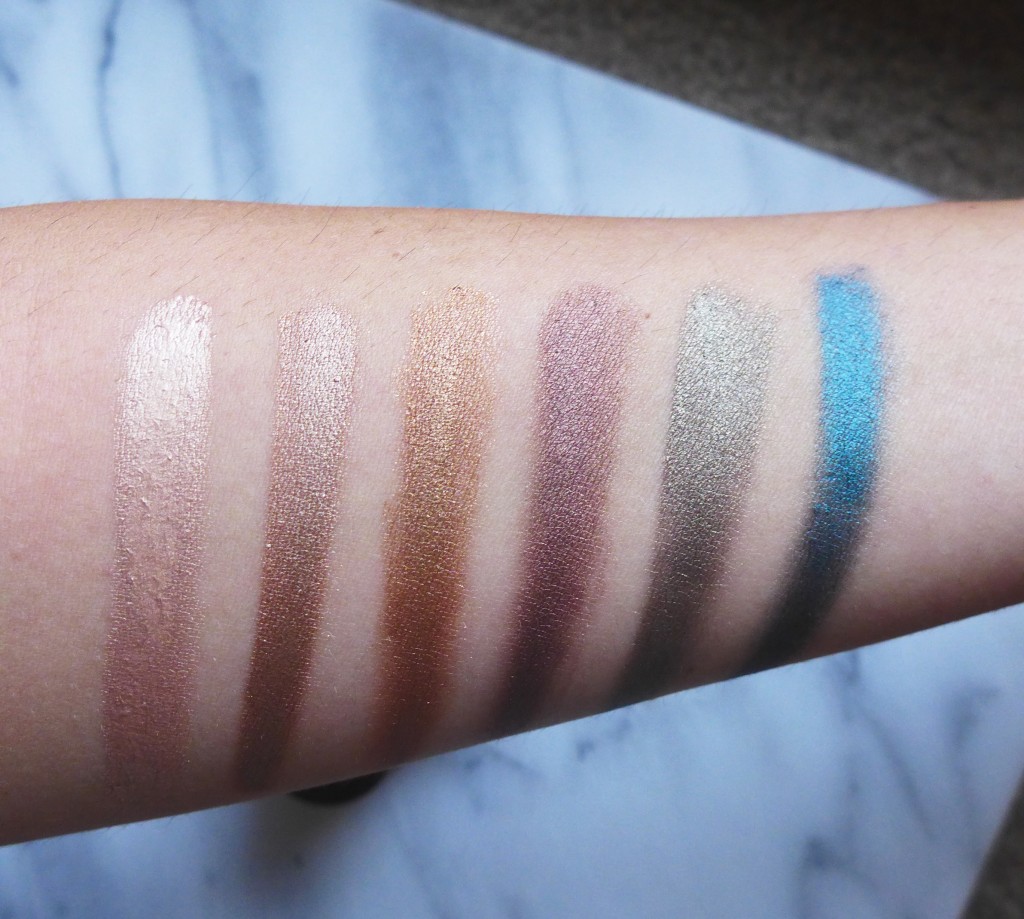 Swatches L to R: Jean, Marie Antoinette, Bette, Mona Lisa, Veruschka, Cleopatra
Now I can't wait for her summer collection, It's launching June 26th exclusively on charlottetilbury.com. I'm eyeing the two lipstick shades, one is a nude and the other is a beautiful orange red and they're both matte finish. Also she's coming out with a cream version of her Filmstar Bronze&Glow palette which looks beautiful.
Do you have any Charlotte Tilbury makeup on your wish list? Let me know in the comments below.