As a teenager and a college girl I didn't have a lot of money to spend on makeup so I stuck to the basics when it came to my makeup. I bought foundation, bronzer and a lipstick or lipgloss. That's about it. I didn't use concealer because I probably didn't need one and I used to use my bronzer as a blush and as eyeshadow.
When I think about it I don't think I even wore mascara or just used one of those clear ones that we now use for our brows. Maybe we didn't have as much options when it came to makeup or maybe I was just clueless about it.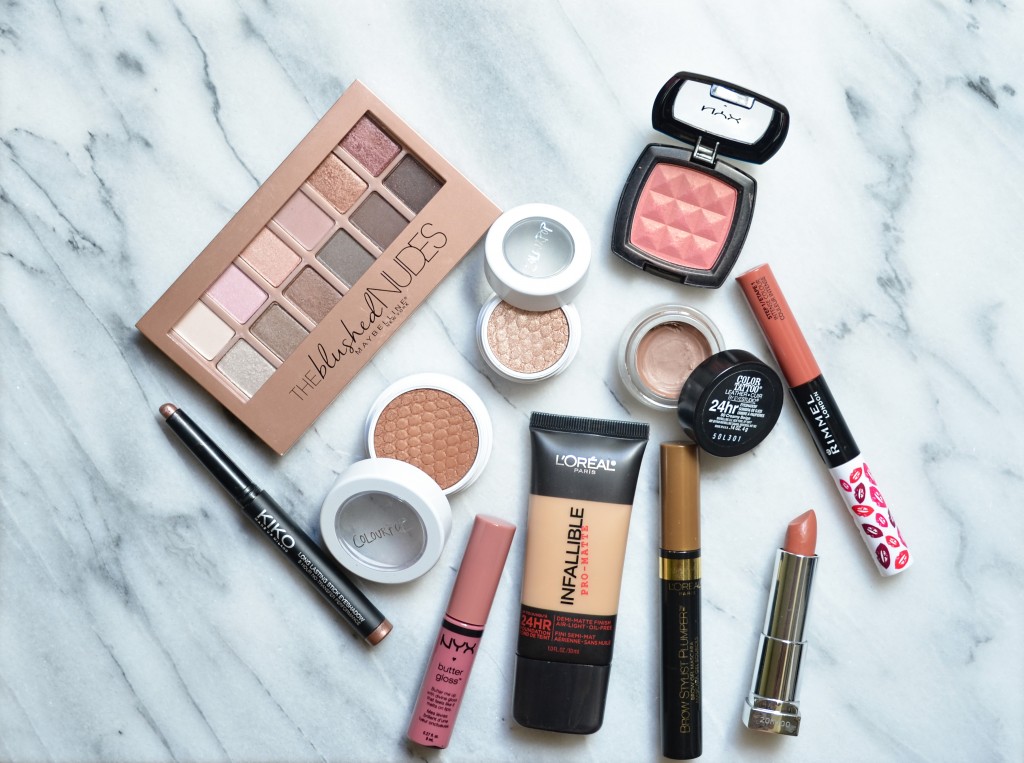 I'm so glad that now we have so many affordable options and also good options and products that perform as good as high end products.
Here are my picks for girls or guys that are on a budget but want to wear some makeup at school:
Base – I don't think teenagers need a lot of foundation but if you do I recommend trying the L'oreal Infallible Pro Matte foundation. It's a full coverage foundation so if you prefer lighter coverage you can always mix it with your favorite moisturizer or just sheer it up and use a sponge for application. It will last you all day.
I don't have a pictured concealer but the two that I love from the drugstore are the Maybelline Fit Me concealer and their Age Rewind concealer. Both are very light but still provide coverage.
Cheeks – For bronzer I chose the ColourPop bronzer in Poolside. I know ColourPop are not considered drugstore but their prices are. This cream to powder bronzer is very easy to apply, you can either use your fingers or a stippling brush. It's pretty warm because I like my bronzers on the warmer side but they do have different shades that are on the cooler and lighter side.
As a blush I chose the NYX Pinched blush. This blush is one of my first makeup products that I've purchased here in the US. It's a pinky peach shade with golden shimmer that comes of very natural on the cheeks.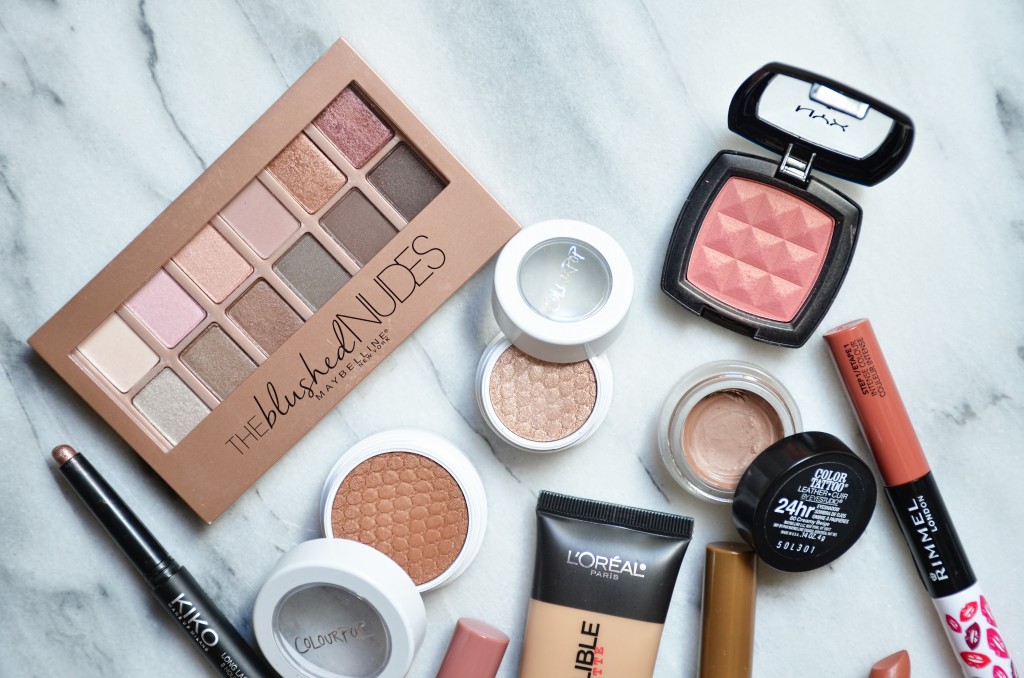 Eyes – When it comes to the eye makeup I prefer a quick product, especially when you're in a hurry you don't want to spend a lot of time doing your eye makeup. Cream eyeshadows are the best for quick eye makeup. The Maybelline Color Tattoos are a great option from the drugstore, they have a great color selection and they last all day on me without creasing. A neutral shade that I think it's great for school is the shade in Creamy Beige and it's from their Leather collection.
Another great option when it comes to cream eyeshadows are the Kiko Long Lasting Stick Eyeshadows. Again Kiko is not considered a drugstore brand but their prices are. These cream eyeshadows are the best affordable option I've tried. They have a great shade selection and are currently on sale on Kiko Cosmetics for $5.90.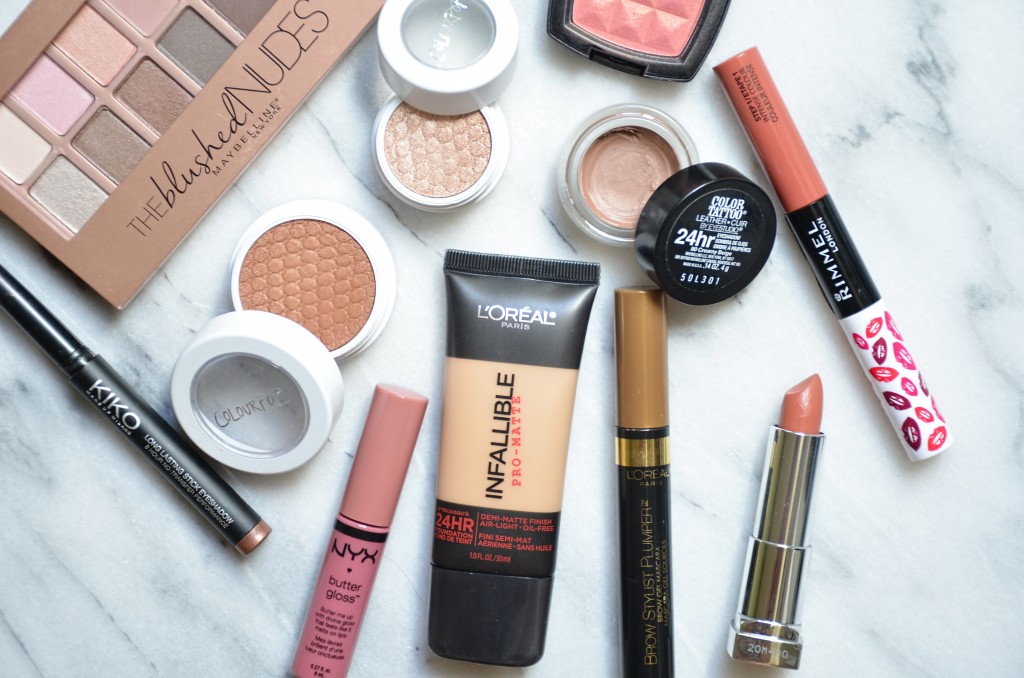 If you don't like cream eyeshadows I would go with ColourPop single eyeshadows. I chose the shade in Plunge because it's a neutral champagne shade that adds a touch of sparkle to your lids and goes with every lip color. If you're looking for a good affordable palette I would go with the Maybelline The Blushed Nudes palette. The eyeshadows in this palette are pretty good for a drugstore palette and the blushed tones are school appropriate.
Brows – The L'oreal Brow Plumper is my holy grail brow mascara. I prefer it over high end brands and that's all I use on my brows when I'm in a hurry. It adds a touch of color to your brows and also has fibers that help with your brow volume.
I didn't have a mascara in my photos because I ran out of my L'oreal Voluminous Carbon Black mascara but that's the only one I like from the drugstore. I'm really high maintenance when it comes to mascara because every mascara smudges on me and I don't like wearing waterproof mascara because it's hard to take off. So it's really hard for me to find a mascara that doesn't smudge, so when I do I stick to it.
Lips – I think the drugstore doesn't lack options when it comes to lip products. My favorite matte lipsticks come from Maybelline. The whole creamy matte line is just beautiful and now they added more shades to the line so there is a shade for everyone. I picked the shade in Clay Crush, a darker nude but you can always go with something bolder like Touch of Spice or Craving Coral.
If you want a long lasting lipstick the Rimmel Provocalips 16hr Kissproof Lip Colors are my favorite. Make Your Move is a nice darker nude shade that lasts all day long. These will last you over a meal and a drink and you don't have to worry about touching up or your lipstick smudging.
If you're a lipgloss kinda gal I highly recommend the NYX Butter Glosses. They're super comfortable on the lips, very hydrating but they're more pigmented than your regular lipgloss plus they smell like cake. The shade in Angel Food Cake is my favorite shade just because I like my dark mauve nude shades.
Hope you have a great start of the school year!!