Summer is here to stay for at least couple of months and as soon summer starts shorts and skirts season starts. I love wearing flowy dresses in summer because they're a no fuss choice and also a good choice when it's boiling hot outside.
This weekend I'm headed to Miami Beach for Swim Week, I was invited backstage and I'm so excited to attend and see the magic that's happening before the models hit the runway. So I was planning my outfit for the night and since the weather in Miami is boiling hot and humid I'm planning to wear something light and airy that doesn't touch my body. I got this really nice skirt from Zara from their sale and I'll probably combine that with a nice shirt. Anyhow since I'll be wearing a skirt I wanted to share what I do for when I want my legs to look perfect.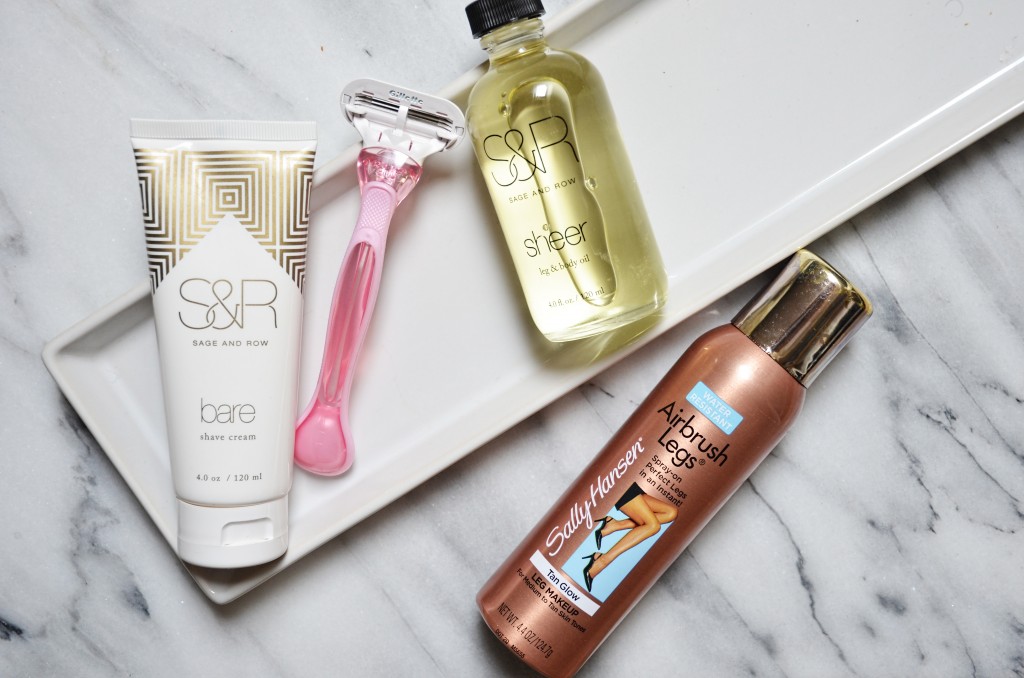 Sage & Row Bare Shave Cream* – This shave cream is aloe based versus the traditional shaving creams that are water based so it provides extra moisture and prevents irritation. It's free of parabens, sulfates, phthalates, mineral oils, and alcohol. It's made out of certified organic ingredients including shea butter, lavender, comfrey and also has Vitamins E, A and D. I have to admit I was using my husbands shaving cream before I received this and my legs always felt really dry after shaving them. This shaving cream is nice because it doesn't leave your skin dry after shaving, instead your skin feels very smooth and replenished.
Venus Sensitive Disposable Razor – I get these in bulk from Costco because they're less expensive plus you get a lot of razors for the money. I like these because they're gentle and I don't cut myself that often when I use them. Let me know if you use a razor that you really like that I should try.
Sage & Row Sheer Leg & Body Oil* – It's made with coconut, safflower, sweet almond and sunflower oil. It's a really nice oil for your legs and body and doesn't feel greasy after application. It just sinks in to the skin and makes my legs feel very soft.
Sally Hansen Airbrush Legs – If you have bruises or little scratches on your legs you need this. The Sally Hansen Airbrush Legs is like pantyhose for your legs. It covers every imperfection that you have and adds a touch of color to the legs and the best part is that is waterproof so it won't transfer on your clothes or come off if you're sweating. It's a good and quick alternative to self tanners. The only complain I have that the application is kinda messy because you can get product all over your bathroom so my advice is go with the Airbrush Legs in a tube not the spray.
Do you have a special routine that you do to achieve perfect looking legs? Please share in the comments below.